Ethical Wildlife vacations are the best option for travellers who wish to have an unforgettable animal experience that doesn't compromise the welfare of animals.
If you love animals and travelling to off-beat destinations, a wildlife vacation should be at the top of your bucket list. I am sharing with you the best ethical tours that allow you to connect with wildlife in their natural habitats.
21 Ethical Wildlife Vacations, No Animal Lover Should Miss!
If you wish to go for a wildlife tour, you have plenty of options. While some of these tours allow you to see animals undisturbed in their natural habitat, a number of unethical operators are exploiting animals for their gains
If you are a responsible traveller who cares about nature and is concerned about the welfare of animals, you should be very careful while choosing a wildlife vacation.
It can be awe-inspiring to see these animals explore their homes or go on a prey treasure hunt while you're on vacation.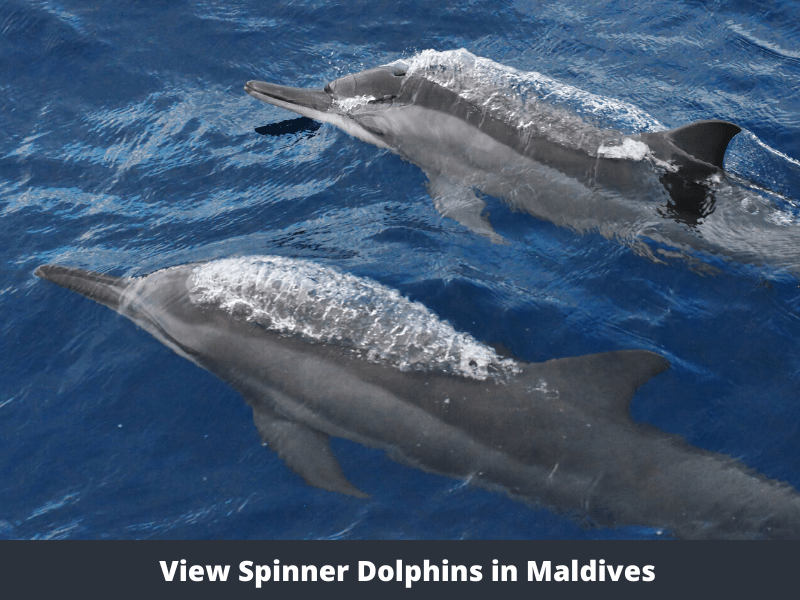 1. Maldives: View Spinner Dolphins the Ethical Way
Vacation in the Maldives for the beaches and stay for the dolphins. Yes, dolphin-watching tours are a bit touristy, but you won't regret your trip.
The dolphins in the Maldives are known as spinner dolphins because when they get excited, they jump high up out of the water and spin around.
Tour boats take visitors out to dolphin hot spots and clap and whistle to get the dolphins excited. It's not uncommon for boats to be surrounded by hundreds of dolphins jumping and spinning.

If you're worried about the welfare of the dolphins, don't be. They aren't chased, they aren't swarmed by the boats, baiting is not allowed, and no one touches or interacts with the dolphins. It is one of the best ethical wildlife vacations in Asia with a show-stopping ending.
2. India: See the Majestic Royal Bengal Tiger in the Wild
Get the chance to see the Royal Bengal Tiger in its natural habitat. Ranthambore National Park in Rajasthan, India provides an excellent opportunity to see this majestic creature in all its grandeur.
Although there are a number of national parks in India that are home to the royal Bengal tiger, Ranthambore has one of the highest tiger sightings owing to the terrain and number of the animals
Not only will you be able to see the royal Bengal tiger, but a number of other animals and birds can also be sighted here.
The jeep safaris can be booked online through a government portal. Read all about planning a visit to Ranthambore National Park here.
3. Costa Rica: Get your Adrenaline Up with a Dive with Bull Sharks
Adrenaline junkies will love this next wildlife vacation: diving with bull sharks. Costa Rica is a haven for treasure hunters, but it's also home to this unique vacation adventure.
Diving with sharks has become a popular bucket list experience. Still, many vacation tour companies use unethical practices, like baiting, to lure in sharks. It's dangerous for them and visitors.
In Costa Rica, however, bull sharks like to gather in the waters near the Bat Islands, which are part of a protected national park. The dive operators here are professional and ethical. No baiting or chasing is permitted. But because you'll be diving, you'll want to inquire about what to pack for the vacation.
4. Sri Lanka: Volunteer to Care for Sea Turtles
Most people associate sea turtles with the Galapagos Islands. Still, you can volunteer to care for these creatures in Sri Lanka as well.
If you're looking for vacations to go protect and care for sea turtles, The Sea Turtle Conservation program is a great place to start.
During your vacation, you may help with:
Burying sea turtle eggs.
Taking care of baby turtles after the eggs hatch.
Cleaning turtle tanks and refilling them with clean water.
Feeding and nursing turtles.
Cleaning up the beaches.
Patrolling beaches.
If you're looking for a vacation that will help wildlife conservation efforts, a trip to Sri Lanka is a must-do.
5. Thailand: Volunteer to Save the abused and Rescued Elephants
There are a lot of unethical providers in Thailand that offer Elephant tours. The animals are subjected to harsh treatment and are kept in bad conditions.
If you are visiting Thailand, make sure you stay away from unethical tours that abuse animals for the entertainment of tourists. Choose an ethical experience instead.
Some of the best ethical elephant experiences are provided by these organisations:
Boon Lott's Elephant Sanctuary(BLES)
Elephant Haven
Elephant Nature Park
Burm and Emily's Elephant Sanctuary(BEES)
Elephant Hills, Khao Sok National Park
These organisations intend to help rescue and abused elephants. I would definitely recommend joining a volunteer one of these organisations.
6. Bolivia: Work with Macaws, Tortoises, Turtles, Wild Cats, etc.
At the Senda Verde Animal Refuge and Eco-Resort in Bolivia, you can spend your vacation helping animals. Visitors can work with a wide range of animals, including macaws, tortoises, turtles, wild cats, bears, and monkeys.
The vacation resort is all about sustainability and uses eco-friendly practices whenever it can. It is one vacation you won't want to come back from.
Still, because you'll be working with so many different animals, you should ask about what to take on holiday.
7. Canada: Help Conservation Efforts of the Grizzlies
To see a grizzly bear in person and from a safe distance is the ultimate dream for many wildlife lovers. Now, you can book a vacation in Canada that allows you to see grizzlies and help protect them.
These aren't the usual vacation rentals you find in Canada. You will see bears from the safety of a tugboat or schooner, and all of the proceeds from your vacation will benefit bear conservation efforts.
Only 12 people can stay on the ship at a time, so it's an ethical, exclusive experience that you won't forget.
8. Australia: Get a Chance to see Adorable Koalas
Only an hour away from Sydney, this coastal town in Australia is known for its high Koala population. Although visitors often visit the Billabong zoo to take a look at the Koalas, I recommend visiting the Koala Hospital.
The Koala hospital is entrusted with caring for koalas injured in a bushfire, dog attacks and collisions with vehicles.
The place provides you with an opportunity to learn more about Koalas and the challenges they face.
9. Falkland Islands: Spot Penguins in the Wild
There are plenty of aquariums around the world where penguins can be seen. As a responsible traveller, you should refrain from such places.
One of the best places to spot penguins in the wild is the Falkland Islands. The island has a substantial population of Magellanic and Gentoo penguins.
A tour to Falkland Island allows you to see these adorable creatures from a safe distance.
10. Egypt: Pay a visit to the Dolphin House
Dolphins aren't the first thing to come to mind when you think of Egypt, but the Red Sea has some of the most diverse range of marine wildlife on the planet.
The Samadi Reef is known as the dolphin house, and it's a sanctuary for spinner dolphins. Daily boat trips are available, and regulations are in place to ensure that tours are ethical.
If you're a marine life lover, you'll want to book your summer vacation here.
11. Borneo or Sumatra: See the Orangutans in the Wild
If you want to get the most out of your vacation money, book a trip to Borneo or Sumatra for orangutan trekking. Being able to see these rare primates is a once-in-a-lifetime opportunity.
Bukit Lawang in Sumatra hosts ethical jungle trekking tours to see orangutans up close. These tours also help the local community through educational efforts and cleanups
In Borneo, Semenggoh Nature Reserve is a good option for watching Orangutans in their natural habitat
12. Namibia: Spot a Big Cat in its Natural Habitat
Namibia has rich wildlife which includes big cats such as Leopards and Lions.
One of the best ways to indulge in responsible tourism is to take a safari that has involves no direct interaction with these animals.
There are many national parks in the country but Etosha National Park is considered to be the best.
If you are interested in little more than a safari, you can visit the AfriCat Foundation based in Okonjima Nature Reserve. This private reserve is dedicated to conserving wildlife. It offers stays and day visits where you can learn about cheetahs and see the foundations' efforts in rehabilitating some of these beautiful creatures.
13. Sweden: Go in search of Moose, Roe Deer, Owls, and Wolves
Sweden is blessed with large areas of unspoiled wilderness. From expansive forests to lakes, and vast wetlands, the country is home to a wide array of animal species.
The Taiga forests of Bergslagen near Skinnskatteberg are a great place to search for moose, roe deer, owls, and wolves.
You can join an animal spotting trip under a professional guide to see animals in their natural habitat.
14. Costa Rica: Spot some Unique animals in their home
If you're like most wildlife lovers, you want to see animals in their natural habitats living their natural lives. It's not always easy to find a vacation scheme where you can do this.
Still, the Corcovado National Park in Costa Rica's Osa Peninsula gives you a unique chance to see animals in the wild like spider monkeys, sloths, jaguars, pumas, ocelots, jaguarondis, tapirs, anteaters, etc.
There are no roads, no cars, or guest houses. All visitors must be accompanied by a certified nature guide during their vacation here.
15. Alaska, USA: Watch Rescued Bears in their Natural Habitats
Looking for winter vacation schemes? There is nothing better than Alaska as it offers one of the most ethical wildlife experiences.
The Fortress of the Bear in Sitka, Alaska, gives you the chance to view rescued bear cubs in the wilds of the last frontier.
While you're there on vacation, you can learn all about bears from naturalists.
16. China: Watch some Adorable Giant Pandas at Dujiangyan Panda Base
While the Chengdu Research Base is swarming with tourists, the Dujiangyan Panda base sees fewer visitors.
The Dujiangyan Panda base offers a closer interaction with these adorable creatures. The one-day volunteer programs involve a range from cleaning the enclosures and feeding them.
This is a great opportunity to learn about beautiful animals.
17. Uganda: Trek to see Mountain Gorillas be at home
Uganda provides an excellent chance of seeing the Mountain Gorillas up close. There are two gorilla trekking spots in Uganda: Bwindi Impenetrable Forest National Park and Mgahinga Gorilla National Park.
The trek provides a very rare opportunity to observe the behaviour of these primates in their natural habitat.
In order to reach the parks, you have to trek uphill and obtain a trekking permit well in advance (6 months at least). There are strict regulations that ensure that gorillas are not affected adversely.
Daily visitations are limited and each visitor has to comply with some specific rules to ensure the safety of themselves and the gorillas.
18. Scotland: Check out the Adorable Puffins
If you fancy a European vacation, head up to the Treshnish Isles in Scotland to see the puffins.
You can see these colourful birds at Ascribe Island, Skomer Island, South Stack Cliffs and St. Kilda
Book a tour to get your chance to see puffins in an ethical, responsible way.
19. Galapagos Islands: One of the best Ethical Wildlife Vacation Spots
Located off the shores of Ecuador, Galapagos Islands provides one of the most ethical wildlife vacations in the world.
The entry and stay on the island are highly regulated. However, to be sure, you must make sure that the tour you book follows all the guidelines,
The islands here are home to some of the most distinct animals on the planet. A visit to the island definitely deserves to be on your bucket list.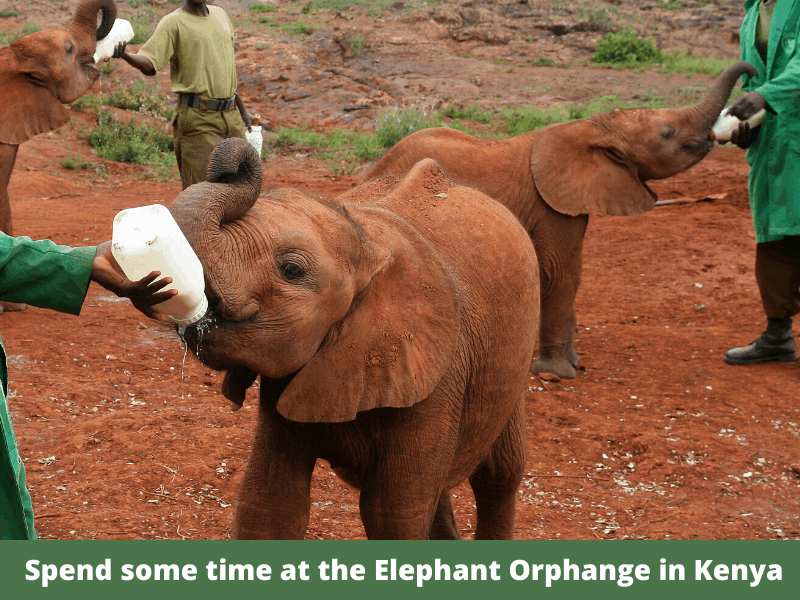 20. Sheldrick´s Wildlife Trust, Kenya: One of the Best Ethical Wildlife Vacations in Africa
If you are a wildlife lover, Kenya must go on your bucket list for sure. While there are many experiences in Kenya like Masai Mara, my favourite is Sheldrick's Wildlife Trust.
The trust is well respected for its efforts and success to protect elephants and rhinos. The trust operates the most successful orphan elephant rescue and rehabilitation program in the world.
At the centre, you get the opportunity to see the rescued baby elephants being cared for by the staff. It is a wonderful and heart-warming experience.
21. NewZealand: Spot the Lofty Whales
The best spot to see whales in New Zealand is a coastal town named Kaikōura on the South Island.
Kaikōura is known for the abundance of its rare marine life, especially the Sperm Whales and Blue Whales.
Join a tour to watch these lofty creatures swim in these waters.
5 Essential Tips for booking an Ethical Wildlife Vacations
If you are planning an ethical wildlife vacation, these tips will help you choose the most responsible one:
1. Do your research: Before booking your wildlife experience, do your research about the tour and tour provider. Read reviews and check for any red flags.
2. In the Wild: Make sure that the experiences are based in the wild and the animals are kept in their natural habitats. Any experience that allows you to get very close to the wild creatures, is probably not that ethical.
3. Large Volumes of People: Avoid tours and groups that are too large. These kinds of groups distress animals.
4. Photo-Ops: Avoid places that promote photo opportunities with wildlife.
5. Condition of Animals: Look closely at the conditions of animals. If the animals are being restrained in any manner, chances are that the facilities are exploitative.
These ethical wildlife vacations are truly unforgettable. Which wildlife vacation would you prefer? Do let me know in the comment section.
About the Author