England and Scotland 2 Week Itinerary can come in handy if you are planning to visit the United Kingdom for the very first time.
England and Scotland are some of the most exquisite destinations in Europe. While England will charm you with its architecture, riches, and glamour; Scotland will entice you with gripping scenic landscapes and pleasant weather.
I went on a family trip to England to visit my elder brother in London. In two weeks I explored the best of England and Scotland and it was a trip to remember. In this blog, I am sharing with you my England and Scotland 2 Week Itinerary.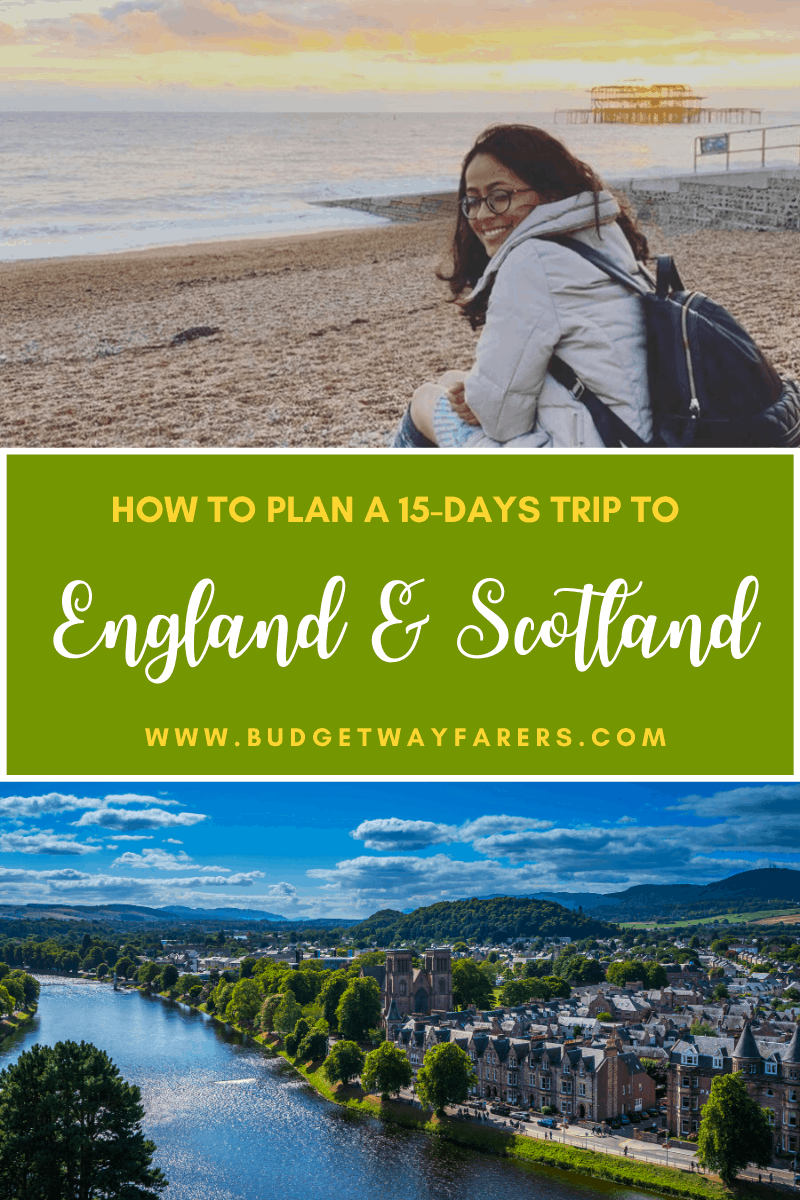 England and Scotland 2 Week Itinerary: What, Where & How?
England is one of the most sophisticated and fanciest places in the world. When it comes to riches and glamour, the capital city London takes the lead. Whereas, beauty and aesthetics wise, the countryside, as well as the southern and eastern coasts of England, wins all hearts.
Talking about diversity, England's architecture with the gothic heritage monuments and the Victorian houses is as diverse as its culture which is high-class at one end and liberally funky at another end.
Scotland is another country closeby that is worth visiting. It is remarkably beautiful and peaceful with its river valleys, cliffs, and amazing castles. The Scottish culture of dance and whiskey is interesting to explore as well.
Here is a quick look at my England and Scotland 2 Week Itinerary:
Day 1
Reach London and Take a Walk at the Famous Hyde Park
Day 2
Explore Central London 
Day 3
Visit London's top 5 Famous Attractions
Day 4
Take a day trip to Cambridge
Day 5
Go on a day trip to Brighton
Day 6
Visit Bristol and Bath 
Day 7
Take a Leisurely Stroll in Central London
Day 8
Take a day trip to Oxford
Day 9
Travel from London to Edinburgh (Scotland)
Day 10
Exploring Famous Spots in Edinburgh
Day 11
Travel from Edinburgh to Inverness
Day 12
Exploring Inverness & Heading to London
Day 13
Relaxation Day
Day 14
Departure flight for Mumbai
With excitement in My trip started from Mumbai in India. It was a not-so-comfortable long flight from Mumbai to Heathrow International Airport, London.
In the paragraphs below I have described in detail our England and Scotland 2 Week Itinerary along with the cost breakdown for each day. All costs are stated per person and in British pound sterling (GBP).
DAY 1: Reaching London & Visiting the Famous Hyde Park
We reached London early in the morning 7:15 am (GMT). So, we had enough time to freshen up and begin the day at 12 pm.
We grabbed our coats and stepped out of the house to walk towards the nearest Osterley tube station. The Underground Metro system in London is popularly referred to as the tube. So, we took a tube to our first tourist attraction of the day Hyde Park, central London.
Exploring Hyde Park
We grabbed a coffee at the Serpentine Bar and Kitchen which is a waterside café at the entrance of the park and began strolling inside the park.
Hyde Park is a beautiful place to start your day, especially if you are accompanied by kids. The serpentine shaped lake is bordered by a walking track with mini-coffee shops and benches at every short stretch.
As you move ahead, the vastness of greenery doesn't seem to end, as far as eyes can see. We walked down the park and reached the Kensington Palace Gardens. We stopped here for a while to capture the beautiful setting of nature.
On one corner at the end of these gardens, was an ornate statue, the Albert Memorial. Walking further down led us to a round pond in front of the famous Kensington Palace. Sitting on a bench in front of the palace overlooking the beautiful pond was an aesthetic achievement for the day.
We had our home-packed snacks for lunch and spend some good and relaxing time at the park. We took the tube to return to the apartment.
Expenses of the day = 11.5 GBP
Coffee = 1.5 GBP
Tube = 10 GBP
DAY 2: Taking a Tour in Central London
On day 2 we decided to take a look at some of the most symbolic places in London. We started our day with the Hop-on Hop-Off Tour and ended the day by the River Thames.
Taking the Hop on Hop off Tour in Central London
We took an all-inclusive Hop on-Hop off ride around central London, which started near Waterloo station. For a first-timer in London,  the tour is a convenient way to get a glance at some of London's most famous sightseeing places.
We covered famous places like Tower Bridge, Tower of London, Piccadilly Circus, Leicester Square, Trafalgar Square, Westminster Abbey, and many more. At the end of the ride, we stepped down the bus to take a self-guided walk towards Tower Bridge stop.
Enjoying the Exquisite Views from the Westminster Bridge & Catching the sunset at Primrose Hill Park
After a few minutes of walking and clicking pictures on the tower bridge, we reached the totally parallel Westminster Bridge.
Standing on the Westminster Bridge gave an exquisite panoramic view of the London Parliament and Big Ben on the right side, river Thames in the center, and the London Eye on the right side.
We stopped at Pret-a-Manger alongside the foot of the bridge, for lunch.
Then we took a cab for the Primrose Hill Park. Climbing uphill to the park's viewpoint to see the sun descend on the city skyline was the aesthetic purpose that evening. We took the tube to be back at night.
Expenses of the day = 24 GBP
Hop on-Hop off = 6.5 GBP per person
Lunch = 2.5 GBP
Cab = 5 GBP
Tube = 10 GBP
DAY 3: Exploring London's 5 Top Most Iconic Spots
Day 3 of our England and Scotland 2 Week Itinerary was dedicated to exploring some of London's most iconic Spots
Starting the day with the Vibrant Notting Hill
Inspired by one of those romantic English movies, we started out for the famous Notting Hill that morning. We took a cab because it was unbearably cold outside.
Notting hill road is a slightly uphill road flanked by beautiful brightly colored houses on both sides, standing as the little formation of Lego blocks. The houses were perfectly aligned in symmetry as far as the eyes could see. This gave the cheerful feel in the morning.
Visiting Little Venice- Maida Vale
Our next spot was Maida Vale, locally known as Little Venice. As the name suggests, the place looked similar to the Italian city of canals. With the tree-lined footpaths and the waterways full of canal boats, it was almost like a scenery painting.
We had a light lunch on one of the boat restaurant's upper deck.
Baker Street for Sherlock Lovers 
After having a good time at Maida Vale, we took the tube to Baker Street. We walked a few blocks until we reach the location 221B Baker Street – Sherlock Holmes Museum. Being a fan of the charming detective, I bought a cute music box souvenir from the museum.
Admiring Graffiti in Brick Lane & Shoreditch
By the time we explored these places, it was already evening. We went to Brick Lane to explore the graffiti artworks all along the walls of Brick lane as well as the Shoreditch area of London. Graffiti in my opinion is a game of vision and perspective, and I was very amazed by them.
Ending the day with Christmas Shopping at Old Spitalfields
Along the way, we stopped at the Old Spitalfields market for some Christmas shopping. We took a tube from the nearby Liverpool station for Osterley, where we were staying.
Expenses of the day = 13.5 GBP
Cab = 8 GBP
Boat café Lunch = 3 GBP
Souvenir= 2.5 GBP
DAY 4: A Day Trip to Cambridge
We dedicated day 4 of our England and Scotland 2 week itinerary to exploring the university town, Cambridge. We took the train to spend the day in Cambridge. Thanks to the reliable weather forecasting of London, we carried extra jackets that saved us from chilling breeze that day.
Admiring the Centres of Learning 
From the station, we walked down the lanes till we reached one of the historic colleges that constitute the University of Cambridge, the King's College, followed by King's College Chapel.
These buildings looked ancient with their medieval time architecture. But the diverse number of students and cultural groups from all over the world gave the city a friendly modern touch.
A Punting Ride through the Canals 
After a bit of strolling along the canals, we found a Punting ride company that offered fair prices. During a shared punting ride, the chauffeur who is usually a local student trying to earn some extra cash narrated to us some unheard tales and facts about the city and its infamous inhabitants.
We had lunch at an Indian restaurant and roamed around the city bookstores and souvenir shops.
We happened to cross a Cancer Aid-funded UK shop, where branded winter wear/overcoats in good condition are put up on sale as they are mostly donated by local students. The clothes there can be bought at a very affordable price, and the money goes for a good cause.
We returned to London in time for the free firework display of bonfire night (locally called Guy-Fawkes night), which is celebrated by lighting aerial fireworks at Blackheath Park every year.
Expenses of the day = 42 GBP
Train = 11 GBP
Punting = 15 GBP
Cab =16 GBP
DAY 5: A Day Trip to Brighton
The day was dedicated to some south-side beach fun in Brighton. We took the tube to the train station, passing the St. Paul's Cathedral on our way.
Standing there staring at its spectacular dome and listening to the throbbing Sunday prayer bells almost made us miss our train that day.
Brighton City is a beautiful and colourful place for a Sunday getaway. We walked down to the beach as soon as we reached there to find that the Brighton Palace pier was full of hustle and bustle from day-tripping visitors. We sat down at Brighton beach until sunset, eating our packed snacks.
On our way back to London, we bought some snacks from M & S Food to go. We ended the day with dinner at Shree Krishna Vadapav in Hounslow.
Expenses of the day = 23.20 GBP
Train = 12 GBP
M & S Food = 8 GBP
Dinner = 3.20 GBP
DAY 6: Spending the Day at Bristol and Bath
Today's outing was Bristol, known mostly for its iconic suspension bridge. Enroute Bristol, we stepped down the train at the city of Bath.
In Bath, we for a quick on-foot roam around the small town famous for Roman-built public baths and the Parade Gardens.
Finally, we reached Bristol, took a cab straight to the Clifton Bridge, and enjoyed the panoramic view of this river valley city underneath the bridge.
Expenses of the day =36 GBP 
Train = 18 GBP
Tube = 10 GBP
Cab = 8 GBP
DAY 7: Revisiting  Central London, One Visit Isn't Enough
We revisited central London because you know it's never enough.
Tip: Daysoutguide provides 1 + 1 (2 tickets for the price of 1) offers for the various sites- seeing locations when you use train services. Do check them out for benefits. Since we were traveling in a group of 4,  we were able to avail the discounts.
The Big Wheel Ride 
After getting a discount group ticket, we headed for the big wheel ride (London Eye). This is one of my favourite memories of the trip.
From inside the London Eye, we were trying to point out all the places we visited. The view from the top was nothing less than spectacular. If you aren't afraid of heights, I would suggest you include it in your England itinerary.
After the ride, we spent some time casually moving around in the area, watching street artists perform their unique gigs, and entertaining the crowd all around them. We could just feel how jolly the atmosphere was.
Stroll through the Oxford Street 
At noon, we went to the nearby fashion street, Oxford Street, which is famous for its high-end fashion.  For me, Oxford Street was no less than a live fashion show. In fact, I could visualize Meryl Streep from The Devil Wears Prada in every other Brit lady, which by the way is a subtle compliment.
Later in the evening, we went to the local Indians markets in Wembley, as well as to Quality foods in Southhall for some grocery shopping.
At last, we had dinner at Saravana Bhavan in Southhall.
Expenses of the day = 31 GBP
London Eye = 15 GBP
Tube = 7 GBP
Groceries = 4 GBP
Dinner= 5 GBP
DAY 8: A Day Trip to Oxford City
If you are spending two weeks, in the UK, I would suggest you include a trip to Oxford City. It is one of the cities with remarkable classic architecture and heritage monuments.
We boarded the train to Oxford, and en route, we stepped down at Bicester village, which is the fanciest mega-market of almost all the globally renowned luxury brand outlets. It was an altogether different glam world of Gucci and Prada, Burberry and Armani, and many more.
In Oxford, entry into the college premises is prohibited by tourists. Hence, my wish of dining in the Harry Potter hall remained unfulfilled, needless to say, but it was still worth visiting, owing to the fact that I am fond of reading and I got to spend time in one of those huge public libraries shown in the movies.
We returned back to London after a long day.
DAY 9: Travelling from London to Edinburgh, Scotland
On our 9th day, we headed on our short visit to Scotland. Early in the morning, we left for King's Cross Station. We took a cab to reach the station half an hour before the scheduled departure time.
Tip: National Rail is quite expensive so better to book well in advance. They provide group discounts (3+) of about one-third cost. Often it may happen that due to unexpected reason or extreme weather condition, some locally run trains or tubes may get cancelled without prior notice, and you could be stuck with no plan B. It's better to take a cab for the station when you have a long-distance train journey planned ahead of you.
Reaching Edinburgh 
It was a comfortable 4-hour train ride from London to Scotland. The window seat was a blessing because the view of the landscape outside just could not be missed for anything at all. The bright grasslands and the clear waters from a distance got us excited more than ever.
We reached Edinburgh, the capital city which was our first destination. It was colder and windier than England and we were prepared for that. We headed toward our Airbnb at Lower Gilmore.
Exploring the Old Town in Edinburgh 
We took a tube to the Old Town, Edinburgh, and walked uphill to see the Edinburgh Castle. Along the way, we spectated a traditional solo bagpipe performance and saw an old-school Scottish Whiskey shop too.
Tip: Inside the Castle, go to the ticket office and mention that you wish to visit the Scottish National War Memorial, and get a free entry pass. Note that you do not violate the laws and are strictly limited to the museum part of the castle.
It got dark before we knew it, and we spent the entire evening strolling on Princess Street, and inside the Christmas markets and souvenir shops on the famous Royal Mile (the road connecting the official royal residence on the foot and the castle on the top of this road).
We came across Royal Mile tile with handprints alongside the names of famous personalities inscribed on floor tiles as a symbol of gratitude and respect (similar to Hollywood's Walk of Fame).
We came back to the Airbnb apartment for dinner, after stopping at a nearby mini Tesco (their local supermarket).
Expenses of the day = 117 GBP
Train= 90 GBP
Airbnb = 17 GBP (68 GBP for 4 people)
Tesco= 10 GBP
DAY 10: Visiting 4 Amazing Spots in Edinburgh 
On the 10th day, we explored a little more of Edinburgh. Although there are many amazing and wonderful places to see around Edinburgh, we went and explore the following places in Edinburgh
Visiting Dynamic Earth
We started our day with a visit to Dynamic Earth. It is a fun and interactive science museum. So, if you are visiting Edinburgh with a kid, you must definitely add this to your itinerary.
A Stop Over at the Scottish Parliament Building
Within a walking distance from the museum is the Scottish Parliament Building. The building has a unique architecture. You can explore it by yourself or go for a guided tour.
Enjoying the view from the Calton Hill
The Hill is a wonderful spot to get a view of the city of Edinburgh. The place provides an excellent opportunity for fr amateur photographers. It is a bit of a walk but totally worth it.
After spending some good time here, we headed towards the centre of Edinburgh.
St Giles' Cathedral
We had missed the cathedral the previous day, so we headed right to the St. Giles Cathedral. Although there is no entry fee, you are asked to pay 5 GBP as a donation. If you want to click a picture, you are required to get a permit for 2 GBP.
The cathedral is marvellous and the architecture is breathtaking. Make sure you visit the Definitely visit Thistle chapel, the ceiling is exquisite.
Expenses of the day:  27 GBP
Taxi = 10 GBP
Airbnb= 17 GBP (68 GBP for 4 people)
Day 11: Exploring Inverness
Early morning the next day we headed further north towards Inverness, the Scottish Highlands by bus.
The Scenic Ride to Inverness 
Enroute Inverness we crossed one of the three parallel Forth bridges over the famous Firth of Forth (a part of the river Forth). Along the way, we witnessed some spectacular panoramic landscape scenes, most importantly snow-capped hills and frozen lakes.
We reached Inverness in about 4 and a half hours and headed straight for our Airbnb.
Visiting certain unmissable spots in Inverness
The first destination was the Inverness Castle which was a 15-minute uphill walk from our apartment. The view from the top was worth the pain.
From all heights and all sides, we could see the clear waters of the River Ness famous for its notorious Loch Ness monster Nessie, and we were tempted to take a long walk along the riverside. We spent the entire evening strolling and crossing bridges over the river flowing through the middle of the city.
I bought a postcard from a souvenir cottage, with a painting by Mr. Gordon A. Rennie – a fine Scottish artist known for the emotive portrayal of the landscape of the highlands.
We cooked dinner by ourselves and rested well.
Expenses of the day: 90  GBP
Bus= 35 GBP
Airbnb= 25 GBP  (100 GBP for 4 people)
Postcard = 3 GBP
DAY 12: Spending some time in Inverness before heading back to London 
It was our last day in Scotland, and our bus to London was late at night. Therefore, we went out to explore a few other places in the city centre. We visited
Inverness Cathedral
Inverness Museum and Art Gallery
Inverness Botanic Gardens
All these places are at a walkable distance from each other, so we didn't have much trouble
Tip: Plan the to and fro journey between England and Scotland such that you can experience both the rail as well as road travel because the scenery is worth watching and it also fits into the budget.
Expenses of the day = 100 GBP
Bus= 80 GBP
Misc = 20 GBP
DAY 13: Relaxing in London
It was a more relaxed day. The weather seemed pleasant, maybe because we had just returned from the colder Northside.
We rested for a bit before leaving for a Sunday visit at the Sky office, Osterley branch, London, where my elder brother has worked for a year. It was a 10-minute walk from the apartment.
The evening was spent recollecting the tales of the vacation.
At night we went to watch the free fireworks display at the Wembley stadium. It was probably for the first time that I enjoyed a Bollywood song more than Indian food in a foreign country.
Expenses of the day 20 GBP
Tube =10 GBP
Misc = 10 GBP
Day 14: Returning Back
This was our last day in London, so we just relaxed before a long flight back to our home in Mumba, with memories of any amazing and trip.
Best Budget Accommodation Options for England & Scotland
In England, we stayed in London and made it our base. This was because my brother was staying there and also because London acts as a great choice for taking short trips across England.
Budget Accommodation In London, England
Accommodation in London is really expensive, so if you could find a cheaper hostel or apartment on a rental basis, it would be a saviour. If you have some spare space at an acquaintance's place, then ask for a No Objection Certificate (NOC) to be shown during Visa processing.
We stayed at the apartment where my brother was living. The owner of the apartment had a spare room and he had agreed to allow us to stay for 14 days on a rental basis.
Budget Accommodation In Scotland 
There are plenty of accommodation options in Scotland. Since we were traveling as a family, we stayed at an Airbnb in both Edinburgh and Inverness.
If you are traveling solo, hostels can be a very good option. There are a few good hostels in Inverness and some in Edinburgh.
The Best time to take a trip to Egland and Scotland
Roaming on the streets of London in winter has been my once-in-a-lifetime fantasy. So we planned our visit in November.
During the day, you could witness the beauty of the fall, in every colour of leaves on the road. In the evening, the cold breeze, the occasional snow, and the Christmas stalls spanning the streets make you really excited.
If you plan well, you get to put on a dreary costume and celebrate Halloween night as well. This time of the year makes wandering aimlessly much more enjoyable. Also, it's less crowded during winter, so that's a bonus.
Tip: It is advisable to start your day early because it starts to get dark sooner in the evening. Also, most of the museums, parks, and public places set their opening and closing times accordingly, and try to maintain convenience.
Budget Transport Options in England & Scotland 
Transportation forms a large chunk of the total transportation costs on any trip. Therefore, to minimize cost in your England and Scotland trip, I would recommend the following travel options:
London Tube
You need an Oyster card to travel in the London Underground.  Once it crosses the Capping point (variable), further travelling from the tube becomes free for the rest of the day.
Locally run trains
London Overground
Use the National Rail site to book the tickets
Inter-country travel
Use the National Rail site to book the tickets
Cab/ Taxi
Kapten gave many free rides and better discounts than Uber
Prefer a cab for short distances when in a group because of the almost similar total cost by tube
Must – have things to Carry for England – Scotland Trip
1. Multiple SIM cards – to avail the first-time user discounts on cab rides
2. Citymapper app – a reliable and easy app that suggests the best route, cost estimate and expected travel time.
3. London Underground app–  Useful for information regarding tube locations and timings.
3. A card for small expenses – We used a Monzo card.
I hope you found my England and Scotland 2 Week Itinerary helpful. If you have any other questions, feel free to ask down below in the comment section.