Dubai budget trip is something that a lot of travelers have on their bucket lists. Dubai is the perfect place to visit if you want to see the lovely fusion of culture and modernity. The native population help maintain its traditional roots while the travelers contribute to its cosmopolitan culture.
Dubai is traditionally seen by travelers as a luxury destination. The common perception is that you need a lot of money to explore this magnificent place. But that is not true. You can very well plan a good Dubai budget trip. In fact, every year more and more backpackers are taking the plunge and venturing to Dubai on a cost-effective trip.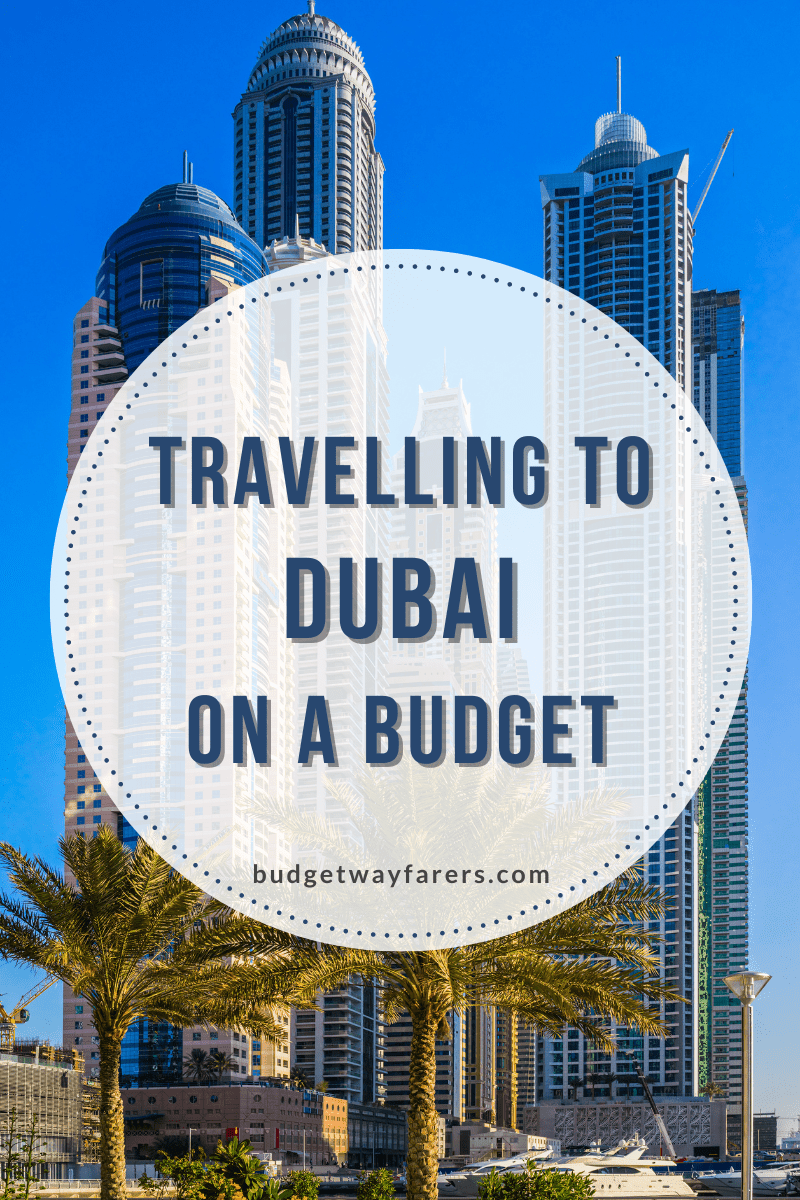 Dubai Budget Trip: Cost Breakdown
​Most travelers plan a four to five-day trip when it comes to Dubai. The intention is to cover more places in a limited duration of time and also on a pre-defined budget.
During my Dubai budget trip, I met the expenses as put in the table below. Since I was traveling from India, the cost below has been mentioned in Indian Rupees (INR). I have also mentioned the subsequent currency in the Arab Emirate Dirham (AED).
Visa : 6,500 INR (327 AED)
Return Flight: 12, 500 INR (630 AED)
Accommodation: 3,500 INR (176 AED)
Internal transport (Metro): 260 INR (13 AED) daily
Food (Fancy Restaurant): 1,000 INR (50 AED) per meal
Food (Street): 190 INR (10 AED) per meal
Soft Drinks: 40 INR(2 AED)
Miscellaneous: 2,000 INR (101 AED)
Affordable Things to Do on your Dubai Budget Trip 
Dubai as a travel destination offers you certain things that you can do for free.
Enjoy at the JBR Beach
Spend an entire day at the Jumeirah Beach Residence. The place offers a plethora of sports activities and food outlets. Sinking your feet in the warm waters of the beach with the breeze blowing by will comfort you.
Venture into the Al Qudra area
If you're one of those people who like to venture into the dry sands on their own without paying much, Al Qudra area should be on your priority list. You can even ride around here.
Visit the Camel Museum
The Camel Museum located in the Al Shindagha Heritage Village is a unique place in many aspects. It traces the entire historic significance of the Arab-camel relationship. The place is open on Sundays and Thursdays from 8:00 am to 2:00 pm. You can enter here for free.
Watch a Free Movie
What can be more entertaining than watching a movie for free in a foreign land? Well, the Pyramids Rooftop Gardens at Wafi Mall offer visitors free screening of movies under the stars each Sunday from 8:30 pm onwards.
Listen and Observe the Dubai Musical Fountains
The Dubai Fountains are extremely beautiful musical creations whose entry fee is a mere 20 AED. They are one of the largest choreographed fountain systems globally.
Explore the Souks
Wander through the Souks (markets) of the old town of Deira district. Observe the huge variety of spices, perfume and gold being sold by traditional merchants.
Ladies Pool Fun
A lot of top level restaurants and resorts offer free 'ladies day' several times a month. The pools are made accessible to women, the food is free and the drinks are available at less than half the price.
Finding Budget and Affordable Accommodation in Dubai
Until a decade ago, Dubai came across as an expensive travel place for backpackers. Even today, it is primarily a luxury place. However, it is most certainly evolved as a backpacking destination as well. The good news is that despite being an expensive destination, the region offers good quality affordable accommodation which will go well with your Dubai budget trip plans.
Here are a few recommendations for a comfortable yet affordable stay –
Recommended Accommodation for Solo Travelers on their Dubai Budget Trip
Backpacker 16 Hostel
The Backpacker 16 Hostel is located close to the Dubai Marina and makes for comfortable staying options for solo travelers. This place is so credible that most of the people staying here have been to Dubai before and have repeatedly stayed here. In fact, some of them even treat this place like home.
Backpacker 16 Hostel offers a pool, gym and a common living area. The staff is helpful at all times and maintains a high level of cleanliness around here.
A slight issue with this place is that its a bit far from the nearest metro station. The extreme heat in Dubai makes even the closest distance feel irksome. Try pooling a cab by getting in touch with other solo travelers here. 
Recommended Accommodation for Couples on their Dubai Budget Trip
Dubai Beach Hostel
The Dubai Beach Hostel offers spectacular views of the Arabian Sea from its windows. The locale of this place is such that it provides the perfect romantic atmosphere for couples. Not to forget, safety.
The nearest beach i.e JBR is less than 2 kilometres away. The staff is decent and will help you in case you need their assistance. Compared to other hostels, the Dubai Beach Hostel can come across as slightly more expensive. However, it is highly recommended for couples on their Dubai budget trip.
Recommended Accommodation for Group Backpackers on their Dubai Budget Trip
At the Top Hostel
At the Top, Hostel makes for one hell of a stay option for backpackers – group as well as otherwise. Located on the 66th floor, it offers magnificent views of the city. This place is a preferred choice for most travelers visiting on their Dubai budget trip.
The breakfast served here is delicious yet free. There also happens to be an outside pool here. The owner is nice and will go out of her way to help you.
What and Where to Eat on your Dubai Budget Trip ?
Not many travelers know this but Dubai offers a delectable street food culture. Not only can you save money here but indulge in savoury fantasies. 
One of the best places to taste street food on your Dubai budget trip is the 2nd of December Street. It was formerly known as Al Dhiyafa Street. The food here is a mix of Iranian, Palestinian, Lebanese, Pakistani and Indian and considering that these cultures have some of the best dishes worldwide.
On average, a good meal here will not cost you more than 15 to 20 AED. For a minimal price like this, you can afford a range of items.
Some of the must-try street food items that you most certainly should taste are mentioned below.
Luqaimat
Similar to doughnuts or gulab jamuns (an Indian dessert), these bite-sized desserts are dipped in date syrup and lightly drizzled with sesame seeds.
Arabic coffee 
Made with lightly roasted coffee and cardamom and served with local dates, the Arabic coffee makes for one heck of a beverage.
Chebab
An Emirati pancake, are cooked with sour cheese and sweet date syrup, thus scintillating your taste buds.
Khubz
This Arabic bread is slightly leavened flatbread that is best eaten fresh out of the oven, with a hot beverage.
Margoogat
A meaty stew packed with flavours and spices, this dish is for the spice lover meat-eaters.
Kanafeh
A Palestinian layered dessert, this dish is made of sugar, not spice, and everything nice.
Top Places to Visit on your Dubai Budget Trip
On your Dubai budget trip, make sure to visit the subsequent places. They will mesmerize you to the core. Also, your budget will not go on the flip side.
Jumeirah Beach
This place needs no introduction. All travelers definitely end up taking the maximum number of pictures here.  Jumeirah Beach has picturesque shores. Its transparent waters divide into three distinct colours. Your visit to Dubai should definitely commence here, to give you the right kind of welcome to the region.
Name: Jumeirah Beach
Entry Fees: Free
Timings: 7:30 a.m. – 10:00 p.m.
Recommended duration: About an hour is adequate to admire and laze around
Dubai Mall
 Your trip to Dubai cannot be deemed complete unless you visit the Dubai Mall. This is the home to the famous Burj Khalifa. Not to forget the hundreds of shops it houses. Right from the most luxurious brands to the most homely businesses – you name it, and it shall be found within the Dubai Mall.
The view from Burj Khalifa is magnificent. It makes you realize the existence of an entire universe around your ant-like presence – overwhelming, humbling yet beautiful.
The wait to get down can be a tad bit long. So kindly be patient.
Entry fee: Entry to the Mall is free. However, what you spend inside will depend on you.

Entry to Burj Khalifa is not free. There are different tickets available depending on the level you want to go to as well as your age.

As an adult, you will be charged between 135 (at the top level) to 370 AED (at the top sky level)
Timing: Mall: 10:00 am to 12:00 am.

Burj Khalifa: 8:00 am to 3:00 pm and 3:30 pm to 6:00 pm
Recommended duration: Keep aside half a day to explore the Mall, in a way so as to reach the top of Burj Khalifa after dusk.
The Gold and Spice Souk
 The traditional markets in Dubai are referred to as Souks. If you wish to travel back in time to an authentic Middle Eastern locale, definitely give the Souks a visit. There are plenty of gold shops here where you find designs in different shapes, sizes and colours that you can never imagine.
Along with this, if you have a knack for bargaining, you can get the items of your heart's desire at half the cost they quote. This applies not only to gold but also to the first copies of high-brand bags, purses and watches.
You will also come across various perfume shops. The collection of perfumes is vast and the dress designs are beautiful. The handiwork is rare to find elsewhere. Even these are available for a lesser cost if you know how to bargain.
On your way out, do give the Spice Souk a visit even if you don't want to buy anything. Be here to witness the enormous varieties of spices.  Once out, ferry your way back to a cab on shared boats called Abras – they cost 1 AED per person and make for quite an experience.
Name: Gold and Spice Souk
Entry Fee: Free
Timings: 9:30 am to 9:30 pm
Recommended duration: A good idea would be to club this visit by exploring the Dubai Mall. Hence, the first half of the day can be spent here.
Mall of the Emirates
 Mall of the Emirates is a humongous mall, filled to the brim with lights and delights for one and all. It comprises a special attraction that you cannot afford to miss.
This mall has an artificial-themed park inside it known as Ski Dubai. It brings to you quite a few activities that you will fully enjoy. The best part about it is the adorable Penguin Show. You have to give this place a visit to experience the exhilaration and happiness that only Ski Dubai can make you feel.
Name: Mall of the Emirates
Entry Fee: Entry to the Mall is free, however, what you spend in there is your choice.

Entry Fee of Ski Dubai is 190 AED
Timings: Mall – 10 a.m. – 12 a.m.

Ski Dubai – 10 a.m. – 11 p.m.
Recommended duration: Keep aside half a day to enjoy Ski Dubai, following which the rest of the day can be spent in the Miracle Gardens.
Miracle Gardens
 The word beautiful falls short by a few thousand miles to describe the splendour that the magnificent Miracle Gardens present. The colours, designs, arrangements and grandeur of this place will hit you in the mind in a soul-refreshing way.
You will be in a dilemma as to whether one should capture everything they see in their external lens or in their mind's camera. This site displays Dubai's spirit – one of attracting and pleasing its visitors like flowers attract bees. Like quite literally!
Name: Miracle Gardens
Entry Fee: 40 AED
Timings: 9:00 am to 9:00 pm
Recommended duration: The second half of the day can be spent here after visiting the Mall of the Emirates in the morning.

It is located at a distance of about 15 minutes from the Miracle Gardens. Hence, it will help you save on travel expenses
Desert Safari
For all travelers who look forward to some kind of thrill and adventure on their Dubai budget trip, the Desert Safari is a must.  The glowing sand under the heat of the sun makes you more alive than ever. The vast stretches of sand add to the magnificence of nature.
If you have the time, camp overnight in the desert. Enjoy the delicious food and cultural performance. If not, indulge in some scary dune bashing while riding an ATV. 
Name: Desert Safari
Entry Fee: 150 AED (Minus the overnight camping experience)
Timings: 3:30 pm TO 9:30 pm
Recommended duration: Early evening tonight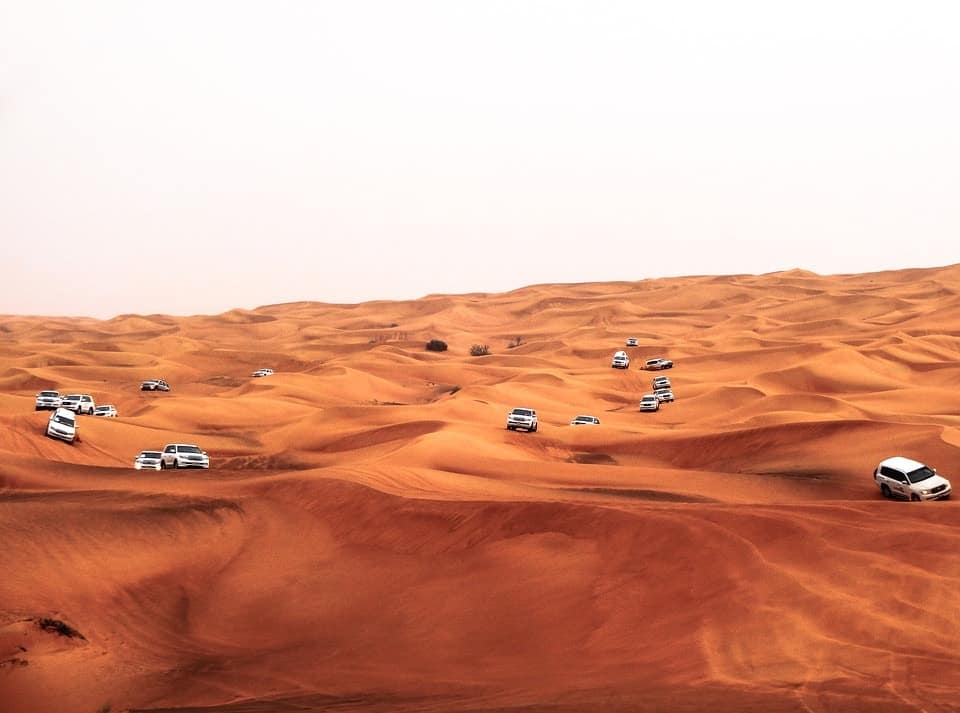 Indulge in some dune bashing and explore the vast dry stretches on a spectacular Desert Safari
Helpful Travel Tips for a Successful Dubai Budget Trip
If you truly want your Dubai budget trip turn out as planned, it is essential that you follow certain travel tips. They will help you maintain the right budget.
Live in a Hostel
One of the best ways to save money for your Dubai budget trip is to book a decent hostel instead of a luxury hotel. The hostels in Dubai are well maintained and will offer you dorms as well as private rooms.
Use the Metro if Solo
Walking in extreme heat is not an option in Dubai. Neither is taking a cab, especially if you're a solo traveler. So take the metro. It is very well connected and is quite affordable.
Rent a Car if in a Group
If you're traveling in a group, it is suggested that you rent a car. Gas in Dubai is extremely cheap and will help you save a lot of money while ensuring that you cover most sightseeing places.
Street Food
Indulge yourself in some delectable street food on your Dubai budget trip. Not only is the food varied here but comprises a mix of more than 7 to 8 nations. Try the different cuisines.
Free Public Spaces
A lot of gardens, rooftops, beaches and other miscellaneous tourist places are absolutely free for visitors. Avail their free access, click a dozen photographs and indulge in complete fun and frolic.
Swim in Free Beaches
Around 8 beaches in Dubai are absolutely free for travelers. JBR Beach is the most famous of them all. Enjoy yourself on all of these beaches. Soak your feet in the warm waters and feel thankful for the lovely breeze.
Avoid Shopping
If you can resist the shopping bug on your Dubai budget trip, you will save yourself a lot of trouble and will be able to maintain the pre-defined budget. 
Dubai has been one of the best journeys of my life. The travel dream of the Sheikh has impressed me beyond measure. He believes that people should keep revisiting Dubai. Hence new construction is always going on here to ensure that travelers find something new to see, something new to experience, every time they visit.
The essence of tourism in Dubai is to make it as welcoming to others as it feels to the natives. Undoubtedly, Dubai is successful in fulfilling its tourism mission. The city makes you its own as soon as you step foot in it, or maybe sooner when you're glancing at the Burj from your flight window.
Dubai is the true amalgamation of a culture fusion and one must visit it to see how religion and tolerance go hand in hand while being accepting and adaptable to new environments.
Happy wayfaring.