Dharamshala food guide will prove handy for any traveler who happens to be a foodie and would like to savour the delicacies available in the hill town. Food in Dharamshala is something every traveler should experiment with on their first visit. Also, later as well.
I am not exaggerating when I say that I would go back to Dharamshala and McLeodganj just for the food. As somebody whose been to the region several times now, I'd like to share the ideal Dharamshala food guide with all you.
Dharamshala offers a wide variety of food options with some of the best eateries and cafes. Sipping a piping hot cup of freshly brewed coffee and eating a locally prepared cake against the backdrop of the mighty Dhauladhars is something you must experience. 
Dharamshala is one of the most visited travel destinations of north India at the moment. In recent times, this place has seen a lot of people visiting it due to its scenic beauty, high cultural value, adventure activities and rising word of mouth publicity.
In my current Dharamshala food guide blog, I will be elaborating on the best places to eat in Mcleodganj and Dharamshala. This will be based entirely out of my own experience. This will give all you enthusiastic trip planners a detailed guide about where to stop, eat and reach your satiety levels.
Also Useful:
Traveling to Dharamshala in under 10000 INR: The complete guide
Is Dharamshala safe for solo travelers, backpackers and women ?
Dharamshala Food Guide
Dharamshala, as the name suggests is not only the home of the Dalai Lama but also is now acting as a rest house for enormous groups of travelers, adventure seekers, trippers and foodies. The range of travelers is so diverse that one can spot college student crowds to newlywed couples on their honeymoons to foreigners making it one of the most visited towns of Himachal.
This beautiful town which is located in the Kangra Valley has an elevation of about 1500 meters above sea level and hence to explore places and peaks on such a height, you need to make sure that you have enough of calories for the same. Travel and food go hand in hand in Dharamshala.
In order to make your stay and visit deliciously beautiful, a good Dharamshala food guide will be handy just as a travel map or a tourist attendant.
Dharamshala is a food haven. It not only offers you with a huge variety of delicacies of Indian, European, Middle Eastern, Chinese, Tibetian and Bhutanese origin but also allows you to get comfortable at eateries with a lovely vibe. While in Dharamshala, invest a lot of time in trying out different food. Also, the fresh juices from the seasonal fruits. Picture credits: Silviarita
Dharamshala Food Guide for Top 10 Eating Places
Cafes and eateries in both Dharamshala and Mcleodganj majorly serve Tibetan, Chinese and Asian cuisines which are sure enough to excite your taste buds. Apart from these, you can also find Israeli and Continental food fairly easily here.
The eateries in Dharamshala are so many that you might end up being confused. To help you save the trouble as well as be light on your budget, I will share with you the names of the top 10 eateries. These, in my view serve delectable food whose taste will stay with you even after the trip.
These places are some of the most cherished yet low-cost eateries of Dharamshala and Mcleodganj. 
1.     The Tibet Kitchen
2.     Moonlight Cafe
3.     Woeser Bakery
4.     Nick's Italian Kitchen
5.     Shiva Cafe
6.     Carpe Diem Cafe
7.     Illiterati Cafe
8.     Jimmy's Italian Kitchen
9.     Clay Oven Restaurant
10.  Sandy's Nation
Dharamshala Food Guide: Highlights from the Best Cafes and Eateries
Some of the best restaurants and cafes in Dharamshala are located in the Mcleodganj area. Here you are sure to find whatever you are in the mood for as a traveler.
Let me share with you the important highlights from each of the places mentioned in the table above.
The Tibet Kitchen
The Tibet Kitchen has an extremely varied menu. A Dharamshala food tour is incomplete without a mention of this place.  It serves a variety of dishes, most of which are appetizers and main courses descending from the Tibetan and Chinese cuisines.
The food served here is nice and within the financial reach of travelers. For someone who loves to experiment with food, the Tibet Kitchen can be the right place to start.
The special Tibetan delicacies include Alu Phingsha, fried momos, thukpa, tingmo, shapta and mutton petse while the Chinese cuisine is somewhat similar including fried rice, chilli chicken, chilli paneer, etc.
Location
Jogiwara road, Main Square, Mcleodganj and also in Maximus Mall, Dharamshala
Cost for two
250-350 INR
Opening and closing hours
10:00 am – 9:30 pm
Special delicacies
Steam and fried momos, Tingmo (Tibetan bread), Fruit beer, Thupka
Tip
Be patient here. The food ordered might take time to prepare.
Tingmo, Mutton, Steamed Rice and Lamb at Tibet Kitchen. The food prepared here is always fresh and piping hot. This makes for a lovely experience especially during the more chillier months. Photography by Subharthi Choudhary
Moonlight Cafe
Moonlight Café is the best place in the Dharamkot- Mcleodganj to stop by for a cup of chai (Indian tea). The cafe has a beautiful ambiance.
It is basically a coffee bistro where you can spend your evenings in, sitting and talking casually over a fuming cup of coffee/tea and some desserts.
The ginger tea, masala tea and Bhagsu cake here are utterly famous. A Tunisian origin dish, shakshuka is one of the novelties here. It is made using poached eggs and onions seasoned with peppers and garlic.
Location
Dharamkot, Dharamshala
Cost for two
200-300 INR
Opening and closing hours
12:00 pm – 12:00 am
Special delicacies
Masala chai, Shakshuka, Bhagsu cake
Tip
Try the locally made desserts here especially the Bhagsu Cake. It is not to be found else where in India.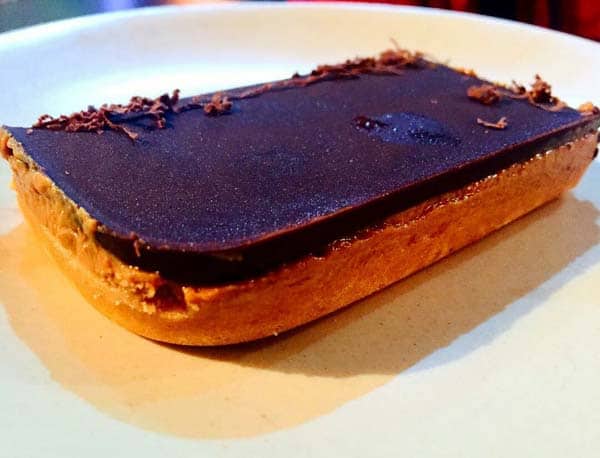 While in Dharamshala, you have got to try the famous Bhagsu cake at Moonlight Cafe. This dessert is locally prepared and has been named after the famous Bhagsu Waterfalls. Photography by Ashmitha Sathish
Woeser Bakery
Woeser Bakery is a lovely and cozy eating place which is famous for its interesting experiments in the world of toothsome nutriments when it comes to coffee, cakes, tarts and not to leave mentioning the famous chocolate lollipops.
Apart from the exceptional food and music arrangements, it has a great collection of books. This sure has to be in your to-go lists if you really want to be in a café that communicates.
Location
Jogiwara Road, Dharamshala
Cost for two
200-400 INR
Opening and closing hours
10:30 am – 7:00 pm
Special delicacies
Chocolate lollipop, Carrot cake
Tip
This cafe has some decent collections of books. So if you are a bibliophile, check them out for sure.
Delectable carrot cake at Woeser Bakery. It is prepared from freshly picked carrots. Savour it along side some hot piping coffee. Photography by Alexandra
Nick's Italian Kitchen
Nick's Italian Kitchen is operated and maintained by the Kunga Guest House in Mcleodganj. It has a terrace seating with a library to keep one occupied for hours.
Apart from the hot savouries, the things that make this particular outlet remarkable in existence are its Banana coffee pies and mousse cakes that are too compelling.
However, the menu is mostly vegetarian.
Location
Kunga Guest House, Bhagsunag Road, Mcleodganj.
Cost for two
150-300 INR
Opening and closing hours
7:00 am to 9:00 pm
Special delicacies
Banana coffee pie, chocolate mousse cake, pizzas
Tip
This is a strictly vegetarian place. So do not ask for meat based items here.
Enjoy the Banana Coffee pie, also known as the Banoffee Pie at Nick's Italian Kitchen. Its taste is soft and texture sweet. This pie will literally melt in your mouth. Photography by Leena
Shiva Cafe
The most important cafe of absolute fame is the Shiva Cafe in the Dharamkot – Mcleodganj area.
This place is where the hippie culture started in McLeodganj. There is an interesting story behind the construction of this outlet far on the hills of Himachal Pradesh. It was opened by a Kashmiri Shia named Taufeeq who came here in search of peace and tranquility.
How unusual is it to have the foundation of a place named after a Hindu God by a Muslim guy? Well, India is truly a secular place.
The walls are painted in deep, dark colours and the food is reminiscent of some good old times.

The cafe serves some of the most exotic and lip-smacking pizzas which make it fit for the perfect mountain meals. The food, along with the music and the hookah adds to the vigour and serenity of this place.
Location
Near Bhagsunag waterfall pathway, Mcleodganj.
Cost for two
400-600 INR
Opening and closing hours
10:00 am – 8:00 pm
Special delicacies
Pizzas, hookah
Tip
While on the way to Bhagsu Falls, get some food packed in from here.
Catch your breath and take a snack break at Shiva Cafe while heading to the lovely Bhagsu Waterfalls. If you're a smoker, try the hookah here. Photography by Divya Sarjolta
Carpe Diem Cafe
Carpe Diem cafe is again one of those places where you can get stimulating Mediterranean and Continental eating options.
The place provides a relaxing seating area where you can spend hours gifting yourselves the visual treat of scenic and mesmerizing landscape views.
The walls here have artifacts and pictures depicting the traditional Nepali culture.
One of the most luring things present in the cafe are the tables which consist of pictures of previous visitors under a glass slab. Also, the menu has its first page dedicated entirely to the word 'Carpe Diem' written in different languages.
Location
Jogiwara Road, Mcleodganj
Cost for two
200 to 400 INR
Opening and closing hours
 8:00 am – 10:30 pm
Special delicacies
Pizzas, spaghetti, tacos, burritos and salads.
Tip
While here, don't forget to take pictures of the beautiful landscape outside of your window.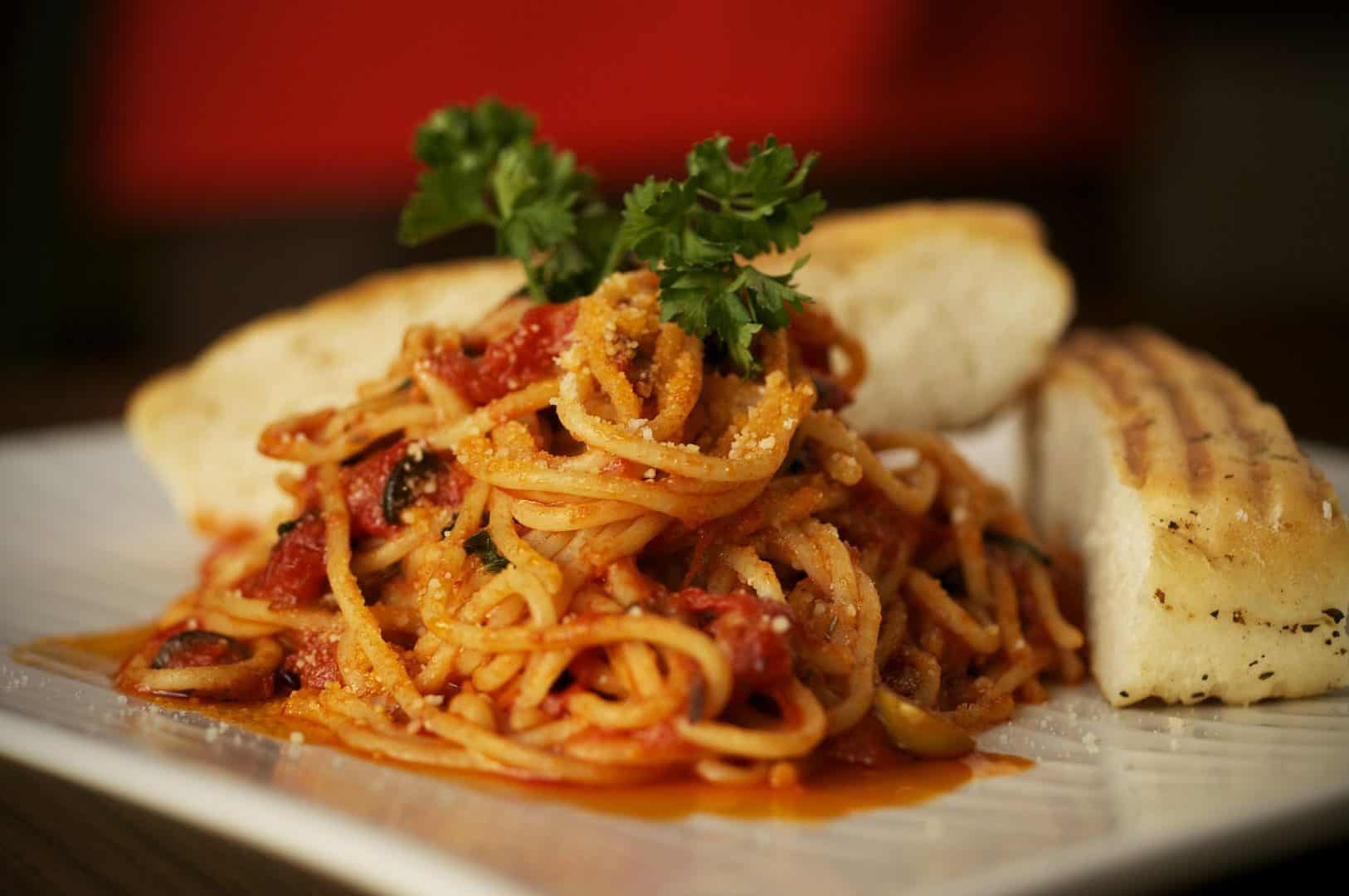 Take a bite of cheesy Spaghetti at the Carpe Diem Cafe. Leave your name slip under the glass slab and make a memory out of it. Photography by Josh
Illiterati Cafe
This cafe is the perfect place for bookworms as it happens to have the best collection of books which can be borrowed, rented or bought.
It offers a wide range of cuisines such as the Mediterranean and French. It has a menu such alluring which makes it a must visit place.
Encapsulated with the European culture, the place is well furnished and beautifully decorated.
Bruschetta, lasagnas, hummus plate are some of the taste turning dishes which are irrepressible along with coffees, teas and juices. One can spend a quality time here in this outlet.
Location
Jogiwara Road, Dharamshala
Cost for two
200-400 INR
Opening and closing hours
9:30 am – 9:00 pm
Special delicacies
Kahwa, Soups, lasagna and salads
Tip
Rent a book from the vast collection here and read it along side sipping coffee.
A picture of Kashmiri Kahwa with honey that is served at Illiterati Cafe. Try the rest of herbal tea and juices as well. They follow credible recipes and will provide you with a comforting vibe. Photography by Utkarsh Singh
Jimmy's Italian Kitchen
This is a really calm and quiet place providing an exquisite valley view. This outlet has beautiful and fascinating interiors.
It has a reasonably priced menu and tends to serve a variety of pasta, pizzas, desserts, smoothies, shakes, juices and an amazing list of hot and cold beverages with the ginger lemon honey tea the most ordered for by visitors.
You can also try the exceptionally scintillating Lemon Cheese cake which happens to be one of its kind.
Location
Near Mcleodganj Main Square
Cost for two
250 – 400 INR
Opening and closing hours
8:00 am – 10:00 pm
Special delicacies
Ginger lemon honey tea, pizzas and desserts
Tip
Whether you're a cheese cake fan or not, please try the Lemon Cheese cake here. It's taste is unique.
Savour tasty coffee and desserts at Jimmy's Italian Kitchen are a treat to the palate. Travelers from far and wide visit here just for their coffee and cheese cake combo. Photography by Monika
Clay Oven Restaurant
The Clay Oven is an inexpensive eating place which has a completely different ambiance from that of other cafes and eateries.
Located in the heart of Mcleodganj, this outlet has wooden seating arrangements with antiques used as decorations.
The characteristic that makes it an enticing eating house is its cooking method. Here, pizzas are baked in old, conventional heated kiln fashion.
The dough is also made there and then, tossed up with selected toppings and then placed into the heated kiln where it is baked.
It also serves a delectable range of cakes, carrot cake being one of them.
Location
Dharamkot Road, Bhagsunag, Mcleodganj
Cost for two
200- 400 INR
Opening and closing hours
9:00 am – 10:00 pm
Special delicacies
Smoked pizzas and cakes
Tip
Pizzas here are super savoury. Please try at least one flavour.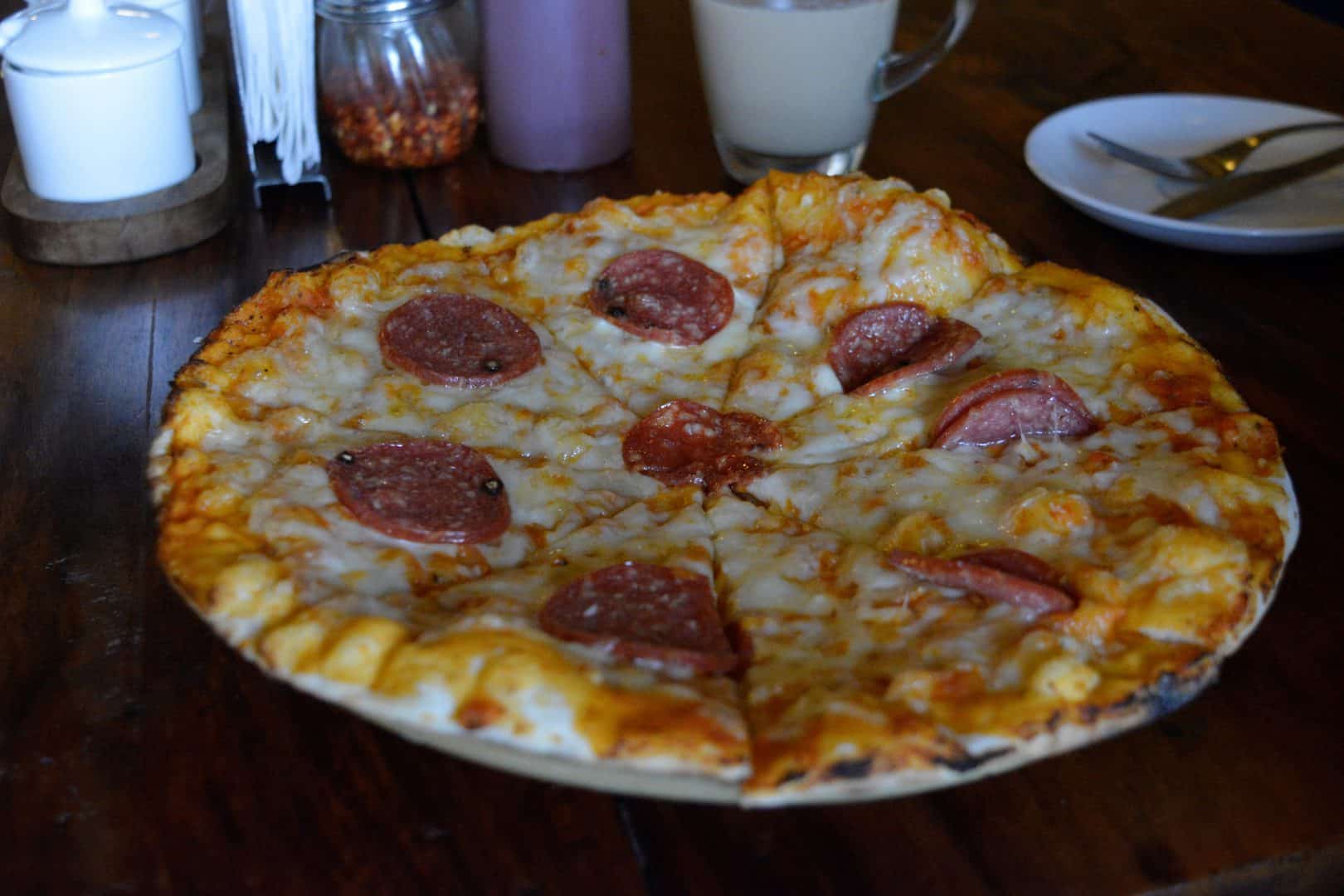 Try the delicious pizzas at Clay Oven. Their mode of preparation is traditional. Hence they take more time and melt in one's mouth. Photography by Divya Sarjolta
Sandy's Kitchen
Sandy's Kitchen is a multi-storied eating place located at a corner on crossing the Bhagsu Temple along the pathway directing towards the Bhagsunag Waterfalls and the Shiva Cafe.
This outlet has a multi-cuisine dimension including Italian, Indian, Chinese, Continental, Israeli and Greek. It also serves hookah.
It provides a great view of the hills and the waterfall along with soothing and scenic landscapes. The Nutella pancake is a must have here.
You can dig in here anytime for breakfast and lunch.
Location
Bhagsunag Waterfall Pathway
Cost for one
200-400 INR
Opening and closing hours
7:30 am – 11:00 pm
Special delicacies
Pancakes, Hookah, Tofu Mushroom sizzler
Tip
Stop by here, especially for breakfast. It's really a good way to start your day.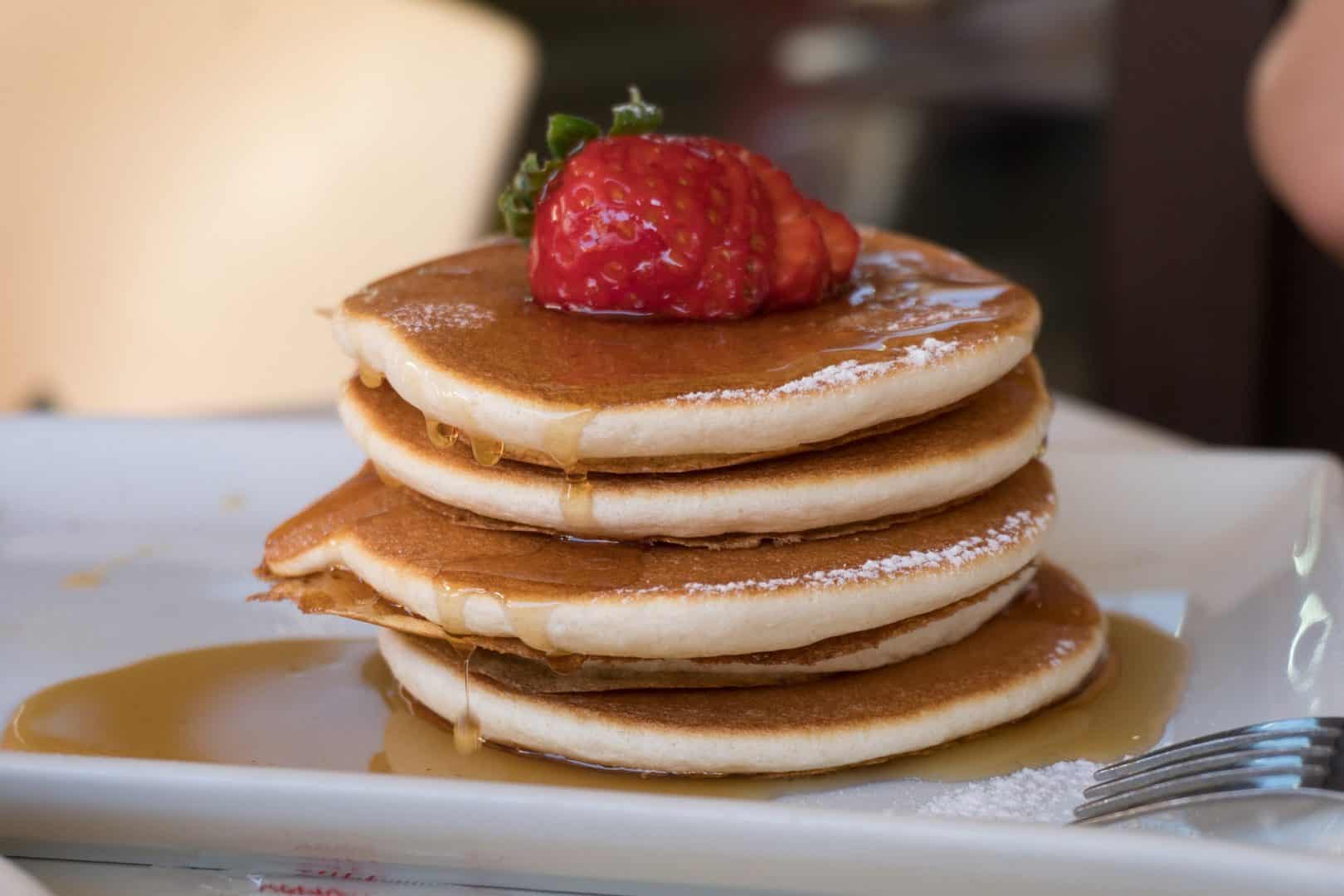 Pancakes with maple syrup make for a scrumptious breakfast option. Try them at Sandy's Kitchen. Photography by Matthias Groeneveld



Dharamshala Food Guide for Must Try Items
Although you will find a number of eating options in Dharamshala and Mcleodganj, there are certain items on menus of eateries here that just should not be missed.
The list includes bhagsu cake, carrot cake, Tibetan herbal tea, steamed mutton or vegetarian momos, thupka, and clay oven pizzas.
Best Momos in Dharamshala
Since Dharamshala has such a lot of Tibetan population, the momos prepared here are super delicious. Steamed momos are available at a street joints as well as in cafes and plush restaurants. 
Try steamed momos at Tibetan Kitchen, Kirpal's momos, and Teju's Momos at Sheela Chowk.
Other Options to Eat in Dharamshala
For travelers who do not like experimenting much with their food choices, there are common options available in the premises of the town too.
Outlets such as Café Coffee Day, Pizza Hut can be easily seen. Also, meals including Chinese and Tibetan cuisine such as momos, dumplings, noodles, etc. can be taken into consideration while making eating choices.
In addition, standard and nominal foods such as coffee, tea, toasts, Maggi, etc. are also available.
Eating at the Monastery Kitchen at Dalai Lama Temple
Your food tour in Dharamshala cannot be deemed as complete until you stop by at the Monastery Kitchen and savour the sacred meal.
Monastery Kitchen is a sacred and pure located within the temple premises of the monastery of his Holiness – the Dalai Lama. The Buddhist monks eat here daily and don't mind visitors.
Food prepared here is simple, hygienic and healthy. The vibe is serene.
I hope my current blog on Dharamshala food guide will help you as a traveler. If you have any queries, feel free to leave them in the comments section at the end of this article.
Dharamshala has become a vacation hot spot among people and see more and more short time migration every year. Moreover, with so many choices available, you can surely plan a well-budgeted trip for visiting this hill station is a must.
Dharamshala Food Guide, on the other hand, will direct you towards a better pick where meals are concerned. The guide incorporates eating houses, cafes and restaurants that are within the pocket allowance of any person.
Happy wayfaring.
About the Author
[av_team_member name='Aishwarya Deorane' job=" src='https://www.budgetwayfarers.com/wp-content/uploads/2018/04/Author-Bio-min-495×315.png' attachment='9819′ attachment_size='portfolio' image_width=" description='Aishwarya Deorane is an explorer who is passionate about travel and food. Hailing from the north Indian state of Uttar Pradesh and having roots from Dehradun, Aishwarya has pursued nutrition studies at Irwin College, University of Delhi. For Aishwarya, constructive gain of wild and crazy discoveries is all that matters.' font_color='custom' custom_title=" custom_content=" admin_preview_bg="]
[av_team_icon title='Reach Out to me on Facebook' link='https://www.facebook.com/aishwarya.deorane' link_target='_blank' icon='ue8f3′ font='entypo-fontello']
[/av_team_member]
[av_notification title=" color='blue' border=" custom_bg='#444444′ custom_font='#ffffff' size='normal' icon_select='no' icon='ue800′ font='entypo-fontello' admin_preview_bg="]
THIS POST ENTITLED 'DHARAMSHALA FOOD GUIDE FOR TRAVELERS: MUST VISIT CAFES AND EATERIES' IS AN EXCLUSIVE PROPERTY OF BUDGET WAYFARERS. ANY INDIVIDUAL OR ASSOCIATION INDULGING IN PLAGIARISM WILL BE DEALT WITH STRICTLY. IF YOU WANT TO USE INFORMATION FROM THE ARTICLE ABOVE, KINDLY QUOTE THE SOURCE.
[/av_notification]