Dharamshala budget trip is something every backpacker and mountain lover has on her/his travel wishlist. The small hilly town of Dharamshala attracts thousands of travellers every year. The destination is not only popular with Indian travellers but is also one of the most sought-after destinations in India among foreign nationals.   Some visit it for a couple of days while others choose to stay longer, in some cases even months. 
Planning for a cost-effective Dharamshala budget trip will not only help you save extra bucks but also allow you more days to explore the place. Each year thousands of travellers visit the Himalayan town of Dharamshala. Due to the rush, it can be a tad bit expensive to visit the region. However, with a proper itinerary and advance bookings, budget travel to Dharamshala can be made possible.
Dharamshala is a beautiful town in the north Indian state of Himachal Pradesh. It lies on the upper reaches of the Kangra valley and smells of enchantment. The snow-clad Dhauladhar peaks add to its beauty. 
Dharamshala is also the seat of His Holiness – The Dalai Lama. The place is full of Tibetan prayer flags, rolling wheels and a whiff of romanticism. It offers a plethora of picturesque views to its visitors. This hill town is also the second capital of Himachal Pradesh – Summer capital to be more precise.
The rich cultural heritage, the natural beauty, warm people, are amongst the few reasons that make this place worth visiting.
In the current travel blog, I will share my ideal 3-day itinerary for Dharamshala budget trip. This is going to be useful for travellers visiting the town for the first time. I assure you that you will not need any kind of Dharamshala and Mcleodganj trip package after reading this blog.
Also Useful:
Watch my video on Triund Trek in Mcleodganj for beginners.
Don't miss out on these amazing eateries in Dharamshala
Dharamshala Budget Trip: An Overview
Dharamshala is the kind of place that is suited for all kind of travellers- budget travellers and luxury seekers. However, if you are a budget traveller or backpacker like me, here are a few pointers for your Dharamshala Budget Trip.
Budget Dharamshala trip cost for a 2-4 day trip
5000 – 8000 INR
Best time to visit on a budget
July to October
Top thing to avoid for saving money
Alcohol
Top shopping tip
Buy small souvenirs only
Ideal accommodation choices
Ideal eating places
Small eateries and cafes
Recommended internal transport options
Public transport 
Recommended external transport options
Buses
Best budget tip
Spend more on exploring places than hotels



Dharamshala as a Travel Destination: Highlights for First Timers
A proper Dharamshala budget trip plan cannot be planned unless you know the basics of the place. In order to connect with the region better, know Dharamshala and McLeodganj as a travel destination.
So here's a brief overview –
Location
State
Himachal Pradesh
Mode of travel
By air, road and rail
Peak season
April – June
December -February
Nearby Places
Mcleodganj and Kangra
Nearest Place
Mcleodganj
Must visit places
Dal lake, Art Museum, War Memorial, HPCA Stadium, Norbulingka, Bhagsu Falls, Triund, Mcleodganj
Food options
North Indian cuisine, Tibetan food
Accessibility
Throughout the year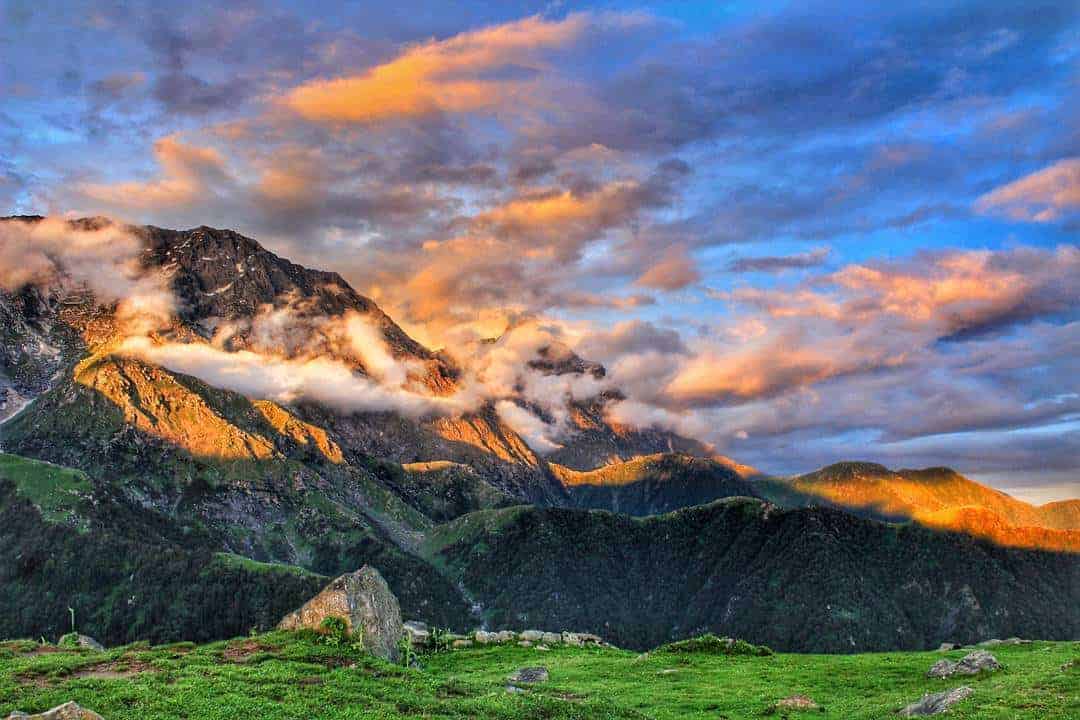 View atop Triund Hill. Photography by Harshit Gangal
How to Reach Dharamshala from Nearby and Far-off Places?
Dharamshala is a pretty well-connected town. It is fairly easy for travellers from India and abroad to reach Dharamshala and McLeod Ganj. Although I undertook my trip to Dharamshala and Mcleodganj from Delhi, you can reach here from any part of the world. Here's how you can reach Dharamshala.

From within Himachal
Board an HRTC bus or any normal bus directly till Dharamshala.
From the rest of India
You have the option of either boarding a train from your nearest railway station to New Delhi and then taking a direct Delhi to Dharamshala bus or boarding a flight till New Delhi, then boarding a flight till Ghaggal airport and finally hiring a local cab.
Ghaggal airport is around an hour's drive from Dharamshala.
Even though travelling via flight is a time-saving option, it is not what I would recommend for a Dharmshala budget trip. So make sure you're aware of the flight cost.
From outside India
Board an International flight till New Delhi. From there hire a cab or board a direct HRTC Delhi to Dharamshala. You can book the bus in advance here.
Transportation Tidbits for Dharamshala Budget Trip
As I said earlier, Dharamshala is a fairly accessible town. You can reach this hill town by train, plane and by bus or a car. here are a few details on the same.
Ghaggal airport
The nearest airport to Dharamshala is Gaggal which is 13 kms away from the city.
Remember that there is no direct Delhi to Mcleodganj flight or Dharamshala flight.
Also, only Air India and Spice Jet flights operate in this region.
Pathankot railway station
The nearest railway station to Dharamshala is Pathankot which is 85 kms from here.
Travel  time from New Delhi
12 hours
What Should be the Must Visit Places on Your Dharamshala Budget Trip Itinerary?
The subsequent places should most certainly be on your Dharamshala budget trip itinerary. It needs to be mentioned here that a trip to Dharamshala should cover Mcleodganj as well. Dharamshala to Mcleodganj distance is only about 6 kms. You can reach McLeodganj from Dharamshala by taking a local bus (Fare 10 INR) or a cab ( Fare 200-300 INR)
In the following table, find the list of places to visit in Dharamshala and Mcleodganj.
Place
Entry fee & Timings
Dal Lake

Free

8:00 am to 8:00 pm

Kangra Art Museum

30 INR

10:00 am to 1:30 pm
2:00 pm to 5:00 pm

War Memorial

20 INR

10:00 am to 5:00 pm

HPCA Stadium

Free

9:00 am to 5:00 pm

Norbulingka

40 INR for locals, 100 INR for outsiders

9:00 am to 5:30 pm

Bhagsu Falls

Free

Anytime

Triund

1000 INR to 3000 INR (depending on package)

Day hours

The Dalai Lama Temple at Mcleodganj

Free

8:00 am to 8:00 pm
A Description of all 'Must Visit' Places in and around Dharamshala
If you are travelling to Dharamshala and McLeodganj for the very first time, there are a few places you should not miss. I have described below the must-visit places on your first Dharamshala budget trip.
Dal Lake
Dal lake is a small lake on the outskirts of the main town surrounded by plenty of pine trees.  Now don't confuse it with the famous Dal Lake in Srinagar, Kashmir.
The green vegetation and the blue water is a treat to the eyes. However, lately, the lake hasn't been maintained very well. So take your call whether you want to pay it a visit or not. If you are visiting Naddi, you will cross this lake on the way.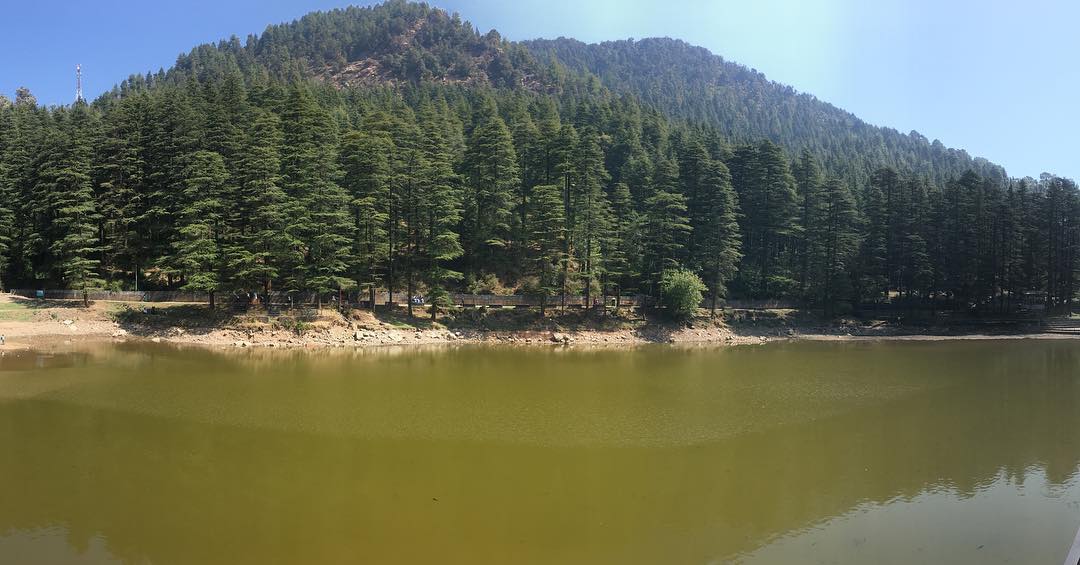 Dal Lake. Photography by Abhishek
The Kangra Art Museum
This museum was inaugurated in 1990. It is situated very close to the town's bus station. This place has a storehouse of artefacts that date back to the past years.
It has a treasure trove of things with very high cultural and aesthetic value that includes paintings, carvings, sculptures, old jewellery, pottery, coins, etc. It is not a very big place to wander but definitely among the must-visit places to visit in Dharamshala.
A painting on display at Kangra Art Museum. Photography by Rohit Verma.
War Memorial
Spread across a vast area of land and surrounded by surreal beauty of nature is the War Memorial. It is situated within the military area and has a big lush green park of pine trees and shrubs with ponds.
A memorial where names of martyrs are mentioned in memory of their contribution to the nation and in honour of their bravery. It is a recollection of all the war heroes who fought courageously for their motherland and sacrificed their lives.
War Memorial. Photography by Gaurav Sharma
HPCA Stadium
The famous stadium of the nation can accommodate around 23000 people at one time. This stadium also happens to be the home ground Stadium for the renowned IPL team Kings XI Punjab.
It is one of the most beautiful and colourful cricket stadiums of the Indian subcontinent. Domestic matches including Ranji Trophy and Indian Premier League are hosted by it. Whether or not you are a cricket fan, this is a must-visit place on your Dharamshala Budget Trip.
HPCA Stadium. Photography by Pratik Chaudhary
Norbulingka
If you are in Dharamshala and haven't been to monasteries and Buddhist temples, your visit will not be deemed complete. Located at a distance of thirty minutes, Norbulingka is a suburb of Dharamshala.
The entrance fee is a mere 20 INR. You can (actually should) ask for a guided tour. At the end of the tour, travellers can pay obeisance to the temple, Deden Tsuklagkhang, a magnificent example of Tibetan religious architecture, displaying some of the finest work done by Norbulingka artists.
It's a fine place to regain your inner peace. You can also pick up some souvenirs on your way out.
Norbulingka. Photography by Kritesh Thakur
Bhagsu Falls
If you're a hiking lover, do visit Bhagsu Falls. However, make sure to visit them only during the monsoons. During the rest of the seasons, they may run dry. The view around Bhagsu Falls is good.  \Immerse yourself amidst nature on your Dharamshala budget trip.
You can also pay a visit to the Bhagsunath temple on the way to the Falls. There are also a number of cafes in Bhagsu that serve great food! You can grab a bite in one of them. 
A small eatery that goes by the name of Shive Cafe is located right above the Falls. Stop by for snacks. They make decent Pizzas and milkshakes.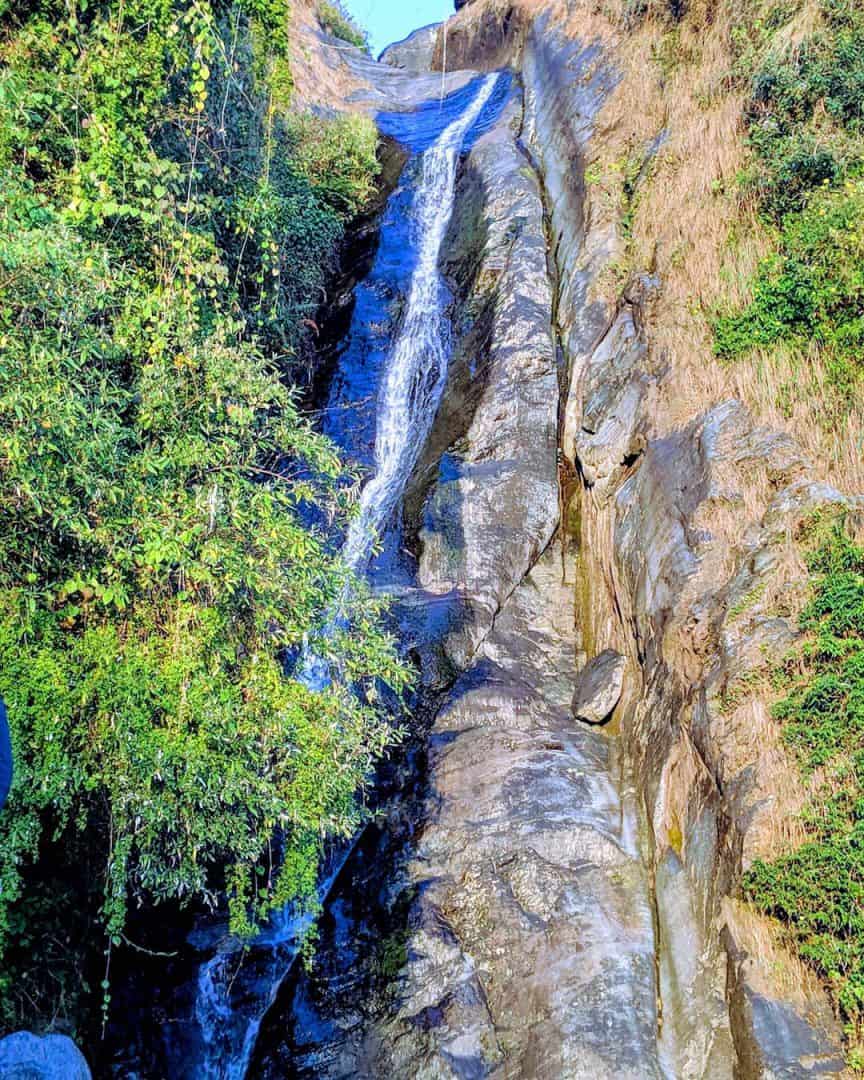 Bhagsu Falls. Photography by Vishnu Raghavan
Triund Hill
Trekkers love Triund. This trek has become one of the most sought-after trek in North India among beginners and enthusiasts. The starting point of the triund trek is Galu but you opt for alternative locations as well – Mcleodganj, Bhagsu Nag etc. From galu the entire trek is beautiful. Once you reach Triund, you might as well camp there. It's worth it.
If you are feeling a little more adventurous, you could adventure beyond Triund Hill to the Lahesh Caves. 
Also Useful:
Read the complete Triund Trek Guide for beginners
Explore the Lahesh Caves, beyond the Triund Hill
For those of you who cannot hike, hire a pony or a horse but just visit this place. During monsoons, the clouds seem to be settling down under and the misty weather just soaks you completely. The trekking route is closed in the winter months of January and February.
Camping at Triund Hill. Photography by Divya Sarjolta
The Dalai Lama Temple
This is the best place to visit on your Dharamshala budget trip. A 15-minute walk from the bus stand in Mcleodganj leads you here. This sanctimonious place is open daily from sunrise to sunset. Travellers are welcome to explore its serene ambience.
Once you enter the temple, you will notice hundreds of people sitting on the floor praying and chanting. You too can join the prayers or walk around and explore the unique artwork in the temple.
Make sure to visit the Tibetan Museum which is just adjacent to the Dalai Lama temple. 
The Dalai Lama Temple. Photography by Gokul Subramanium
Recommended Eateries for an Ideal Dharamshala Budget Trip
There is a whole variety of food options available at Dharamshala and McLeodganj. The place offers mainly Indian, Chinese and Tibetan cuisines. You can also find Lebanese and Japanese cuisines in the cafes at Mcleodganj. The town has a good number of cafes. Some are rooftop places while others are with attached balconies.
Also Useful:
The best and must try cafes and eateries in Dharamshala
While in Dharamshala, do try the locally prepared Bhagsu cake. Photography by Ashmitha Sathish
If you are a food lover, you will fall in love with Dharamshala and McLeodganj. Whether streetfood or cafes, the food in Dharamshala, especially McLeodganj is a treat to the palate. I won't be exaggerating if I say I could go back to Mcleodganj just for the cafes and food.
Here are my top 10 recommendations  for Dharamshala and Mcleodganj
| | |
| --- | --- |
| Budget Eatery | Specialities |
| The Clay Oven | Nepali thali, Pesto smoked chicken |
| Chilly Beans Cafe | Israeli cuisine, Chocolate ball ice cream |
| Food by the Way | Fish curry, North Indian cuisine |
| German Bakery | Bhagsu cake, Avocado toast |
| Sky Pie | Choco chip pancake, Fresh fruit juices |
Here are my top 5 recommendations  exclusively for Mcleodganj
| | |
| --- | --- |
| Budget Eatery | Specialities |
| Shop Number 4 | Steamed mutton momos, Thupka |
| Labooz Cafe Bar Lounge | North Indian cuisine, Drinks |
| White Rabbit Dhaba | Lentils salad, Eggs Benedict  |
| Salvation Cafe | Cheese omelette, Open eggplant sandwich |
| Tibet Kitchen | Bhutanese cuisine, Tibetan cuisine |
Recommended Accommodation Options for an Ideal Dharamshala Budget Trip
Although there are plenty of accommodation options in Dharamshala and McLeodganj, here are my top 5 recommendations (for July to October). 
I would also recommend travellers to stay at Mcleodganj instead of the main Dharamshala town. Mcleodganj has a plenty of budget stay options, especially around the Dharamkot area. You can enjoy the true serene beauty of the Himalayas here.
Facilities Available for the Recommended Accommodation Options
All the above-mentioned stay options are pretty decent if you are not only looking to stay in a budget but also wish to get the best worth for your money. The highlights of the facilities available in these stays are:
Best deals on Flights and Accommodation
In case you're planning to visit Dharamshala during peak season, the average prices are bound to scale up. However, you can avail various budget deals in case your timing is correct.
Explore the following for the best deals on flights and accommodation not just for Dharamshala budget trip but for a nominal trip around the world 
A Comparison of Dharamshala Budget Trip: Solo Travelers versus Group Travel
As inspiring as it may sound, solo travel to Dharamshala and McLeodganj can be a tad bit expensive. The fact that you're travelling alone will put the entire responsibility of finances on yourself. This will prove especially true for accommodation and food. 
However, this does not imply that an ideal Dharamshala budget trip for solo travellers is not possible. It can be done if you ensure a few things.
If travelling solo, try to book your accommodation way in advance so that you are able to avail the best deals. Also, try staying closer to the main area. This will be helpful not just from a budget point of view but safety point of view as well.
Try reaching out to fellow solo travellers for the sake of sharing cabs. Private transport can be expensive in hilly terrains. So if you pool, it'll prove cost-effective. Else, just avail public transport.
Lastly, eat at places where a whole meal is cheaper than mere junk food. Make sure it is hygienic.
Also Useful:
Find out how safe Dharamshala is for solo travellers
A reasonable way is to contribute money in advance to the most travel-friendly person of the group. Transfer the money in his/her account before the commencement of the trip. Throughout the trip, let him/her pay. This will save all the extra hassle. Now coming to group travellers. On an average, a group of three to five can easily pursue the Dharamshala budget trip. Since you're not alone, you can split bills for your stay, food and internal transport. 
In case you don't pool money in advance, there are significant chances of the onus falling on only one person.
Ideal 3 Day Itinerary for an Exciting Dharamshala Budget Trip
If you are travelling to Dharamshala for the first time, you need at least three days to explore the most important locations in Dharamshala- Mcleodganj. Here is my ideal 3-day itinerary for Dharamshala and Mcleodganj. 
Also Useful:
An ideal 2 Day Itinerary for Dalhousie
Explore the town of Manali in 4 Days
Day 1
Morning
Plan your trip in such a way that you reach Dharamshala early morning. This will save you an entire day.
Check in your accommodation place. Freshen up and take a brief nap. After you feel relaxed, have breakfast. 
Try eating at one of the budget eateries. There are tons in both Dharamshala and Mcleodganj.
 Early
Noon
After a savoury meal, head to Norbulingka. A lot of travellers miss this place and head to Mcleodganj first. But I insist you start your trip here.
Once you've explored the place, head up to Mcleodganj, stop by for lunch here.
Being a hilly terrain, the region might exhaust you. Therefore it is important that you relax while having lunch. 
Afternoon & Evening
After enjoying lunch, head to the local sightseeing places – The Dalai Lama Temple, Dal lake, St. John's Church in the Wilderness and Naddi Village where you can enjoy a beautiful sunset. The Naddi village is awalking distance from the Lake.
You can also do some souvenir shopping near Dalai Lama Temple later in the evening.
Night
By 7:30 or maximum by 8:00 you should be having dinner and should be close to your place of accommodation.
This is important because you're tired and need to replenish your energy for the next day.
Sleep by 9:00 pm.
Dharamshala budget trip ideal cost breakup for Day 1
Accommodation – 300 to 500 INR 

Food – 600 to 800 INR

Local sightseeing & transportation – 200 to 700 INR
Day 2
Morning
After a good night's sleep, get ready for a fresh climb. This is true literally because you should be heading to Triund peak.
Head to Mcleodganj (in case you're staying far from it). Have breakfast before 8:30 am and head out.
For Triund, make sure you have booked online in advance.
Walk up to Dharamkot or take an auto. After Dharamkot, reach Shri Galu Devi temple (about 2 kms).
If you have booked the Triund trek online, you'll be asked to report at one of the guest houses near Dharamkot.
Here you'll be provided with lunch and a guide would be accompanying the group. 
Noon
After having lunch at Dharamkot,  you can walk up the distance to the Galu Devi temple or hire a cab. There is a checkpoint of the Forest Department near the temple where your luggage and your ID cards would be checked. 
The trek to Triund has now begun.
Evening
After about three hours of walking, you will reach Triund Peak.
Along the way, the slope is gradual for the first few kilometres. About 2 kms of the last part of the trek is of a considerably steeper gradient and moderate difficulty.   
Along the way, you'll find a number of people of different nationalities and regions on their ascent or descent.
Night
Once at Triund, you can buy or rent a tent from any of the shops there.
Alternatively, the guide will take you to your camping spot.
There is a Rest House run by the Forest House which can be booked at Dharamshala. 
But I would suggest staying in the camp to experience the real thrill once you finish the Triund trek.
Enjoy your piping hot meal and sleep in your tent.
Dharamshala budget trip ideal cost breakup for Day 2
Accommodation – 1000 to 3000 INR 

Food – You pay for breakfast only (should not exceed 150 INR). Lunch and dinner will be served under the Triund package.

Auto/Cab – 50 to 500 INR
Day 3
Morning
Wake up early and enjoy the beautiful sunrise at Triund peak.
Have breakfast and head your way downhill to Dharamkot. 
While going back to Dharamkot, you can take the same route or a different one through the Bhagsu waterfall which ends at Bhagsu village.
Noon
Head towards Dharamshala, you can get local buses that charge Rs. 10
Have lunch. and book a cab from the bus stop for sightseeing (HPCA Cricket Stadium, War Memorial, Tea Gardens and Kunal Pathri Mata Temple)
This will take 3-4 hours. The private cab will charge somewhere between Rs 800-1000
Evening
After enjoying the lush greenery around, drop by the local market. 
Night
Board a bus/cab from Dharamshala and head back home or to your next travel destination.
Dharamshala budget trip ideal cost breakup for Day 3
Food – 500 to 700 INR

Local transportation – 200 to 500 INR

Shopping – 400 to 600 INR
Top Money Saving Tips for a Successful Dharamshala Budget Trip
The following tips will ensure that you save a reasonable amount of money on your Dharamshala budget trip.
Accommodation
Always book in advance to save yourself from last-minute surge pricing.
Food
Eat whole meals for less rather than small meals for more.
Internal Transport
Either use public transport or pool wherever possible.
Time of Visit
Plan your trip during offseason. Hotels, flights, even food will be cheaper.
Local sightseeing
Hire a local guide only if extremely necessary. Else, explore on your own.
FAQ's on Dharamshala Budget Trip
There are a few questions travellers often have regarding Dharamshala budget trip.  Here are some quick answers to the frequently asked questions.
Q1. Is Dharamshala budget trip possible for solo travellers?
With proper planning, yes.
Q2. What's the ideal cost of 3 days Dharamshala budget trip?
Not more than 8000 INR
Q3. Top tip to save on Dharamshala budget trip?
Book in advance.
Q4. Do travel companies offer special deals for Dharamshala budget trip?
Yes
Q5. What to avoid on Dharamshala budget trip?
Expensive hotels
Although people mostly prefer to visit Dharamshala in summers, the place is equally mesmerising in winters. Plan a weekend  Dharamshala budget trip and immerse yourself in a state of complete calm.
Happy Wayfaring 🙂
ABOUT THE AUTHOR
Aishwarya Deorane
Aishwarya Deorane, a greenhorn at blogging studies nutrition at Lady Irwin College, Delhi University. She hails from one of the populated states of India, Uttar Pradesh but has her roots in Dehradun, Uttarakhand. Passionate about travel and food, Aishwarya believes in exploration rather than constantly planning trips. She operates a travel and food blogging page on Instagram and writes food reviews on Zomato. For Aishwarya, constructive gain of wild and crazy discoveries is all that matters.
BUDGET WAYFARERS
https://www.budgetwayfarers.com/wp-content/uploads/2018/11/Dharamshala-Budget-Trip-min.png
315
560
Budget Wayfarers
https://www.budgetwayfarers.com/wp-content/uploads/2018/04/1200X800.png
Budget Wayfarers
2019-01-30 12:06:56
2019-01-31 11:46:43
Dharamshala Budget Trip: A Travel Blog for First Time Backpackers