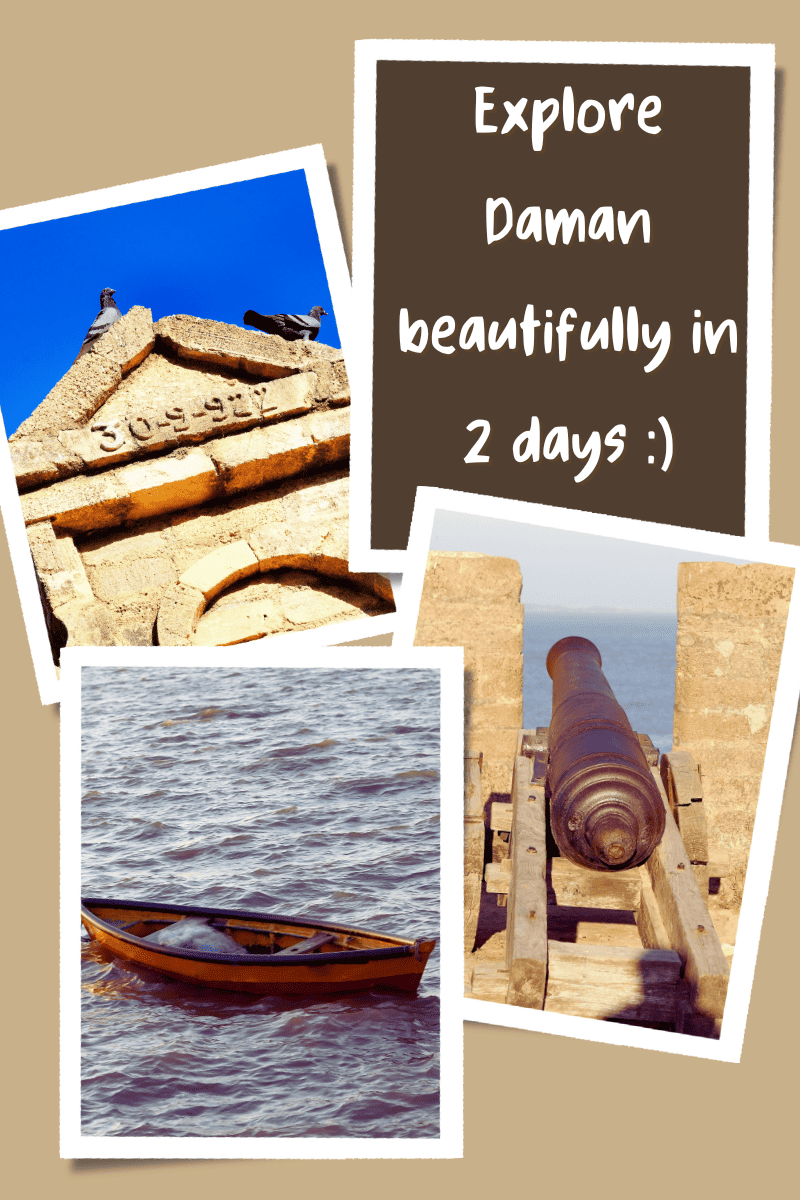 Daman two day itinerary will not only help you visit the best places in town but will also ensure that your 2 days are utilised well. It will prove handy for people who are in Daman for a quick visit and need to relax.
 Daman is one of the most budget-friendly places in India. However, it's underrated as a destination. Therefore if you're planning a trip to this hidden gem, trust me, you will have a time of your life.
In my current blog on Daman two-day itinerary, I would make an endeavour to help fellow travellers plan their trip based on my own travel experience in the region a while back.
Daman Two Day Itinerary for Budget Travellers
For your ease of understanding and fulfilling travel experience, I have split the two days of my itinerary into 3 slots – morning to noon, noon to evening and evening to night.
This way, you can keep a track of the day's progress in an efficient slot-wise manner.
Daman has two main parts – Nani Daman and Moti Daman. The attractions are spread over these parts. Nani Daman and Moti Daman are connected by road and ferry services.  
The following is a daily slot wise breakdown of the Daman two Day Itinerary.
Daman Two Day Itinerary: Day 1
Day 1 of your Daman two-day itinerary should include a visit to a beach, exploring the forts and some shopping.
Morning to Noon:
Visit the Jampore Beach. Stroll around for some time and have your brunch at the beach.
Noon to Evening:
Visit the Forts – at Nani Daman and Moti Daman
Visit the Lighthouse
Evening to Night:
Visit the Daman Market and indulge in some shopping.
Have dinner and sleep.
Daman Two Day Itinerary: Day 2
On the second day of your Daman two day trip, you should spend some time on the beaches and end your day with a musical night.
Morning to Noon:
Visit the rocky Devka Beach. Stroll around for some time and watch the fishermen fishing in the sea.
Hop onto a boat in which they would take you to a naturally formed rocky cum sandy island in the sea. Here, you can have drinks, and enjoy the breeze and the view.
Noon to Evening:
Have lunch at a restaurant or a cafe, and then head towards the Jampore Beach.
Choose from a variety of options like paragliding, horse riding and camel riding.
Enjoy the sunset.
An evening to Night:
Attend the musical night at Hotel Miramar. Have drinks at a bar/stay back at your hotel and relax.
Have dinner and sleep.
You can also check out this brief itinerary in this short video below.
Saving Money on your Daman 2 Day Itinerary
Daman as a travel destination is quite budget friendly if you travel there with the right mindset. Therefore, it is important that you do a bit of research on the region before visiting. 
Having stayed in Daman for a while, let me share some insights that I discovered on my own.
Stay in clean and safe affordable hotels only
As a traveller, your priority in Daman should be to explore the locale and not be indoors. Hence, as much as possible save money on your place of accommodation. As long as your stay is safe and clean, that should suffice.
During my trip, I made a booking at Vapi rather than downtown Daman. Reason being, it's at a 20-minute distance from city centre and hence the places are much more cheaper there. I stayed at this decent hotel known as Hotel Orange at Vapi. It cost me less than 1000 INR for a night. It was at Vapi.
I'm sure family rooms will be a tad bit more pricey but even then way cheaper than downtown Daman. In case you are comfortable only in Daman, then go for this place known as Palm View. A couple of friends of mine have stayed there and narrated pleasant tales.
Reach Daman via a low cost option
Instead of travelling by flights and landing at a distant city, it is much better to travel by train till Vapi. Once you reach there, you can easily commute till Daman hiring a cab or even an auto rickshaw.
There isn't any commercial airport in Daman and hence travellers should save all the hassle and reach Daman directly by trains.
Don't miss out on buses if travelling from Gujarat or Maharashtra
The location of Daman is such that it lies equidistant from both Maharashtra and Gujarat. Therefore, you can easily commute by buses that frequently move in and out of Vapi.
If you're a road tripper, travel in a group of 4
Travelling with friends and family is fun on the road. And so if you're the kind of person who prefers self-driving, either take your own car and ask your friends to pool or you can even hire a rental like Zoom Car. Just make sure, they have services in your home city.
Travelling in a group will help save you money on both commute and stay.
Use metred autos to commute between places
Once you're in Daman, feel free to access the services of metred Autos. They are reliable and time-saving. Cab services exist in Daman but prove to be very expensive. And so avoid them.
Skip travelling to Daman during monsoons
Please avoid travelling to Daman during the Monsoon season because the region is very expensive at that time. Also, not very safe to visit, especially the beaches.

7 Amazing Places to Cover in Daman within 2 Days
Daman as a coastal town is home to a variety of historical monuments that were built by the Portuguese back in the 16th century. It also has some beautiful churches which are a reflection of the amazing architectural knowledge of Portuguese back in those times.
In order to ensure optimum utilisation of your time, it's recommended that you stick to a pre-planned Daman two day travel itinerary. Here are the places that I highly insist you go visit.
1. Jampore Beach
Jampore Beach is the first place you should visit as per the Daman two day itinerary. It's located about 5 kilometres from Moti Daman and is truly a haven of serenity.
What separates this beach from many other beaches in the country is that the sand here is somewhat blackish in colour. This makes its overall appeal quite unique.
If you're in Daman during the off-season, you'll find this beach less crowded and you can enjoy every moment in tranquillity.
However, if you're in Daman during the weekends, you must expect a lot of tourists from nearby cities, who come here to sit back and enjoy their weekend.
Fun Things to Do at the Jampore Beach
You get to do a variety of things to do while at Jampore Beach. If you're up for some thrill and adrenaline rush, you can go for Paragliding. There are also quad bike rides available if you're more into motorized action.
They also have horse and camel rides, which are ideal if you have kids with you. You can have liquor or sweet coconut water, which is easily available at the beach tents.
The beach is also popular for its fresh and spicy seafood which is quite appetising.
If you like to play cricket, football, or volleyball, you can also have the time of your life playing it at Jampore Beach. The breeze, the waves, the sun, the smell of the seawater, and the sand squishing under your feet will make the whole experience a truly enjoyable and memorable one. I definitely recommend it.
2. Devka Beach
Devka Beach is a totally different type of beach as compared to the Jampore beach. It's not a sandy beach as most people would expect.
It's more of a rocky beach and isn't ideal for surfing or bathing. However, you can walk on small rocks towards the sea and indulge in picking colourful shells on the way.
Devka Beach also offers an excellent rocky prospect for your photos if you want to fulfil your photography instincts. The view of waves crashing into the rocks is the one you can watch for a long time.
What all is available at Devka Beach?
Drinks and seafood are available at Devka Beach. Coconut water, light snacks, etc. Try the Ghotala there. It's yummy.
It's usually a quiet place where you can also meditate while sitting on the rocks, or simply enjoy the breeze with someone special along with some Ghotala.
3. St. Jerome's Fort
Also known as Nani Daman Fort by the locals, the Fort was completed in 1672. The Fort is situated next to the main fishing Jetty. It has 3 bastions with a huge statue of St. Jerome. The precincts of the Fort also house the church of Our Lady of the Sea
Just like the fancy destination of Goa, Daman too was under the Portuguese for a long period of time. Hence, the reflections in the architecture of buildings.
4. Moti Daman Fort
Also known as Governor's Palace, Moti Daman Fort was built by the Portuguese in 1559. It has 10 bastions and 2 gateways and is shaped like a polygon with over 500 feet projection.
The most intriguing part about the fort is its historical structures.
It would be an injustice to the Daman two day itinerary if the great forts of Daman do not find a place in it. Constructed by the Portuguese, these forts are as robust as any other forts across the country.
Built-in the 16th Century, these are still standing in their full glory. Although time has taken a toll on their appearance, they still please tourists who visit them as they offer a very enthralling view of the sea.
Just inside the Moti Daman fort, there's a beautiful church called the name Cathedral of Bom Jesu. You can also visit the church and explore and admire the intricacies of Portuguese architecture.
The Chapel of Our Lady of Rosary and the Church of Our Lady of Remedies are also worth a visit.
5. The Lighthouse
The lighthouse near the Moti Daman Fort was built by the Portuguese and is also one of the best places to visit if you want to have a panoramic view of Moti Daman, Nani Daman, the beach and the sea.
It's an amazing place for photography enthusiasts as the location is quite vibrant. Also, the journey by road to the lighthouse is quite exciting as you drive parallel to the big walls of the fort, which are also lit up in different colours during the night.
6. Daman Market
The Daman Market is a special and popular place amongst the tourists. As per my interaction with the locals, Daman Market has a wide range of things on sale from deodorants, perfumes, belts, watches, shoes, makeup for women, accessories, handbags to almost every other thing you can imagine.
You might ask what's so "special" in that? But here's the catch. If you have time and you hunt down the right shops, you can get imported products at a very cheap rate. I suggest you go shopping when you have a whole afternoon up to your sleeve, as it's quite a time demanding a place to be in.
Street shopping in Daman is fun. Daman is famous for its leather products and wonderful handicrafts. Do buy a pair of leather slippers or woven bamboo baskets, etc, from these markets.
7. Live Musical Night at Hotel Miramar
Hotel Miramar is located in the Bhimpore area of Daman. It's a lovely hotel which hosts live performances of professional singers and performers for the people on weekends.
The best part is, that you get to experience the melodious night near the beach. The breeze, the drinks, the food and the soulful performances scale up the overall ambience. It truly moves your soul and leaves you in euphoria.
What all is available?
Drinks, a variety of cocktails, vegetarian food and seafood.
Daman Two Day Itinerary: Got Some Spare Time?
If you manage to get extra time after visiting all the places from your Daman two day itinerary, you can visit the Devka Amusement Park.
It's a fun place located by the Devka beach with quite a few rides and attractions, which would be greatly enjoyed by kids. There are also food stalls serving snacks that you can savour while enjoying the view of the sea.
I recommend this place, especially to those who are travelling with kids. They will surely be thankful to you for taking them here.
Daman Two Day Itinerary: FAQ
Travellers visiting Daman have a lot of questions and below, I have tried to answer a few of those queries. If you have any other questions, feel free to drop them in the comments section below. I will try to answer them as soon as possible.
Is Daman safe for solo women travellers?
YES, Daman is safe for women/ girls travelling alone. Just follow some basic precautions like being back to the hotel before nightfall.
Which beach is better – Jampore or Devka?
Jampore Beach is better because it's cleaner and has many food and activity options.
Can I visit Daman and Diu together?
NO, Daman and Diu are approximately 700 km apart by road. By sea, although the distance comes down to 200 km, there is no way you can go from Daman to Diu by cruise or ferry or boat.
Is Daman worth visiting?
YES, Daman is a great place to spend for all kinds of travellers.
How many days are enough for Daman Trip?
2 days are enough to explore Daman.
Is visiting Daman during monsoons a good idea?
Not really. Rainfall can spoil the plans of sightseeing and visiting beaches can be difficult.
Daman is a lovely place to spend a couple of days. Plan a trip to this beautiful town soon. I hope my Daman two day itinerary assists you in planning an amazing trip.
Happy Wayfaring 🙂