Cyprus four day itinerary will help travellers explore more places if they are on a 3 to 4-day visit to the region. Cyprus is a beautiful island country in the Mediterranean Sea and in order to explore it well within a set time frame, planning and sticking to an itinerary is essential.
A four day trip to Cyprus can prove reasonably cost-effective compared to travelling in any other city of mainland Europe. Keeping that in mind, Cyprus four day itinerary will act as a handy guide to travellers. The island country provides an excellent travel-friendly atmosphere, with enthralling historic remains, beautiful natural caves and luscious food. The uniqueness of Cyprus lies in the fact that over decades, it has absorbed all the cultural essence from the surrounding lands.
Cyprus as a travel destination is easily accessible from many parts of Europe and Asia. The country became a member of the European Union since 2004 (with some parts still controlled by the Turkish government).
Through the times, the country has faced severe political tensions but amazingly, it has stood the test of time and now this almost invisible dot on the world map has become an attractive tourist destination for many. As a result, while travelling Cyprus, you can sense a fusion of different tastes, be it food, lifestyle or even culture.
In the current travel blog, I will elaborate on the ideal Cyprus four day itinerary that will assist you immensely with your trip.
Also Useful:
A complete Turkey Backpacking Guide for first-time visitors
A 2-day Itinerary for visiting the old city of Petra in Jordan
Cyprus Four Day Itinerary: Day Wise Planner
Planning a trip to Cyprus will be easy if you have a pre-planned itinerary. A Cyprus 4 day itinerary will ensure that you are able to make the most of the days you have in this beautiful country.
Day 1: Reach Larnaca
Visit the Church and Marina
Exploring local food
Day 2: Visit Nicosia
Ledra Street, the old city, museums, delicious Greek food, shopping
Day 3: Visit Paphos
Historic importance
Day 4: Cave Greco
Be at a cruise to enjoy music, food, blue water and natural caves.
Before I elaborate further on the Cyprus four day itinerary, it is essential that you understand Cyprus as a travel destination. Knowing the basics about the region will prove immensely useful. 
Connecting with the essence of the region is important while exploring it.
Cyprus as a Travel Destination
Before I go into the details of where to go to Cyprus in 4 days, here are a few things you need to know about the country as a travel destination.
Visiting Country
Cyprus
Visa requirement
Some countries need a visa that can be easily obtained (check the link of Cyprus Visa given below)
Languages spoken
Greek and Turkish
Currency used
Euro
Staying option
Choose budget apartments or hostels
Best Time to Visit
Summer will be good but warm
Spring will be milder
Recommended staying city
Larnaca
Places that should be visited
Nicosia, Paphos and Cave Greco
Safety level
Completely safe to travel alone. Safe for woman travellers
Food options
Versatile ranging from Mediterranean to Arab cuisine
For vegetarians, the options are limited.
Top Budget tip
Use public transport. It's punctual and efficient.
Travel to Cyprus in a small group (of 2-3). That way,  apartments and even meals can be shared.
How to Plan a Cost-Effective Cyprus Four Day Itinerary?
For making a cost-effective Cyprus four day itinerary, you must plan the trip well in advance (~3 months).
If you are travelling with a small or medium family, the best way is to select budget apartments and then finalize the one that suits your requirement.
If you are a solo traveller or travelling with a friend you can search for hostels. It's better to avoid starred hotels as they can be quite pricey. Spend that amount in local travelling and food.
Various Accommodation Options at Larnaca 
There are many budget accommodation options in Larnaca and Cyprus. Here's a list of these options along with the range of the price per night.
Apartments
20 € to 50 € per night 
Hostels
20 € to 50 € per night
Hotels
50 € to 100 € per night
Cyprus is a magnificent country comprising the most luscious landscape ever. Photography by Dimitris Vetsikas
Cyprus Four Day Itinerary: Day Wise Details with Daily Budget
Let me now provide you with daily details of my travel experience to various locations. Make sure to include these details in your Cyprus four day itinerary.
Day 1: Reaching Cyprus and Checking in 
In Cyprus, the best place of accommodation is Larnaca since the major airport is in the same city. Obviously, you can save a lot of time and money also. An ideal blend of work and relaxation, Larnaca itself has enough to make you aware of the Cyprus way of life.
Generally, check-in and check-outs in apartments or hostels have a certain time range. So, try to plan in such a way that you reach in the afternoon (or close to the check-in time). This way you can make the most of your stay.
The best way for first-time travellers is to take a local cab from the airport to the main city (the place of your apartment). The taxi price will be around 15 €.
The holy Church of Saint Lazarus. Photography by Dimitris Vetsikas
Main Attractions in Larnaca
The attractions here include an impressive cathedral – the Church of Saint Lazarus, a medieval fort and the fascinating Hala Sultan Tekke mosque. It also has a flourishing marina and therefore attracts a cosmopolitan bunch of travellers and workers.
The beautiful sea side lifestyle will automatically induce a mix of body and mind relaxation. Also, it is well connected with the other cities by public transport.
The trip can ideally begin by getting a feel of Larnaca after you reach the city. It would be a good idea to go out to explore the local restaurants and enjoy the cool breeze of the Mediterranean sea.
A visit to the cathedral might be pleasant. You can walk down the beach to Larnaca Marina, which is the port area. A number of big and small boats can be seen commuting up and down. It is worthwhile to enjoy the sunset here.
Food Options in Larnaca
While at Larnaca, it is a must to explore the versatility of dishes available around. Food junctions make travel stories memorable. The Larnaca sea beach is an amazing food stop where you can get a rich variety of Mediterranean and Arab dishes.
The aroma of shawarma, the soft texture of a Lebanese bread filled with minced meat, the sight of a sea-food platter and the sweet sound of a fresh fish-fry might make you overlook your diet consciousness. You should not miss the innumerable number of beer pubs and ice-cream corners for quick refreshments.
Thus,  plan accordingly, keeping in mind your liking and mood and dip in the wonderful multi-ethnic environment. You can have the options below and choose according to your budget.
Also Useful: 
Experience the Larnaca Food Tour   
Tentative Cost of Food at Larnaca
Food is one of the best things to experience in your Cyprus travel. The meal cost at different restaurants is given below.
Meal at an inexpensive restaurant
10 €
Meal at a mid-range restaurant (for two)
35 €
Burger Meal (or something equivalent)
6 €
The beautiful Hala Sultan Tekke Mosque at Larnaca. Photography by Dimitris Vetsikas
Best Eating Places in Larnaca and their Signature Dishes
A mention of few restaurants with their speciality dishes has been made by me so as to assist you well.
Name of the restaurant- Cuisine
Maqam Al-Sultan- Lebanese
Ocean Basket- Sea Food
Panos Steak House- Seafood

and other local delicacies
Souvlaki.Gr- Greek
Italia Sphagetteria- Italian
Budget Break Down for Day 1
The cost of your first day in the 4 Day Cyprus itinerary is :
Taxi to Larnaca
15 €
Snacks and dinner
20-22 €
The first evening of your trip is a good time to check whether your Cyprus four day itinerary is being implemented well or not. 



Day 2: Exploring Nicosia – The Capital City of Cyprus
From Larnaca, buses ply to different cities at regular intervals. Buses to Nicosia are available from the main bus stop at the Larnaca city which is known as the Finikoudes bus stop. The updated timings are always available on – cyprusbus.com
The average fare to Nicosia is around 4 to 6 €. Nicosia is the capital city of Cyprus. It is at a distance of 56 kms and takes around an hour to reach. The buses are generally punctual and also very comfortable.
There is no reason to book a cab for local transport as it would be quite costly (45-50 € for the whole taxi from Larnaca to Nicosia).
Before you travel to Nicosia, it is worthwhile to read a bit about the history of Cyprus. Knowing the history often connects one to the ambience of the place.  
Even after independence from the British in 1960, Cyprus had been under political turmoil between the Turkish Cypriot community and the Greek Cypriot community.
Like many other unsolved political problems, modern Cyprus still comprises of two territories separated by UN Green line.
Now, Nicosia happens to be the only capital city in the world which is divided into two territories, the Northern Nicosia is the capital of Northern Cyprus (a state recognized by Turkey only and under Turkish military rule) and the southern being the capital of the Republic of Cyprus.  
Ledra Street: Connecting Two Territories in Cyprus
Ledra Street in Nicosia is very special owing to its connectivity to both the territories. It acts as a single line of flow between completely diverse cultures.
The street, in general, is quite a happening area. It comprises big and small merchandise shops and restaurants. While you start walking the street from the Greek side (capital of Cyprus), the scenario looks more European.
Well paved alley which is sometimes covered by beautiful decorative pieces of cloth gives the place an ethnic look. Excellent Greek food is available here along with other food options.
To Anamma is a good and casual restaurant to savour a meal. This place is also good for buying post cards, local souvenirs and small hampers.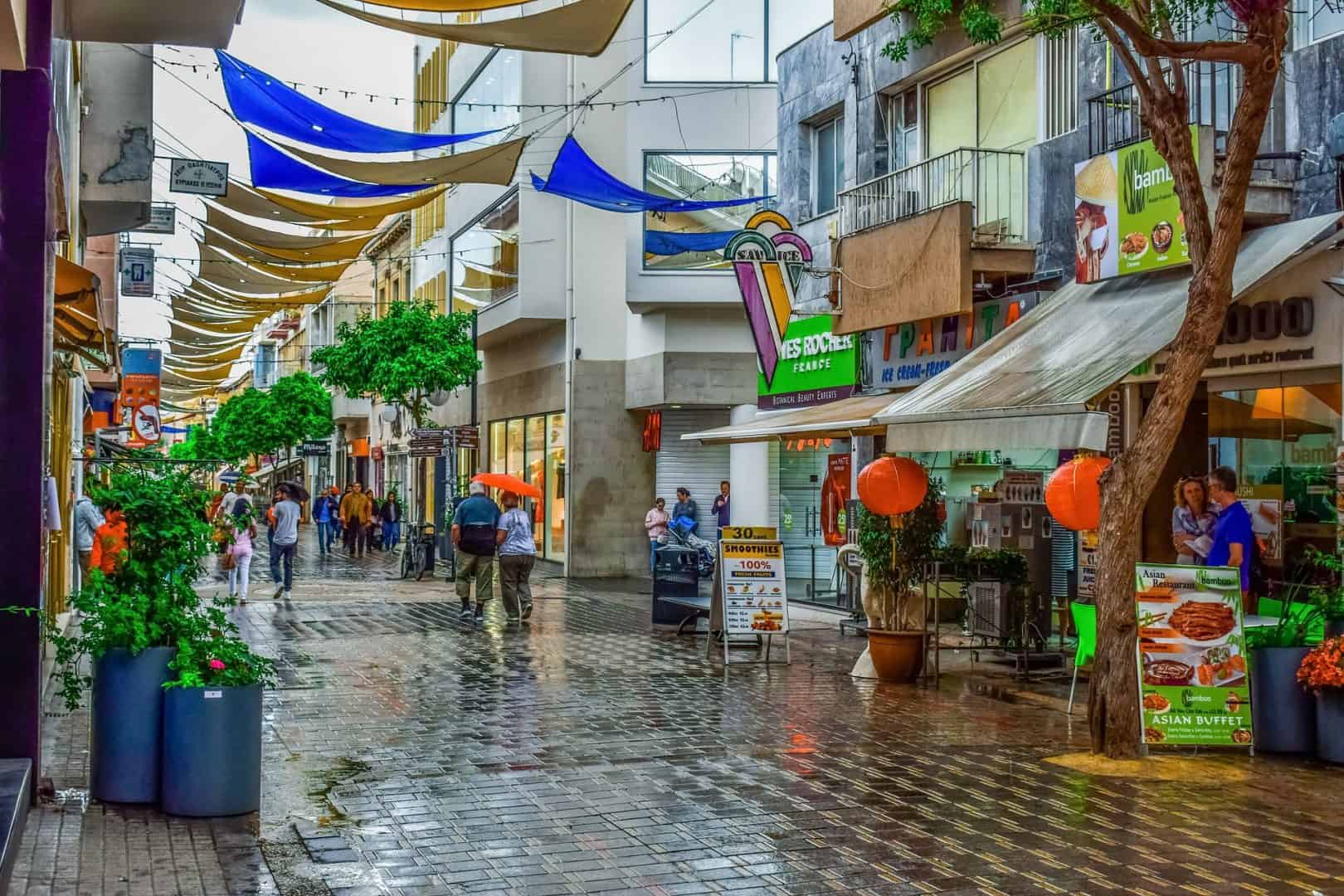 Ledra Street – The connecting link between two territories. Photography by Dimitris Vetsikas
Crossing Over to the Turkish Side
In general, there is no political tension. However, you need to go through a barricade with an armed force to cross over to the Turkish side. Remember, your passports will be checked here (and also while coming back).
As you come to the Turkish side, you will note a severe change in the lifestyle and culture. It is more like an old city wrapped with a modern gaze. The culture here looks more Arab with most restaurants serving falafel and kebabs. A small break at a local café will give you some time to absorb the cultural variation.
Buyuk Han is an important place which is a nice shopping area in an old Islamic styled building. Selimiya Camii is a nearby mosque which had been built over a Roman Cathedral Church during the Ottoman Empire.
The Turkish side of the town also has several market areas selling different items. It is a good idea not to believe in the authenticity of products as many fake items are known to be sold here.
If you are a traveller who enjoys exploring cultures, this transition will be appreciated by you. Two real entities co-existing together separated by an apparent border and yet connected by a single alley – That is how you can probably define it. The feeling is much beyond expression. 
Museums in Nicosia
If you are interested in exploring museums, you can visit a few at Nicosia.
Cyprus museum consists of the local archaeological findings.
Levantis Museum is the only museum the historical and social evolution of the city. Levantis art gallery on the other hand is a place for art lovers. 
Do check the holidays, entry time and price for the tickets for the museums before visiting. They might change due to some unforeseen reasons.
Name

(Closed Days)

Price & Hours of Visit
Cyprus Museum

(Monday)

4.50 €

8.00 am to 6.00 pm

Levantis Municipal Museum

(Monday)

Free

10.00 am to 4.30 pm

Levantis Art Gallery

(Tuesday)

Free

10.00 am to 5.00 pm

Folk Art Museum

(Saturday and Sunday)

2.00 €

8.30 am to 3.00 pm
Vintage cars parked in a street of Nicosia. Photography by Dimitris Vetsikas
Nicosia for History Buffs
If you are a history buff, do visit the Nicosia old aqueduct and the Famagusta Gate. They are both historic remains from the past.
The aqueduct was built in the Ottoman period and was used to fetch water from the northern mountains. The Famagusta Gate was built much before by the Venetians and at that time it was the main gateway of the city.
The ancient remains of Nicosia give the city an altogether different view. You will gradually feel that having traversed through many crests and troughs of different periods, modern Nicosia now stands to be a blend of history, culture and modernity.
Budget Break Down for Day 2
The budget breakdown of Day 2 in Nicosia, the capital of Cyprus is:
Bus to Nicosia
4 € x 2 = 8 €
Lunch
15 €
Museum
4-5 €
Additional meal
5 €
Shopping
Up to you
Dinner
12-15 €
Day 3: Touring Around Paphos
From Larnaca, Paphos can be reached by bus via Limassol. The bus journey is comfortable (around 1.5 hr). . One way price will be around 7 €. You need to check beforehand the bus-timings, to avoid delay.
Visiting Paphos is a major activity that should surely be a part of your Cyprus four day itinerary. Infact it is a good place to spend a weekend in Cyprus.
Major Attractions in Paphos
Be prepared to travel backwards in time and discover the superb architecture and planning of the pre-historic times while you visit the Paphos Archaelogical Park (UNESCO heritage site).
The park opening times vary in summer and winter. The park fee is 4.5 € for an adult. Guided tours are available by private companies but with a guide map, one can do it by self-trekking.
Paphos is known for historic remains from the ancient period. The most important excavations are four large Roman Villas, the mosaic floors of which are beautifully preserved.
The majority of the ruins date back to the late Roman period. Highlights include the hospital and temple dedicated to the God of Medicine. There is also a Byzantine Castle with 40 columns and an Amphitheater. The remains are wonderfully preserved and the visuals will take you back to the ancient time.
If you are interested in mythology, you can also visit the Aphrodite's Rock on the way back. It is another beautiful location by the Mediterranean with a giant rock, forming a hillock by the sea. It is believed to be the site of the birth of the Greek Goddess Aphrodite, known for love and beauty.
The site became an important place for the worship of the Goddess in the ancient world. The combination of the attractiveness of the place and its importance in mythology attracts a good number of travellers.
Tombs of Kings at Paphos. Photography by Dimitris Vetsikas
Food in Paphos
Paphos is a good place to taste delicious food. Along the main road near the archaeological park, there are a number of restaurants serving local food and speciality cuisines. Enjoy the atmosphere with a good relaxing meal in the cool breeze of the Mediterranean while reliving the history of the place.
Budget Breakdown for Day 3
The Day 3 on  Cyprus 4 day itinerary will cost you :
Bus to Paphos
7 € x 2 = 14 €
Lunch
10 €
Archaeological Park
4.50 €
Additional meal
5 €
Shopping
Up to you
Dinner
10-15 €
Day 4 (The final day): Boat Cruise to Cave Greco
Cyprus four day itinerary is incomplete without spending some quality time in the blue waters of the Mediterranean.  A half day trip to the south east covering Cave Greco is recommended.  It is a must to take your swimming gears if you want to enjoy swimming or snorkelling in the blue water.
In the first phase of the trip, you will see the Larnaca-skyline from a distance. As you get over the local traffic of the port, you may come across a few fishing boats. You might see scuba divers in black attire going to nearby diving spots.
As you get across a bit far, it is just blue water all round with the Cyprus cityscape diminished to a line. There might be a live-commentary for your convenience on your pre-booked tour. You can get involved in a conversation with a fellow traveller or be by yourself on the deck chair, enjoying the Mediterranean Sun.
Enjoy the Cruise Ride
The cruises have excellent food and drink facilities. Along with the fascinating view of the surroundings, you will be able to taste wonderful barbecued items for starters along with alcoholic and non-alcoholic drinks. Sometimes local drinks can also be served.
The lunch consists of multi cuisine items designed for the comfort of people from different places. It should also have vegetarian items. However, it is generally a buffet meal.
As you head south east of the island, the boat will come close to the shore, and gradually you will see there is a drastic change in the geological features.
You will come across Cave Greco which are series of natural caves formed by erosion. The blue water will add to the magnificence of the natural structures. There will be stops where the guests can slide down and relax in cold blue water. Enjoy it to the fullest.
After you have enjoyed the trip, you will be taken to the shore where a bus will take you back to Larnaca.
Cave Greco is actually a National Park and you can also visit it via road.
The best budget tip to make the plan cost-effective is to spend half of the fourth day of the cruise. Before you go for the trip in the third day morning, pack your luggage, hand it over to the apartment owner and vacate the room.
The people in Larnaca are quite friendly and they will be ready to keep your luggage at their place, which you might collect before your departing flight.
You can then be flexible as how you will spend the time. After the cruise, you can just relax by the sea side. There are plenty of sliding couches by the sea where you can sit and watch the mild waves of the Mediterranean. You won't miss the number of flights landing and take-off every quarter of an hour.
Alternatively, you can hop into some salad bar or just enjoy a cone of ice cream. Feel the laid-back attitude of the city until it is time for the flight.
Cave Greco – A series of natural caves formed by erosion Photography by Dimitris Vetsikas
Budget Break Down for Day 4
The fun day at Cave Greko will cost you 
Cruise to Cave Greco
Can be up to 40 €
Dinner
10 €
Additional food
5 €
Taxi to airport
15 €
Approximate Cost of the Tour (except flight)
The 4 day tour in Cyprus will cost a traveller around 255 €, excluding the flight cost. The total breakdown is:
Budget accommodation – 60 €
Day 1 – 35 €
Day 2 – 45 €
Day 3 – 45 €
Day 4 – 70 €
TOTAL – 255 €
Visa and Flight Information for Travelers
Travellers from certain countries (like me from India) will need a Visa for travelling to Cyprus and it can be obtained very easily from VFS global on the application within 20-25 days. Countries from the European Union do not need a visa to travel to Cyprus.
Remember, if you need to apply for the Visa, the officers might ask you the address of the accommodation and flight tickets at the interview. You can check for the requirements of Cyprus Visa in this link.
Flight Information
Choosing a flight early also can make you save a good amount of money. The best way to reach Cyprus is by taking the air route to Larnaca. Major airlines have Larnaca as a transit point. So it is not difficult to find a flight to Larnaca.
Travelling via Moscow or Istanbul are some options.
In order to make it a budget-friendly trip, choose a flight that is reasonably cheap and also does not have too long a transit time.
Some popular sites to choose flight and airlines that transit through Cyprus are given below.
Airlines that can be used

Website that can be used

Cities of Transit
Turkish Airlines
Istanbul
Aeroflot
Moscow
Qatar Airways
Doha
Lufthansa
Munich
It is advisable to convert your currency to Euro before entering the country. The airport often charges a lot of money as conversion rates, so better be prepared beforehand.
The gorgeous Aphrodite Rock. Photography by Andre Karliczek
Take Backs from my Trip to Cyprus
Cyprus was never on my bucket list of travel. It happened to me by sheer coincidence. Although this blog comprises a short Cyprus four day itinerary,  one can plan a longer trip while visiting the northern region of the country. It has beautiful mountain ranges and valleys. Also, a range of interesting towns.
The beauty and versatility of the small island country had surprised me for good. Also, the overall pace of the region. Everything runs at a slower pace and that gives you a buffer period to enjoy each moment to the fullest.
Travel is best when you get involved with the heart-beat of the place you go. Feel the rhythm of the lifestyle and experience the place from the eye of a traveller, rather than a tourist.
The beauty of Cyprus, the mouth-watering food, the history of the place and the cultural variations will keep lingering in your mind. Although the itinerary is brief, the impact will be long.
Do you think that you need a break from the monotony of day-to-day life to refresh yourself? Do you wish you could spend a few days away from home relaxing by the blue water of the sea and savoring delicious Mediterranean food. If you are in that mood, plan a short 3 – 4 day trip to Cyprus and believe me, you won't be disheartened.
Happy wayfaring 🙂
About the Author
Sounak Dutta
Sounak Dutta is a chemistry teacher by profession. But, for him, life is not just about academic books and notes. The world of travel and exploration inspires him. He prefers to discover places rather than just visit. He likes to carry his camera to capture the scenes, but every tale can't be told by just pictures. Hence the interest in travel blogging. He finds it spontaneous to share his experiences through writing. Sounak loves to add his personal outlook so that each experience becomes a story. He truly believes that, "Travelling is not just a one time event, it is how you live life". Hopefully his blogs will help you realize the essence of these words.
BUDGET WAYFARERS
https://www.budgetwayfarers.com/wp-content/uploads/2018/07/Cyprus-4-day-Itinerary-min.png
315
560
Budget Wayfarers
https://www.budgetwayfarers.com/wp-content/uploads/2018/04/1200X800.png
Budget Wayfarers
2019-01-31 10:00:40
2019-01-31 11:50:48
Making the Most of your Cyprus 4 Day Trip – The Complete Travel Itinerary