Cheapest European countries for Indian travellers make for fantastic holiday destinations. A lot of people feel that Europe is expensive for the average Indian. But this isn't entirely true.
As surprising as it may sound but truth is, that there exist a lot of European nations where Indian backpackers, solo travellers and budget travellers can go tripping resourcefully.
In the last few years of my travel odyssey, I've come across at least 11 nations in Europe that won't hurt your pocket as much as you assume them to be. I found this the hard way. I hope my blog helps you to get it easy.
11 Cheapest European Countries for Indian Travellers
If you've been planning to go to Europe for a while but need to keep it resourceful, here are 11 European countries that I HIGHLY RECOMMEND you should be exploring this year. 
1. Hungary
2. Albania
3. Iceland
4. Moldova
5. Ukraine
6. Macedonia
7. Croatia
8. Serbia
9. Azerbaijan
10. the Czech Republic
11. Sweden
1. Hungary – The Welcoming Haven for Backpackers
One of my first most affordable international trips was to Hungary. Ever since I've advocated for more and more people to travel to this wonderful European nation.
The average cost of travelling to Hungary alone from India for at least a week amounts to about 48,000 INR.
2. Albania – The Friendly Locale
Compared to most parts of popular Europe, Albania is quite cheap and affordable for Indian travellers. During offseason, the flight costs get reduced to as low as 17,600 INR. So I feel more Indian travellers should start tripping here.
The average cost of travel from India to Albania for at least 7 days amounts to around 46,200 INR. This is inclusive of everything.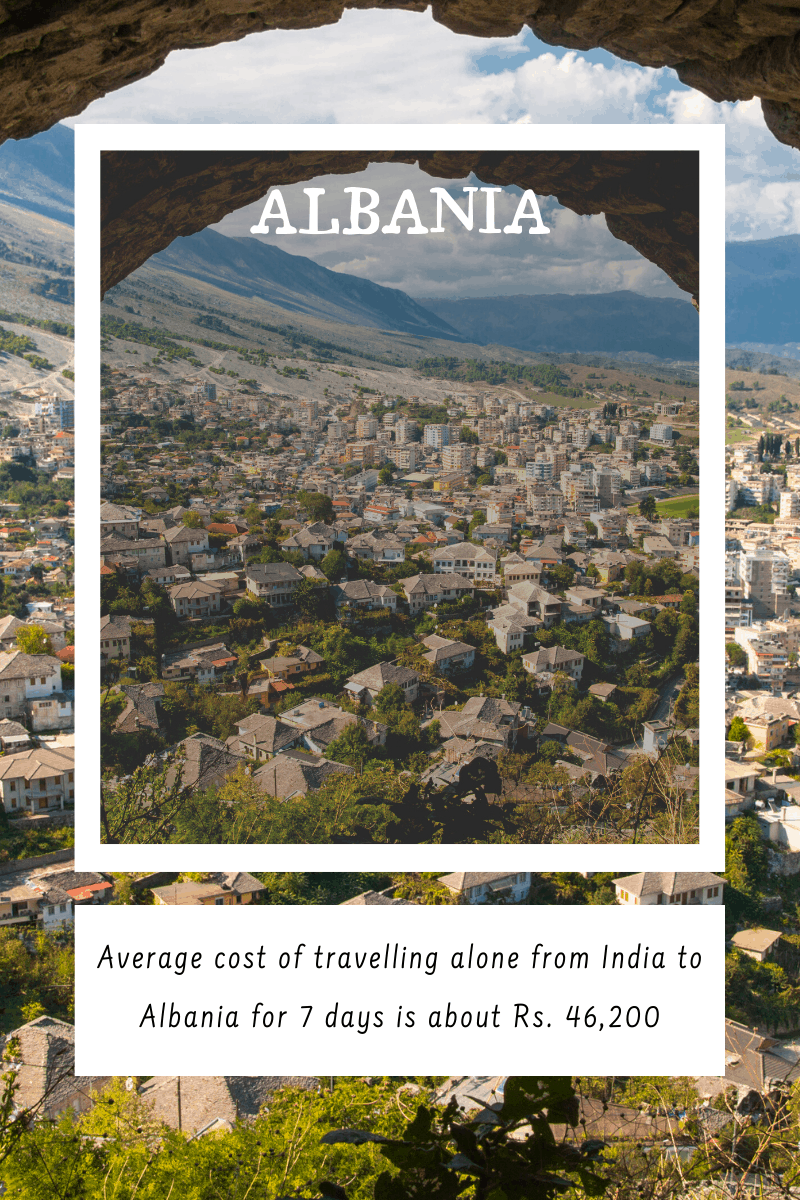 3. Iceland – The Gorgeous Nordic Destination
Most people assume that Iceland is expensive. But what they don't realise is that if backpacking is adapted as a norm, travel costs are significantly reduced for an Indian traveller. 
The average cost of travelling to Iceland alone from India for at least a week amounts to about 49,000 INR. This includes flights, accommodation, sightseeing and food.
4. Moldova – The Rare European Gem
Moldova is unheard of by most Indian travellers despite being an extremely beautiful European country. Not to forget, super cheap. If you can book flights on time, you can reduce your average trip cost.
The average cost of travelling to Moldova alone from India for at least a week amounts to about 36,500 INR.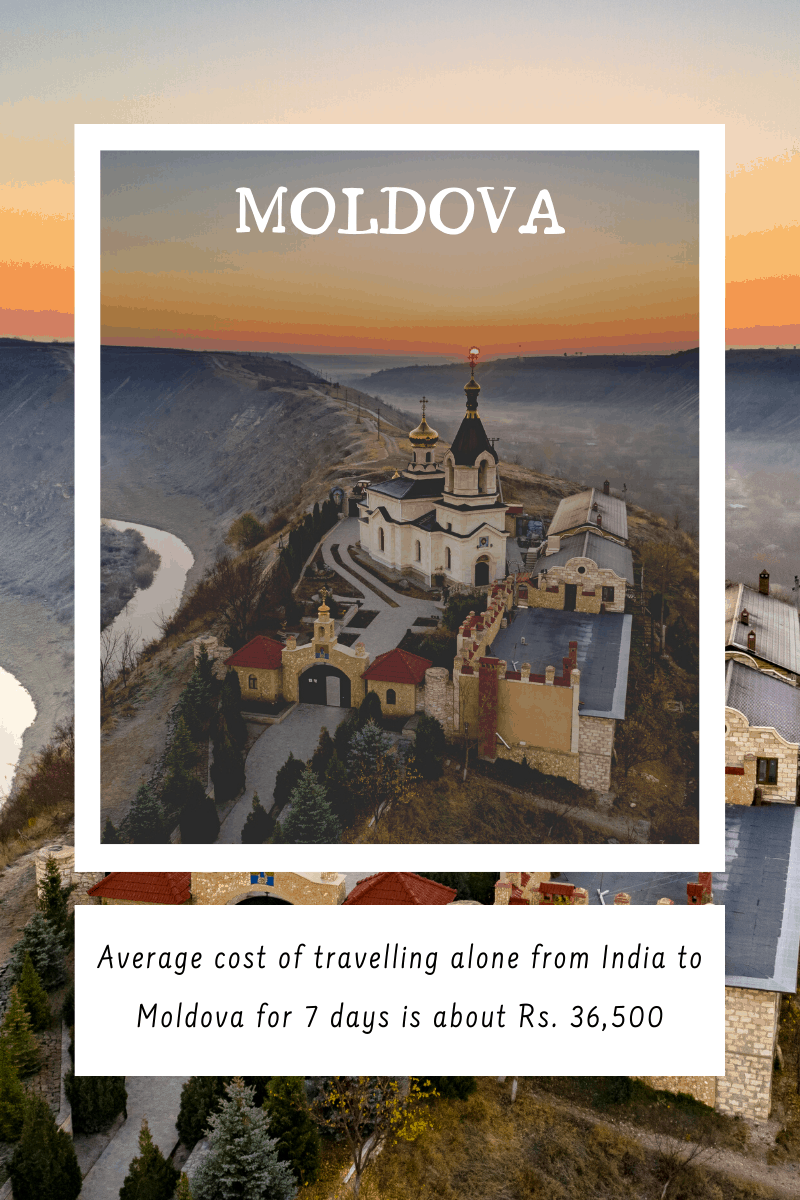 5. Ukraine – The Travel Frontier yet to be Explored
Indian travellers can now avail Visa on Arrival (VOA) for visiting Ukraine. Also, Vodafone SIMS work easily in Ukraine and hence data/calls are cheap in there.
Get your travel credit miles flowing and you can easily travel to Ukraine from India for 10 days in less than 20,000 INR.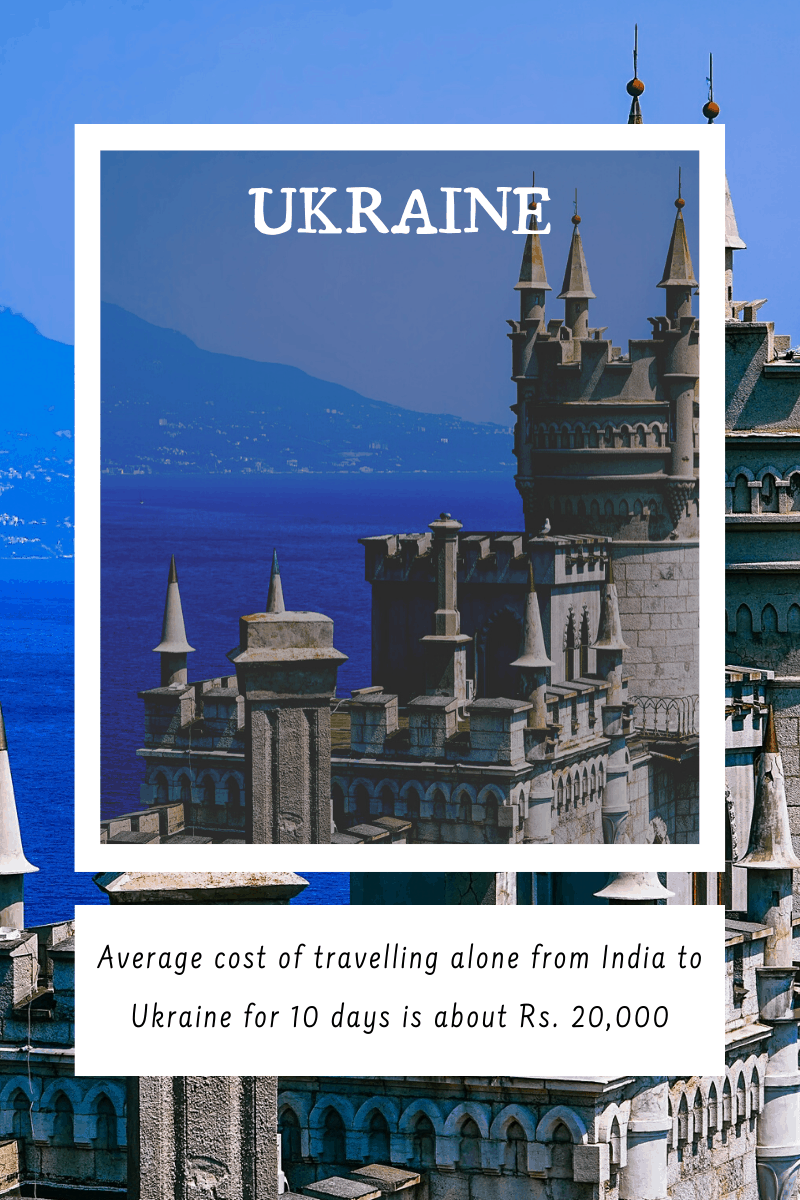 6. Macedonia – The Melting Pot Between Cultures
Located in the Balkan peninsula, Macedonia is a gorgeous European nation. If you can earn a decent amount of credit miles on flights, travelling to Macedonia can actually be the cheapest in Europe.
The average cost of travelling to Macedonia alone for 8 days amounts to 33,000 INR. Travel in pairs of two and get this cost further down.
7. Croatia – The Game of Thrones Highlight Destination
If you're a Game of Thrones fan please put Croatia on your travel bucket list. Even if you're not, go visit. It's a lovely country and lots of airlines offer ticket sales throughout the year.
The average cost of travelling Croatia from India for 7 days amounts to about 64,000 INR including everything. Travel as a group of 4 and get this cost down.
8. Serbia – The Country with Great Balkan Outdoors
Serbia is quite an underrated travel destination. I highly insist that more Indian travellers should visit it. It's a lovely nation with warm and welcoming people.
The average cost of travelling to mainstream as well as offbeat locales in Serbia for a period of 1 week amounts to 43,000 INR. By the way, if you're a non-conforming traveller, try couch surfing in Serbia. You'll save all the money on accommodation and compensate for flights.
9. Azerbaijan – The Blend of Modernity and Times Gone By
Azerbaijan is such an amalgamation of modernity and times gone by. It's a very culturally rich place and welcomes travellers with open arms. It's very affordable as a travel nation for Indians.
A 10 day trip to Azerbaijan from India will cost the average backpacker not more than 27,000 INR. Travel insurance is mandatory in Azerbaijan. 
10. Czech Republic – The Country of Beer Lovers
Czech Republic proves to be a lot more cheaper if you're already travelling to Europe on a Schengen Visa. That way, you don't pay for flights again and again. The entry fee of most places in almost every major city in Czech Republic is free. This is such a good thing for budget travellers.
The average cost of travelling to Czech Republic for a week excluding flights amounts to only 22,000 INR.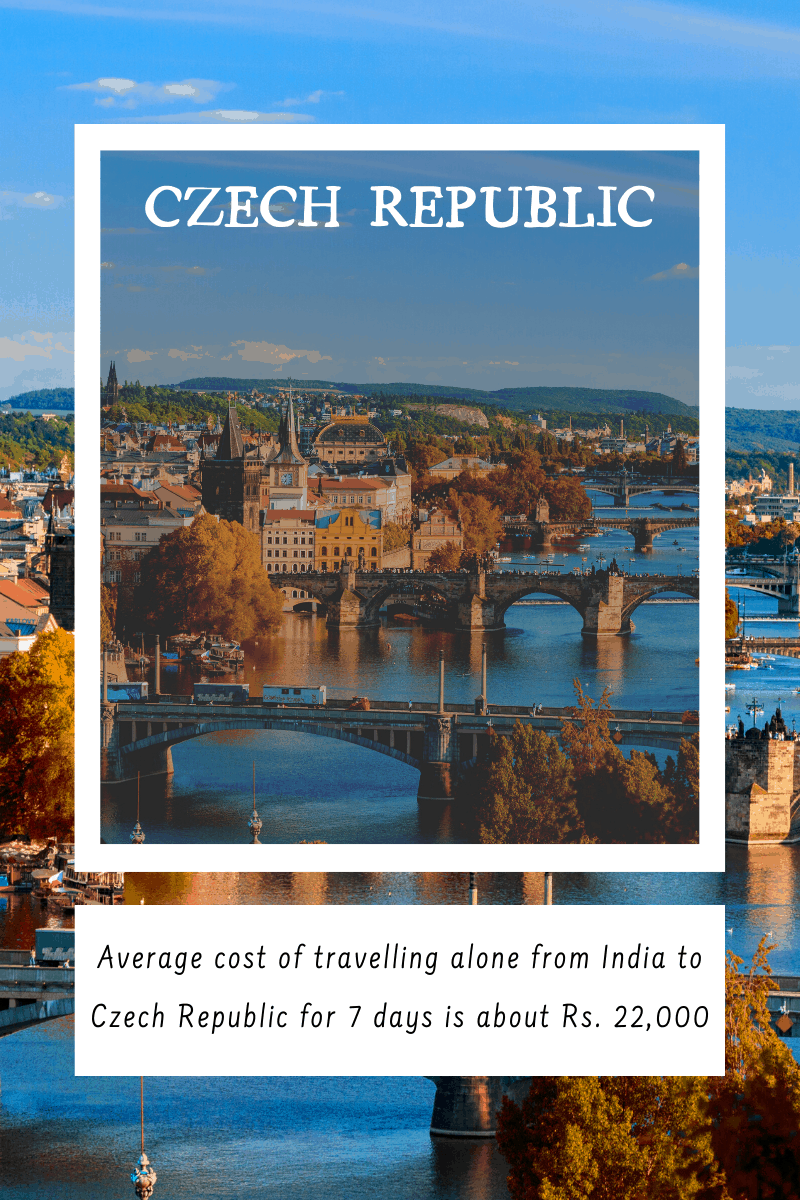 11. Sweden – The Region with Northern Lights
Most of you seeing Sweden as a part of my list must be wondering, "how exactly is Sweden cheap?" Well it absolutely is if you choose to stick to offbeat travel, nature camping and couch surfing. I understand it isn't everybody's cup of tea but if you can let go your comfort zone for once, you'll be able to see a new country.
The average cost of travelling to Sweden for 8 days including flights amounts to about 50,850 INR.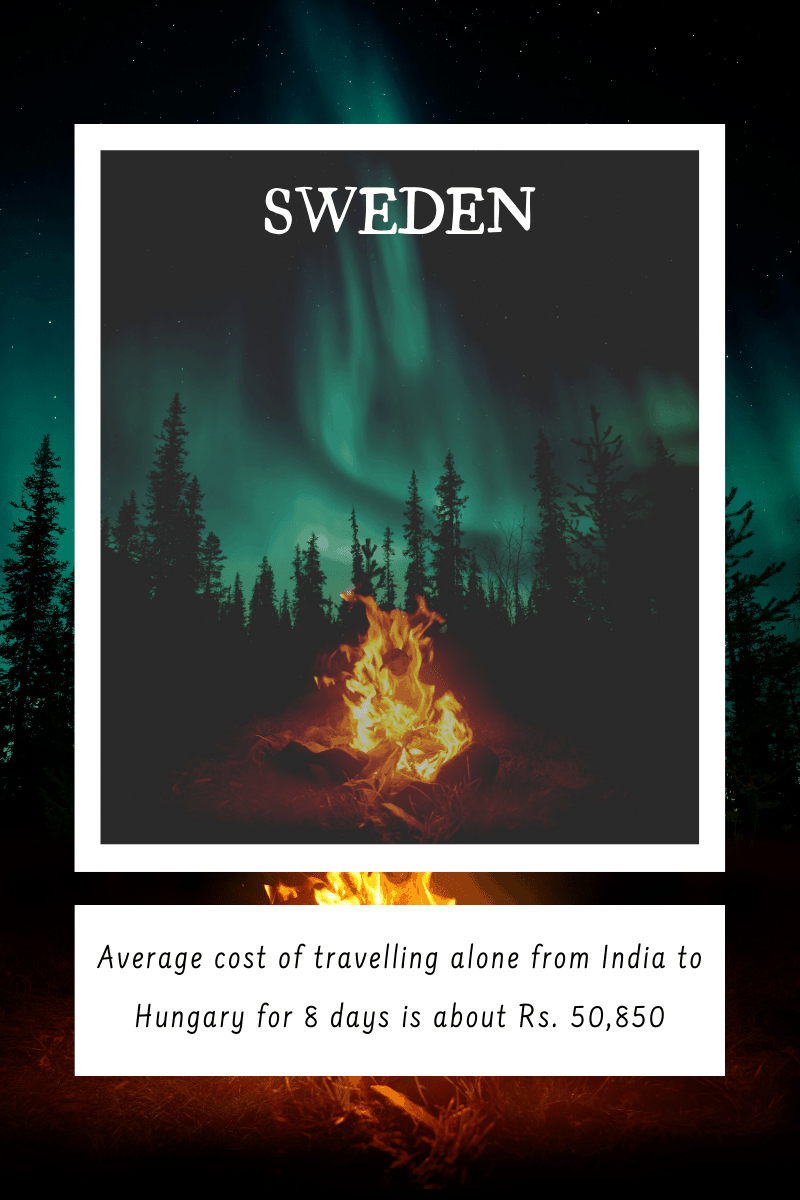 I hope my personalised list of cheapest European countries for Indian travellers will help you in your trip plans for exploring locales within this pretty continent.
More countries like these exist in the world. If you feel like, scroll through my list of 47 cheapest countries in the world for Indian travellers. Trust me, you will make international travel a possibility.
By the way, all the 11 countries that have been discussed in this blog allow you to bunk in affordable stays, do a chunk of sightseeing for free and offer budget food.  
17 Secrets for Cutting Travel Costs to Cheapest European Countries
As a traveller, time and again I've felt the need to cut down my travel costs. This holds especially true for things that just don't need that extra spending. And so, here are some quirks that will help you reduce your travel costs.

1. Earn Frequent Flyer Miles
Frequent Flyer Miles should surely be availed by people who travel a lot more than usual. Basically, by accumulating points in air travel, you can earn great discounts on tickets. In fact, sometimes your points can add up to so much that an entire travel ticket abroad (return included) wouldn't cost you anything.
If you feel like learning more about the effectiveness of the Frequent Flyer Program, give this study by Clyde Kenneth Waltery and Yoshinori Suzuki a good read. You'll understand how to use the program effectively.
2. Make use of the Eurail Pass
While in Europe and covering more locations, you have got to avail the Eurail Pass. It covers more than 30 nations of Europe and helps you travel externally in the most economical way possible. Try travelling overnight as well availing of this pass. By doing this, you will be able to save hugely on accommodation costs as well.
Take advantage of the discounts and the price reductions while exploring the cheapest European countries for Indian travellers. Club more than 3 rides together and you'll justify the cost of the Eurail Pass.
3. Avail services of Bla Bla Car
Bla Bla Car is a very underestimated service availed by travellers in Europe. These guys basically work on the concept of trustworthy carpooling. It's cheaper than cabs and private taxis. Also, a great way to connect with fellow travellers.
I was quite sceptical of using a Bla Bla car at first but now that I've tried it a couple of times, I highly recommend it. Give it a shot and end up making travel stories more fun and affordable.
4. Give a shot to Couchsurfing
Ever wished you could save money on accommodation in Europe? Ever wished that the accommodation was completely free? Well, somebody thought of this in 2004 and introduced travellers around the world to the concept of free and friendly stays.  That somebody was Mr Casey Fenton – the Founder of couchsurfing.com.
This is how Couchsurfing works – Travellers open to this idea and part of the global community avail the friendly hospitality of a host or a host family who opens their homes for free. So you stay at somebody's place and don't pay the money. You pay in kindness and perhaps taking small heartwarming souvenirs from your native country.
In case you are worried about your safety as a traveller, availing Couchsurfing, give this study by Rosen, D., Lafontaine, P.R and Hendrickson, B. a good read. Personally, I've availed Couchsurfing thrice in Europe and am addicted to the idea for life. It's a brilliant concept, not just to save money but actually forge travel bonds. By the way, more than 14 million travellers are a part of the Couchsurfing community.
5. Avoid summer trips
I know most people plan trips to Europe around summers but it's too bad a season to travel from a budget point of view. Summers see an influx of travellers to most European countries and so the prices are fly high, both for accommodation and flights. Also, sightseeing.
Hence, avoid travelling during the peak summer season. Else, you won't be able to explore on a budget, the cheapest European countries for Indian travellers.
6. Indulge in Hitchhiking
Hitchhiking in Europe is actually a good idea. It isn't as scary as most people assume it to be. Western travellers love hitchhiking so much that they almost always go for it in Europe. By the way, hitchhiking is completely legal in Europe.
As a passionate traveller from India, I request all of you to start taking hitchhiking seriously. Every once in a while, do things that are outside your comfort zone. They will help you connect as a traveller more and surely make your trips to Europe more affordable.
7. Cook yourself
I know this might sound like a nightmare for most travellers but I'm telling you cooking yourself is a great way to save money on your European trip. A lot of hostels offer common kitchens and so if you are a food enthusiast, buy groceries from the street and cook yourself.
Seem if your itinerary doesn't allow for you to stay at one place for long, then you shouldn't be cooking. However, if you are in Europe for weeks or even months together, then cooking will surely prove so beneficial.
8. Please stay in hostels
As a traveller, you will spend most of your time outdoors exploring a new place. Hence, it is not at all recommended that you spend huge chunks of your currency on staying indoors. As long as you can find budget stays that are affordable, hygienic and safe, please go for hostels.
You can avail a dorm, a bed, or even an entire room in good hostels across Europe. These will help you travel cheap and spend more money on sightseeing – Your core intent of the trip.
9. Take free walking tours
Free walking tours don't cost you a thing and so you must avail yourself. Almost every travel locale in Europe can be mapped under the free walking tour concept. All you need to do is understand the place, take the help of Google Maps or even a local travel map and venture out as a happy traveller, strolling the streets.
10. Avail Inclusive Passes
A lot of places across Europe, provide the option of witnessing places, events, concerts, shows, amusement parks, museums and whatnot under a single pass. This will serve as a one-time investment for your trip but benefit you hugely.
For people staying more than a week in a single country or a place, these passes are a boon. In fact, staying more in one place will justify the cost of the pass completely.
11. Enjoy Happy Hours
Please avail happy hours at eateries, dining places, coffee shops and pubs. You'll be able to enjoy your favourite beverages and even food items for such reasonable prices. Most places have slate boards highlighting the exact time of the day, featured under happy hours.
During your research as a traveller, make a good note of budget eating and drinking places. Then, finally, get to know their happy hours.
12. Learn Cycling
If there is one thing I would love to shout out loud to all my fellow Indian travellers, that would be to please learn cycling. Not only will it help keep you fit on your trips but more importantly, help you end up saving so much money.
Cycling will allow you to explore most parts of the cities on your own without having to rely on cabs. Cycling will allow you to stay at places slightly distant from the city centre because you won't have to worry about conveyance. Cycling will help you explore places that can't ever be visited by mainstream transport options
13. Savour street food
Munching a hot dog, a croissant, a pizza slice won't hurt on the street. Right? Plus you get to taste the local flavour of the food across European cities. Street food is both fancy as well as savoury in Europe. So please give it a try.
Sometimes, the most local eateries and mini cafes offer the most delectable experience for travellers. And so, why miss out on the experience.
14. Don't travel alone
No, I am not against solo travel. In fact, I've travelled half the world alone. And this is exactly why I realize now that it cost me a lot more than group travel would. Not to forget, longing for some cheerful company while travelling for a longer time.
Travelling solo has its own advantages and people must try solo travel every once a while. That being said, Europe isn't an ideal place for taking solo trips for Indian travellers, given the high cost of travel overall. So club along with a friend, a loved one or a trusted stranger from an online travel community, but travel together and save big.
15. Buy souvenirs only
The one thing you should absolutely abstain from in Europe as an Indian traveller is shopping. The only thing that you must take back with you are pretty souvenirs. Other than that, nothing should hurt your pocket.
Departmental stores across Europe offer pretty little souvenirs at quite nominal prices. So buy a few for yourself, friends and family.
16. Travel off season
Travelling off season is always a good idea for taking a budget trip to Europe. The accommodation prices are less, flights are cheaper and the overall expenses are less.
So before exploring the cheapest European countries for Indian travellers, invest some quality time in doing good research to understand the travel seasons of particular countries.
17. Club countries together
Since flights are usually expensive to any part of the European continent and not everybody has frequent flyer miles collected, I would highly recommend club countries together. Clubbing countries will increase the duration of your travel time but you won't have to spend on flights again and again. That would be a one time expense and then between countries, you can travel to Europe via trains.
There is no dearth of countries that can be clubbed together. For example, Moldova and Ukraine can be clubbed together. Croatia, Slovakia and Hungary can be clubbed together, and so on and so forth.
I hope my humble attempt of sharing the list of 11 cheapest European countries for Indian travellers along with 17 additional tips will help you in planning a beautiful European itinerary.
If you have any queries or concerns about your European trip, feel free to post them in the comments section below. I'll be sure to address them for you.
Happy wayfaring 🙂