Cheapest countries to travel from India were constantly on my mind when I began my journey as a budget traveller. Back then I was only 17 years old and had made up my mind to explore the world – At least as much as my pocket and time at hand allowed.
As time passed by and I began my quest of seeing the world at large on a budget, I fully realised the advantages of travelling to cheap international destinations from India. That, in my view, made for a damn good way to start my international travel odyssey.
Visiting far and wide internationally is complex for any Indian traveller. Reason being our currency isn't as powerful as currencies used in some of the popular international destinations. Therefore, in my current blog, I'd like to share the cheapest countries to travel from India that I've covered in the last 15+ years.
आप यह ब्लॉग यहाँ हिंदी में भी पढ़ सकते हैं।
Top 47 cheapest countries to travel from India
As surprising as it may sound but truth is that there exists a lot of nations where Indian backpackers, solo travellers and visitors, in general, can go tripping on a resourceful budget. All you need to do is make your pick wisely.
If you have big plans of taking cheap foreign trips from India this year, here are 47 countries that I HIGHLY RECOMMEND you should be exploring.
1. ICELAND
Most people assume that Iceland is expensive. But what they don't realise is that if backpacking is adapted as a norm, travel costs are significantly reduced for an Indian traveller. 
The average cost of travelling to Iceland alone from India for at least a week amounts to about 49,000 INR. This includes flights, accommodation, sightseeing and food.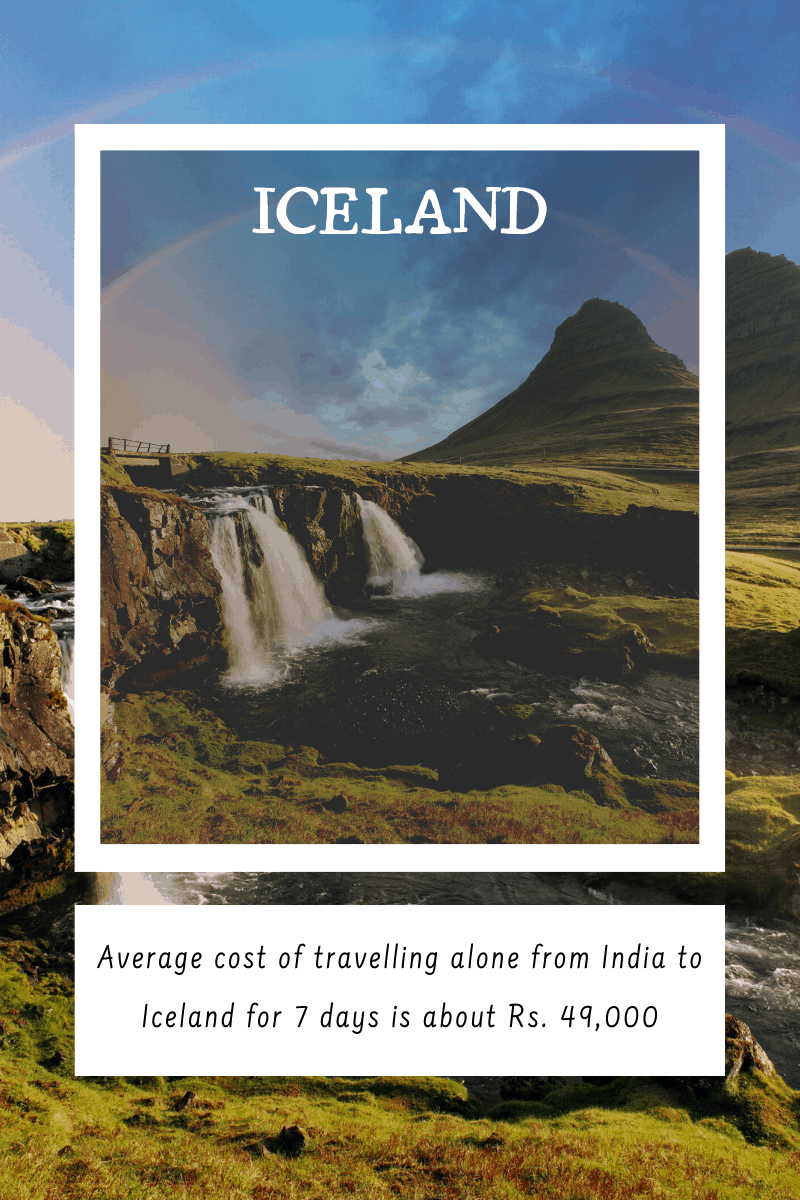 2. MOLDOVA
Moldova is unheard of by most Indian travellers despite being an extremely beautiful European country. Not to forget, super cheap. If you can book flights on time, you can reduce your average trip cost.
The average cost of travelling to Moldova alone from India for at least a week amounts to about 36,500 INR. 

3. HUNGARY
One of my first most affordable international trips was to Hungary. Ever since I've advocated for more and more people to travel to this wonderful European nation.
The average cost of travelling to Hungary alone from India for at least a week amounts to about 48,000 INR.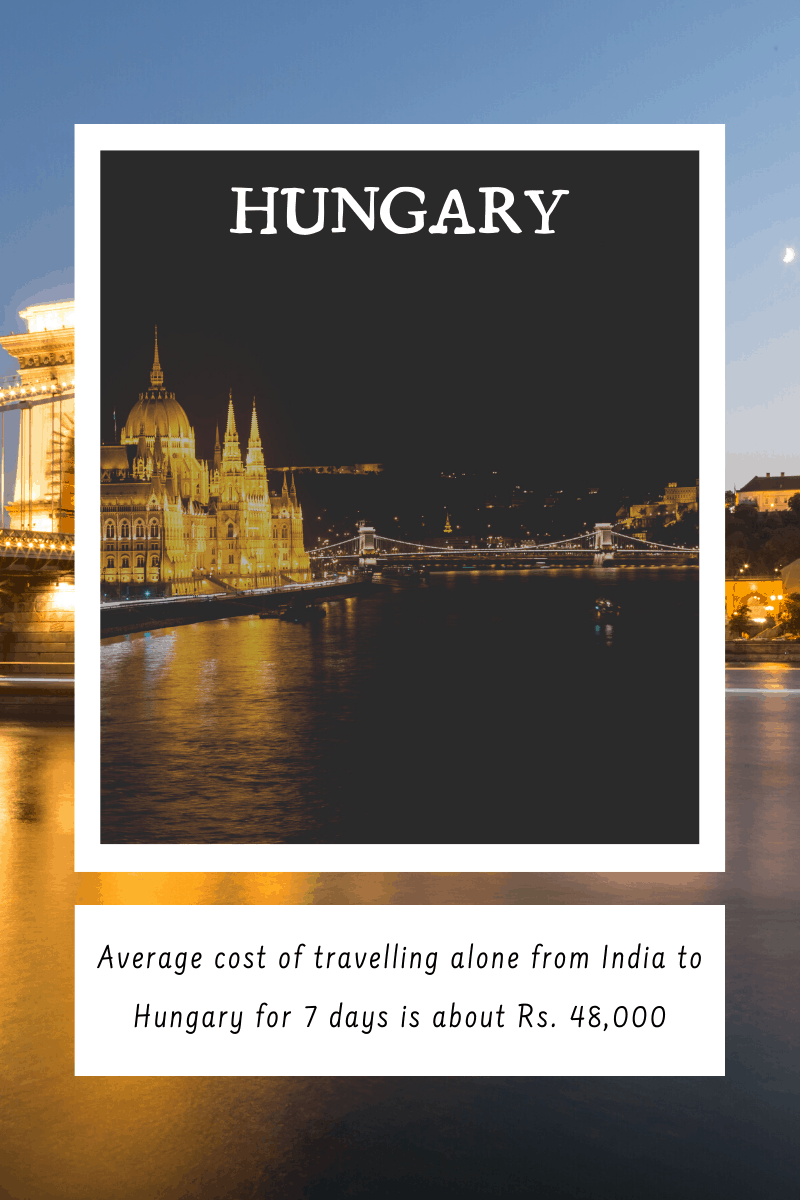 4. BHUTAN
What can be better than a country so close to India, so safe and so cheap? Bhutan is one of the cheapest countries to travel from India.
The average cost of travelling to Bhutan alone for 20 good days amounts to less than 20,000 INR and to 0 INR if you travel there as a volunteer. Yes that is correct – 100% free travel.
5.PHILIPPINES
Philippines lies in the Indian ocean and is a vast treasure house of pretty locales. If you can keep a tab on discounts offered by SkyScanner and Air Asia, you'll end up saving a lot of money.
The average cost of travelling to Philippines alone for 10 good days amounts to 24,000 INR. You can reduce this cost even more if you travel as a group.
6. MACEDONIA
Located in the Balkan peninsula, Macedonia is a gorgeous European nation. If you can earn a decent amount of credit miles on flights, travelling to Macedonia can actually be the cheapest in Europe.
The average cost of travelling to Macedonia alone for 8 days amounts to 33,000 INR. Travel in pairs of two and get this cost further down.
7.KYRGYZSTAN
When I first travelled to Kyrgyzstan, little did I know that I will end up loving the nation so much. It is an underrated nation in terms of travel and cost. Please go explore it and buy some really cool souvenirs from Bishkek.
The average cost of travelling to Kyrgyzstan alone for 10 days is 27,000 INR. Flights start as low as 15K INR. Just pick your dates wisely.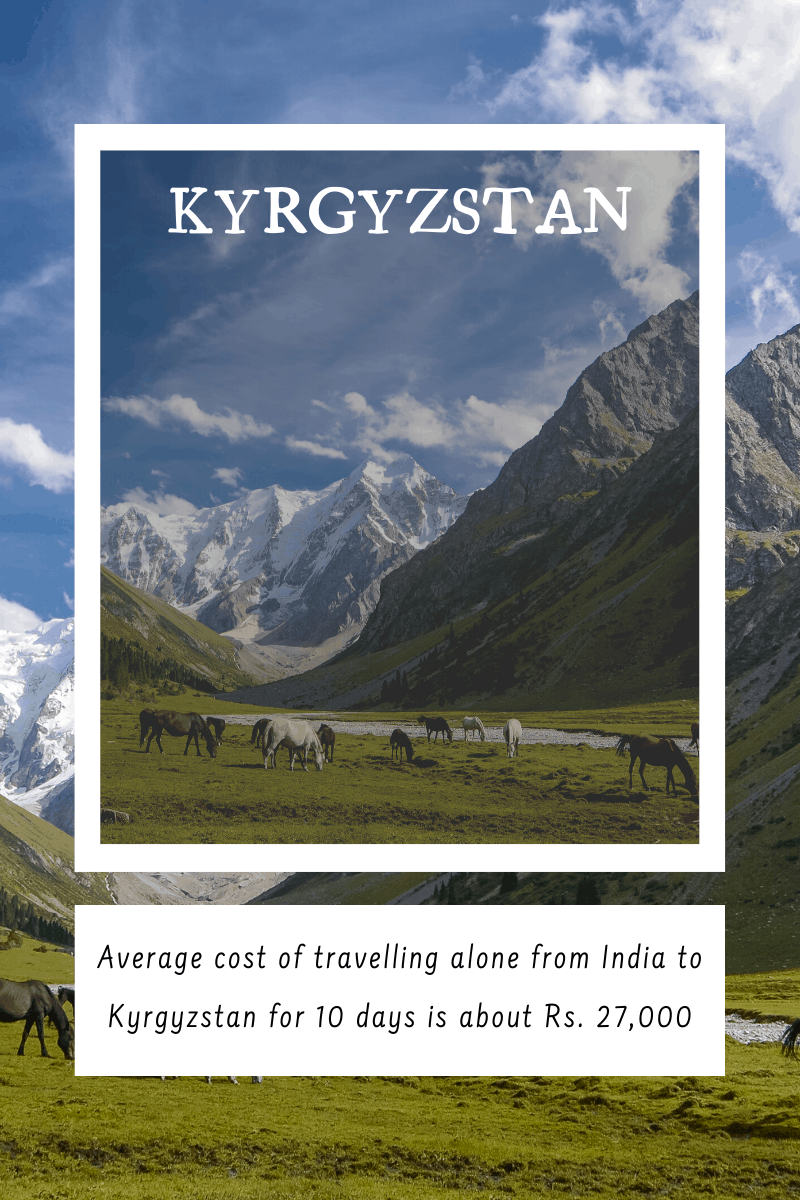 8. CHILE
Chile is one South American nation that you would want to visit again and again. I cannot even begin to describe its magnificence. Chile as a nation is very affordable. The only thing to watch out for is flight costs.
I highly insist that you keep a tab on Sky Airlines Monday Sales and use a travel reward point credit card. That way, a 10 day trip to Chile will cost you about 28,700 INR.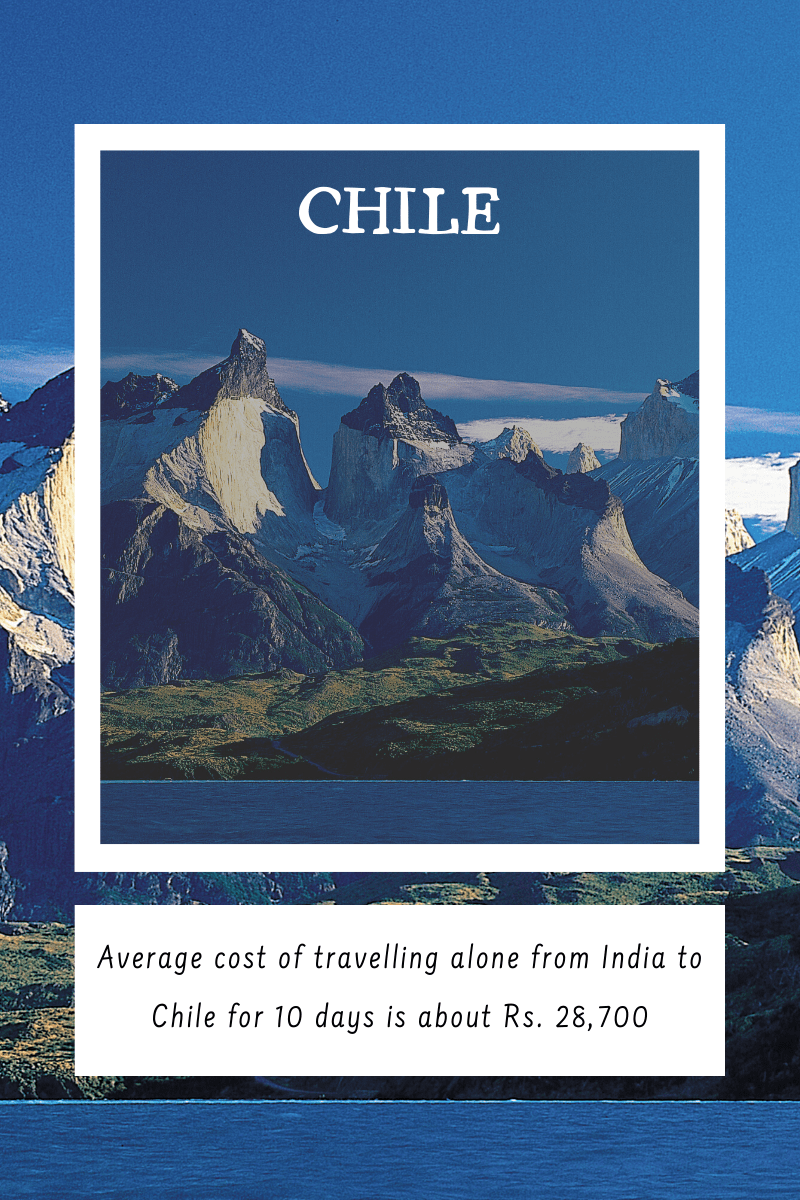 9. TOGO
Togo is a small nation in Western Africa but is a must visit for budget Indian travellers.In fact it is one of the cheapest countries in Africa. While here, observe the native black magic and voodoo practices.
The average cost of travelling to Togo alone for 10 days is 22,000 INR. You can avoid flights here by landing in another nation and then entering via road.
10. BENIN
Anybody visiting Togo should certainly visit Benin. They lie back to back in Western Africa. The terrain is more or less the same and so are the travel costs.
The average cost of travelling to Benin alone for 10 days is 22,000 INR. 
11. MALAWI
Malawi is safe, cheap, and fun for Indian travellers. The people here are hospitable and welcoming. It's sad that not many Indians keep Malawi on their travel bucket list.
The average cost of travelling to Malawi alone for 8 days is 31,000 INR. Indians can now avail the facility of Visa on Arrival (VOA) here.
12. CAMBODIA
No other Asian country has offered me as low prices as Cambodia has especially in terms of flights. It took me just 5500 INR for one side travelling from Bangalore to Phenom Penn, Cambodia.
Since flights are so cheap, you can easily stay in Cambodia for a good 30 days in less than 15,000 INR. It is surely one of the cheapest countries to travel from India.
13. MALDIVES
Indian travellers are quite fascinated by Maldives. However, they almost always end up spending more money. Resort to backpacking and reduce your travel costs in this beautiful island country.
Remember, every year more and more budget stays are being taken down in Maldives and expensive resorts are coming up. So travel to Maldives for less than 35,000 INR for 10 days before it becomes a luxury destination.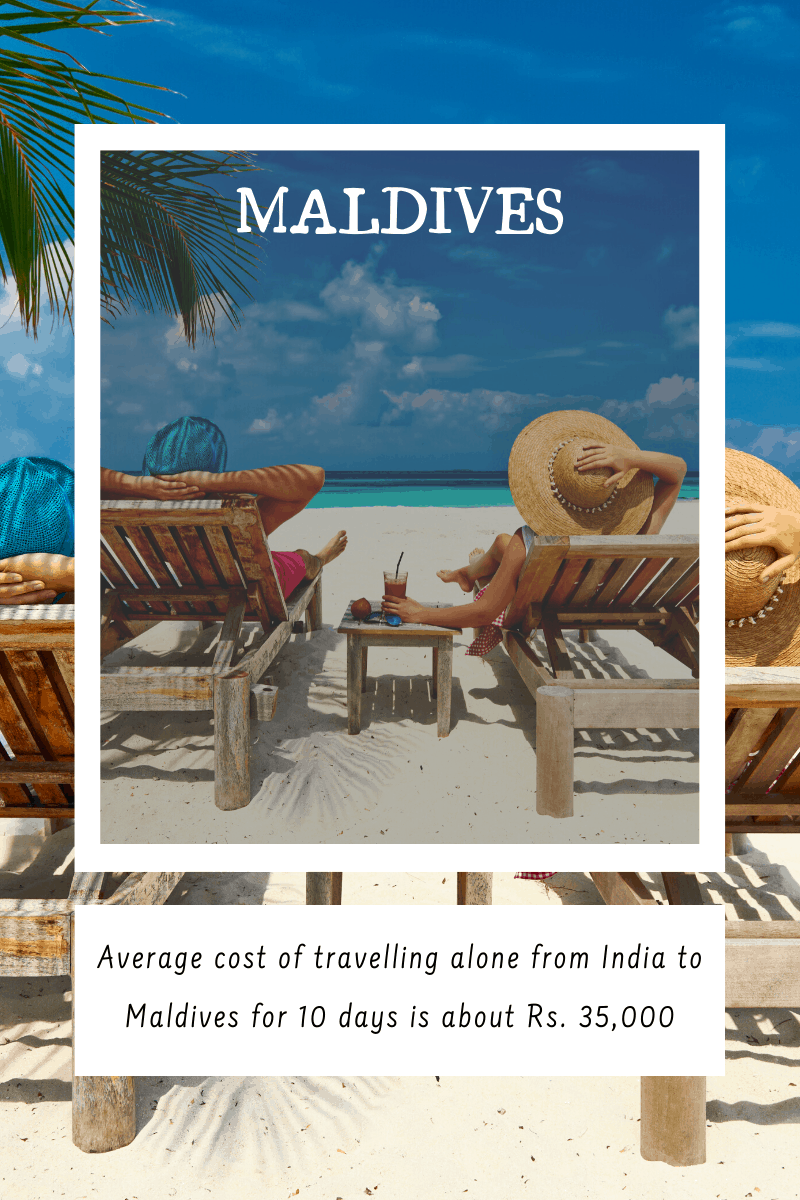 14. UKRAINE
Indian travellers can now avail of Visa on Arrival (VOA) for visiting Ukraine. Also, Vodafone SIMS work easily in Ukraine and hence data/calls are cheap there.
Get your travel credit miles flowing and you can easily travel to Ukraine from India for 10 days in less than 20,000 INR. 
15. CROATIA
If you're a Game of Thrones fan please put Croatia on your travel bucket list. Even if you're not, go visit. It's a lovely country and lots of airlines offer ticket sales throughout the year.
The average cost of travelling Croatia from India for 7 days amounts to about 64,000 INR including everything. Travel as a group of 4 and get this cost down.
16. SERBIA
Serbia is quite an underrated travel destination. I highly insist that more Indian travellers should visit it. It's a lovely nation with warm and welcoming people.
The average cost of travelling to the mainstream as well as offbeat locales in Serbia for a period of 1 week amounts to 43,000 INR. By the way, if you're a non-conforming traveller, try couch surfing in Serbia. You'll save all the money on accommodation and compensate for flights.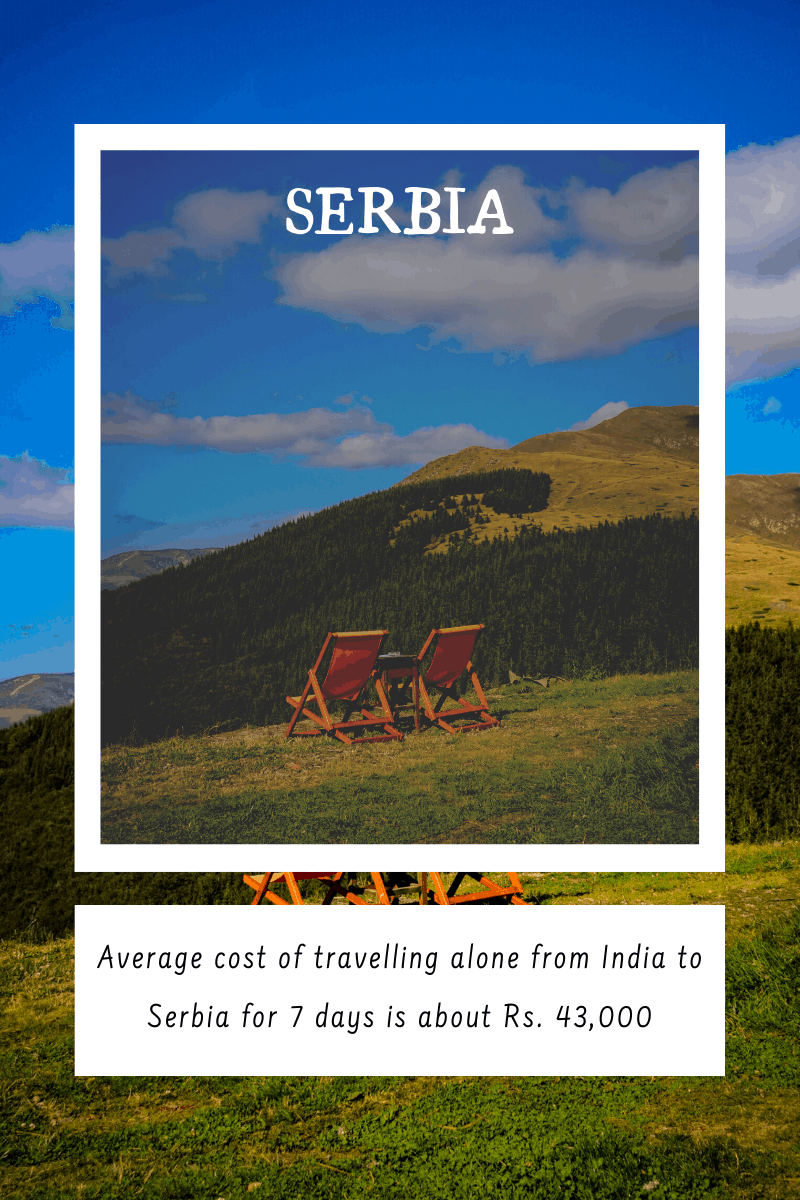 17. VIETNAM
Vietnam is one of the best South East Asian countries to take a backpacking trip. This includes solo travel for both men and women. This region is one of the cheapest countries to travel from India.
The average cost of travelling to Vietnam from India for a month's time will amount to about 29,000 INR if you're a strict budget traveller and to about 37,000 INR if you prefer some kind of luxury. This cost is inclusive of visa, airfare, food, transport, sightseeing and accommodation.
18. MYANMAR
As an Indian, you are allowed to travel to Myanmar via road. This is possible through Manipur's capital city – Imphal. In order to reach Imphal, either travel from Guwahati (Assam's capital) by plane or even by train.
A 15 day trip to Myanmar from India will cost you not more than 21,000 INR if you choose to travel either as a group of 4 people or at least 2 people. Accommodation is expensive in Myanmar. So share rooms and get that price down.
19. NICARAGUA
Located at a distance of 15,000+ Kms from India, the Central American country of Nicaragua is not very popular among Indian travellers as of now. However, you should put it on your bucket list because it's worth a visit.
I highly suggest that you couch surf in Nicaragua and compensate for flight costs. If you want to understand the concept of traveller trust building behind Couchsurfing, do read this in depth study by Jun.E.Tan based out of Wee Kim Wee School of Communication & Information, Nanyang Technological University, Singapore.
 A 7 day trip to Nicaragua from India will cost around 53,000 INR.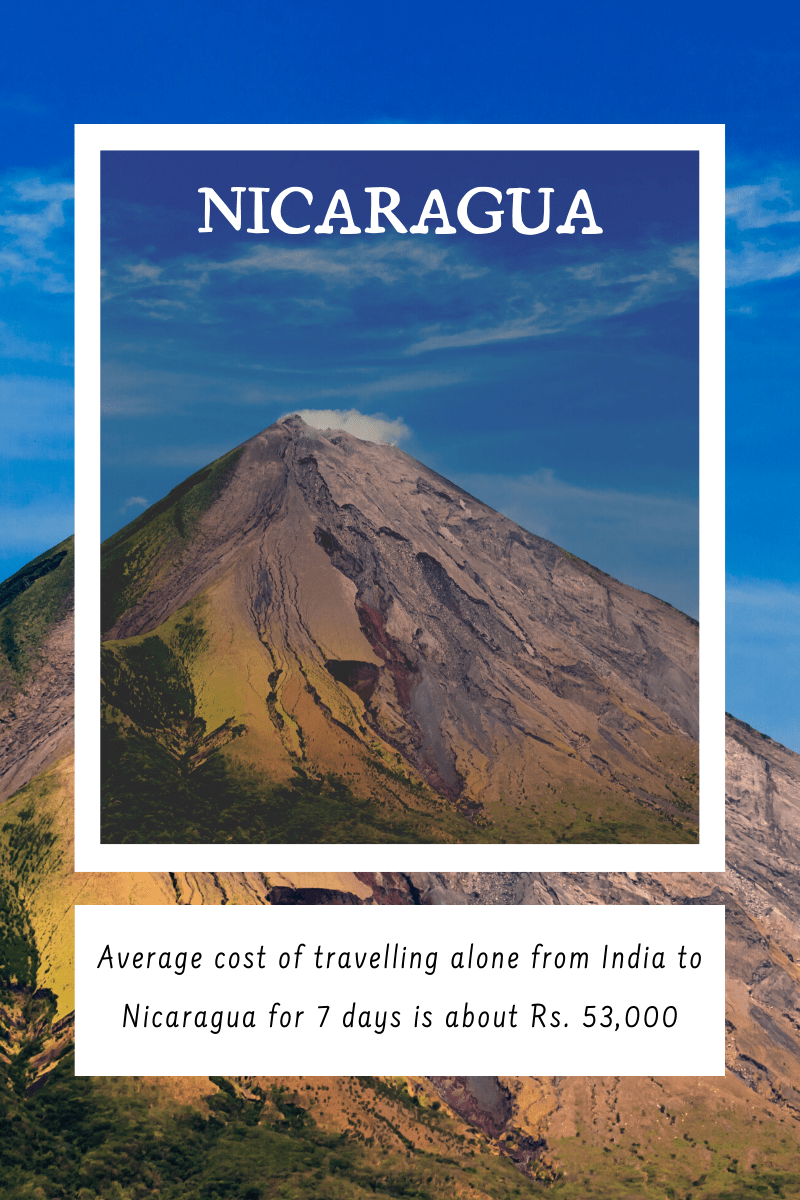 20. JAMAICA
Fun, frolic, beaches and parties – are the 4 things that highlight Jamaica as a country. Try planning a trip to Jamaica when India undergoes its winter season. At that time of the year, Jamaica is pleasant, accommodation is super cheap and flights have their fares cut down.
A 10 day Jamaica trip from India will cost a budget traveller about 71,000 INR. A bulk of this cost exists because most flights go via the US. So if you can find an alternative route, you can get this cost lowered to 58,000 INR.
21. EGYPT
I've been to Egypt thrice in my life and still haven't gotten over this beautiful country. Egypt is a treasure nation of surprises when it comes to travel and is way more progressive than people assume it to be.
An 8 day trip to Egypt will cost you about 68,000 INR. This includes the visa and airfare as well. You know, the longer you stay in Egypt, the more money you'll be able to save because the accommodation owners will get their costs significantly down.
22. ALBANIA
Compared to most parts of popular Europe, Albania is quite cheap and affordable for Indian travellers. During the offseason, the flight costs get reduced to as low as 17,600 INR. So I feel more Indian travellers should start tripping here.
The average cost of travel from India to Albania for at least 7 days amounts to around 46,200 INR. This is inclusive of everything.
23. UZBEKISTAN
Each time I write about Uzbekistan, I get nostalgic. It is by far the most welcoming nation I've ever been to as an Indian. It's a beautiful and varied nation with so much to explore. By the way, Uzbeks love Bollywood music. While in Uzbekistan, you cannot miss out on these 19 rare souvenirs to take back home from there.
If you plan a 30 day trip to Uzbekistan from India, it'll cost you around 64,000 INR. If you plan a 10 day trip, it'll cost you around 27,000 INR. 
24. MALAYSIA
I see a lot of travellers being ripped for their money to fly to Malaysia. But trust me, you don't need all the hassle. You can actually travel for much less. Malaysia is a kickass country for explorers. Go see it.
A 10 day backpacking trip to Malaysia from India should not cost you more than 24,000 INR. Don't go by the travel agent or tour package route. Plan your trip yourself.
25. THE CZECH REPUBLIC
The Czech Republic proves to be a lot cheaper if you're already travelling to Europe on a Schengen Visa. That way, you don't pay for flights again and again. The entry fee of most places in almost every major city in the Czech Republic is free. This is such a good thing for budget travellers.
The average cost of travelling to the Czech Republic for a week excluding flights amounts to only 22,000 INR.
26. LEBANON
Lebanon is one country where somehow the flights from India are cheap but the country is a tad bit expensive otherwise. However, the good thing is that 1 INR = 21 Lebanese Pounds and so you still get to travel cheap.
A 6 day trip to Lebanon will amount to about 58,000 INR from India. The way you get this cost down is if you choose to bunk in hostels, eat at low tax dining places and walk more than use cabs.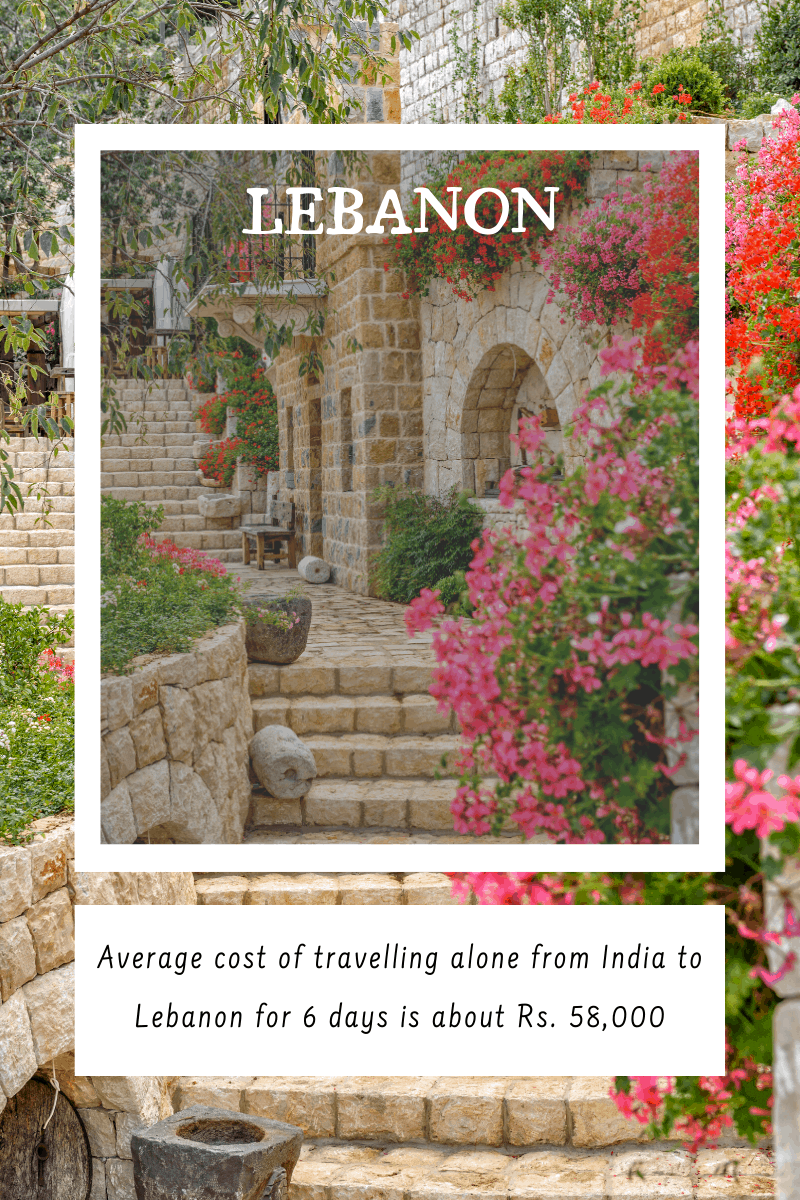 27. ETHIOPIA
Ethiopia was the first African nation I visited. This was a few years back. Now, Ethiopia has been trying to welcome tourists by offering better facilities and hence recently they have started imposing tourist tax on certain things. However, Ethiopia is still way cheaper for Indians than most other African countries.
A 1 week trip to Ethiopia from India will amount to 43,160 INR, assuming that you have a pre-planned itinerary.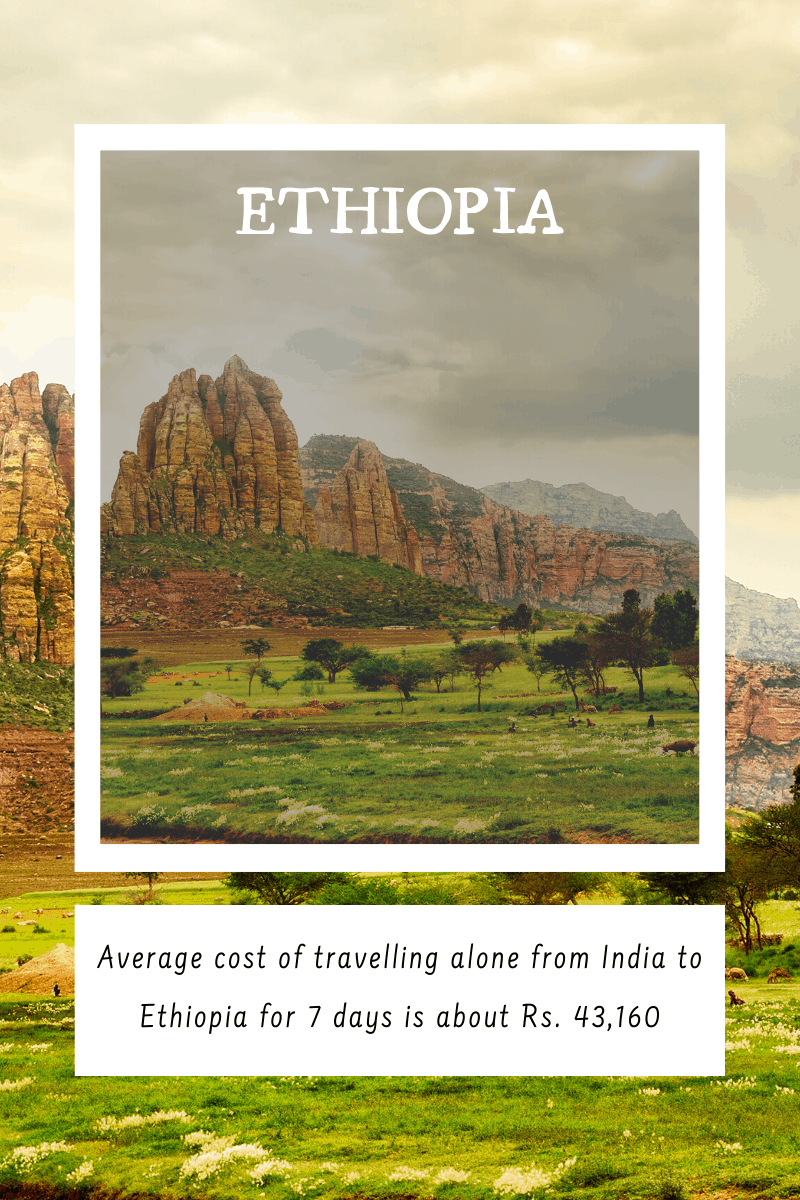 28. AZERBAIJAN
Azerbaijan is such an amalgamation of modernity and times gone by. It's a very culturally rich place and welcomes travellers with open arms. It's very affordable as a travel nation for Indians.
A 10 day trip to Azerbaijan from India will cost the average backpacker not more than 27,000 INR. Travel insurance is mandatory in Azerbaijan. 
29. KAZAKHSTAN
For Indian travellers, a trip to Kazakhstan will prove to be super cheap if you club it along with Uzbekistan. That way, you spend on flights just one time and from can travel to Kazakhstan by train. It's strange but must see the region. It's actually a mix of super developed cities that have become business hubs and weird deserted places.
A 10 day trip to Kazakhstan en route to Uzbekistan will cost you only 10,023 INR.
30.SAO TOME AND PRINCIPE
One of the least heard countries in the world is Sao Tome and Principe. However, people who manage to visit here surely have fond memories. I surely do. It didn't have a lot of backpacking hostels or Airbnbs before but now it does and so makes for an affordable country to visit for Indians.
The average cost of visiting Sao Tome and Principe from India for a good 14 days amounts to about 51,200 INR. Try to go cycling around locales here. Else, you can even try hitchhiking. 
31. GHANA
If there's one place that I underestimated a lot before actually visiting there is Ghana for sure. I could have never imagined that this nation is so welcoming and pretty. As an Indian traveller, you have got to put Ghana on your bucket list. While you're in Ghana, do ensure to pay a visit to the sacred monkeys of Boabeng Fiema Monkey Sanctuary. 
A one week trip to Ghana from India will cost you 28,000 INR. The bulk of this cost is due to flights actually. Otherwise, Ghana is extremely cheap for travellers.
32. KENYA
Remember all the wildlife you saw in Africa on National Geographic? Well, the bulk of that wildlife comes from Kenya. It has some of the world's most beautiful wildlife and safaris. While in Kenya, put Masai Mara Reserve on your travel priority.
An 8 day trip to Kenya from India will cost you around 42,116 INR. A lot of travelers visit Kenya just for the Safaris. In fact, you can go for a travel plan that includes days of stay within the safari itself and includes all costs except flights. If you find it expensive, then cut your travel costs and take the 'Walking with Animals full day tour at Naivasha." The best part is you'll be picked from your place of stay and dropped off before nightfall.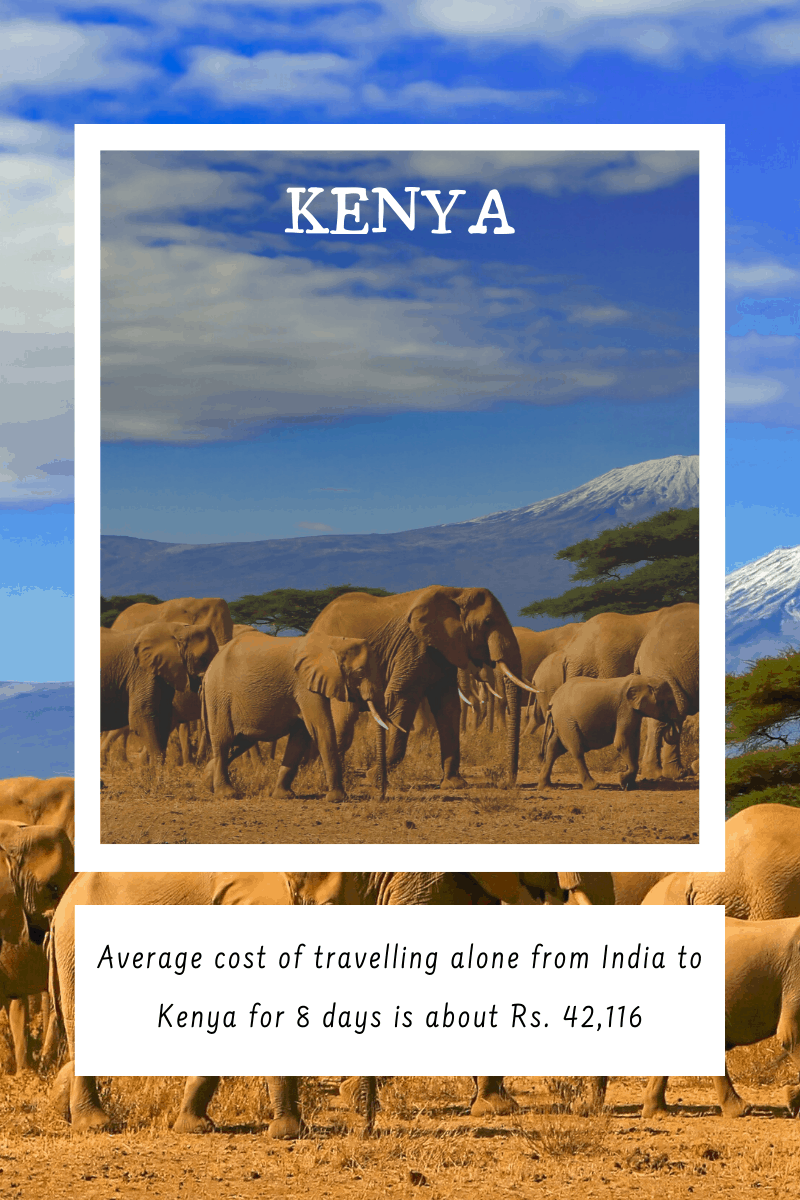 33. THAILAND
Thailand is every Indian traveller's dream destination when it comes to saving money. Thailand has so many locales to visit, sumptuous food and lots of fun things to do. Even though most of us feel that Thailand is about sex tourism and shady massage parlours, the country is way more than that as a destination. You'll see this for yourself when you visit.
A 10 day backpacking trip to Thailand can easily be managed for under 25,000 INR. And this includes flights as well. What more can we ask for as travellers. Right ? By the way, if you're a first time traveller in Thailand, do read these 18 crucial tips for a successful trip.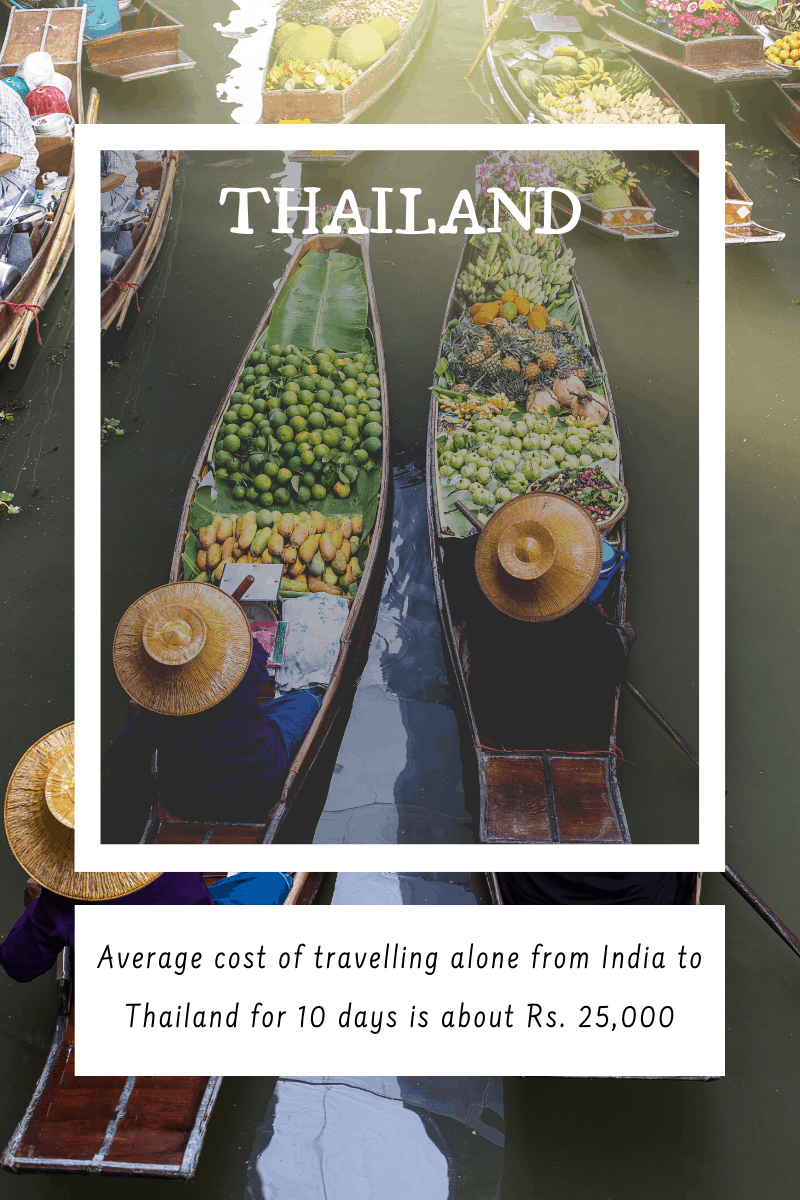 34. NAMIBIA
One word that I'd like to dedicate to Namibia as a travel destination is Epic. What a place to be ! Sand dunes, tribal culture, good food, budget stays, exotic wildlife and hospitality – This place has it all. I won't forget what this country did for me as a traveller. It transformed me beyond measure. 
A 7 day backpacking trip to Namibia from India will cost you around 43,221 INR. It might just prove to be a journey of a lifetime.
35. INDONESIA
Most Indian travellers associate Indonesia with honeymoon tours in Bali. But that is really unfair for us and for the destination. I highly insist that plan a budget trip to places like Lombok and Gili Trawangan. Sure, Bali is beautiful but Lombok and Gili Trawangan are today where Bali was 30 years ago. Hence, these destinations are super cheap and pretty.
A 20 day backpacking trip across Indonesia will cost you well under 30,000 INR. Well this is exactly why Indonesia is considered one of the cheapest countries to travel from India
36. LAOS
Laos can be clubbed along with Vietnam or Cambodia in the same itinerary. That way, you'll have to spend on airfare just once. Also, Laos is super pretty and super safe as a travel destination. Also, very cost-effective.
A 7 day trip to Laos will cost you just 7,995 INR. This is the exact amount it costs me. Yes, it is that cheap but only if you club it along with Cambodia and Vietnam.
37. MADAGASCAR
If there is one place in the world, I don't mind visiting again and again, it is surely Madagascar. It is such an underrated destination. In fact, one trip isn't enough for exploring this huge island. There's just so much more to see. The best part is that the island doesn't have mass tourism and therefore a lot of places are still offbeat.
An 8 day backpacking trip will to Madagascar from India costs you about 47,000 INR. Personally, I would pay a lot more to be a part of the lovely island life here.
38. COSTA RICA
Costa Rica is quite popular with American and European travellers but is now fast catching up with Indian travellers as well. The country is flooded with volcanoes and national parks that are a must visit for travellers.
For a 7 day trip to Costa Rica, an Indian backpacker will have to roll out around 23,400 INR. However, this excludes the flights. Since flights here as of now are expensive, I highly insist that you club Costa Rica with around 2 more Central American countries to make those flight costs worth it.
39. MOROCCO
Morocco is a country of enchantment and elegance. It's replete with colour – be it in the natural landscapes or in the many souks (markets) selling fragrant spices. Try to explore as many cities as Morocco on your trip. They're all so pretty. Avoid visiting Morocco during the month of Ramadan as there might be some restrictions on tourist activity. Rest, all is okay.
A 10 day fun trip from India to Morocco will cost you 29,180 INR. You can lower this cost even further by finding attractive discounts on flights during the offseason. If you feel like, read this useful Morocco budget travel guide for first time visitors.
40. SOUTH AFRICA
Flights from Bangalore (my current city) to Johannesburg in South Africa have decent prices for the most part of the year. And so, it makes for a good budget travel destination for Indian travellers.
If you're interested to know and understanding the history of mankind, South Africa has got to be on your travel list. Some of Homo sapiens oldest fossils have been found here. Additionally, the country has so much more to offer in terms of beauty, wildlife and people.
A 10 day backpacking trip to South Africa will cost you around 35,000 INR from India.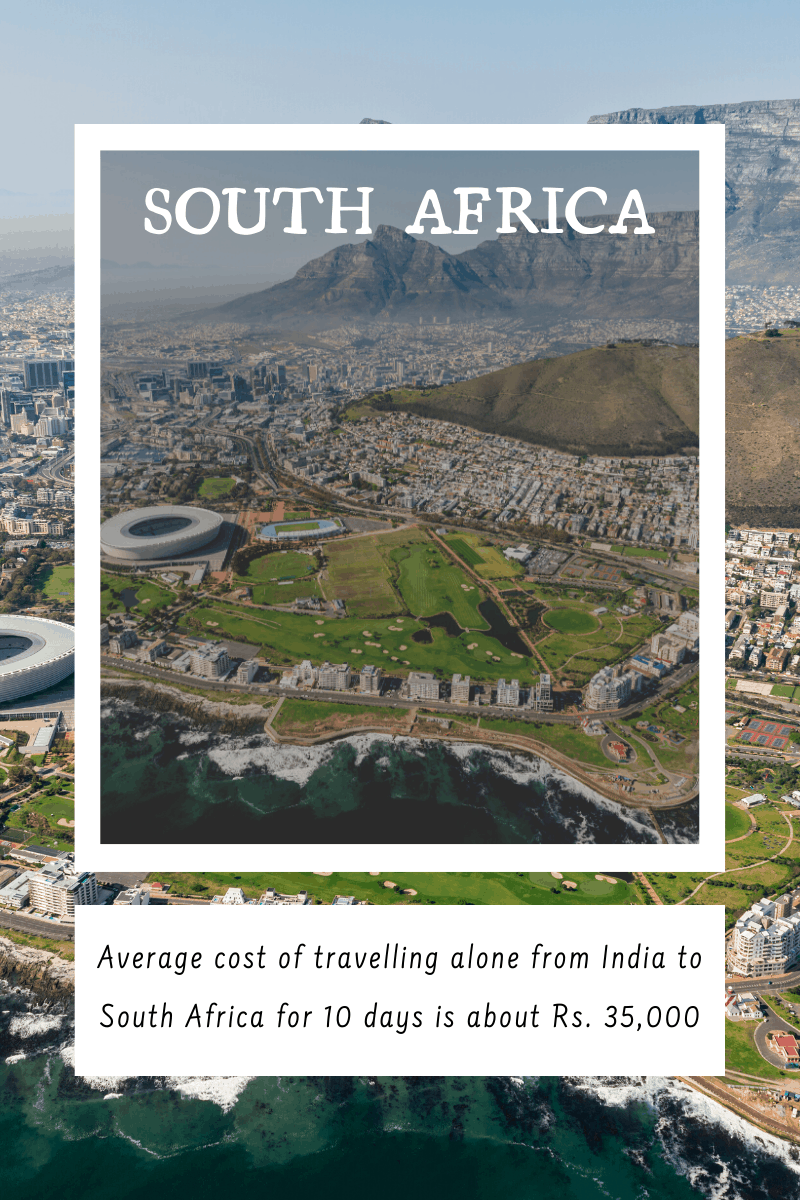 41. NEPAL
If you're really low on budget as of now and are just beginning to travel, start with Nepal. It's affordable, similar in India in so many things and offers a great backpacking experience. When I first started backpacking, Kathmandu was one of the first places I visited on my own.
A 10 day backpacking trip from India to Nepal will cost you roughly about 13,000 INR. Nepal is hands down one of the cheapest countries to travel from India
42. MOZAMBIQUE
I highly insist that you travel to Mozambique and Malawi together. You'll greatly reduce the overall travel cost since you'll pay for the airfare just once. Also, you can avail of the visa on arrival at the Mozambique border itself. You'll like Mozambique. It's very culturally diverse.
A week long trip to Mozambique will cost you around 27,180 INR.
43. SRI LANKA
Sri Lanka is one of the cheapest countries to visit for Indian travellers. It is a lovely coastal nation with so much to see. Except for some parts of the country with unrest, the entire region is peaceful and quite welcoming towards Indian travellers.
A 25 day long trip from India to Sri Lanka will cost you not more than 27,000 INR. And this includes the flight cost.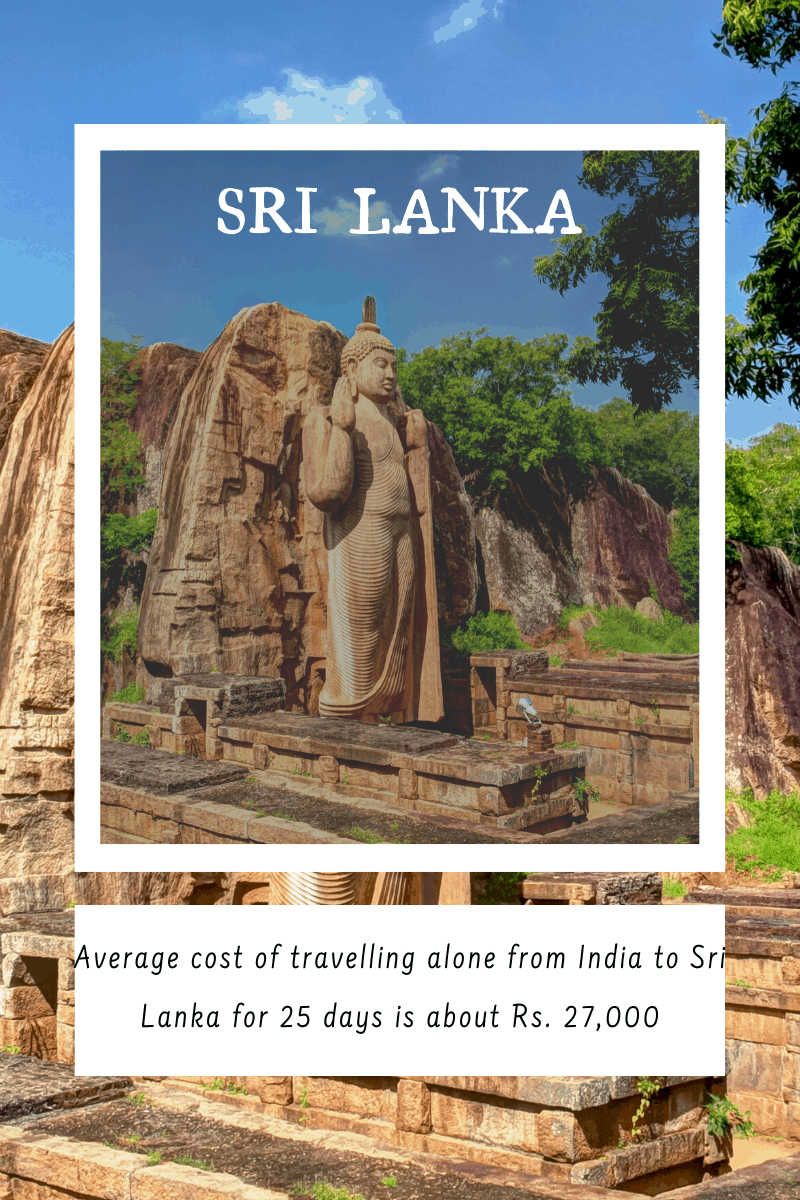 44. TAIWAN
As a traveller, do you ever feel like being spoilt for choice when it comes to places to visit? Well, Taiwan is your place to be. The only issue you can encounter here is some kind of language problem but that is just in a few places. Everything else is okay.
A 9 day backpacking trip to Taiwan will cost Indian travellers around 24,900 INR. This includes flight costs and so this is a good thing.
45. MEXICO
Mexico is super affordable despite being a part of North America. So as an Indian traveller, you have got to head out there. Even the flights keep offering discounts frequently.
Do slightly uncommon things in Mexico. Take a Trajinera trip or go see the Teotihuacan pyramids or perhaps fly high over the Valley de Bravos in a parachute.
A week long trip to Mexico will cost you around 56,000 INR. This cost will get lowered if you stay longer and club some Central American nations in your itinerary. Save more on airfare and utilise your money well.
46. IRAN
Since Iran frequents the negative news a lot, many travellers feel that it isn't safe to visit. But that is not true. In fact, Iran is one of the world's most welcoming and hospitable nations.
Mark my words, if you travel here and choose to stay with a family, they'll keep writing letters to you for years to come. The region is super rich in food and culture.
A 10 day backpacking trip from India to Iran will cost you 26,550 INR.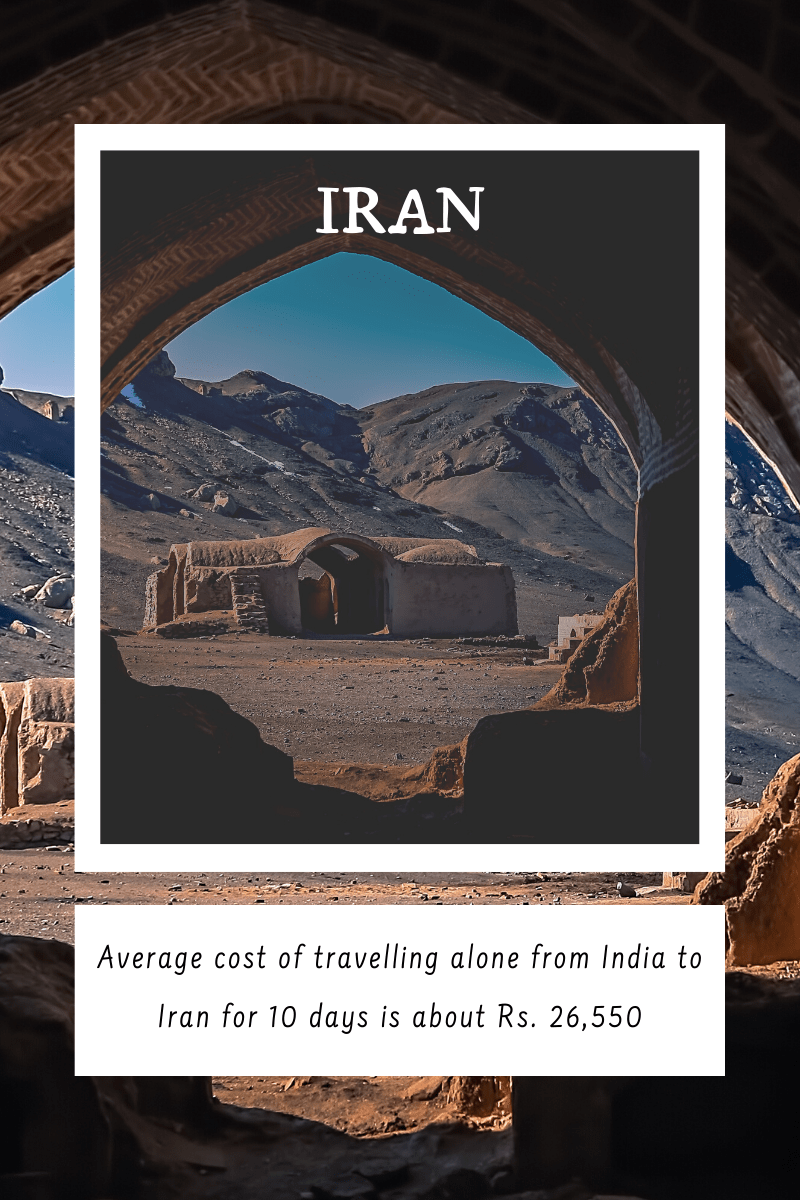 47. CHINA
China is an immensely beautiful nation. On the one hand, there are water towns with traditional folks and on the other hugely commercial places are sprawling with rapid growth. If you really want to reduce the cost of travelling in China, choose offbeat places like Ningbo over Beijing or Shanghai.
China is welcoming to Indian travellers. The only issue you might encounter is with the food in case you're a vegetarian. Therefore, I suggest you go through this vegetarian survival guide for the first time Indian travellers in China. It'll help you.
An all inclusive 12 day backpacking trip to China will cost you around 32,000 INR.
Travelling cheap isn't as difficult as most people assume it to be. However, it isn't as easy if you're not willing to give up on at least a few of your comforts. The choice is yours – Whether you want to crave luxury and restrict yourself to your own locale or give up on a few things that don't really matter and travel the world.
Either way, I am nobody to judge but if you ask me, I'll modestly suggest you choose the latter. Travelling will literally open the doors of your mind. It will expand your cultural horizons. And when you return home from every country, you will sense the transformation in you.
Self-research is one of the best ways to travel cheaply outside India. Trust me, you end up finding locales that are not highlighted by most people. Not to forget, so much fun too. The more time you invest in finding locations that don't put a burden on your budget one bit, the more light-hearted you're able to stay on your trip.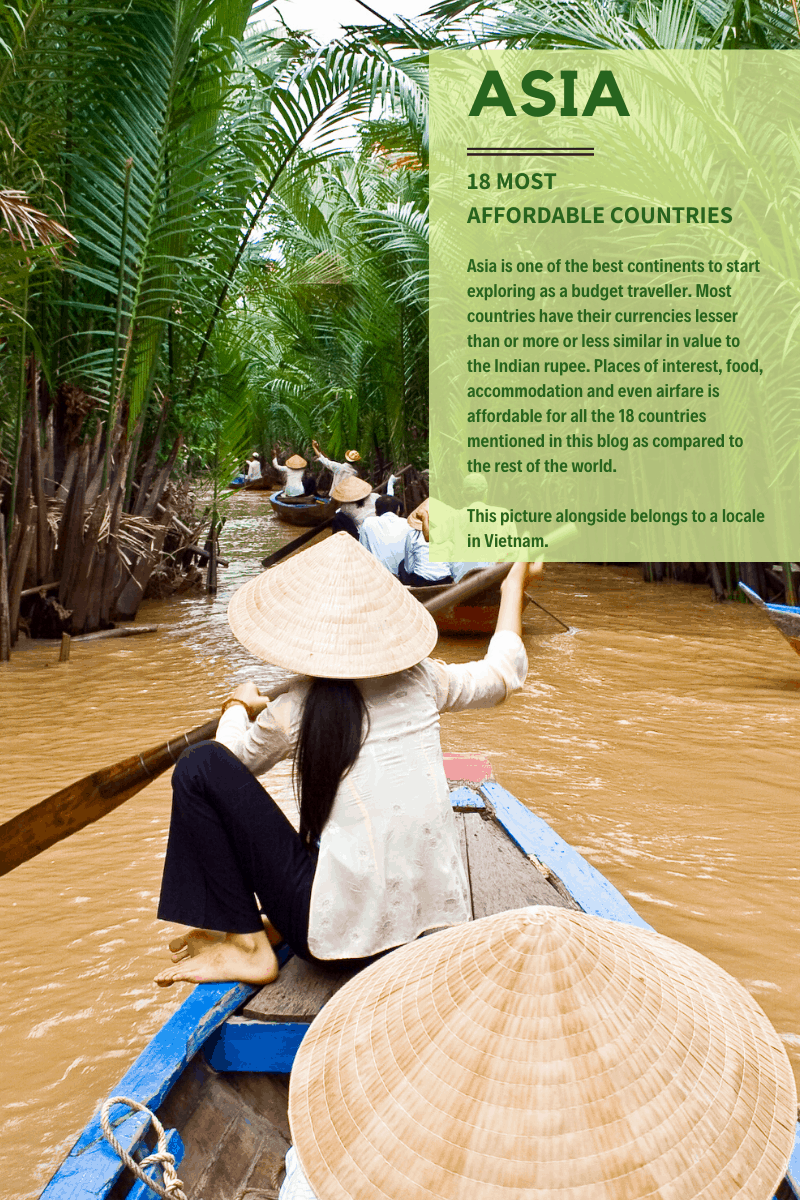 18 Cheapest countries to travel from India in Asia
Asia is an extremely diverse region both in terms of terrine, landscapes, culture, ethnicity, food as well as people.
As an Indian traveller, I highly insist that first time budget trippers start their tour from any country in Asia. It is easy to acclimatise in most countries, culture wise. Plus it somehow feels like home.
It needs to be pointed out that almost all of them will allow you to not just travel to their many cities but also stay for a long period of time. This includes a duration from a few weeks to even a few months.
Some of the cheapest travel destinations in Asia that have been visited by me previously are being mentioned below.
1. TAIWAN
2. UZBEKISTAN
3. MALAYSIA
4. NEPAL
5. LAOS
6. INDONESIA
7. THAILAND
8. KAZAKHSTAN
9. LEBANON
10. VIETNAM
11. MYANMAR
12. PHILIPPINES
13. KYRGYZSTAN
14. CAMBODIA
15. BHUTAN
16. MALDIVES
17. IRAN
18. CHINA

10 Cheapest countries to travel from India in Europe
Many a times, travellers from India assume that Europe is expensive. Now this isn't true in all its entirety.
There are certain countries in Europe that are most certainly expensive but there also exist a whole lot of others that are extremely cost effective. It is up to to us to choose one over the other. I've written an entire blog post elaborating on the cheapest European countries for Indian travellers. If you feel like, give it a read before planning your next holiday.
Once again, I'd like to highlight the significance of research here. The more time one invests in studying a country, the more budget friendly trip one is likely to go on as an Indian traveller.
The following countries in Europe are some of the cheapest, beautiful, casual and travel friendly regions for backpackers and budget travellers. 
1. ICELAND
2. MOLDOVA
3. HUNGARY
4. MACEDONIA
5. UKRAINE
6. CROATIA
7. SERBIA
8. ALBANIA
9. AZERBAIJAN
10. CZECH REPUBLIC

13 Cheapest countries to travel from India in African Region
Africa is one region that will surely surprise you as an Indian traveller. It most certainly did make me stand in awe of it.
Its various countries are treasure houses of landscapes, wildlife, tribal culture, food, religion, ethnic practices and even people.
I've loved every single trip of mine taken to all of the African countries that I'm sharing below. Not only are all these nations cheap for Indian travellers to pursue a trip but also safe.
Africa is one place that you would like to go on visiting again and again.
1. EGYPT
2. TOGO
3. BENIN
4. MALAWI
5. SOUTH AFRICA
6. KENYA
7. GHANA
8. NAMIBIA
9. MOROCCO
10.ETHIOPIA
11.SAO TOME AND PRINCIPE
12.MADAGASCAR
13.MOZAMBIQUE

5 Cheapest countries to travel from India in American Region
Most people on hearing the word, 'America' assume it to be USA or the United States of America.
However, in its essence, America is the entire region covering North, Central and South America.
Therefore, there exist places that are cheap, beautiful and totally worth visiting.
1. MEXICO
2. COSTA RICA
3. JAMAICA
4. NICARAGUA
5. CHILE
So what say –  Will you visit the cheapest countries to travel from India this year? I say, go for them – one nation at a time. Do your research, fix a set budget, make the right pick and travel light.
 Happy wayfaring.

Latest posts by Akriti Mattu
(see all)