A budget travel itinerary for Singapore can come in handy if you are planning to visit Singapore,  a perfect amalgamation of history, culture, adventure and entertainment. From stupendous architecture to incredible views, it has all that you may ask for. An international getaway in under INR 50,000 is what makes a budget trip to Singapore an extremely successful one.
Singapore is considered to be one of the most culturally diverse countries in the world. Though, it's not just the diversity of the city-state which is enchanting. Modern architectural buildings and out-of-the-box attractions teamed up with top-notch facilities and the best-in-class hospitality wouldn't disappoint anyone following a budget travel itinerary for Singapore. Exploring the city by one of the world's best metro systems is an experience in itself.
The island city of Singapore is a country in itself and the only one in the world to be such. The name Singapore was derived from a combination of two Malay words Singa and Pura which translates to the Lion City. The iconic Merlion – Singapore's national symbol, was a structure built in the 1960s to do justice to its name.
Located in South-east Asia, Singapore is ranked among the top 5 global cities of the world. Its location proves to be of critical importance promoting trade between the East and West. It is hence considered as Asia Pacific's top business hub. Its strategic location also makes it a convenient destination for travellers to hop-in and out hassle-free. With numerous things to do, a budget travel itinerary for Singapore would be packed with highlights that one wouldn't have even imagined.
Planning a Budget Travel Itinerary for Singapore: Overview
Singapore saw a massive transformation in the latter half of the 20th century. From a small fishing village, it went on to become one of the most advanced nations of the world. Today, Singapore is host to about 17.5 million tourists yearly, which is more than 3 times their current population!
But before we jump to the budget travel itinerary for Singapore, here are some key facts about the city-state that'll help you understand it better:
Country
Currency
Singapore Dollar
Approximate currency conversions:
1 SGD = 50 INR
1 SGD = 0.7 USD
Official Languages
English, Malay, Chinese, Tamil
Time Zone
SGT: GMT+8
Climate
Tropical climate, with temperatures averaging at about 30 degrees around the year
Best time to visit
 December – January
Ideal duration of Visit
five to seven days
Visa
Indians need a visa
Country Dialling Code
+65
Connectivity
By air through any major city.
By Road from Malaysia
By water through a cruise
Budget Travel itinerary for Singapore: Essential Travel Details 
Singapore is a very travel-friendly destination and reaching the place will not be much of a problem. Here are a few details you should know before you plan your Singapore visit.
Best Time to Visit Singapore 
Singapore is located just one degree north of the equator, resulting in a hot and humid climate year-round. The best time to visit Singapore would hence be December – January, however, accommodation and flights would also be expensive owing to the holiday season.
Avoid travelling to Singapore from April – June as the heat would be unbearable.
How to Reach Singapore?
The most convenient way to reach Singapore is to fly in. Singapore Airlines is voted as World's Best Airlines and they truly deserve the title. It connects most major cities across the globe.
Changi International Airport is the largest airport in Singapore, rated as the World's Best Airport and is also one of the busiest in the world. All major airlines land at Changi Airport and connect Singapore to over 380 cities from almost a hundred countries.
The other means of entering Singapore are by road from Malaysia, or by water through a cruise.
Visa for Singapore
Citizens from almost a hundred countries do not need a visa to enter Singapore. This list majorly includes countries from Europe, the Americas and Oceania.
However, Indian nationals must apply for a visa prior to their arrival in Singapore. A Singapore tourist visa for Indian nationals can be obtained in less than a weeks' time.
Mind-boggling architecture of the city-state. Picture Credits: Shreya Doshi
Why should you plan a Budget Travel Itinerary for Singapore?
Singapore developed from a third world country to a first-world nation in a span of fewer than five decades. Tourism was and continues to be a major contributor to the development of the country economy. Singapore adds notable attractions every year which drives more and more people towards the country for short and long stays, over and over again. Eventually today, tourism contributes directly to the GDP of Singapore.
Though the total area of Singapore is only around 750 sq. km., half the total area of Delhi – the national capital of India, the city-state will impress you with what it has to offer. This Singapore travel guide blog highlights the places that are unique and must not be skipped on your first visit to Singapore. The day-wise itinerary along with its approximate daily budget would help you plan your budget travel itinerary for Singapore without glitches.
The list of things to do in Singapore is endless. From animal encounters in wildlife safaris to taking a stroll in the most impressive gardens, to pumping your adrenaline high with adventure activities; you name it and Singapore has it.
The Ideal Budget for a Budget Travel Itinerary for Singapore
Singapore might prove to be an expensive holiday destination for travellers, if not planned capably. A five-day budget travel itinerary for Singapore comes to the rescue for a perfect holiday. Here is a break-up of the expected expenses while planning a budget travel itinerary for Singapore. Since I was travelling from India, I have mentioned the approximate cost in Indian Rupees.
Flights (ex-Mumbai)
INR 18,000
Accommodation (per person)
INR 7000
Visa
INR 1800
Sightseeing
INR 16400
Local Transportation
INR 1800
Food
INR 5000
Singapore is such a destination where you could enjoy a lavish and luxurious escapade or plan a trip on a shoestring budget. Either way, you'll be able to experience the charm of the city-state that'll make you want to go back to it over and over again.
Getting around the city on your Budget Travel Itinerary for Singapore
Are you wondering how to save money while travelling to Singapore? The key to minimizing Singapore expenses for travellers is to leverage their public transportation effectively. Singapore is extremely well-knit when it comes to public transport.
The best way to travel around the city is through the MRT. The Singapore MRT stations are literally everywhere. Keep walking a couple of hundred metres, and you'll stumble upon an MRT station on one of the lines. Servicing the entire city-state through five lines and over a hundred stations, the MRT sees a ridership of over three million passengers daily!
To make things easier for travellers, the city offers what is called the Singapore Tourist Pass which offers unlimited rides on public transport – namely the MRT, LRT and buses. This pass is available for 1, 2 and 3 days.
Singapore Tourist Pass – Cost
1 Day – S$10
2 Days – S$16
3 Days – S$20
I would recommend that you buy the Singapore Tourist Pass for all the days that you are in the city.
Day-wise Budget Travel Itinerary for Singapore
A budget trip to Singapore would be a traveller's dream come true. This five-day budget travel itinerary for Singapore incorporates all the fascinating places worth a visit. Though, if you were to stay in the city-state for even a month, you wouldn't get bored of exploring the place.
Day 1
Arrive at the Changi Airport
Downtown Core
Raffles Place
Merlion Park
Gardens by the Bay
Day 2
Singapore Zoo
River Safari
Night Safari
Day 3
Jurong Bird Park
Bugis Street
Chinatown
Clarke Quay
Day 4
Sentosa Island
Day 5
Esplanade
A Tale of Two Quays
Marina Bay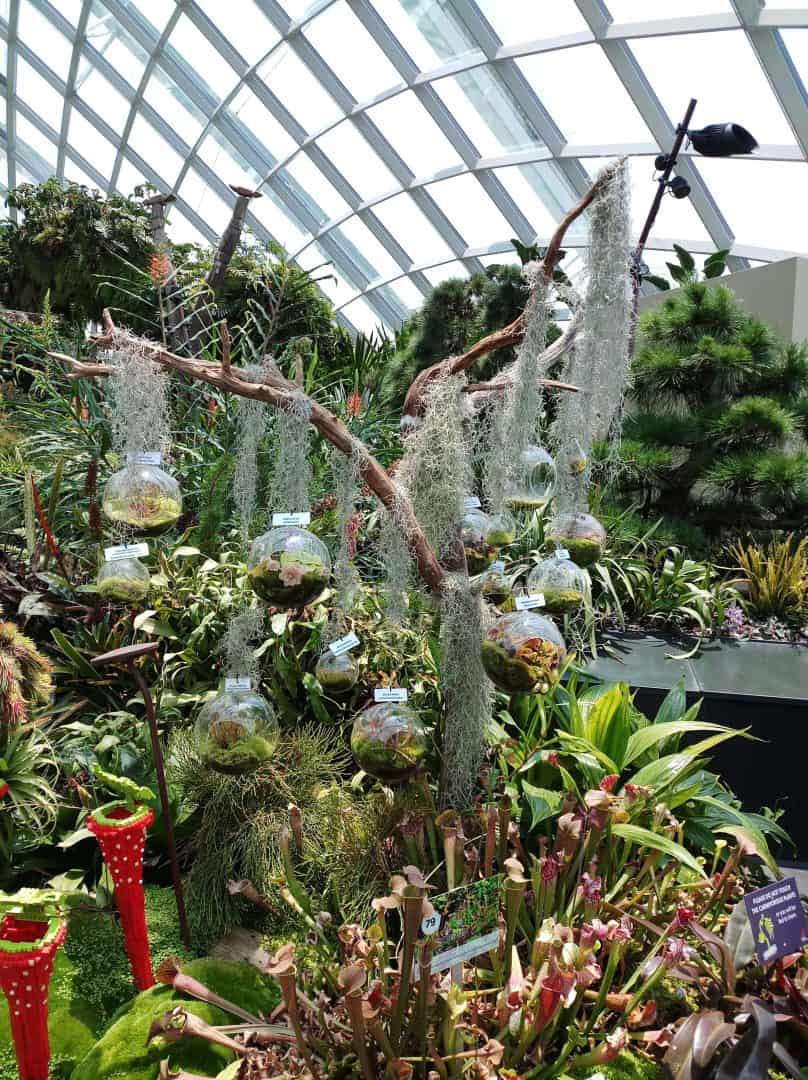 Relationship between plants and planet at the cooled conservatories in Gardens By The Bay. Picture Credits: Shreya Doshi
Day 1 of the Budget Travel Itinerary for Singapore
Your arrival at the Changi Airport would in itself be more welcoming than ever. It is known to be one of the biggest airports in the world, and its grandeur wouldn't let you believe that you're at an airport. If your journey was tiresome, the vibe of the airport is going to help you overcome it.
The first and foremost thing is to be comfortable in the city you're going to explore. Spend the first half of the day getting a hang of the city. Check-in to your place of accommodation, know your surroundings and brace yourself for what's going to be one hell of a trip.
Head straight to Downtown Core in the afternoon to witness what it's like to be surrounded by some of the most expensive buildings of the world. It forms the financial heart of the city, with the all the popular and noteworthy colonies, buildings and attractions. Take the MRT to Raffles Place on lines North-South (Red) or East-West (Green) to get there.
Immerse yourself at Raffles Place where history and modernity unite, to understand what the city-state is all about. Take a stroll in the Merlion Park and capture the iconic picture beneath the water spouting from the mouth of half-lion half-fish Merlion.
After spending some time at Raffles Place, walk to the Gardens by the Bay, one of the most breath-taking gardens Asia has ever seen. At Gardens by the Bay, your first evening in Singapore will be a one to remember.
Entry to Gardens by the Bay is free for all, making it a super attraction on your budget travel itinerary for Singapore. They are divided into three waterfront gardens:
Bay South Gardens
The largest of all, Bay South Gardens are home to a plethora of attractions. With art sculptures spanned across the gardens, they take pride in showcasing world-class garden artistry. They also exhibit tropical horticulture and host two cooled conservatories.
Bay East Gardens
Located in the Marina East across the Marina Barrage, Bay East Gardens offer the best view of the Singapore city skyline.
Bay Central Gardens
Smallest of the three gardens, Bay Central Gardens links the other two gardens. It is known for its waterfront promenade, where you could enjoy your evening walk with scenic views.
You must necessarily visit the Bay South Gardens, for all that it has to offer.
| | |
| --- | --- |
| Attractions | Entry Tickets |
| Serene Garden | Free |
| Cooled Observatories – Flower Dome and Cloud Forest | S$28 |
| Supertree Grove | Free |
| OCBC Skyway | S$8 |
| Far East Organization Children's Garden: Toddler Zone, Waterplay, Rainforest Tree Houses, Fish Fountain | Free |
| Sun Pavilion | Free |
| Heritage Gardens (Indian, Chinese, Malay and Colonial Gardens) | Free |
| The Canyon | Free |
| World of Plants | Free |
Ensure that you witness the changing colours of the sky and the gardens during sunset. End your evening at the Gardens by the Bay with the Garden Rhapsody Light and Sound Show. It takes place twice every day- at 7:45 pm and 8:45 pm. You could seat yourselves near the Supertree Grove and be mesmerized by this symphony of sound and lights, at no cost!
The first day of your budget travel itinerary for Singapore ends here. Expenses so far:
Public transport – S$6.67
Hostel (one bed in a dormitory) – S$35
Meals – S$20
Sightseeing – OCBC Skyway and Cooled Conservatories – SS$36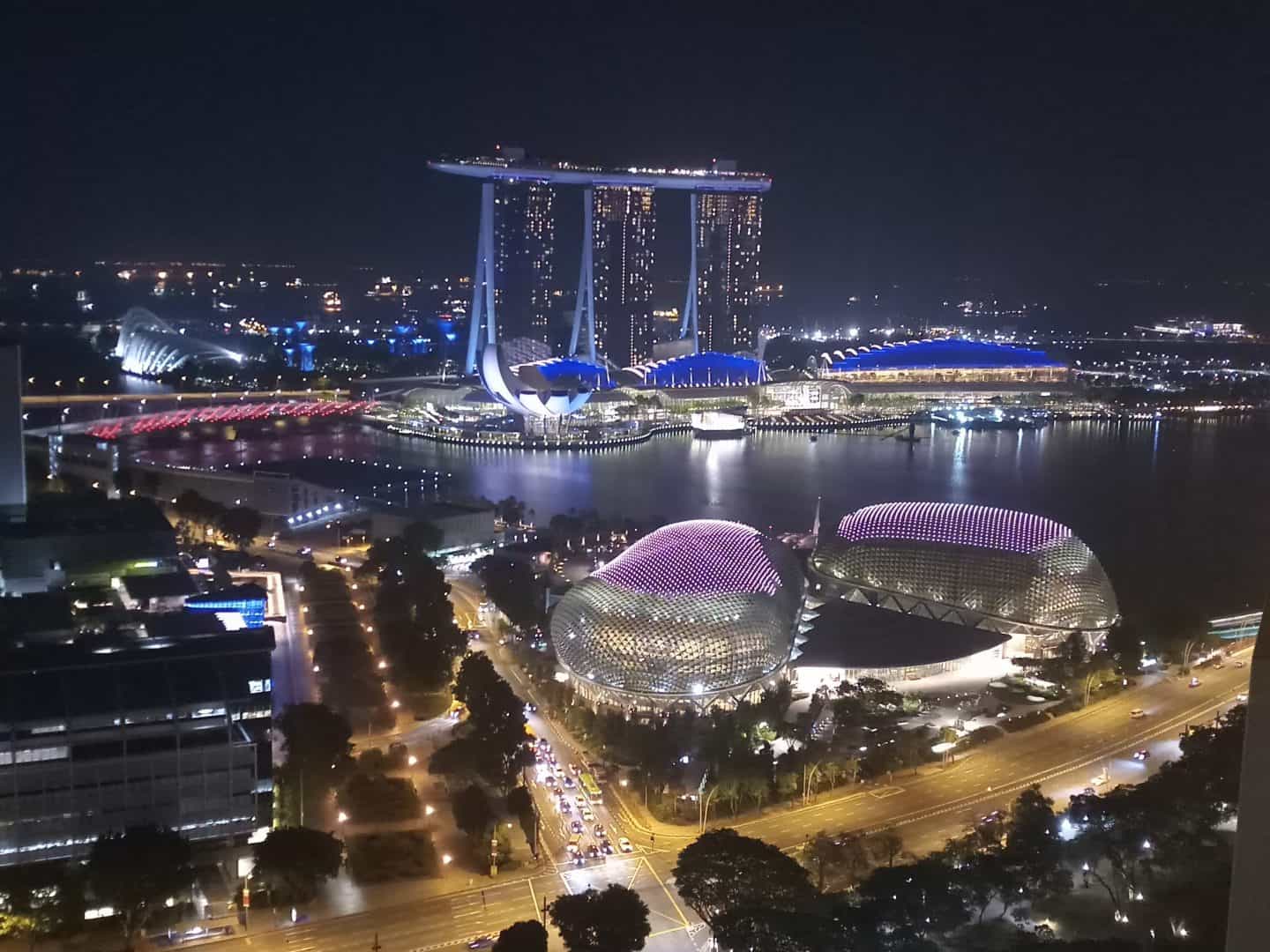 Marina Bay Sands and Esplanade lit-up in the evenings. Picture Credits: Shreya Doshi
Day 2 of the Budget Travel Itinerary for Singapore
Wildlife Reserves Singapore will keep your adrenaline pumping with unique animal and bird species from around the globe. Four unique themed wildlife parks set you off to an adventure of a lifetime.
Singapore Zoo
Over 300 species and 2500 animals set in a rainforest, the Singapore Zoo is one of the top three zoos in the world.
River Safari
Over 5000 animals, including freshwater animals and pandas, the River Safari Asia's only river themed wildlife park.
Night Safari
A unique experience with walking trails and a tram safari with live commentary, Night Safari is the world's first nocturnal zoo.
Jurong Bird Park
Over 400 species and 12000 birds, the Jurong Bird Park is the largest Asian bird sanctuary.
As much as you'd like to cover all of the above in a single day, it is not possible to do so. It is recommended that you buy the ParkHopper Pass. This pass is valid for 7 days from your first visit and allows you one visit per park for all of the above. It also includes all boat and tram rides within the parks.
Start the second day of your budget trip to Singapore as early as 8:00 am, as you'd be covering three of the four wildlife parks. Singapore Zoo, River Safari and Night Safari are located right next to each other. Hence you must plan to visit all of these in a single day. Take the North-South (Red) Line MRT to get down at Khatib station. You can then take the Mandai Khatib Shuttle to reach the parks.
Spend about 4 hours at the Singapore Zoo in the morning and then proceed to River Safari post lunch. Do not miss the boat ride in the River Safari park which is included in your ParkHopper Pass. Another 4 hours in the afternoon at the River Safari would make it a good day. But best is yet to come – the Night Safari. The first slot is at 7:15 pm, which is ideal. Enjoy the tram ride or join the walking trails as you may like. End the day being amazed by the creatures of the night.
The second day of your budget travel itinerary for Singapore ends here. Expenses for the day:
Public transport – $6.67
Hostel (one bed in a dormitory) – S$35
Meals – S$20
Sightseeing – Wildlife Reserves ParkHopper Pass – S$83
Day 3 of the Budget Travel Itinerary for Singapore
Why wait to explore the last of the Wildlife Reserves after a day-long encounter with animals. Spend a colourful morning at the Jurong Bird Park with the rarest species of birds. Take the East-West (Green) Line MRT to Boon Lay and change to bus number 194 to the park.
Jurong Bird Park opens at 8:30 am and it's best to reach early to beat the crowd. The park has two bird shows – Kings of the Skies and High Flyers – that'd amaze you with the birds' talent. Each show lasts for about 15 minutes. You should reach at least 15 minutes prior to the start time in order to get good seats. Bird feeding is a common activity in the park. Click some good snaps of birds landing on your shoulders for their feast.
Depart from the park by around noon and take the East-West (Green) MRT to Bugis. Now is the time for some street shopping. Though Singapore is not as cheap as shopping in other South-east Asian cities like Bangkok, it does offer quality stuff up for grabs at decent prices. Bugis Street hosts stalls with some of the best bags, clothing and footwear at competitive rates.
After you've burnt a hole in your pocket, take the North-East (Purple) MRT line from Bugis Street to Chinatown to explore the rich Chinese culture. Chinatown is a delight for shopaholics with the best bargains on clothing, souvenirs and much more. The area also offers some of the best street food you can find in Singapore.
End your day at Clarke Quay, just steps away from Chinatown. It is the perfect place to experience the nightlife of Singapore by the Singapore river when the sun goes down. From the upmarket fine dine restaurants to the pumping party clubs, Clarke Quay has it all.
The third day of your budget travel itinerary for Singapore ends here. Expenses for the day:
Public transport – $6.67
Hostel (one bed in a dormitory) – S$35
Meals – S$20
Sightseeing – None
Supertree Grove at Gardens By The Bay. Picture Credits: Shreya Doshi
Day 4 of the Budget Travel Itinerary for Singapore
Sentosa, meaning tranquillity in Malay, is an island resort located off the southern coast of Singapore. An entire day packed with exhilarating activities is in store for you at Sentosa island. The world-famous Universal Studios is a major highlight at the island. Apart from that, several other activities will keep you busy all day long.
Instead of purchasing tickets for every attraction, it is recommended that you buy the Sentosa Fun Pass. It lets you chose the activities that you'd want to spend your time on. Pre-purchasing the pass online has a cost benefit as well.
You can enter the island by road, rail, on foot or fly in (literally, through the cable car). The fastest and cheapest means to reach the island is to walk in. Take the North-East (Purple) or Circle (Yellow) MRT line to Harbourfront. The Sentosa Boardwalk starts at the Vivocity mall. An entry of S$1 is charged to enter the island. The boardwalk allows you a glimpse of the island from afar. In less than 10 minutes and 700 metres, you've arrived at the Sentosa island.
Universal Studios tops the list of attractions that you must visit while in Singapore. Brace yourself for an action-packed day with roller coaster rides, movie-themed attractions and shows. One can easily spend half a day here. A one-day adult pass to the Universal Studios Singapore costs S$76.
Also Useful:
Best of 5 Virtual Worlds from Hollywood at Universal Studios, Singapore    
Universal Studios is just one of the many other attractions built on Sentosa Island. Here's a list of the top 5 attractions on the island that you must not miss:
Trick Eye Museum
Capture the wackiest photos in a hundred illusion spots and trick your friends back home
S.E.A. Aquarium
Be amazed by a whole new world of over 800 species of marine creatures
Skyline Luge
Zoom down the hill in a go kart cum sled ride and find your way up in an open cable chair lift with picturesque views of the island and beyond
Tiger Sky Tower
Enjoy a 360-degree view of southern-Singapore and the islands around, from the rotating 130-metre high observation tower
Wings of Time Show
End the day with the magical sound and light show on the beach with laser projections, water and fire play with a backdrop of the ocean
The other popular attractions on Sentosa island that you could cover on your budget trip to Singapore include:
Madame Tussauds
Click a picture with your favourite superstar, the only catch being they're not real but a near-perfect wax model
Merlion
Get a panoramic view of Sentosa island from atop the 37-metre-high national symbol of Singapore
Images of Singapore
Understand how Singapore came into being and advanced over the years in this interactive LIVE show
Segway Ride
Ride along the beach to the southernmost point of continental Asia in a super cool Segway
4D Rides
Get blown away in a 4D theme park with a range of rides to keep you entertained
Sentosa island also offers multiple adventure activities like iFly, Megabounce, Climb Max, Adventure Cove Waterpark, and more. If you wish to incorporate all of the activities listed above in your budget travel itinerary for Singapore, just a day in Sentosa would not be enough. You must split your visit to Sentosa island into two days, covering Universal Studios on one day and enjoying rest of the activities on the island on the second day.
The fourth day of your budget travel itinerary for Singapore ends here. Expenses for the day:
Public transport – S$8
Hostel (one bed in a dormitory) – S$35
Meals – S$20
Sightseeing – Universal Studios and Sentosa Fun Pass Play 5 (Any 5 Attractions on Sentosa Island) – S$135
Day 5 of the Budget Travel Itinerary for Singapore
The last day of the budget travel itinerary for Singapore should be spent exploring the popular attractions of the city. Start your day at the Esplanade, marvelling what a wonderful piece of architecture it is.
A trip to Singapore is incomplete without taking a sneak peek at it from its waterways. River cruises in the Singapore river will allow one to view the city differently. The Singapore River Cruise is also known as 'A Tale of Two Quays' and covers Boat Quay, Clark Quay and Marina Bay. The 40-minute boat ride with live commentary is a delightful experience. It starts at multiple points, and you may board and disembark the cruise at the Esplanade Jetty.
Post the river cruise experience, you can walk down to the Singapore Flyer. In operation for over 10 years now, it is Asia's largest observation wheel standing tall at 165 metres. A round in the flyer takes about 40 minutes and treats you with 360-degree city views. To top it all, you get a bird's eye view of the Marina Bay Street Circuit – the F1 car racing track.
Walk across the Helix Bridge, another wonderful piece of architecture, also known to be the world's first curved bridge. It is a pedestrian's bridge across the Singapore river linking Marina South to Marina Centre in the Marina Bay area. Once across the Helix Bridge, you would reach Marina Bay Sands, the iconic hotel that boasts of the world's largest rooftop infinity pool.
The Shoppes at Marina Bay Sands hosts the largest collection of luxury brands in Southeast Asia. Window shopping at The Shoppes is the only affordable option while on a budget trip to Singapore. The last attraction for the day is the Marina Bay Sands Skypark Observation Deck located on the 57th floor. You can view the sunset from atop the Skypark with mesmerising views of the Downtown core and Gardens by the Bay. Also plan to visit the banana-split shaped Art and Science Museum, right at the foot of Marina Bay Sands.
Your five-day budget travel itinerary for Singapore ends here. Expenses for the day:
Public transport – S$8
Meals – S$20
Sightseeing – Singapore River Cruise, Singapore Flyer, Sands Skypark – S$75
Singapore Flyer and the F1 Marina Circuit as seen from the Sands Skypark Observation Deck. Picture Credits: Shreya Doshi
An Extra day of the Budget Travel Itinerary for Singapore
An extra day while in Singapore is a cherry on the cake. If you have a spare day in Singapore, here is the list of places that you can explore at a minimal extra cost:
Singapore Botanical Gardens
Tropical gardens with a lake, the only UNESCO site in the city
Orchard Road
Major road lined with humongous shopping malls, boutiques and restaurants, truly a shopper's paradise
L

ittle India
The ethnic district with temples, Indian restaurants and inexpensive shopping opportunities
Central Perk Café
A themed café based on the super hit American sitcom 'F.R.I.E.N.D.S.', a must-visit if you're a fan of the show
Free Activities / Attractions in a Budget Travel Itinerary for Singapore
What's better than having a list of things to do absolutely free in Singapore! Here is a list for your reference, with the nearest MRT station to make things easier for you. All checks on this list and you'd have certainly minimized your Singapore travel cost.
| | |
| --- | --- |
| Attraction | Nearest MRT Station |
| Merlion Park | Raffles Place |
| Gardens By The Bay | Bayfront |
| Helix Bridge | Promenade |
| Bugis Street | Bugis |
| Chinatown | Chinatown |
| Clarke Quay | Clarke Quay |
| Singapore Botanical Gardens | Botanic Gardens |
| Orchard Road | Orchard / Somerset |
| Little India | Little India |
| Central Perk Café | Clarke Quay / Chinatown |
| Siloso Beach / Palawan Beach (Sentosa) | HarbourFront |
Budget Travel Itinerary for Singapore: Accommodation Options
When it comes to budget accommodation options, there is no dearth f those in Singapore. Hostels and Pods are the most preferred stays among backpackers visiting Singapore. Here are a few recommendations:
Banana-split shaped Arts and Science Museum right at the foot of Marina Bay Sands. Picture Credits: Shreya Doshi
Tips to Reduce Expenses on a Budget Travel Itinerary for Singapore
It is absolutely essential for any trip, especially an international one, that you start planning well in advance. Here are a few tips to save money in Singapore by planning the trip efficiently, before you land in Singapore.
These insights would minimize Singapore expenses for tourists by at least three hundred Singapore dollars, if not more.
Universal Studios
If you've visited Universal Studios in the USA or are planning a trip there in the near future, you may exempt it from your budget travel itinerary for Singapore. You'll save half a day and about a hundred dollars by skipping it. However, if Universal Studios in the USA is not on your bucket list, this one is a must-visit.
ParkHopper Pass
To visit the four wildlife-themed parks by the Wildlife Reserves Singapore, buy ParkHopper Pass online beforehand, to save an addition 5% on the ticket price. If you are not an animal lover and wouldn't want to spend a lot of time in the wildlife parks, you may pick the 2 Park Admission ticket and save almost 30% of the ticket cost.
Skip these
The Singapore Flyer and Sands Skypark Observation deck are just a few hundred metres apart and provide similar city views. You may skip your visit to the Singapore Flyer as the ticket costs S$10 more than the Sands Skypark. Also, Marina Bay Sands is over 40 metres taller than the Singapore Flyer, hence you wouldn't miss out on much.
Sentosa Fun Pass
Sentosa Fun Pass offers three options – Play 3, Play 5 and Play Max which allows you entry to any 3, 5 or all attractions respectively, based on your pick. Buying the Sentosa Fun Pass Play 5 in advance lets you save almost 40% of the ticket cost if you're spending half a day on the attractions.
Singapore Tourist Pass
The Singapore Tourist Pass for three days, worth S$20, is the most economical way to get around the city. You can buy it at any major MRT station and at the airport as soon as you land. You will be entitled to unlimited access to all public transport. What more can you ask for!
Street Food
Street food in is available in plenty in Singapore. The influence of varied cultures on the city-state only broadens your choice for trying out different cuisines. Areas like Little India, Kampong Glam and Chinatown are brimming with inexpensive food joins to keep your Singapore travel cost minimal.
Budget Stays
Singapore is an expensive city to stay in. On a budget travel itinerary for Singapore, it is recommended that you pick a hostel or a homestay. The Bohemian in Chinatown is a good pick, offering clean beds in dormitories at decent prices. Moreover, it is a safe place to stay and the nearest metro station is just a two-minute walk.
A budget travel itinerary for Singapore lets one look at the many colours of the city through different lenses. People from across the globe have had Singapore take their heart. The diversity in ethnicity, religion and culture make a trip to Singapore an immersive experience.  It's not for no reason that Singapore is one of the best and most visited cities in the world. Aren't you excited about planning this trip already?
Happy Wayfaring 🙂