Budapest three day itinerary is the perfect solution to an everlasting question for travellers – "where do I go next?" Touristy yet rich with local flavour in everything that it has to offer, Budapest is full of surprises. If I were to define Budapest, I'd say real beauty lies in destinations that are yet unexplored.
Hilly 'Buda' and flat 'Pest' came together in the 19th century to form the historic, yet contemporary city of Budapest. It is often referred to as the 'Tale of Two Cities.' Budapest in its truest sense forms the heart of Central Europe. The Hungarian capital will stun you with different architecture styles, medicinal baths and picture perfect views. Hence it is important that you create and implement your Budapest three day itinerary diligently.
Budapest is a backpacker's delight. A Budapest three day itinerary will cost a traveler just under 15,000 INR (exclusive of flight and visa charges). I'm mentioning the amount in Indian Rupees (INR) here because my trip was scheduled from India to Budapest. Hungary is one of the very few countries with a weaker currency value than the Indian Rupee.
This proves to be an advantage for Indian travelers planning a Budapest three day itinerary. The local and most widely accepted currency in Budapest is the Hungarian Forint (HUF). One Indian Rupee is approximately equal to 03.95 Hungarian Forints (at the time I took the trip)
What's better than an opportunity to visit a truly remarkable destination on a budget ? Budapest has a lot to offer with hidden treasures unheard of by most people. Through the means of my current blog, I will share my Budapest three day itinerary with you in a hope that you too will benefit from it.
Budapest Three Day Itinerary: Tidbits for planning a Good Trip
Before I elaborate on the Budapest three day itinerary for backpackers, let's look at some essential information about Budapest. It will help you throughout your trip. Knowing the basics about a new region you're planning to visit is of utmost importance.
Country and Location
Hungary, Central Europe
Currency
Hungarian Forint

1 Euro = 324 HUF

1 USD = 281 HUF

1 INR = 3.95 HUF

Languages
Official language: Hungarian

Commonly spoken languages: Hungarian, English, German

Time zone
Central European Summer Time: GMT+2
Climate
European Continental Climate

Average Temperatures range from 0 degree Celsius  in Winters (December to February) to 22 degree Celsius in Summers (June to August).

Ideal Time and duration of visit
March to May and September to November is the best time to implement your Budapest three day itinerary.

Climate is most suitable for backpacking during these months.

Also, places are not packed with tourists and hence cheaper flight and accommodation options are available.

Visa
Schengen Visa: Apply through VFS Global and receive your visa to Hungary within 15 days.
Country Code
+36
Connectivity
By Air: All major European and Middle-Eastern airlines fly into the Budapest Ferenc Liszt International Airport.

By Rail: Budapest is well connected to all central European cities via the Eurail network. The two main railway stations of Budapest are Keleti (Eastern) and Nyugati (Western) railway station.
As a traveler once you're familiar with the basics of a place, you should also do some research on certain key aspects that will assist you on your journey. On my trip to Budapest, I learnt a few things and would like to share them with you in the table below.



Helpful information for your Budapest three day itinerary
Travel Card
The travel card for local transportation is available for 24-hours, 48-hours, 72-hours, 96-hours, 1 week and more. Choose your travel card wisely based on the number of days you are staying in Budapest.
Budapest three day itinerary recommends the 72-hour travel card.
Tickets for commute
Do not travel without tickets. The ticket checkers will take you by surprise at any point in the metro, trams and buses. There is a very heavy penalty if you are found traveling without tickets.
You would have no option but to pay the fine. If you are not carrying cash at that point, you are required to submit your passport and later go to the Police Station to pay the fine and collect your passport.
Pick pockets
Beware of pick-pockets in crowded tourist spots. Pick-pocketing is not uncommon in Budapest. Take care of your belongings wherever you go and do not leave them unattended.
Currency Exchange
You will need to exchange currency into Hungarian Forints as soon as you arrive in Budapest. Each store will offer you a different exchange rate. There is no specific guideline to find the best exchange rate.
You will just have to do your bit of research around.
Monetary transactions
Monetary transactions in Hungarian Forints is the wisest thing to do on your Budapest three day itinerary.
Even if you find places accepting Euros, you should pay in Hungarian Forints since the exchange rate offered by most places is not great.
Hungarian cuisine
Try the Hungarian cuisine while in Budapest.
Some of the recommended dishes are Goulash, Langos, Lesco, Sponge Cake, Chimney Cake. You would find these in any of the local restaurant as well as on the streets.
Paprika
Buy 'Paprika' when in Budapest. Hungarians are obsessed with spicy food and paprika grows there in plenty.
Different varieties of paprika are available that range from sweet to fiery hot. Any paprika that you buy in Budapest will be far better than what you'd find in your home country.
Other European cities
Budapest is easily accessible from other European cities like Vienna, Prague, Zagreb, etc. You can convert your Budapest three day itinerary into a longer one by adding a couple of other cities to it.
To travel to Prague on a budget along with Budapest, read my blog on traveling to Prague .
Budapest is one of the best travel destinations for backpacking in Europe. Picture credits: Blizniak
Now that you're aware about both the basic aspects of Budapest as well as the travel aspects, It's time, I share the budget allocation with you. Based on my personal experience, I will reveal the total budget breakdown for my trip.
Breakdown of Total Expenses for your Budapest Three Day Itinerary
Unlike the western European nations, Budapest is an absolute budget friendly place to visit. Converting Euros into Hungarian Forints with a good exchange rate is important to make the most out of your investment.
Euros are not widely accepted in Budapest. Sticking to monetary transactions in Hungarian Forints is crucial even if you find places that accept Euros.
A Budapest three day itinerary in a non-peak season is the ideal choice when traveling on a tight budget.
The break-down of various expenses that you may incur while traveling to the Hungarian capital are mentioned below. The approximate prices are stated in Indian Rupees with its conversion in the local currency – Hungarian Forints.
| | |
| --- | --- |
| Airfare (Ex-Mumbai / New Delhi) | INR 40,000 (152,000 HUF) |
| Visa (Schengen) | INR 6,500 (24,700 HUF) |
| Accommodation (Hostels) | INR 3,000 (11,400 HUF) |
| Local Public Transport | INR 1,100 (4,150 HUF) |
| Sightseeing | INR 7,500 (19,000 HUF) |
| Food and Drinks | INR 2,500 (9,500 HUF) |
You can cut down even more on accommodations if you do ample research in advance and book early. Avoid shopping as much as you can. Else, you will surely create holes in your pockets.
How to Implement the Budapest Three Day Itinerary in a Practical Way?
A trip to Budapest will blow your mind with a perfect blend of history and nature.The cherry on the cake will be the offbeat activities in store for travellers across age groups. Things to do in Budapest are plenty, and they are as interesting as they sound.
Day Wise Planning of Local Sightseeing
Here is a snapshot of what your days look like while following the Budapest three day itinerary. I'm sharing the list of places/activities that you most certainly should cover during your 3 day trip.
| | |
| --- | --- |
| Day 1 | Free Walking Tour, Vorosmarty Square, Chain Bridge, Buda Castle, Matthias Church, Fisherman's Bastion, St. Stephens Basilica, Lights on the Parliament and Chain Bridge |
| Day 2 | Hungarian Parliament Building, Shoes on the Danube Bank, Hungarian State Opera, House of Terror, Heroes Square, Szechenyi Thermal Bath, Ruin Bars |
| Day 3 | Gellert Hill and the Citadel, Gellert Bath, Central Market Hall, Dohany Street Synagogue, Vaci Street, Margaret Island, Danube River Cruise |
Let me now elaborate on all of the places and things mentioned above. Budapest is such a wonderful travel destination that to miss out on places would be a crime. So please plan your Budapest three day itinerary in a way so as to cover the maximum, if not all places.
Day 1 of Budapest Three Day Itinerary – What All to Do ?
Here are the experiences for day 1 of your Budapest three day itinerary that you should add to your list.
Free Walking Tour
Start your first day in Budapest with a free walking tour. Walking tours are a must do in any European city to get a perspective of what the place is like.
Free walking tours in Budapest start at different times of the day. I would recommend going for the one that starts at 10:30 am in the morning.
The walking tours take you back to the middle ages when Hungary came into being. The tour guides are extremely knowledgeable and share plenty of stories to keep you entertained throughout the walk.
During the walk, you would stop by iconic spots and understand the history behind its existence.
Taking a walking tour in Budapest will help you connect with it better. Picture credits: Charle Magne
Vorosmarty Square
The walking tours usually start at Vorosmarty Square which lies in the heart of Budapest. It is a public square in downtown Budapest accessible through the Metro Line 1 (M1). Aim to reach Vorosmarty square at 10:00 am and wander around for some time getting to know the place.
You'd see tour guides with white t-shirts next to the Lion Fountain waiting for traveler to join them. Brace yourselves for a memorable walk which will last for roughly about three hours.
You would stop by the Danube Promenade, Michael Jackson Memorial Tree, Danubius Fountain, Budapest Eye, St. Stephens's Basilica and the Central European University before reaching the Chain Bridge.
This is the 'Pest' side of Budapest and is relatively flat as compared to 'Buda'.
A sculpture at Vorosmarty Square located in the heart of Budapest. Picture credits: Shreya Doshi
Chain Bridge
The Chain Bridge is the first permanent connection between the eastern (Pest) and western (Buda) sides of the city.
A walk across the Chain Bridge marks the beginning of your Budapest sojourn. Once you cross the Chain Bridge, you have arrived in 'Buda' which is the western side of the city.
Chain Bridge is one of the oldest suspension bridges over the Danube river. It is the most visited landmark in Budapest and built entirely in stone.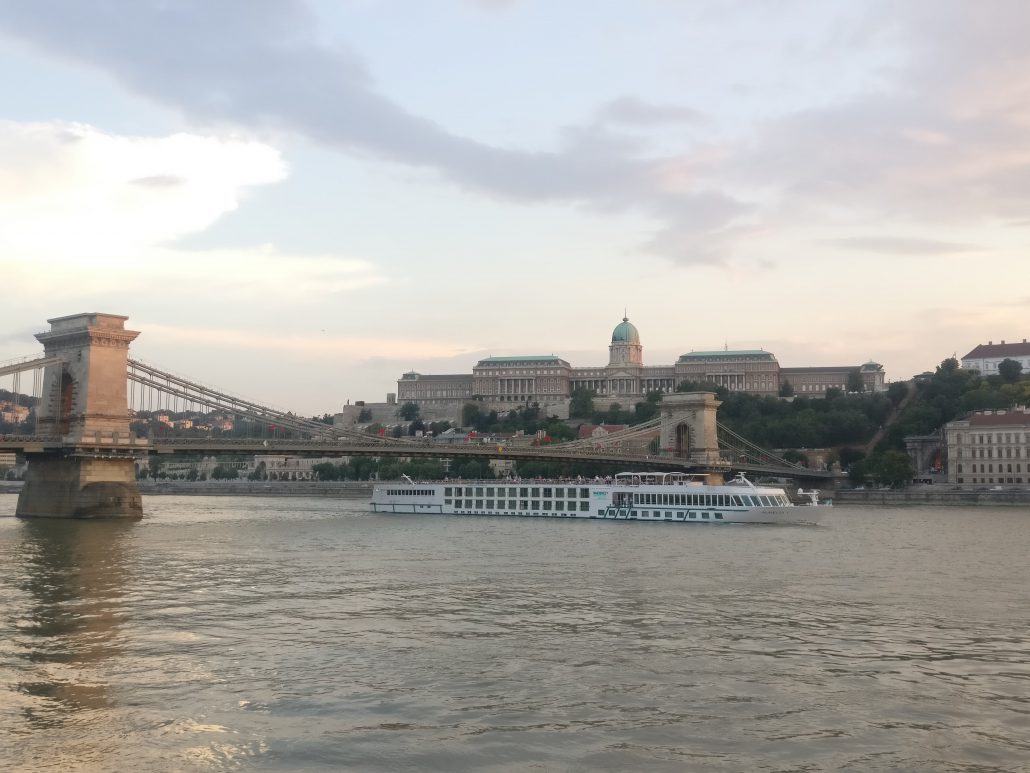 The Chain Bridge is the most photographed landmark of the city. Picture credits: Shreya Doshi
Castle Hill
The best thing to do on the castle hill is to uncover the sights at your own pace. You have an option of either taking the funicular to the top of the hill or walking through on of the many paths leading to the top.
Wander about through the cobblestone streets marveling at the architecture of this district which is recognized as a World Heritage Site.
You will stop by the Habsburg Gate, Buda Castle, Trinity Square, Matthias Church and Fisherman's Bastion with your group in the walking tour.
Wander through cobblestone streets of Castle Hill that lead past baroque houses. Picture credits: Skeeze
Buda Castle
Also known as The Royal Palace, the Buda Castle sits atop the Castle Hill. It was home to the Hungarian kings in the earlier times.
The castle was destroyed and rebuilt multiple times over a period of six centuries.
Hence the castle now has influence of various architectural styles. The Buda Castle has been converted into the Hungarian National Gallery and Budapest History Museum.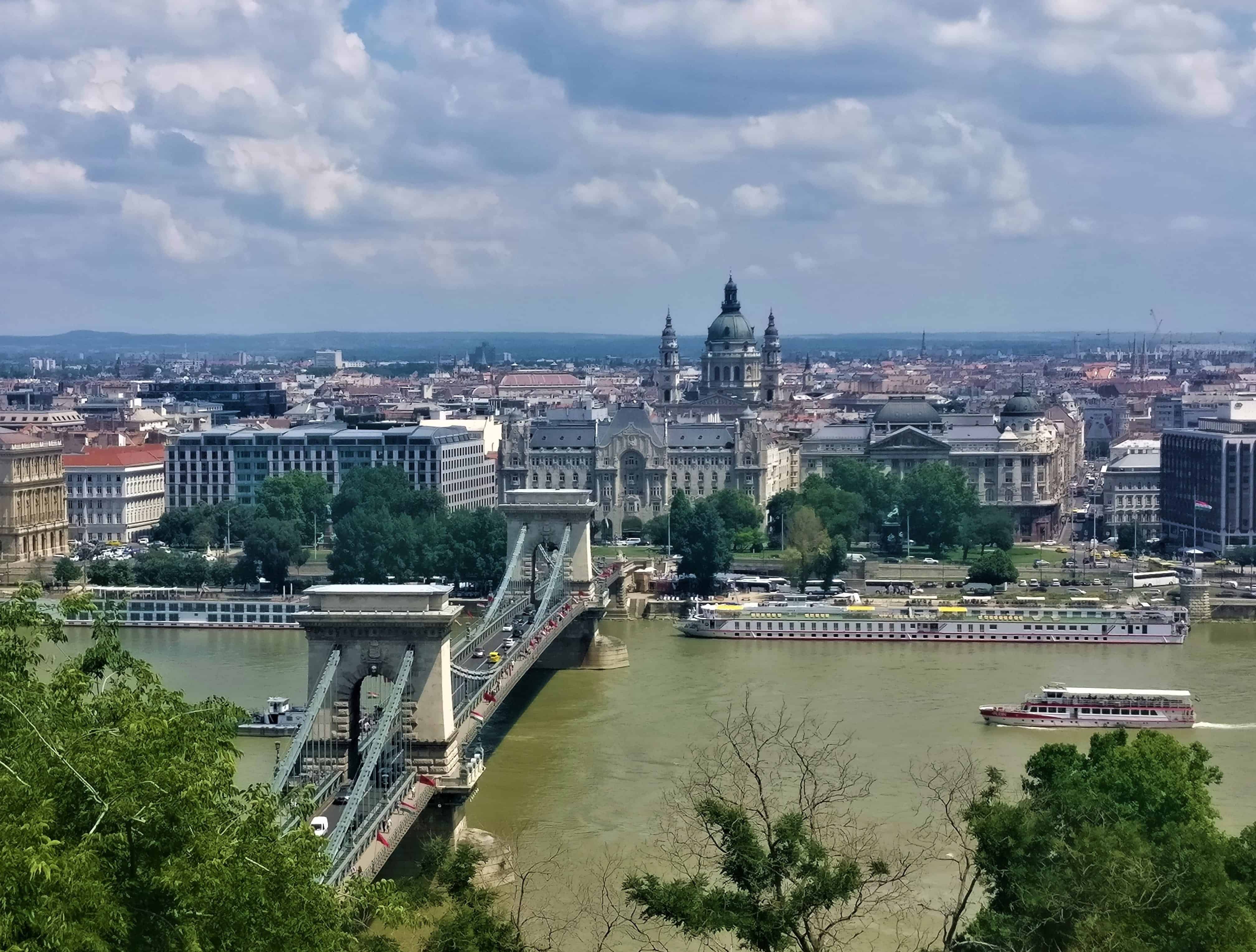 The inside of the Buda Castle that has now been converted into a National Gallery. Picture credits: Skeeze
Matthias Church
The Matthias Church is a Roman-Catholic church in the heart of Buda district. It is an important landmark of the city located on the Square of the Holy Trinity.
The church is named after King Matthias Corvinus who was responsible for reconstructing the church in Renaissance style in the 15th century.
Most of the Hungarian kings were coronated in this church also called as 'Church of Our Lady'.
The elegant outer architecture of the Matthias Church. Picture credits: Falco
Fisherman's Bastion
Offering the most stunning views of the Hungarian Parliament Building and 'Pest' across the Danube river is the Fisherman's Bastion. It is a viewing terrace built in neo-Romanesque and neo-Gothic architectural style.
The ornate fairy tale towers with spectacular views of Budapest is why you must not miss a visit to Fisherman's Bastion. This is where you walking tour ends.
You can also ask the guide for local restaurant suggestions or anything else that you want to know. It is recommended that you tip your guide for what you think it was worth.
You can take a stroll around the old town and grab a bite at the famous Ruszwurm Confectionery. Mount the bus number 16 to head back to Pest.
The terrace of the Fisherman's Bastion offers spectacular views. Picture credits: Shreya Doshi
St. Stephens Basilica
Dedicated to the first king of Hungary, St. Stephen's Basilica is the largest church in Budapest. It is a Roman Catholic church with a dome 96 metres high serving as an observatory.
Visitors are allowed between 10 am and 5 pm.
They can either take the elevator or climb up the flight of stairs for a panoramic view of Budapest.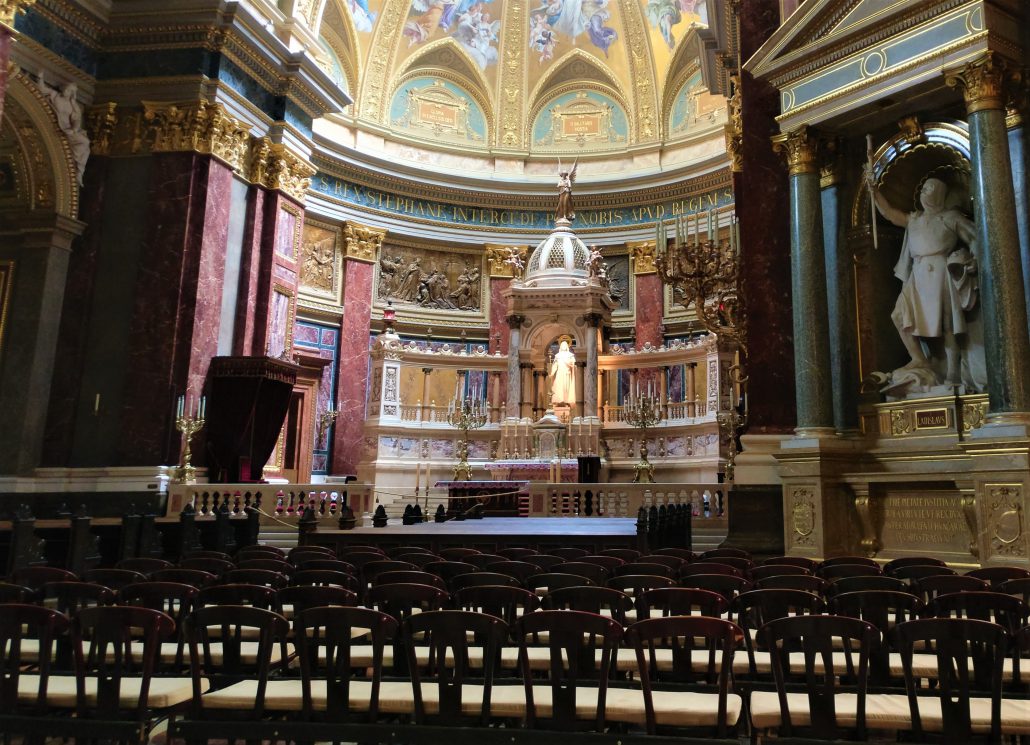 Rich interiors of the St. Stephens Basilica – The largest cathedral in Budapest. Picture credits: Shreya Doshi
Lights on the Hungarian Parliament and Chain Bridge
Budapest by night is an exhilarating experience. The illumination on the Hungarian Parliament House and the Chain Bridge is something that you might never have witnessed before.
Millions of yellow bulbs light up the iconic sights of Budapest once the sun sets.
This is remarkably going to be a highlight of your Budapest three day itinerary.



Day 2 of Budapest Three Day Itinerary – What All to Do ?
Here are the experiences for day 2 of your Budapest three day itinerary that you should add to your list.
Hungarian Parliament Building and Coronation Jewels
Get ready to set foot into an architectural marvel – the Hungarian Parliament Building. An incredible example of neo-gothic architecture, the structure is a little over a century old.
The tallest spire is 96 metres high, same as the St. Stephen's Basilica. This is because 96 is a very important number for the Hungarians. Their first king was crowned in the year 896. Hence, a law prevails that none of the buildings in Hungary will be over 96 metres tall.
A guided tour of the Hungarian Parliament Building takes visitors through the main staircase and the Upper House Hall. What you would also see are the coronation jewels, including the Holy Crown of Hungary, safely guarded within the parliament premises.
Tickets are available online prior to the date of visit, and a limited few are available over the counter for the same day. Multiple tours in different languages run throughout the day.
It is advisable that you buy tickets in advance to not miss out on this extraordinary experience.
The illumination over the Hungarian Parliament. Picture credits: Shreya Doshi
Shoes on the Danube Bank
Hungary's Parliament Building lies on the banks of the river Danube. Right across the street starts the Danube promenade with a phenomenal view of the Chain Bridge and Castle Hill.
Shoes on the Danube are an important memorial on the promenade. The significance of the 60 pairs of iron shoes is to reminisce the dark times of Hungarian history.
It is a tribute to hundreds of those who lost their lives during World War II due to the Arrow Cross Rule.
Shoes on the Danube Bank commemorating jews who lost lives during the WW II. Picture credits: Shreya Doshi
Hungarian State Opera
Built in neo-Renaissance style architecture, the Hungarian State Opera boasts of the third best acoustics in an opera house in Europe.
Though it is not comparable to the world-class Italian and French opera houses, the Hungarian State Opera is worth a visit if you've never been to an opera before.
The structure is under renovation since the last couple of years. When operational, they organize tours that give you a brief of what is it like to witness an opera.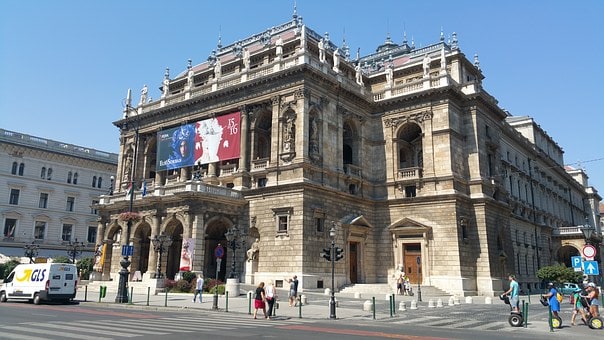 If you've never experienced an Opera before, visit the Hungarian State Opera. Picture credits: Waldomiguez
House of Terror
Now a museum, this building was originally the headquarters of the Hungarian Nazi Party during the second World War.
After the Soviet Union occupied Budapest, the State Security Authority too made the building their headquarters.
After the fall of USSR, it was renovated and opened to public in 2002 as a museum called House of Terror.
It describes the life under Communist and Nazi rule and is set to touch your hearts.
Heroes Square
At entrance to the city park lies the Heroes Square. It is a popular landmark and the largest square in Budapest.
The iconic statue at the Heroes Square was built in 1896 to celebrate the 1000th year of the Hungarian state.
Thus, it is also called as the Millennium Monument. A stroll in the city park beyond the Heroes Square is a good way to savor mother nature.
A sculpture of an angel at Heroes Square. Picture credits: Charlesmagne
Szcheneyi Thermal Bath
What better way to spend an evening than to rejuvenate yourself in the thermal baths of Budapest ?
The Szcheneyi bath is the largest and most popular of all thermal bath houses in Budapest. It has a mix of both indoor and outdoor temperature controlled pools.
The Szcheneyi Thermal Bath houses eighteen pools, and numerous steam and sauna rooms. The tickets to the spa baths can be purchased over the counter. An evening in the thermal baths is going to be a one to remember.
Szcheneyi Thermal Bath is the largest of all bath houses in Budapest. Picture credits: Shreya Doshi
Ruin Bars
The most unique place of visit on your Budapest three day itinerary are the ruin bars of Budapest. The city is known for these ruin bars built in derelict spaces.
'Szimpla' was the first ruin bar built in 2004, and it continues to be the most popular one till date.
Hundreds of locals and visitors head to the Szimpla every evening to chill and grab a drink. This should certainly be a place to visit before ending your second day of the Budapest three day itinerary.
A Ruin Bar in Budapest city. Picture credits: Skitter
Day 3 of Budapest Three Day Itinerary – What All to Do ?
Here are the experiences for day 3 of your Budapest three day itinerary that you should add to your list.
Gellert Hill and the Citadel
Wake up in the wee hours of the morning on the last day of your Budapest three day itinerary and hike up the Gellert Hill.
You will uncover a mesmerizing view of the river Danube and the Chain Bridge. It is a long walk with a considerable number of stairs, through the view makes it worthwhile.
The Citadel is also known as Budapest's Statue of Libertyand sits atop the Gellert Hill. It is surrounded by parks and is a great place to spend an hour.
Gellert Bath
Only one visit to a thermal bath is never enough when in Budapest.
Gellert Bath is right at the foot of the Gellert Hill.
The architecture of Gellert Bath is inspired from the Art Nouveau style and is charming in its own way.
A couple of hours spent in the spa baths after a tiring hike up the Gellert Hill proves to be relaxing.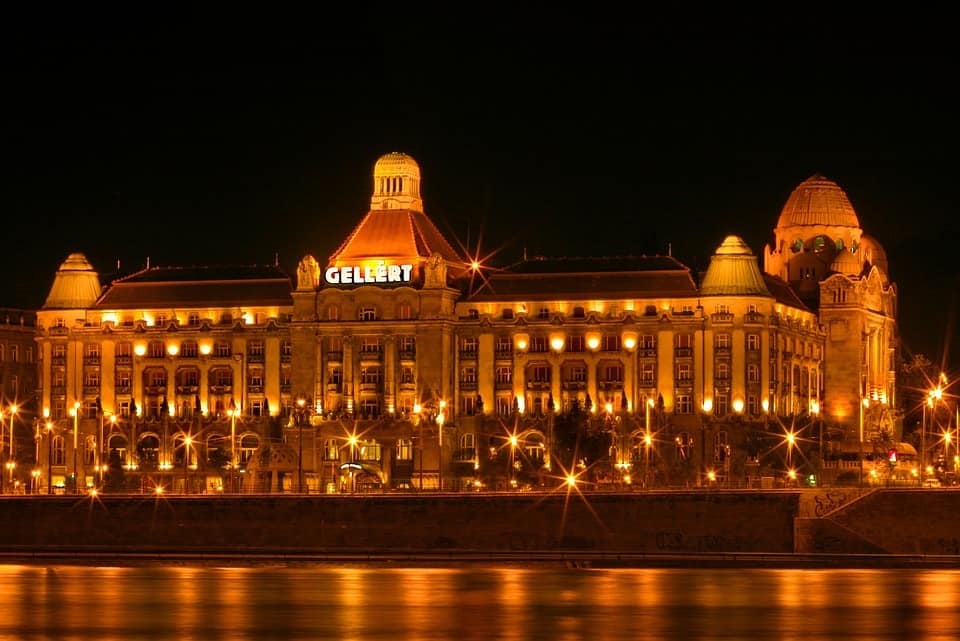 You should certainly visit Gellert Bath while in Budapest. Picture credits: Giraffew
Central Market Hall
A morning walk and swim calls for a good breakfast.
Head to the biggest market in Budapest for some farm fresh produce.
The Central Market Hall is popular among locals and visitors for the variety that it offers.
You can also buy gifts and souvenirs to take back home from the Central Market Hall on your Budapest three day itinerary.
Dohany Street Synagogue
Budapest is home to a large Jewish community.The Dohany Street Synagogue reflects the Jewish influence on Budapest.
Also known as the Great Synagogue, it is the second largest synagogue in the world.
A peak into the Dohany Street Synagogue will leave you impressed with its massive 1200 square meter interiors and a seating capacity of 3000 people.
Dohany Street Synagogue is the largest synagogue in Europe . Picture credits: Shreya Doshi
Vaci Street
Right next the Vorosmarty Square is a street lined with boutiques and cafes.
The Vaci Street is a shopper's paradise and one can easily spend an entire afternoon here.
You can fine dine in one of the many up-market restaurants here or grab a quick meal at the budget snack outlets.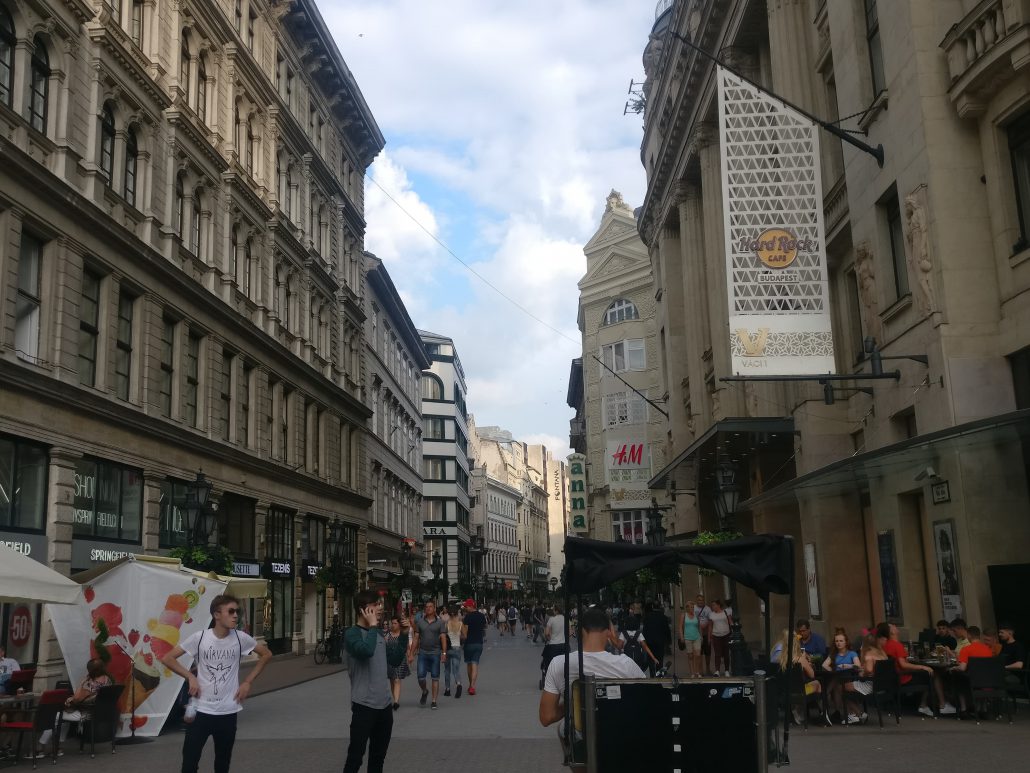 Vaci street near Vorosmarty Square is a shopper's and foodie's paradise. Picture credits: Shreya Doshi
Margaret Island
Ever visited an island park in the middle of a river? Margaret Island is located between Buda and Pest in the river Danube.
It is the best park in the city and accessible by public transport. The island is 2.5 kilometres long and bus number 26 runs through it end to end. At its widest, the island measures 500 metres.
You can rent out a bicycle or a golf cart to ride within the Margaret island.
The island has its very own Palatinus thermal bath where you can go for a dip. The other things to do on the island include a stroll in the Japanese and Rose gardens and watch the musical fountain.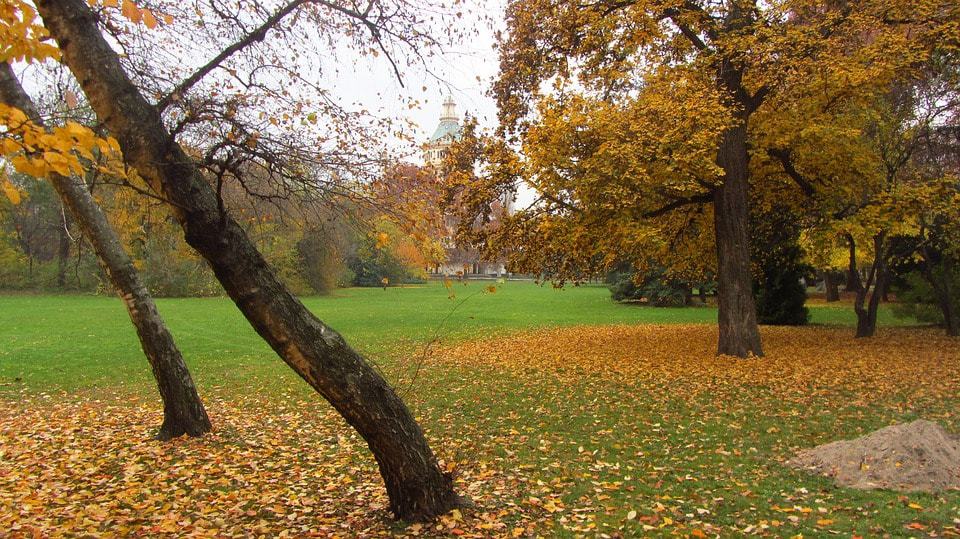 One of the best parks in the city. Picture credits: Botladozva
Danube River Cruise
End your Budapest three day itinerary with a picturesque cruise in the river Danube.
The river cruises give you an opportunity to look at the city from a different perspective.
You can choose from a regular one-hour cruise or go for a two-hour dinner cruise.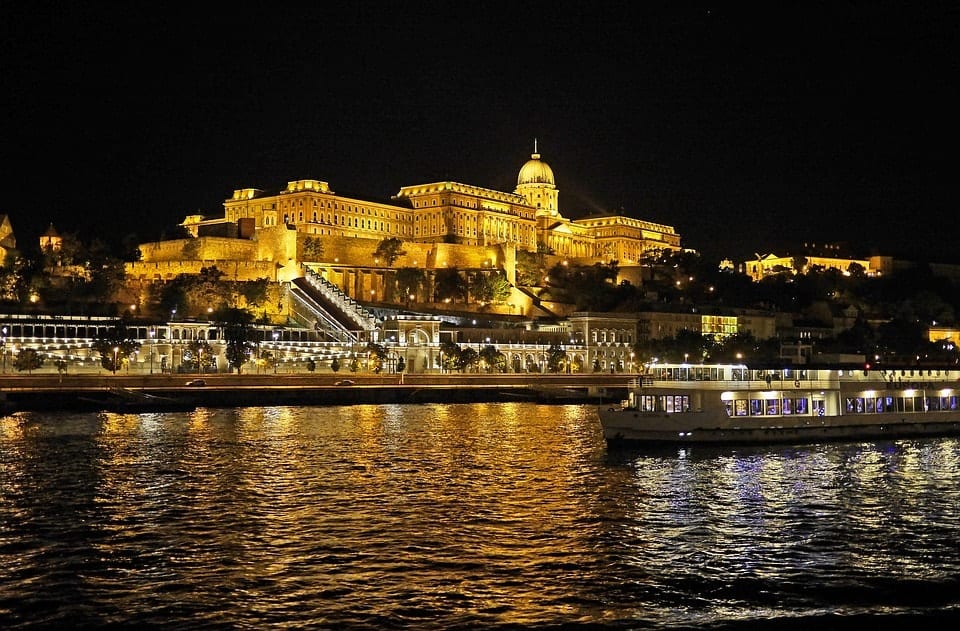 A trip to Budapest will not be deemed complete without experiencing the cruise post sunset. Picture credits: Hpgruesen
Entry tickets to Popular Attractions Mentioned in the Budapest Three Day Itinerary
You can find below the approximate rates for entry tickets to various attractions in Budapest. This would help you with a fair budget planning for your Budapest three day itinerary.
| | |
| --- | --- |
| Matthias Church | HUF 1500 |
| St. Stephen's Basilica | HUF 600 |
| Hungarian Parliament Building | HUF 6000 |
| House of Terror | HUF 3000 |
| Szecheneyi Thermal Bath | HUF 5200 |
| Gellert Bath | HUF 6000 |
| Dohany Street Synagogue | HUF 3700 |
| Danube River Cruise | HUF 3000 |
Note: Please note that the mentioned rates hold true as on date and are subject to change.
Travelling Within Budapest
Budapest has one of the best metro, tram and bus networks that I have ever seen. The entire city is very well connected internally, with 4 metro lines and 36 tram lines. To top it all, the day passes are inexpensive and absolutely reasonable for what they offer.
For your Budapest three day itinerary, I recommend you buy the 72-hour travel card. It gives you unlimited access to all metro, tram and bus lines for 72 hours from the time of validation.
You can buy the card over the ticket counter or kiosk on your arrival in Budapest. Remember to validate it before the first time you board any means of transport.
Tickets can be validated at the yellow machines found on every stop. You then do not need to worry about validating your ticket any further. Just carry it along and flash it to the ticket checker when asked.
Budapest has a brilliant network of trams. So avail them. Picture credits: Shreya Doshi
Recommended Places of Stay for the Budapest Three Day Itinerary
As a backpacker, hostels prove to be the most economical and convenient option for accommodation.
The following are the places that you must check out before you finalize on your place of stay on your Budapest three day itinerary.
The prices mentioned alongside are an approximate estimate for a solo traveler in a non-peak season (per bed in a dormitory, per night).
The hostels are absolute value for money and offer you a single bed in a dormitory. They are clean and hygienic, with all basic amenities.
It is a great experience to stay with like-minded people, engage in interesting conversations and bond over a game at the end of the day.
Budapest is the perfect pick for a vacation if you are looking forward to an off beat European destination.



Some Interesting Facts about Budapest for Travelers
Now that I've elaborated on the Budapest three day itinerary, I would like to end my blog with some interesting facts about Budapest as a travel destination. Have a look.
The Hungarian Parliament Building is the third largest Parliament in the world. 268 metres long and with 691 rooms, the Hungarian Parliament has a total staircase length of about 20 kms.
The thermal bath capital of the world, Budapest sits over a hundred natural thermal springs. The thermal waters of the 'City of Baths' are known to possess healing qualities.
Budapest is home to the largest Synagogue in Europe – the Dohany Street Synagogue. It seats over 3000 people and is known to be the most beautiful synagogues of all times.
Line 1 of the Budapest Metro is the oldest underground subway in continental Europe, and still running. It is popularly called as the 'Millennium Underground Railway'.
Buda and Pest are separated by the mighty river Danube. This river flows through ten European countries. No other river in the world flows through as many countries as the Danube does.
Quintessential ruin bars of Budapest will impress you with its minimalistic design and mismatched furniture. Budapest introduced ruin bars to the world in early 2000s and were a hit instantly.
Go for the Budapest three day itinerary, and you wouldn't be disappointed. Bid adieu to Budapest with a promise of coming back again, because you wouldn't be content with a single visit.
Happy wayfaring.
About the Author
Shreya Doshi
Shreya Doshi is a Mumbaikar at heart but her soul takes her globetrotting. She has traveled over a hundred cities, from bustling metropolitan cities to quaint countryside towns, but it's at the beaches that she finds true solace. Shreya holds an entrepreneurial spirit and aims to be a travel counselor some-day. She strongly believes in travel therapy, and that solo-travel is the best teacher.
BUDGET WAYFARERS
https://www.budgetwayfarers.com/wp-content/uploads/2018/11/budapest-three-day-itinerary-1.png
315
560
Budget Wayfarers
https://www.budgetwayfarers.com/wp-content/uploads/2018/04/1200X800.png
Budget Wayfarers
2018-11-09 00:33:07
2018-11-16 15:29:45
Traveling to Budapest on a Budget: A Backpacker's 3 Day Itinerary