Bishnupur sightseeing can be a fascinating experience for travelers if the exploration of this temple town is done in detail. I traveled solo to Bishnupur and it turned out to be a lovely experience.
The sun glinted off the thousands of idols of Lord Krishna (a major deity in Hinduism). The devotees played instruments and crooned. The villagers swayed and danced to the music. I could visualize it in front of my eyes as my guide narrated the story of the Raas celebrations during the 18th century. No, I was not in Mathura or Vrindavan. I was at Rasmancha and my Bishnpur sightseeing had begun.
Bishnupur lies a  few hundred kilometres away from Kolkata and is home to many heritage Terracotta temples. If you are looking for a short cultural getaway, Bishnupur sightseeing is a damn good option. It is also a great place to explore the fascinating Terracotta art form, especially in the nearby villages.
In my current travel blog on Bishnupur sightseeing, I would like to elaborate on the must-visit places in and around Bishnupur. This temple town is not only culturally rich but is also sprawling with works of talented native artists. Also, there are nearby places that can be visited.
Bishnupur Sightseeing
Bishnupur lies in the "Rahr" region of West Bengal. This is the land of the red soil, popularly called "Ranga Mati". Ruled by the Malla Dynasty Kings during the 17th and 18th centuries, it is also known as the "Temple City".
Malla kings were known to be great patrons of art and culture. Under them, the unique architecture of burned clay-tiled structures flourished.
Bishnupur is a culturally rich place. In the tourist map of West Bengal, it is slowly and steadily making a place of itself and growing popular even further.
The magnificent terracotta tile work done by age-old craftsmen on the temples of Bishnupur. While here, observe each temple carefully. Picture credits: Tani Dutta
Important Travel Insights for Bishnupur Sightseeing
Here are a few aspects of Bishnupur that you should know as a traveler to the region –
Location
West Bengal, East India
Best time to visit
Summers are scorching hot hence winters are a good time to visit Bishnupur.
There are festivals organized in December in Bishnupur. There is a music festival organized in February. If you don't mind the crowd you can also plan your visit during these periods. Bear in mind that it can get quite dusty in these regions.
Must-visit sights in Bishnupur
Terracotta temples in Bishnupur.
Must-visit sights around Bishnupur
Panchmura village, Gongoni, Mukutmanipur, Kamarpukur/Joyrambati outside Bishnupur.
Eating options
Bengali food, north Indian food.
Safety for travelers
Moderately safe for all kinds of travelers. I visited there solo and my trip turned out to be just fine.
What Bishnupur Sightseeing Offers its Visitors?
Bishnupur as a place has a lot to offer to a first time visitor. It's a culturally rich place displaying its heritage to all.
A rich heritage in the form of temples
Beautiful terracotta temples and the art form that defines them are native to Bishnupur.
Baluchari Sarees
Handloom sarees known as 'Baluchari' are characterized by mythological scenes woven on Tassar silk.
Bishnupur Gharana
Bishnupur Gharana is a form of singing that follows the Dhrupad tradition of Hindustani classical music.
While you're in Bishnupur, make sure to take a detailed tour of the Terracotta temples. Also, experience the classical music form of Bishnupur Gharana and maybe buy a few Baluchari sarees.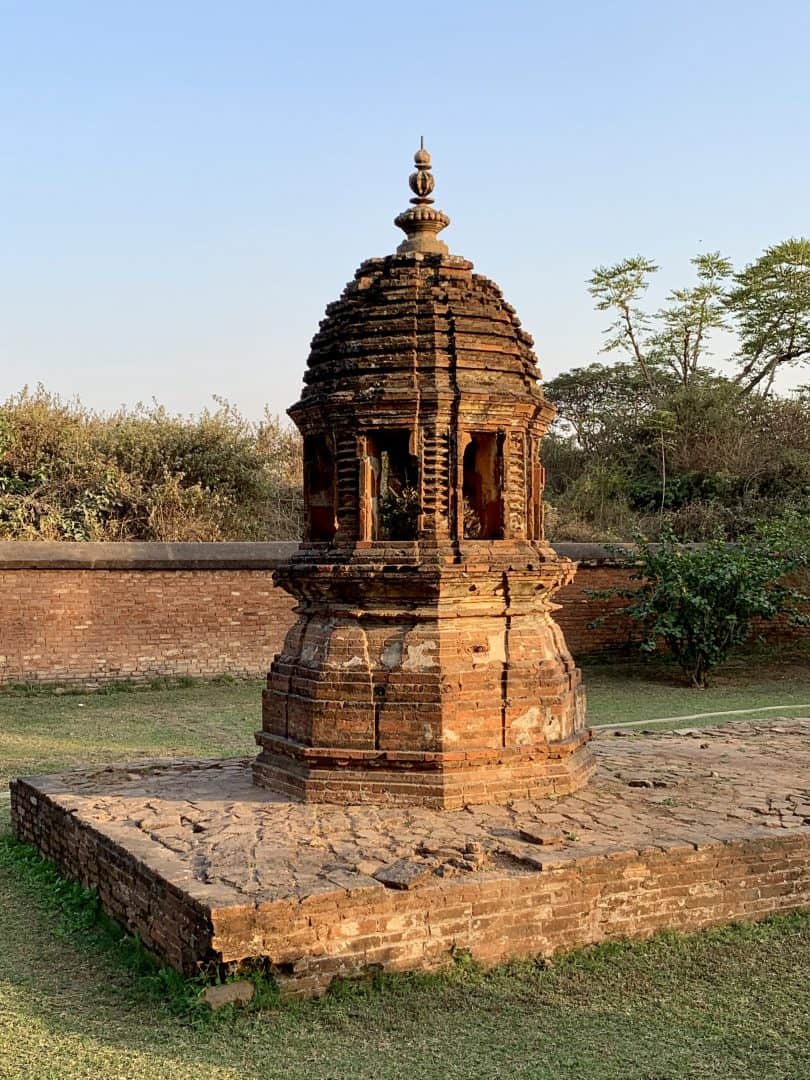 A Tulsi temple of Bishnupur. Look at the lovely architecture. Picture credits: Tani Dutta
How did My Bishnupur Sightseeing Journey Begin ?
 I had planned a solo trip for Bishnupur sightseeing long ago. So when it was the actual time that my trip has to begin, I was super excited. In the excitement, I could hardly sleep. When the alarm went off at 5 AM it felt as though I had just fallen asleep. I had planned for the Aranyak express from the Shalimar Station.
Still rubbing off sleep, the only memory I have is that of my Uber ride to the Shalimar Station. The Vidyasagar Setu or second Hooghly bridge looked beautiful in the morning light. It appears to be majestically straddling the twin cities of Kolkata and Howrah.
My Stay at Bishnupur
I reached Bishnupur at around 11 and soon thereafter took a rickshaw to the West Bengal Tourism Lodge. I had booked this place for a night in advance as well.
Quickly dumping my backpack, I decided to eat lunch. The early start had got me hungry. The West Bengal Tourism Lodge has simple but tasty options. The Chef personally suggested trying The Posto Bora. 'It's a speciality of the region' he mentioned.
The Delicious Posto Bora
For Bengalis (native people of the Indian state of West Bengal) Posto needs no introduction.  Posto Bora is basically mashed poppy seeds and is a delicacy in Bengal.
It is ground traditionally on the pestle with green chillies and salt. It is then cooked with vegetables like potatoes,  gourd etc.
Bengalis tend to have potatoes with everything so this is not an exception as well.
The Posto Bora is one of the popular dishes in this region. The ground Posto is made into circular flattened shapes, battered and deep fried. Crispy on the outside and soft on the inside it is one of those sublime experiences you won't forget.
Taking a tour in and around the temples of Bishnupur will transport you to another era and another historic time. Picture credits: Tani Dutta
Touring the Temples – The Best Aspect of Bishnupur Sightseeing
 Bishnupur has a number of old temples with ornate cravings strewn across the region. Fortunately, most of the temples are very well preserved and you can take a tour to visit them.
The tour starts from the "Rasmancha" where you can take tickets for visiting all the temples of the city.
Rasmancha is a beautiful piece of architecture. Technically it is not a temple but an elevated platform with a maze of archways.
During the Raas celebrations, the idols and pictures of Lord Krishna from around the town are brought here and displayed in the galleries.
In Hindu mythology, the Raas festival is a celebration where villagers danced to the tune of the flute being played by Lord Krishna
Even though some of the temples are still being used for worship by the locals and some have been locked away for preservation, it is not a religious tour. It is rather a cultural journey to appreciate art and to see how society influenced it.
The iconic Rasmanch. This is where my Bishnupur tour began. Picture credits: Tani Dutta
Beautiful Temples of Bishnupur
Here are a few temples that should be an essential part of any visitor's Bishnupur sightseeing. You should visit them one by one in any order you deem fit.
Jor Bangla temple
Madan Mohan Temple
Shyama Rai Temple
Radha Madhab Temple
Lalji Temple
Explore each of these temples. They have so much to offer when it comes to the region's rich artistic heritage and culture.
This is a picture of the beautiful Jor Bangala temple. Picture credits: Tani Dutta
Most visitors traveling to Bishnupur often have a very pertinent question, "Is a tour guide needed?" Let me throw more light on this below.
Is a Tour Guide Required for Exploring the Bishnupur Temples?
 Unless your middle name is Wiki, it is better to take a guide who can explain the history and point out the specialities of each temple.
I hired a local guide from the West Bengal Tourism, right in front of the Rasmancha. He was rather good. Time and again I found myself transported back in time as he narrated the history of the city.
He told me later that he comes from a 'Moira' (sweet makers) family. His ancestors moved to Bishnupur on the behest of the King some 400 years ago to create innovative sweets for the royal kitchen.
Over the years that business has ceased to be profitable and therefore the newer generations have moved on to other occupations for livelihood.
Biking Around Bishnupur
Within Bishnupur, public transport is limited to rickshaws or autos. If you are not having your own vehicle, it is better to rent one to travel in and around the town of Bishnupur.
Since I was on a solo trip to Bishnupur, a car seemed to me like an extravaganza. My guide was kind enough to offer a pillion rider on his bike. Though initially sceptical I took up the offer. It saved time as well as the effort of walking all over the town.
Reflecting back, I feel it is a moderately safe place. Sure as a woman travelling around you have to be aware of your surroundings but always trust your instincts. Trust me, they will guide you well.
The infamous Shyam Rai Temple in Bishnupur. Biking around the temples can be a good way to complete your tour in a non-tiring way. Picture credits: Tani Dutta
The Architecture of Bishnupur Temples
Each temple has a different kind of roof in Bishnupur. Some have a single arch (Lalji) while some have two (Jor Bangla) or even more (Shyam Rai). Some even have dome-like structures seen typically in mosques.
Though the temples are dedicated to Vishnu (the name of the town is influenced by him) there is a distinct Islamic influence in the architecture. This signifies that different sects co-existed in harmony and had a strong influence on art.
Rich Terracotta Work
The terracotta work on the walls and pillars is quite exquisite and detailed. The pattern is similar in most temples. They have tiles arranged in layers.
The lowermost layer has terracotta tiles depicting various hunting scenes while the layer above is a reflection of contemporary society. There are scenes of potters, blacksmiths, farmers and festival celebrations.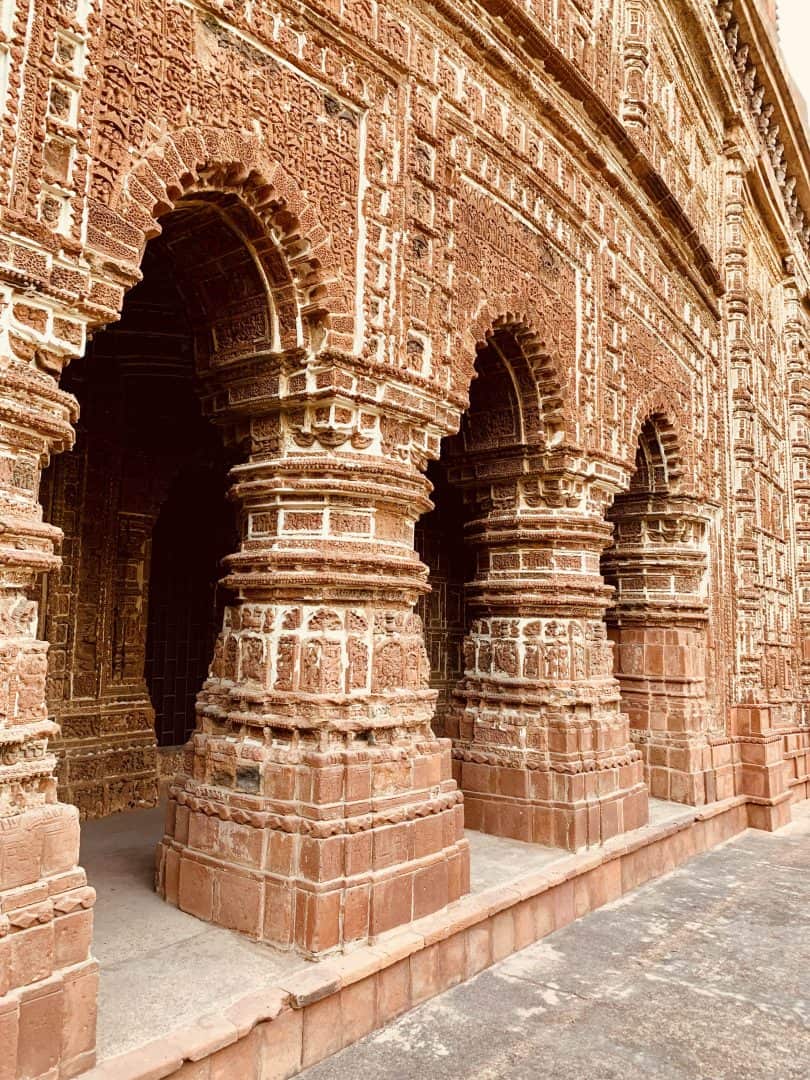 Terracotta tiles adorning the temple pillars in Bishnupur are a common sight. Check out the intricacy of the lovely artwork. Picture credits: Tani Dutta
Depiction of Mythology in the Temples
The layer at the top depicts the epics of Indian mythology. Various scenes of Mahabharata, Ramayana and Vishnu's das avatars (incarnations) have been beautifully depicted with intricate details on the terracotta tiles.  Lord Krishna is a permanent theme.
Built of Temples
Some temples are built of rock with a plaster layer facade on which the designs have been engraved. There is also some Rajasthani (a state on the Western edge of the country) influence observed. For example, the concept of decorative closed doors under arches and multiple stairwells from all four sides going down to a water body.
Temples have their own kitchen
Each temple also has a dedicated kitchen and a place where devotees can perform songs and rituals. Varying on the degree of erosion, in some temples, these distinctly stand out whereas in some they are a part of the ruins.
As I walked past the kitchen at the Lalji temple I imagined the scene during a festival. An array of cooks busy making the offerings for the Lord. Huge utensils with big ladles burning in the oven. Mounds of special bhog (holy food) are ready to be taken to the temple.
Marvellous depictions from the Indian epic of Mahabharata. The sculptor has brought the stories to life here. Picture credits: Tani Dutta
Sightseeing Beyond the Temples
 Within the city other than these temples there are various other sightseeing places.
Lalbandh
The dam was built on the river to steer the water to feed the moats surrounding the city.
Acharya Jagadish Chandra Museum
It showcases the evolution of terracotta art, handloom and music in Bishnupur.
Dalmadal Canon
It was used during historic times. A huge iron canon now serves as a tourist attraction
Garh Darwaja
Remnants of a huge gateway used historically to enter the city.
Gumghar
A huge pit with spears, swords and snakes where people who committed crimes were thrown to die.
Imagine falling on a bed of spears and not dying immediately. The pain shooting up your body. Tasting your own blood in your mouth.
Knowing that you would die but not knowing how long the pain will continue. That is not how one would choose to die and possibly that would be reason enough for one to not commit the crime itself.
As the guide explained I kept thinking and shuddered. Why such cruelty? Can fear of punishment stop crimes, isn't it deeper?
Handlooms
There are some live handlooms within the city where you can go and see the famous Bishnupur silk being manufactured. You can also buy some saris at good prices.
Hand-painted Cards
This is another art form which is almost dying. But thankfully Bishnupur has some of its remnants left.
Cards are made by pasting together fine fabric with natural glue. They are circular in shape. The glue hardens the fabric and keeps it stiff. Motifs of Vishnu's avatars (incarnations)are then hand-painted on the cards.
These were used by the Malla Kings to play games. Similar to the rectangular cards of our modern-day, these circular cards also sometimes involved gambling
Maybe these Malla kings also had stories similar to Mahabharata. Maybe some King had lost his entire empire over a game. Maybe he had to leave his kingdom. Maybe he never got his redemption. Maybe.
Bishnupur is a town that should not just be visited for its renowned temples but other offbeat places and things as well. As a traveler, I believe that the best stories are found in places that are unknown to the world.
An artist painting cards beautifully. Hand made cards have been a long-lasting practice in this part of the world. Picture credits: Tani Dutta
Now that you know about the temple town of Bishnupur, it's time I share with you the locales outside Bishnupur but within a reasonable distance.
Bishnupur Sightseeing Outside the Main Town 
There are various places that should be on your Bishnupur sightseeing itinerary that lie outside the main town. They range from a duration of an hour to 3 hours maximum.
Mukutmanipur
This is a scenic spot located at the confluence of Kongshaboti and Kumari rivers made popular in Bengali film shoot locales.
Kamarpukur/Joyrambati
This is the birthplace of Shri Ram Krishna and Sarada Devi. It is considered a religious sacred place visited often by the followers of the sect of Ramkrishna.
Gongoni
Gongoni is a  quaint spot beside the Shilabati river. It has red sand cliffs overlooking the river below as it meanders its way to meet with the Kangshabati river. It is a popular picnic place and there are some spots artificially made where you can relax and enjoy the surrounding beauty by the riverside.
Gongoni is a famous travel attraction outside of Bishnupur. You can plan a picnic by the riverside here. Picture credits: Tani Dutta
A Visit to Panchmura – An Artisans' Village
Panchmura is a place that should surely be visited if you're in Bishnupur. It lies at a small distance of 22 km from Bishnupur.
The villagers here create the terracotta figures and other artefacts. They range from tiles, pottery items, and figures of horses and elephants.
These horses and elephants made famous by the artist MF Hussain are shaped in a particular way typical to this region and can be easily identified as the Bishnupuri horse. There are thousands of gods and goddess figurines as well. Durga and Ganeshare the most predominant.
Visit Artist Homes
Artists have opened up their houses where you can walk in to see the actual process of creation. Often the entire family is involved and they are quite forthcoming to explain the various nitty-gritty of the trade.
The process starts with getting clay from under the ground surface – 10 feet to be precise. It is then processed and softened with water. Every artist owns a 'Chaka' or the potter's wheel on which he moulds the base structures.
Hand made art
The various decorations or the finer details on these are then done by hand. This is where it varies from artist to artist in terms of creativity and designs. Thus the quality of the final product.
Moulds are used for the tiles. For the animal figures the legs, neck, body, and head are created separately on the wheel and assembled manually. These are then sun-dried for a few days – just enough to be hard but not to be brittle.
Then the burning process starts in the kilns. Unlike the wheels, the kilns are usually owned together by three or four families together. The kilns are lit by dried leaves from the neighbouring woods.
A glazed coating or colouring may also be applied before putting the structures in the kilns. The burning is done under close monitoring. Sometimes it might take days. If you visit the village early in the morning you can see this process end to end.
Rural Craft Hub
Department of Micro, small and medium enterprises and Textiles of the Government of West Bengal in collaboration with UNESCO have developed the Rural Craft hub in this village bringing in some amount of much-needed awareness.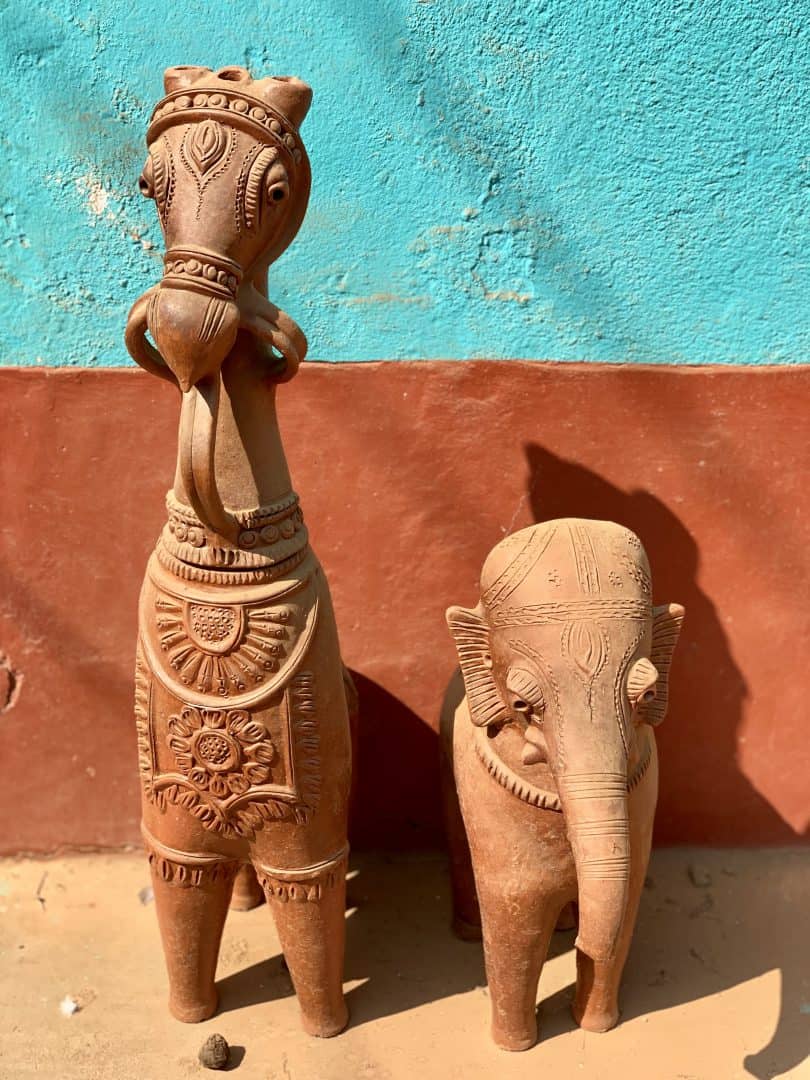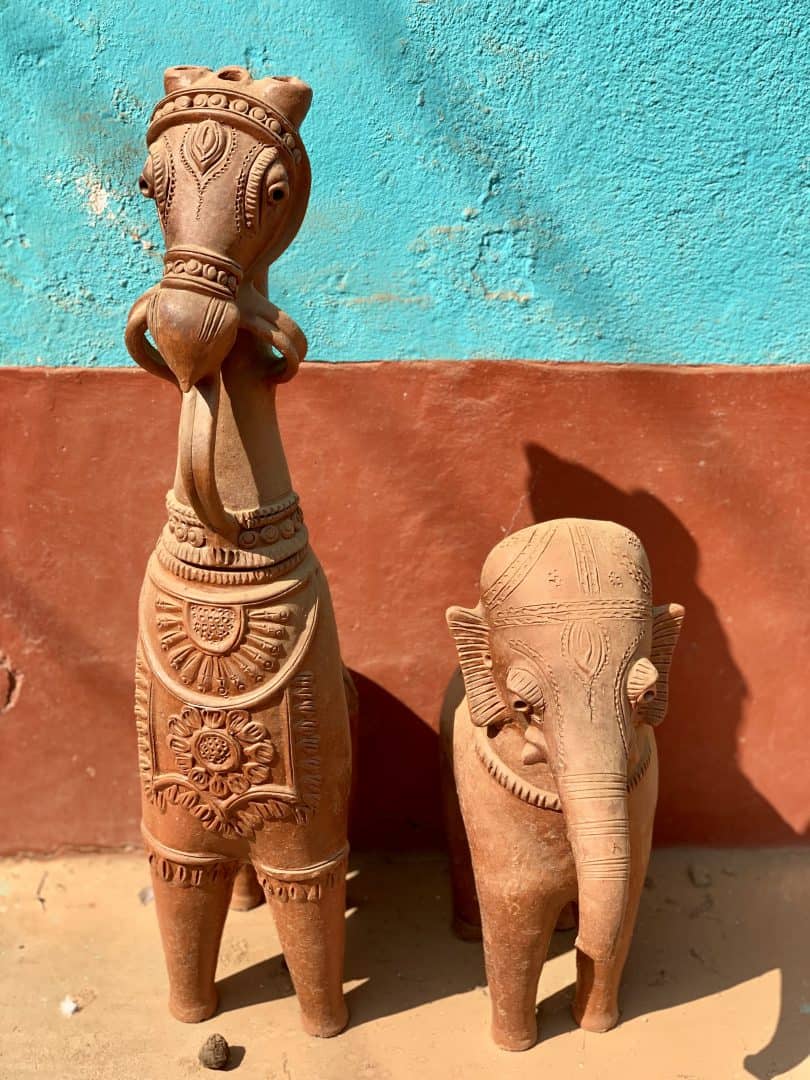 Terracotta figures of horse and elephant at Panchmura – the artisan village. Picture credits: Tani Dutta
How to Reach Bishnupur from Kolkata?
The following modes of transport are available for travelling to Bishnupur.
By train
 This is the easiest and most convenient way to reach Bishnupur. There are regular trains from Howrah and Shalimar stations which reaches Bishnupur in close to 3.5 hours
Rupashi Bangla, Shalimar Adra express, Aranyak express are a few options.
It is best to opt for early morning trains connections as you reach well in time before noon at Bishnupur. This leaves you with the entire afternoon to explore the town.
By own car/cab
If you like to be behind the wheels driving is also an option. You can also opt for private cabs (in case you have more people to pool in along with you).
From Kolkata, it takes about 4 hours and gives you the additional flexibility of starting at your own convenience
By Bus
West Bengal State Transport operates a direct bus service to Bishnupur from the Esplanade Bus Depot in Kolkata
Moving on to accommodation options now.
Where can a Traveler Stay in Bishnupur?
 West Bengal Tourism offers lodges which have standard comfortable rooms with basic amenities. They can be booked at reasonable prices online.
Other than the above, there are also some decent staying options which have opened recently like the Annapurna Lodge.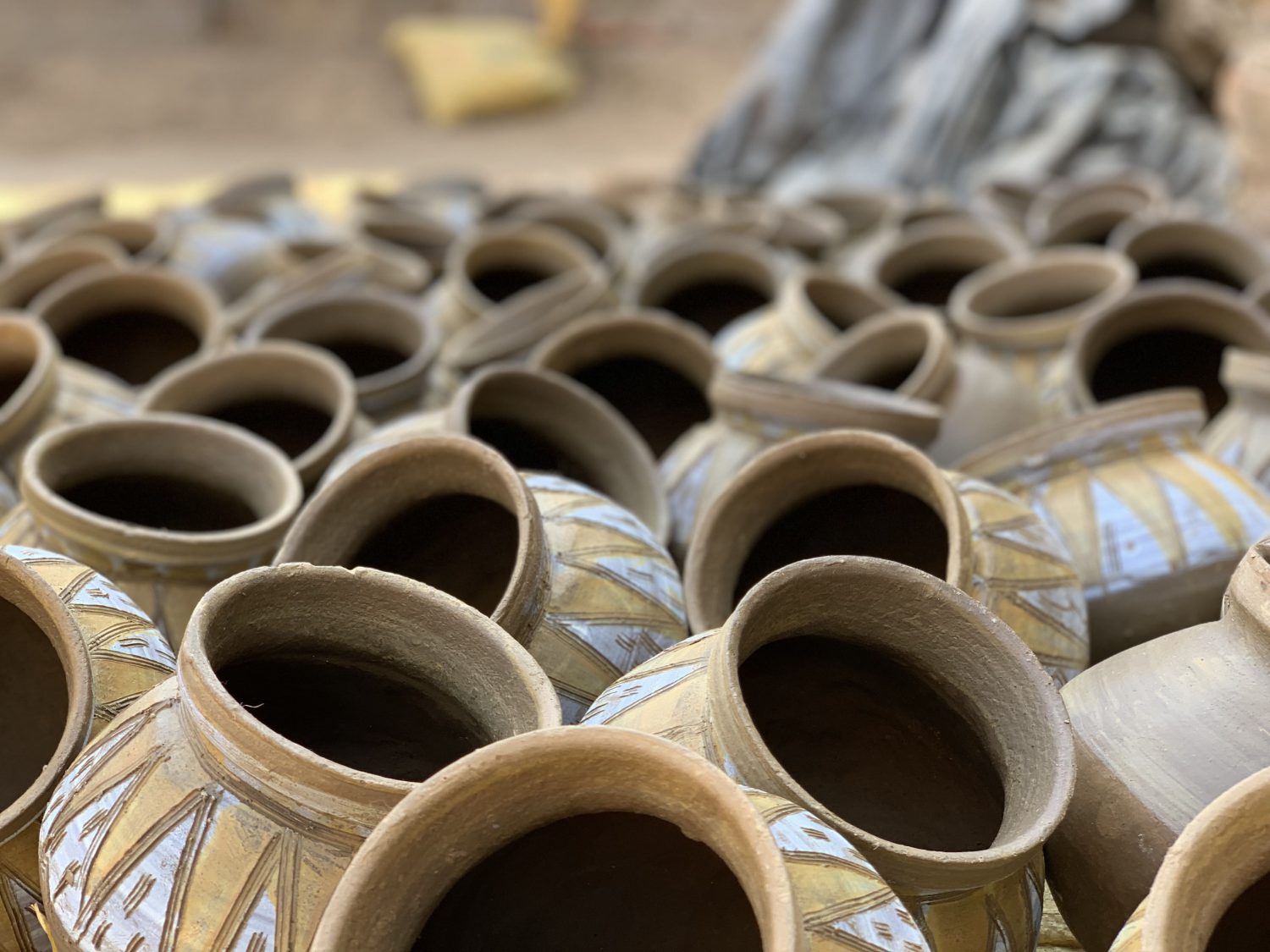 Pottery items at display at Panchmura village. Picture credits: Tani Dutta
Things to Buy on your Bishnupur Sightseeing Tour
Terracotta art and handloom sarees can be purchased at the local shops.
On my tour to Bishnupr, I found the perfect piece which would be the centre of attraction in my living room. It was a Bishnupur horse from the village of Panchmura.
My Personal Budget Breakdown for Bishnupur Sightseeing and Beyond
Budget is a very important component of any trip. So here is my personal budget breakdown for Bishnupur sightseeing and beyond.
Transportation
Train tickets cost 375 INR one way in Chair Car from Kolkata. Car rental depends on the type of car used and hours spent in it
Accommodation
West Bengal Tourism Lodge has various options:
750 INR for Non AC/per night
1200 INR for Standard AC/per night
1400 INR and above for Deluxe options/per night
Food
 Simple non-vegetarian options amount to 200 INR per person per meal. If it is a bigger group it becomes even less per person.
Bishnupur Sightseeing
A single ticket covers all temples: Cost 25 INR
Guides cost about 350 INR
Bishnupur is a heritage temple town that should be on your travel bucket list if you're planning to go solo in the eastern part of India. Bishnupur sightseeing isn't as popular as it should be with travelers from outside West Bengal.
It's high time that this temple town gets it due and is visited by more families, backpackers and solo travelers. Trust me, you will not regret visiting this place.
Happy wayfaring.