A biking trip in Amsterdam will help uncover the lesser-known but beautiful parts of the city. It is inspirational for travellers to witness locals hopping around on bikes almost everywhere.
A biking trip in Amsterdam allows a traveller to explore the city in a typical Dutch way. It gives them a feeling of living like a local. From a 4-year-old biking to school to 40-year-old biking to work, the multitude of population zipping around town is a common sight for the locals, but a wondrous one for the visitors. 

Amsterdam has over two thousand tiny bridges over canals and an even higher number of narrow alleyways, making bikes the fastest mode of commute. The infrastructure is built to make the city completely bike-friendly by building dedicated cycle lanes, riding signs and bike parking racks.
Bikes were introduced in the Netherlands as an alternative to cars long back. This was done in order to reduce car traffic.  Also, to curb pollution. Today, Amsterdam is considered one of the best bike-friendly cities in the world.  Every resident there is known to own at least one bike. 
I spent an entire day of my biking trip in Amsterdam exploring the city. I rode for over 20 km and it was one of the most delightful experiences. The ride from my hostel on the outskirts of Amsterdam to the city centre was a breathtaking one, with a canal on one side and old Dutch houses on the other.
Let me share some important tips from my trip.
My Biking Trip in Amsterdam: An Overview
Before delving more into the details, here are a few things you should know before undertaking a biking trip in Amsterdam.
Location
Amsterdam
Activity
Biking
Best season to go biking
Throughout the year
The easiest way to find a bike
Bike rental shops
Popular available bike types
City bikes, tandems, E-bikes, bikes with a child seat
Cost of renting a city bike
Approximately 10 euros for 24 hours
Deposit amount for renting a bike
Varies between 20 to 80 euros
Insurance for the bike
Recommended
Level of difficulty for first-time bikers
Medium (6 on a scale of 10)
Safety level for first-time bikers
High (8 on a scale of 10)
Did You Know?
The total number of bikes in Amsterdam is almost double the number of people living in the city.
Biking Across Amsterdam – Top 10 Things to Remember for a First Time Traveler
A biking trip in Amsterdam is one of the most enjoyable and must-do experiences, while you're in his wonderful city. It lets you immerse in the local biking culture. If you're unsure of whether you must take up this challenge, let's make your biking adventure simpler.
Keep in mind the following aspects and you will experience moments that you will cherish for a lifetime.
1.       Ride on the dedicated cycle path
2.       Follow the traffic lights
3.       Keep your ears open for the 'tringgg'
4.       Wave your hand for signals
5.       Watch out and make way for the locals
6.       Double-lock your bike while parking
7.       Click a picture of your bike on your phone
8.       Lose your way and discover off-beat sights
9.       Join a bike tour to ride in a group
10.   Wander around to explore the must-visit places
Ride on the Dedicated Cycle Path
A biking trip in Amsterdam is very convenient, thanks to the dedicated bike lanes. You must ride on the right side of the lane, and allow the fast-paced locals to overtake from the left.
Certain lanes are one-way streets. So watch out for the directions and signs. Google Maps comes in handy on a biking trip in Amsterdam, showing the fastest biking route.
Follow the Traffic Lights
It is essential to take the traffic rules seriously while on a biking trip in Amsterdam. Otherwise you might stir a bike dashing chain reaction. Halt when the lights turn red, even if the fellow riders don't.
As a first-time biker in Amsterdam, it is advisable to wait for the pedestrians to cross first when the lights turn green.
Keep Your Ears Open for the 'Tringgg'
Every bike comes with an attached bell. They are a way of notifying others while overtaking, to not bump into someone on a biking trip in Amsterdam. You will hear cycle bells ringing more than a car honking. Listen to them carefully.
If you hear a bell, move towards the right and let the others pass by you from the left. You must also remember to ring the bell when necessary, in case you want to overtake a fellow rider or you see a pedestrian walking in the wrong lane.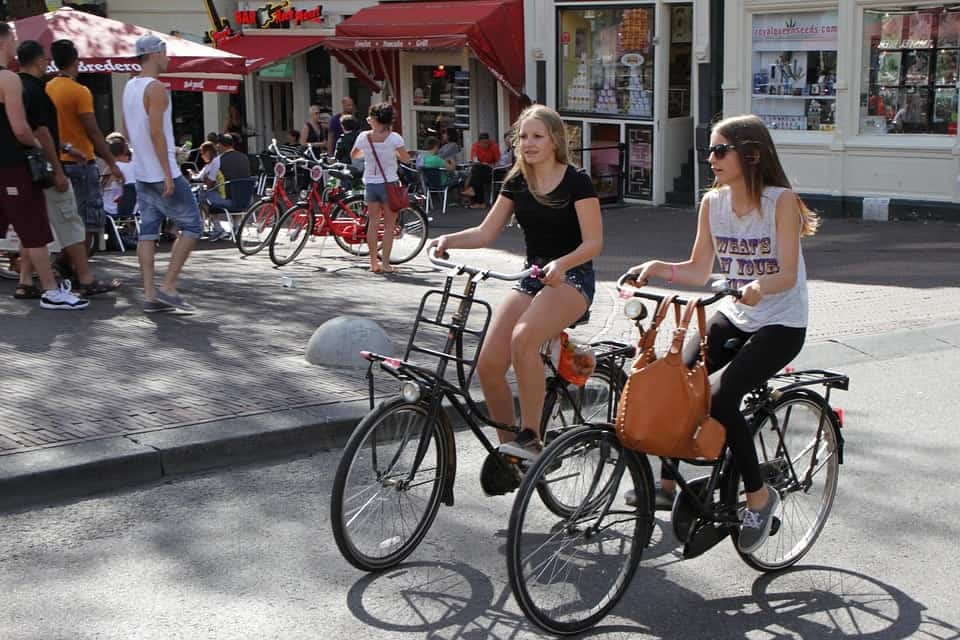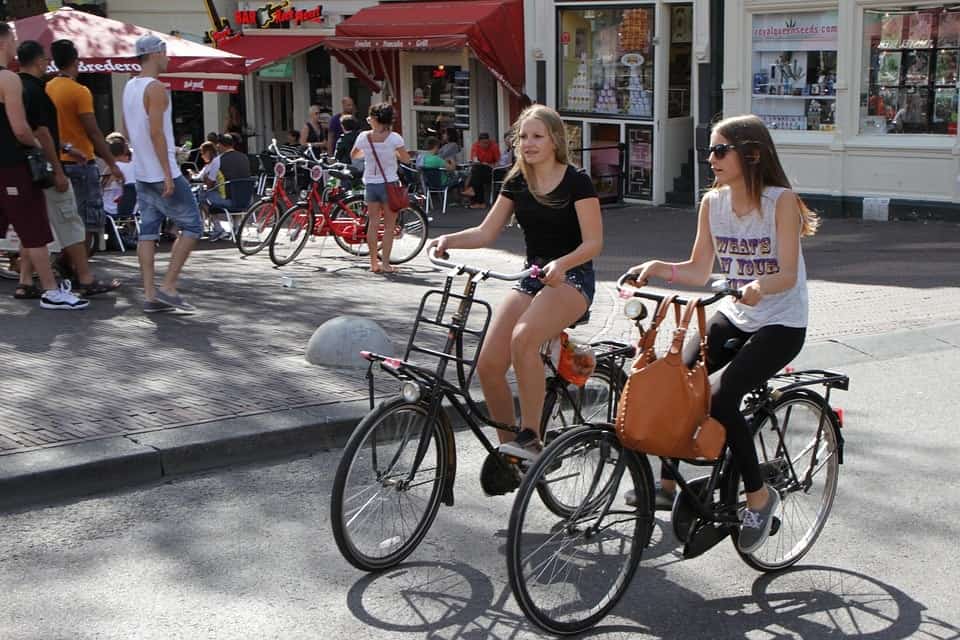 My only companion on my trip to Amsterdam was my bike. Photography by Shreya Doshi
Wave Your Hand for Signals
Use the old-school trick when you want to turn towards the left or right on your biking trip in Amsterdam. Waving your hand as a signal is the most effective and recommended way to notify fellow riders of your intended riding directions.
Missing out on signalling with your hand would be confusing for others to judge where you plan to turn, and might end up in a collision.
Watch Out and Make Way for the Locals
The Dutch are super-fast on their bikes, make way for them while you are on a biking trip in Amsterdam. It is advisable to ride at a biking speed that you are comfortable with, and not imitate the locals.
You might not be able to match their rapid biking pace. But it sure is a treat to sit back and watch them zip down the lanes swiftly.
Double-lock your Bike while Parking
Finding a parking spot is fairly easy, thanks to the bike parking racks across the city. But being extra cautious while parking is necessary since Amsterdam sees cases of thousands of stolen bikes every year.
Using two locks is recommended – a built-in lock that prevents the tyre from rotating, and a chain lock that must be tied to a fixed bike rack or an immovable object.
A multi-level bike parking near Central Station in Amsterdam. Photography by Shreya Doshi
Click a Picture of your Bike on your Phone
Don't forget what your bike looks like. Before starting your biking trip in Amsterdam, click a picture of your bike and save it on your phone to be on the safer side.
This will come in handy when you park your bike and are later trying to hunt for it. With thousands of bikes on the roads, it would be impossible to find your bike if you don't remember what it exactly looks like.
Lose Your Way and Discover Off-Beat Sites
Be thankful if you get lost in the streets of Amsterdam, you will end up having seen some unexplored places and more adventurous stories to narrate.
Don't be worried if you lose your way, it is very easy to circle back to your intended destination. Traversing through the narrow alleys and bridges over the canals, your biking trip in Amsterdam would be an exciting one.
Join a Bike Tour to Ride in a Group
You could join one of the numerous guided cycling tours to uncover the history of the city while on a biking trip in Amsterdam. Most of the popular bike rental shops offer guided group tours for a duration of 2 to 4 hours. Reserve a spot on one of these tours in advance if you wish to join them.
These tours are led by a guide and are quite informative. The bonus is that you would end up making new friends on your biking trip in Amsterdam.
Wander Around to Explore the Must-Go Places
Riding in a group is sure fun, but wandering on your bike all by yourself allows you to discover the city sights at your own pace. Bike across some of the most amazing streets and parks while marvelling at what a wonderful place Amsterdam is. Your biking trip in Amsterdam would be incomplete without biking in the following popular areas.
Vondel park
Vondel Park is a huge park with a pond, an open-air auditorium, several street acts, and a lot of greens
Jordaan
Jordaan is a  famous neighbourhood, not very far from the iconic Dam Square in the city centre. It is known for its beautiful houses and cosy cafes
The Nine Streets
Also known as De NegenStraatjes, hosts popular shops selling fashionable and classy gifts to take back home
Recommended Day Tours on a Bike in Amsterdam
If you feel like taking a well-organized tour on your biking trip in Amsterdam, the subsequent activities are recommended –
1-Hour Amsterdam Guided Bike Tour    
Vondelpark Guided Bike Tour in Amsterdam    
Dutch Countryside by Bike from Amsterdam     
Bike Rentals for a Biking Trip in Amsterdam
The abundant bike hire options make it very easy for travellers to rent a bike for a biking trip in Amsterdam. Bike rentals are available at a cost of 10 to 15 euros for 24 hours, which is comparable to the 2-day public transport ticket priced at 12.50 euros. Though the cost of renting a bike seems to be on the higher side, it gives you a lot of flexibility on a biking trip in Amsterdam and is absolutely worth it.
Renting a bike from a reliable bike rental shop is critical, or else one might land up in trouble with a stolen bike. Amsterdam has multiple bike rental shops near Amsterdam Centraal Station, Dam Square and Leidseplein. The most popular bike shops are listed below.
Bike Shop
Rental Prices (24 hours)
Yellow Bike

Central Station

Starts from 12 euros
MacBikes

Central Station, Leidseplein, Vondelpark, Waterlooplein

Starts from 10 euros
A-Bike

Vondelpark, Dam Square

Starts from 15 euros
These shops offer bike rentals on an hourly basis as well, though it turns out to be an expensive choice. They also organize bike tours within the city of Amsterdam or the countryside, which is a good pick if you want to ride in a group and understand the history and background of Amsterdam in a detailed fashion.
Alternatively, it would be convenient to rent a bike from your place of stay. Hostels prove to be a cost-effective accommodation option with good deals on bike rentals, which might help you save a penny. Most hostels are located slightly away from the city centre, giving you a chance to explore the lesser crowded areas of Amsterdam. They are easily accessible via public transport and of course, bikes, which unite the city.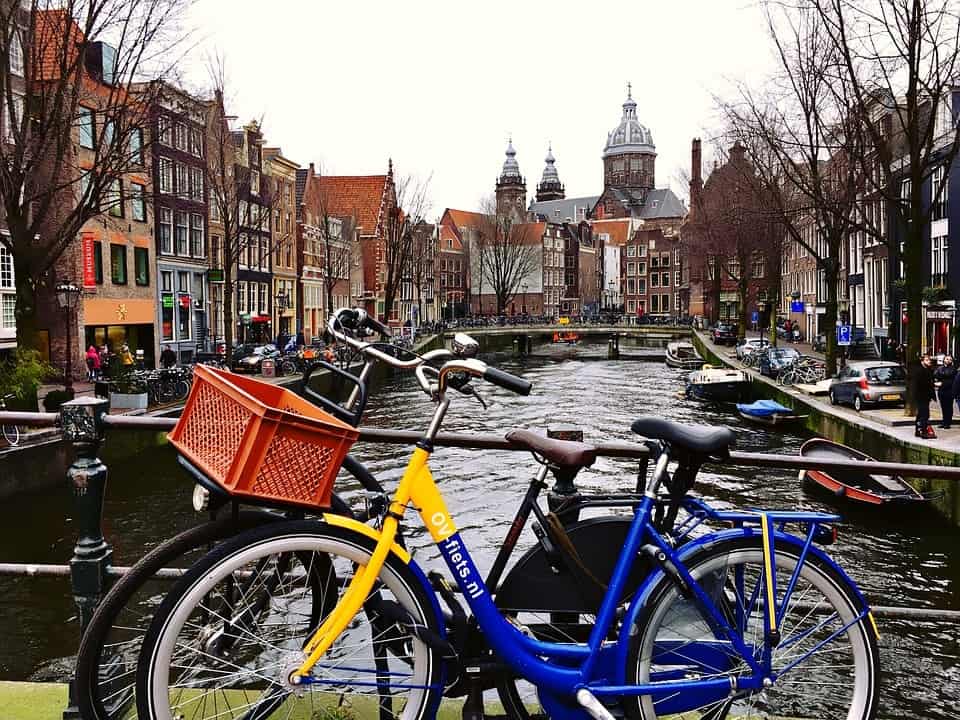 There is no dearth of bike rentals in Amsterdam. Photography by Tddthien
Pro Tip:
Every subsequent day on your rental bike will be cheaper than the first day, hence plan your rides on consecutive days to minimize your expenses.
Safety Tips on Your Biking Trip in Amsterdam
Biking in Amsterdam is considered quite safe, even for first-time riders, and the number of accidents reported is minimal. However, plenty of bikes are reported stolen year on year. Beware of the operational local gangs who are known to throw unlocked bikes into the canals.
Just in case your bike goes missing, you must return the keys to the bike rental shop to prove that you have locked the bike. If you fail to do so and have not purchased insurance, you are entitled to repay the cost of the bike. Parking in a bike rack with a chain lock is the safest choice in order to save your bike.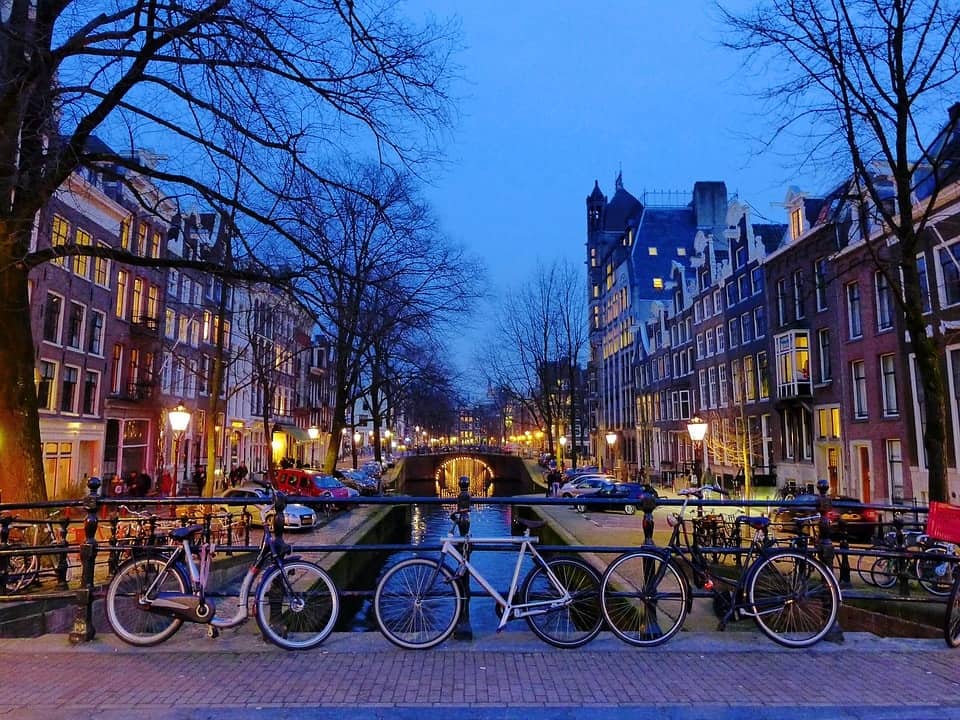 While enjoying yourself on a bike, make sure you stay safe at all times. Photography by Dolcece
Your biking trip in Amsterdam will certainly be a memorable one, for the sheer thrill and memories that it would create.
The biking trip in Amsterdam left me with an overwhelming feeling of joy. I would most certainly want to revisit this place and live like a local again. Who knows I'll be back here when I turn 80. That time I would like to reminisce about what I enjoyed the most on my first biking trip in Amsterdam – the cycling capital of the world.
Happy wayfaring.