Belur temple, officially known as the Chennakeshava temple and commonly called the Belur math (cloister)  is a marvel of ancient Hoysala architecture. The Halebid Temple Hoysaleshwara which is only16 kms from Belur makes for a wonderful add-on for a Belur and Halebidu Trip. 
Belur temple is roughly a four-hour ride from the capital city of Karnataka – Bangalore. It is also a good weekend getaway for inhabitants of the IT city.
However, even today the Chennakeshava temple at Belur is an underrated travel destination. It is yet to be explored fully. So, if you have some free time on your hands plan a Belur and Halebidu trip and start exploring.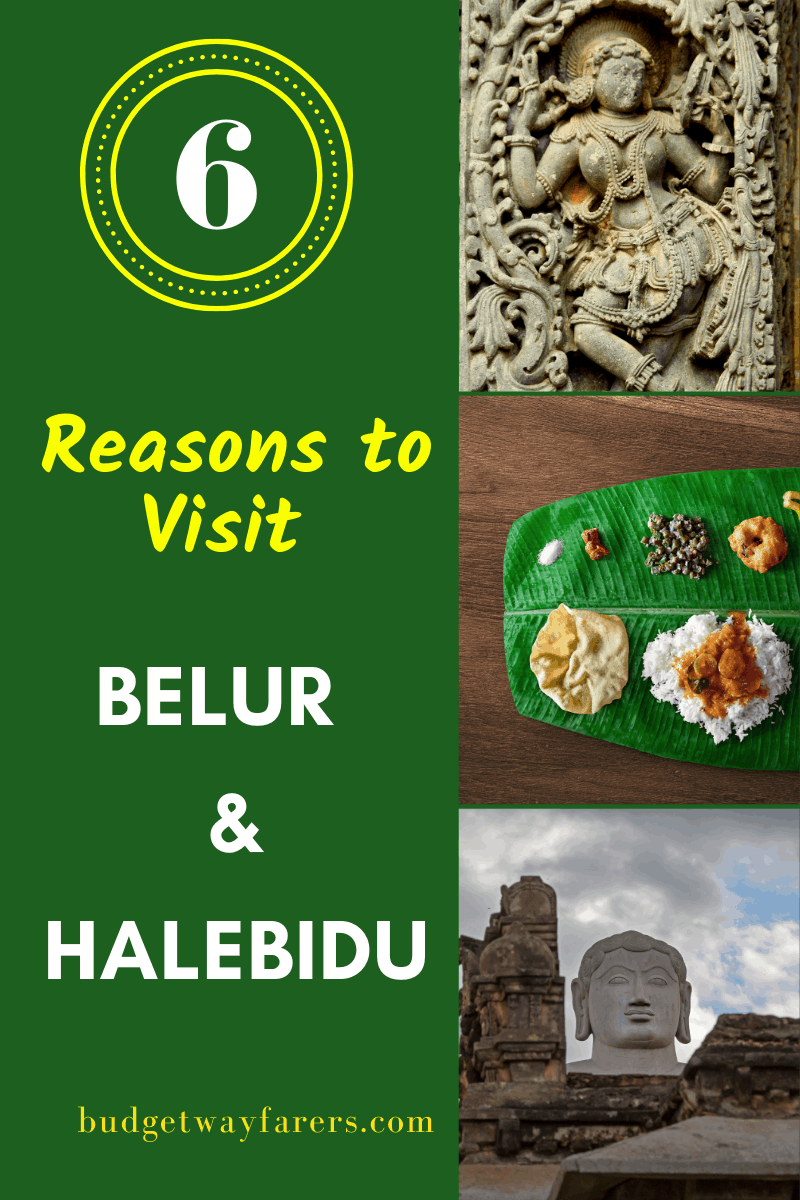 Belur Temple & Halebidu Temple: An Overview
Karnataka has some of the most beautiful and underexplored travel destinations in India. Of the many things the state is known for ancient temples are right on top.
The city of Belur is known for its temples and mystique. Located on the banks of the Yagachi River in Karnataka's Hassan district, Belur temple is known for its cultural richness.  The Chennakeshava temple is crafted with elegant carvings depicting scenes from the Upanishads, Mahabharata and Ramayana. 
Hoysaleswara Temple which is closeby is one of the largest shrines dedicated to Lord Shiva in Southern India. In the 12th century, the temple was built by Hoysala rulers. it is known for its majestic outer sone carvings which depict different scenes from Hindu mythology. 
Below is a quick overview that will help you plan a Belur and Halebidu trip :
Location
Hassan district, Karnataka, South India
Date of origin
12th Century
Distance from Hassan & Bangalore
Around 35 Kilometer to the Northeast of Hassan and approx. 200 km from Bangalore
Best time to visit
October – April
Mode of transport
By road. Frequent buses connecting through major cities -KSRTC (state buses) and private travel agents).
Or
By train to Hassan. Hire a taxi from the station.
Basic necessities
Hats and water bottles
Guide fees at the temple
200-250 INR per person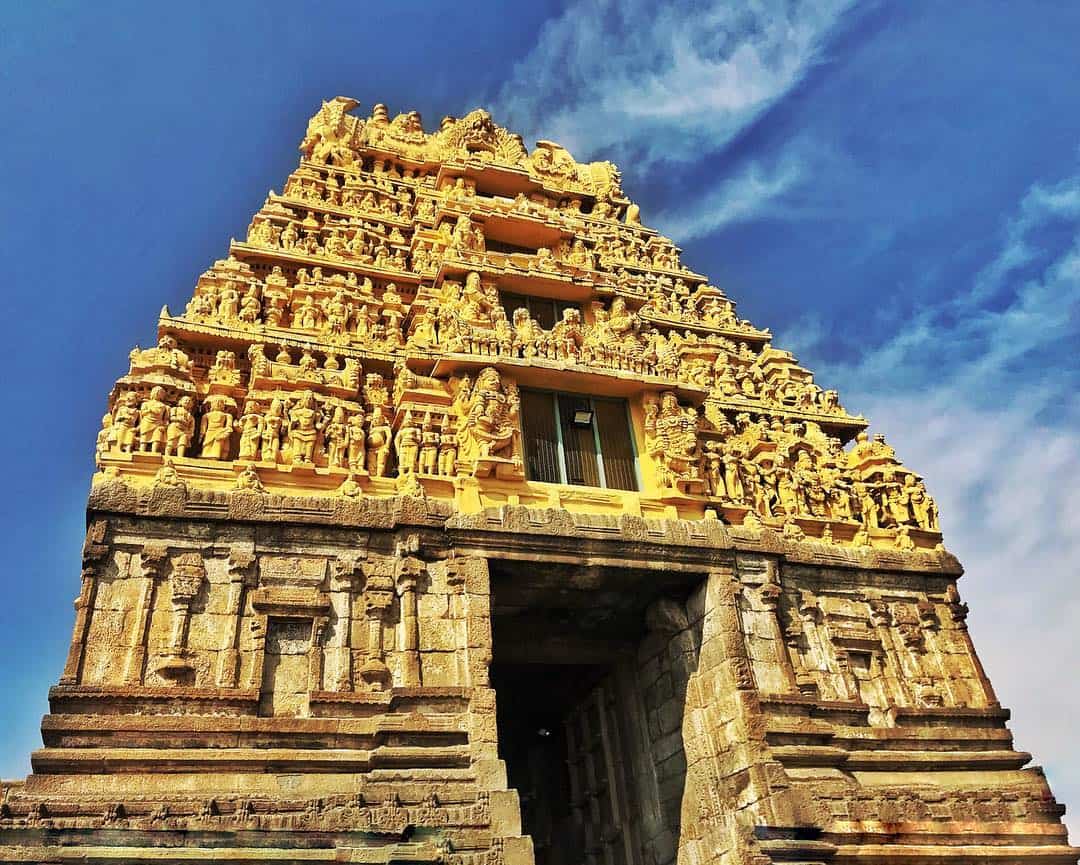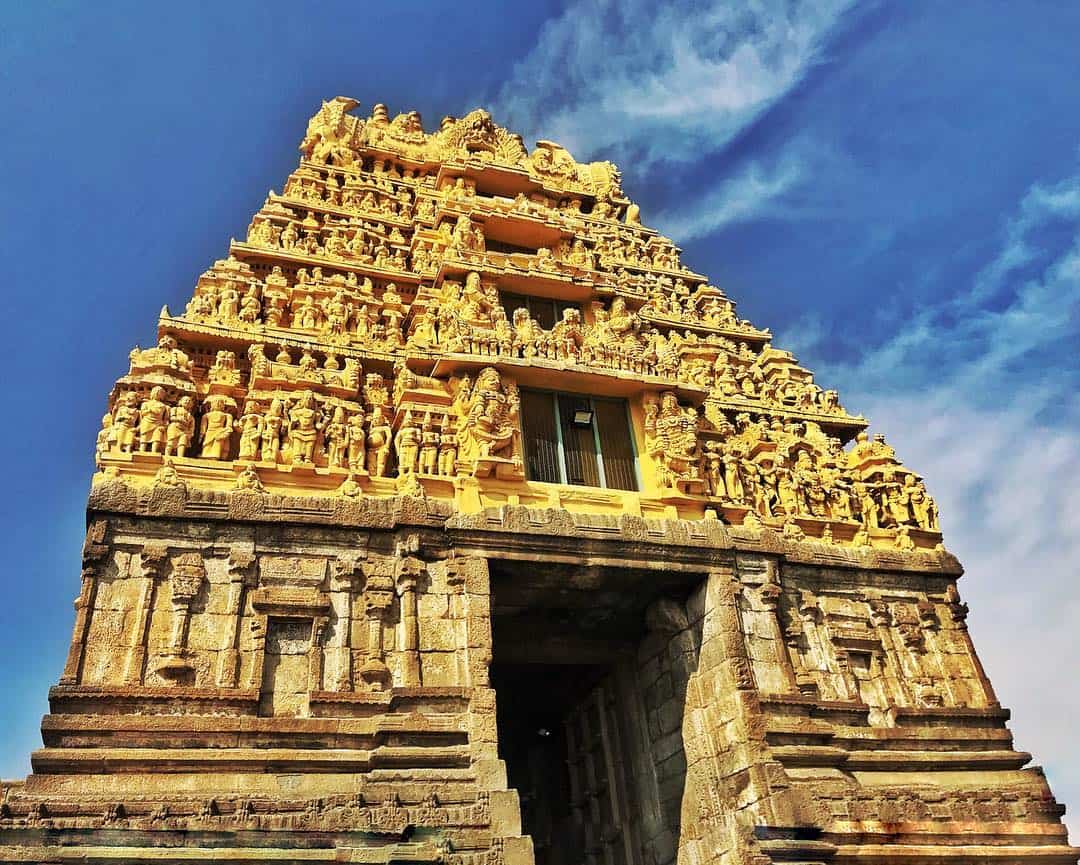 The entrance of Chennakeshava temple, Belur. Photography by Akshay Patil
Belur Temple & Halebidu Trip: A Visit to UNESCO World Heritage Sites
The temples at Belur, as well as Halebidu (Belur's twin town), are now UNESCO world heritage sites. This signifies the exquisiteness of these places culturally and historically.
The moment you enter the premises of temples at Belur and Halebidu, you can easily observe the historic richness. It fills your mind with questions –
"How could they create such beauty?"
"With what Science and Architecture which is beyond perfection?"
"Which dynasty encouraged such fine arts in Indian History?"
It is quite evident from their history that this majestic Art took 103 years to complete and approximately three generations.
While a Belur, Make Sure to Visit Halebidu
Everybody who visits Belur definitely visits Halebidu. It was the former capital city of the Hoysala dynasty. The temple of Halebidu was built first and then started the construction of Belur temple.
One can see similar sculptures in both the temples and a lot of stories carved which connect both the temples.
Top Reasons to Visit Belur Temple Chennakeshava & Hoysaleswara Temple Halebidu
There are 7 reasons for any traveler to visit the Belur temple –
1. The beauty of the Sculptures & Carvings 
The sculpture of  Lord Chaluka Narayana (Vishnu) is carved with intricacy and fine details. You can notice the charm imbibed in the sculpture. The jewellery carvings are the most eye-catching piece of art.
The inner premise of the temple is filled with pillars all around and great delicate carvings on the ceiling. Each pillar is unique in design which inspires any modern jeweller's art. The carvings around the pillars are like necklace and bangle designs, measuring geometrically perfect.
Don't miss out on one of the pillars which is believed to serve as a blueprint of all the carvings in the temple in a miniature form.
A question that pops up in your mind immediately after witnessing such elegance is, "How could they install such huge pillar back in the 11th century and what was the mode of transport?"
Well, the Hoysalas were profound when it came to intelligence in architecture and science.
Inside the Hoysaleswara complex lies an open archaeological museum. It has sculptures, coins, inscriptions and wood carving idols on display. Among them is a giant sculpture of a sitting Nandi and Lord Ganesh. The museum is open to all from 10:00 AM to 5:00 PM. It remains closed on Fridays.  Photography is prohibited inside.
2.Culturally Superior Beauty and Art
All the sculptures and pillars inside Belur temple premises  are built using a peculiar featured stone known as "Soapstone." It is soft to shape and carve and eventually hardens after certain time.
One can't miss hearing the name of "Natyarani Shakuntala", who is believed to be most graceful dancer of the dynasty. Most of the sculptures on the ceiling of the inner part of the temple portray her elegant and graceful dance moves (Bharatanatyam mudras).
These stones even depict the various human emotions through her body language and facial expressions. You will be awestruck to notice that her bangles have movement as if they were detached from her hand.
The Hoysaleswara temple is a masterpiece adorned with rich carvings of thousands of mythological figures. The basement of the temple comprises sculptured friezes. 
Garuda Stambha is among the key highlights of this temple. In addition to it, there are inscriptions of epic heroes carrying knives and cutting their own heads.
3. Ravishing Depiction from Great Indian Epics
The whole of the exterior part of the Belur temple depicts various stories from Ramayana, Mahabharatha and other Indian mythology.
Make sure you invest a lot of time and patience to observe such mystical fine art. Do your homework i.e read about the Belur temple before you get there. It will create a flow with what the guide is explaining and you would not miss out any part of the temple unseen.
Must observe Aspects at Belur Math
Lord Narasimha killing the demon. (The guide narrates the short story behind the carving)
Shiva in his fierce avatar (Bhairava pose)
Unique imaginary animal on the entrance exterior ceiling.
Graceful dancer -holding parrot, grooming herself holding a mirror, playing instruments on the exterior ceiling.
Lord Indira (Hindu Mythological deity – king of heaven) on his elephant.
Pillar outside the temple is epic example of magnetic science. 
Must Observe Aspects at Halebidu Math
Outer walls of the shrine adorned with rich carvings from mythology.
The two beams are present over the southern and the eastern entry.
The gigantic Nandi statue is monolithic in nature.
Garuda Stambha, a rare pillar depicting the story of the king's bodyguards
4. Re-live History at Belur Temple & Halebidu
One can't get a better chance of re-living History than by visiting Belur temple Chennakeshava as well as Halebidu (approximately 30 minutes drive). It too is another capital city of Hoysala dynasty.
Halebidu was build at the same time (11th century) as Belur math and is a gigantic Shiva temple with excellence in architecture on the exterior part of the temple.
Every Shiva temple in the world is incomplete without Nandi – the holy bull of Lord Shiva believed to be his vehicle according to Indian Mythology. Halebedu has the most beautiful Nandi sculpture in the world.
 The most stunning fact about the Nandi sculpture is its high polish on the stone that you can actually look at your reflection as though on a mirror.
5. Feed Yourself with Traditional South Indian Food on Your Belur and Halebidu Trip
After feeding your eyes with beautiful art and a lot of historical knowledge, it's time to feed your stomach. Just walk down the temple street, which is filled with fresh food servings in local mess and hotels.  They offer you home-style delicious vegetarian food on a banana leaf.
One can choose between – complete south Indian meal with huge variety of dishes, like hot rice, sambar (dal), rasam (dal) and playa (cooked vegetable salad).
or
Hot akki roti (Rice cooked in the form of baked bread, using rice flour) with a spicy traditional curry (using chickpeas or vegetables) and some garlic chutney.
Don't miss out on the chance to try it when you are at Belur!.
6. Camping Near Belur Temple & Halebidu
After you undertake the history tour, it is time to fill the trip with some adventure.
One can take camping stays near the Belur Temple. Recommended options are –
Japavathi river camp – On the bank of the Japavathi river
Bagmane heritage – British bungalow
Beanstack homestay – cottage on a hilltop
After a long day at this heritage site of Belur math, rest in a cosy, tidy home-stays with some bonfire in the evening and a glass of classic homemade wine. It comprises exotic Indian flavours like figs, beetle-nut leaves and rose. Savour hot chicken dishes cooked using pepper grown in their own estate.
Early next morning is the best time to go for camping on Mullayanagiri hills (which would be a few minutes away from any homestay in Chikmagalur ) or Yettina Bhuja. The misty hills covered with fog and chirping birds in the morning are good for the senses.
One can't stop praising this beautiful site of lush green coffee plantations with red cherry coffee beans all around.
7. Cover Interesting Places on Your Belur and Halebidu Trip
Shettihalli Church
If you choose to travel from Bangalore or Mysore on the way to Hassan road, around 1.5 hours (200 km) from Bangalore explored a less discovered place "Shettihalli Church", a ruined old church covered with 1-5 inch of river water. This beautiful location feels like you are living in a painting.
Shravanabelagola
On the way from there towards Belur temple, definitely stop at Shravanabelagola. This place is sacred to the Jain religion. It consists of a huge monolithic structure of Gomateshwara (Jain deity) and is flocked with a lot of travellers.
Deveramane
Sri Kalabhairaveshwara Temple at Deveramane is another less discovered temple which was built prior to the Halebidu and Belur temples. It is devoted to Lord Shiva (An important Hindu deity) and also has the deity crafted on a hill.
A trip to Belur and Halebidu is a time-defying experience that enables one to re-live history. The passage of time is insignificant to these places of 'art beyond perfection'.
Happy wayfaring 🙂