Bali vs Thailand, confused about which one would be your next tropical beach destination?
Making a choice between two popular islands in Asia is tricky as they have a lot of similarities. This blog will help you with that by comparing the vacation destinations Bali and Thailand on all travel related metrics.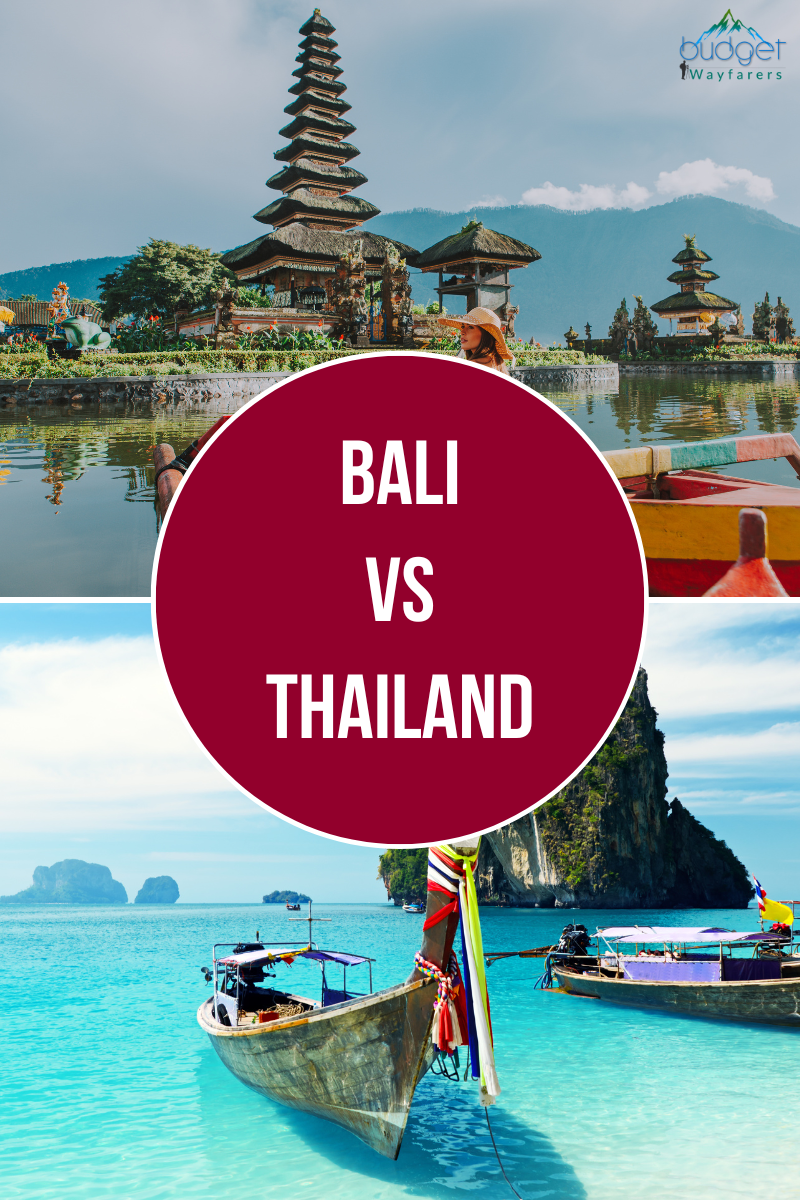 Bali Vs Thailand: Which Offers A Better Vacation Experience?
Let's take an in-depth comparative look at these islands, but before that here is a quick overview of similarities and differences between Bali and Thailand-
LOCATION
Bali

Indonesia, Asia

Thailand

Southeast Asia

BEST TIME TO VISIT
Bali

Apr – Oct

Thailand

Nov – Mar

IDEAL LENGTH OF STAY
Bali

6-10 Days

Thailand

7-11 Days

7-DAY TRIP COST  (2 PEOPLE)
Bali

1500 USD

Thailand

2000 USD

BEACHES
Bali

Very Good

Thailand

Very Good

SIGHTSEEING AND ACTIVITIES
Bali

Excellent 

Thailand

Excellent

FOOD CULTURE
Bali

Indonesian & Local

Thailand

Thai Cuisine

NIGHTLIFE
Bali

Very Good

Thailand

Excellent

ACCOMODATION
Bali

Budget-friendly to Luxurious

Thailand

Budget-friendly to Luxurious

CULTURAL EXPERIENCE
Bali

Very Good

Thailand

Very Good

SHOPPING
Bali

Excellent

Thailand

Excellent

SAFETY LEVEL
Bali

Very Good

Thailand

Good

FOR FAMILY VACATION
Bali

Excellent

Thailand

Good

FOR HONEYMOON
Bali

Excellent

Thailand

Excellent
Now let's understand the significant differences in detail before choosing an island destination between Bali and Thailand.
Location & Accessibility of Bali Vs Thailand
Bali is located between the Indian and Pacific oceans. It is a part of Indonesia and known for beautiful tropical beaches, adventure and ancient cultures.
To reach this destination there are no direct flights from most parts of the world. But you can look for connecting flights. It also depends on which country you are coming from.
Thailand is a Southeast Asian country located at the centre of the Indochinese Peninsula. Thailand is known for gorgeous tropical beaches, ancient temples and culture.
There are direct flights to Bangkok (Capital of Thailand) from some parts of the world. So, depending on your current location you can look for direct or connecting flights to plan your Thailand travel.
VERDICT: There are no direct flights for Bali. But to visit Thailand some countries like India offer direct flights
Bali Vs Thailand: Best time to Visit & Weather 
Bali experiences a humid and tropical climate all year round. The island has 2 categories when it comes to seasons – Dry and wet season.
The best time to visit Bali is from April to October. This is a dry season and the temperature ranges between 27°C to 30°C. Avoid visiting Bali in the wet season because it rains heavily.
Thailand also experiences a warm, humid and tropical climate all year round. Dry season is best suitable for Thailand trips.
The best time to visit Thailand is from November to March. You can also visit in early April. During these months the temperature ranges between 18°C to 32°C. In Thailand this time is winter and it's peak tourist season.
How Many Days Are Enough to Explore Bali Vs Thailand?
Bali is smaller in size than Thailand but still it has so much to offer to travellers. 6 days are enough to explore all the major attractions in Bali. But you can extend it to 10 days to cover more things.
Thailand has  much to offer to all the age groups. You need atleast one week to explore the best attractions in Thailand. You can extend your trip to 11 days to cover more places.
VERDICT: You need more time to explore Thailand as it's bigger in size than Bali.
Bali Vs Thailand: Which is Cheaper for Travellers? 
Travelling to Bali for a week costs you anywhere between 1000 to 2800 USD for two. Bali is very budget-friendly for travellers. 
The cost breakdown of Bali-
Food, travel & sightseeing (Per Day)
50 – 120 USD
Accommodation (Per Night)
20 – 200 USD
Internal Transportation (Per Day)
20 – 55 USD
Travelling to Thailand for a week costs you anywhere between 1200 to 3500 USD for two. 
The cost breakdown of Thailand-
Food, travel & sightseeing (Per Day)
50 – 160 USD
Accommodation (Per Night)
15 – 180 USD
Internal Transportation (Per Day)
50- 300 USD
VERDICT: Thailand is cheaper than Bali when it comes to accommodation options but overall Bali is cheaper than Thailand.
Bali Or Thailand: The Better Beach Destination 
Bali  is surrounded with beautiful golden sand beaches and coral reefs. You can also find many white and black sand beaches here that offer a soothing experience along with water activities like swimming, surfing and snorkeling.
Best Beaches in Bali
Seminyak

Jimbaran

Canggu

Nusa Dua

Green Bowl

Jungutbatu

Labuan Sait
Thailand beaches are gorgeous with soft white sand, clear and calm seas. Also, you can enjoy long-tail boats, snorkeling and much more. 
Best Beaches in Thailand
Donald Duck Bay

Kata Beach

Railay Beach

Thong Nai Pan Noi & Yai Beaches

Lamai Beach

Buffalo Bay

Koh Chang's White Sand Beach

Laem Thong Beach

Pattaya Beach
VERDICT: Bali and Thailand both offer beautiful beaches. In Bali most of the beaches are crowded but in Thailand some of the beaches are less crowded and you find quiet places.
Bali Vs Thailand– Which One Has More Sightseeing Opportunities?
With its diverse nature, Bali offers natural and man-made wonders. Apart from beaches you can explore ancient temples, waterfalls, mountains, rice terrains, art galleries, historical & cultural centres, and active volcanoes.
Major Attractions in Bali
Pura Tanah Lot

Ubud Monkey Forest

Uluwatu Temple

Tegallalang and Jatiluwih Rice Terraces

Menjangan Island

Lempuyang Temple Complex

Pura Ulun Danu Bratan

Mount Agung

Sekumpul Waterfall
The Land of Smiles, Thailand not only offers you beaches but also so many vibrant attractive places. You can visit the palace, the best temples, National parks and much more.
Major Attractions in Thailand
The Grand Palace, Bangkok

Wild Elephants at Khao Yai National Park

Sukhothai Old City

Kanchanaburi Bridge

Historic City of Ayutthaya

Waterfalls at Erawan National Park

Doi Suthep

Sunday Walking Street, Chiang Mai

Khao Sok National Park
VERDICT: Bali and Thailand both offer excellent places for sightseeing opportunities with a mix of cultural, natural and spiritual places to visit.
Which is More Adventurous & Entertaining Destination – Bali Or Thailand? 
There is a flood of options for adventurous activities in Bali.  You can explore paragliding, hiking, zip-lining, flyboarding at Nusa Dua, cave diving at Shark Cave, flying fish, reverse bungy, canyoning, Gili Biaha and a special quad bike ride to explore the jungles.
Best Entertainment Spots in Bali
Krishna Funtastic Land

Pandora Experience Escape Room

Amazing Bali swing experience with Ubud Fall

Smash Room Bali

Kovee VR Kuta

Borong dance and Batur Volcano

Devdan Theatre Show at Bali Nusa Dua

Kecak dance and Seafood dinner on the beach at Uluwatu

Taman Nusa Indonesian cultural park
Thailand also offers thrilling adventurous activities. You can explore – White water river rafting, scuba diving, fly board in Koh Samui, rock climbing, Kayaking/Canoeing, cave exploring, Chonburi Eco Zipline Tour, elephant trekking, jungle tour, Krabi rainforest discovery and many more activities.
Best Entertainment Spots in Thailand
Dream World Amusement Park

Pattaya Tiger Park

Dinner Cruise in Chao Phraya River, Bangkok

Siam Ocean World Aquarium

Simon Cabaret Show

Sanctuary of Truth

Art in Paradise

Madame Tussauds, Bangkok

Nong Nooch Tropical Botanical Garden

Tuxedo Illusion Hall
VERDICT: Bali and Thailand both offer excellent entertainment and adventurous activities.
Comparing the Unique Food Culture of Bali Vs Thailand
You can feel the Indonesian delicacies with local essence in Bali when it comes to food. You can find traditional cuisine here which is famous with a variety of dishes. Rice, noodle or soup dishes are part of Indonesian cuisine.
You must try some famous food of Bali – Babi Guling, Nasi Goreng, Betutu, Satay, Lawar, Bubur menguh, Nasi Jinggo, Nasi tepeng, Sambal Matah, and Urab (traditional vegetable salad).
Famous Food Spots in Bali
Mamasan Bali

Jimbaran Seafood Cafes

Gooseberry restaurant

Ganesha Ek Sanskriti- The Indian Food Cuisine

Bumbu Delhi Indian Restaurant

Pak Malen

Naughty Nuri's
Thai cuisine is Thailand's national cuisine that every traveler loves to taste. Thai cuisine mainly includes 4 categories –  Tom (boiled dishes), yam (spicy salads), Tam (pounded foods), and Gaeng (curries). 
Guay teow or noodle soup is the popular street food of Thailand. You must not miss out on these famous Thai foods during your trip to Thailand –  tom yam goong, pad thai, som tam, massaman curry, green curry, Thai fried rice, nam tok mu, laab, etc.
Famous Food Spots in Thailand
Anchan Vegetarian Restaurant

Blue Elephant

Eat Me

Feuang Nara

Gaggan

Green Garden Restaurant
VERDICT: Bali and Thailand both offer amazing traditional food culture with flavours. But Thai cuisine offers way more varieties of dishes than Bali cuisine.
Which Has A More Exciting Nightlife – Bali Or Thailand?
Bali is one of the best places to visit for nightlife for young travellers. You can enjoy DJ parties, delicious cocktails, and beers, dance and have fun on rooftops, and beach clubs at South Bali. 
Best places for Nightlife in Bali: Kuta, Seminyak, Canggu and Uluwatu. 
Thailand is known for the wildest parties. Thailand nightlife has more adult entertainment. There are many glamorous clubs and go-go bars. But along with this you can also explore regular pubs and bars, cabaret shows, nightclubs, night markets.
Best places for Nightlife in Thailand – Bangkok, Pattaya, Phuket, Chiang Mai and Koh Samui.
VERDICT: Bali and Thailand both offer the best nightlife experience. But Thailand has way more happening nightlife with naughty and wildest parties.
Comparing the Vibrant Cultural Experience in Bali Vs Thailand
Balinese culture is very well-known for spirituality and unique traditional Balinese rituals. The sacred temples, crafts, special ceremonies, theatre dance, and local flea markets that can be seen everywhere. 
Cultural Activities in Bali: Kecak Fire Dance at Uluwatu Temple, Ubud Palace, Bathe in Holy water at Pura Tirta Empul,  Bali Mud Wrestling at Batubulan, Gianyar, traditional Cooking Classes at The Bale Nusa Dua, Balinese Art at Agung Rai Art Museum.
Land of smiles, Thailand has many traditions and culture and Thai culture is known for hospitality. Ancient Buddhist temples, spiritual ceremonies, unique floating markets and Thai cuisine are some things that you should not miss.
Cultural Activities in Thailand: Thai massage in the grounds of Bangkok's oldest temple, learning how to cook authentic Thai food, discovering Jim Thompson factory's local silk-making community, Maeklong railway market. 
VERDICT: Bali and Thailand both have their own beautiful culture and traditions which offer amazing experiences for travellers.
Where Do You Get Better Accommodation Options – Bali Vs Thailand
In Bali you can get reasonable options for accommodation whether you choose Dorm rooms, homestays, guest houses, private villas or luxury hotels. 
The accommodation costs in Bali range from 20 USD to 350 USD per night. Guesthouses, homestays and small hotels will cost 10-20 USD per room, luxury hotels are affordable and cost 70 USD- 150 USD per night and high-end luxury hotels or villas will cost 150 USD – 350 USD per night.
Thailand gives you different options for accommodations from low priced hotels to luxurious stays. You can choose guesthouses, dorm rooms, hostels and luxurious hotels and resorts.
The cost per night for an accommodation in Thailand ranges from 15 USD to 400 USD. Hostels, guesthouses, and small hotels are very cheap and you get it at 8-20 USD per room. There are also some hostels where you can spend just 5 USD per night. The luxurious hotel costs you around 400 USD per night.  
VERDICT: Thailand and Bali both are very reasonable and budget-friendly in providing good accommodation but Thailand is slightly cheaper than Bali.
Ease of Travel: Bali Vs Thailand
There are multiple options of transportation when it comes to traveling inside Bali. You can choose to rent a motorbike, public bus, private bus, taxi, and also you can rent a car to drive. Motorbike rental costs between 4 to 10 USD per day.
While exploring cities in Thailand you can get transportation facilities like taxi, tuk-tuk (3 wheeler), motorcycle, Bangkok BTS Skytrain, bus, train, minibus. A taxi ride for 20 kilometers costs you around 5 USD. 
VERDICT: Bali and Thailand both are very easy to explore with many accessible transportation facilities at reasonable charges.
Bali Vs Thailand: Which Offers Better Shopping Experience?
In Bali you can find fascinating shopping experiences and authentic souvenirs. You can buy handbags, traditional batik fabrics, sweet pie,  Bali Banana Cake, Bali Tees, local pastries, organic coffee, wine, handmade silver jewellery, spices etc. Also, the prices of these products are very low.
Recommended Places for Shopping in Bali: Sukawati Art Market, Sindhu Market,  Threads of Life, Kharisma Antiques Bali, Seminyak Village. Ikatbatik.
Thailand is known for one of the most favourite shopping destinations. You can buy silk products, incredible ornaments, Thai spices and sources, Lacquerware, Elephants as Souvenirs (symbol of Thailand), Ceramics and Pottery, etc.
Recommended Places for Shopping in Thailand: Phuket Weekend Market, Phuket Walking Street, Central World (Bangkok), Rot Fai Market in Srinakarin (Best night market), Asiatique the Riverfront, Pattaya Floating Market. 
VERDICT: Bali and Thailand both offer excellent budget-friendly shopping experiences
Safety in Bali VS Thailand
Bali is safe for all kinds of travellers except for petty crimes, thefts and common scams like ATM skimming. So, you need to be a little bit careful with your valuables and cash as a traveller.
Thailand is safe for travellers but some parts of Thailand faces threat of terrorism and several small explosions. So, you have to keep updating yourself about this before visiting Thailand. Along with this, expect petty crime in tourist areas.
VERDICT: Bali is safer than Thailand as explosions occurred in various parts of Thailand.
Which is Best For Family Vacation – Bali VS Thailand?
Bali is one of the most popular family vacation spots to enjoy. With your family, you can explore mesmerizing tropical beaches, adventure spots, valleys, underwater dives, waterfalls, breathtaking adventure sports to tranquil ancient temples. 
Thailand is best for backpackers and also it is considered as a backpackers party hub. But there are some places in Thailand along with beautiful beaches that are family-friendly. 
VERDICT: Bali is way more family-friendly vacation destination than Thailand.
Bali Vs Thailand– The Dreamy Destination for Honeymoon Couples
Bali is best for honeymooners to enjoy world-class accommodation, exciting water activities for surfers, spa, ceremonies, gorgeous beaches, resorts and amazing budget-friendly honeymoon packages. 
Thailand is also one of the best places for couples to spend time at beaches with a romantic atmosphere. Along with that water activities are there to have some thrill. After sunset, couples can witness the wildest and craziest nightlife in Thailand.
VERDICT: Bali and Thailand both are excellent for honeymooners. But if you want to enjoy the most happening and wild nightlife, Thailand is a better choice.
COVID Quarantine Conditions and Travel Restrictions
While planning a trip to Bali, you should be fully vaccinated and must have proof in order to travel. Who have got infected within 30 days before travelling must produce medical proof/official letter and they will be exempted from PCR test 48 hrs before the departure.
From 1st October 2022, travelers can freely explore Thailand without any restrictions. Travelers entering the Land of Smiles are no longer required to show Proof of Vaccination or COVID-19 test results.
Bali and Thailand, both are excellent places for a great vacation. However, Bali is the best choice for family vacation and honeymoon. Whereas, Thailand is best suitable for backpackers and couples who want to enjoy the happening nightlife.
We hope now you are clear about your next beach vacation destination. What is your personal choice – Bali or Thailand?
Happy Wayfaring!