Backpacking to Gili Trawangan can prove to be a wonderful experience. Popularly known as Gili T, this place is the largest of the three Gili Islands. The other two being, Gili Air and Gili Meno.
All three of these sister islands together comprise an important part of the Indonesian archipelago. Out of the three Gili Islands, Gili Trawangan is the most popular amongst backpackers and solo travelers. Gili Air and Gili Meno, though extremely beautiful islands, are more secluded. Therefore, they are more of a couple and honeymoon getaway.
With all the parties, late nights and crazy water activities, Gili Trawangan is like the wild but responsible child of the three sisters. It is for this reason that backpacking to Gili Trawangan becomes such a pleasurable activity.
In my current blog, I will share my Gili Trawangan backpacking experience with you along with all the other important travel information. This will include the budget breakdown as well. I hope that my experience at Gili Trawangan helps you plan your trip better.
Also useful:
Beach and nature retreat itinerary for Lombok
Backpacking to Gili Trawangan
As someone who absolutely loves the ocean, backpacking to Gili Trawangan from Mumbai (my home city) was one of the best decisions I've ever made.
Along with a friend, I planned a dive trip to Gili Trawangan. This place will always be close to my heart as it was here where I got certified as an advanced open water scuba diver.
Even though our main purpose of the trip was a dive trip, we also enjoyed the unique island culture that Gili Trawangan displayed.
From scuba diving to simply chilling on the beach, from tasting different types of cuisines to street shopping, we tried to do it all and our experience was an absolute blast.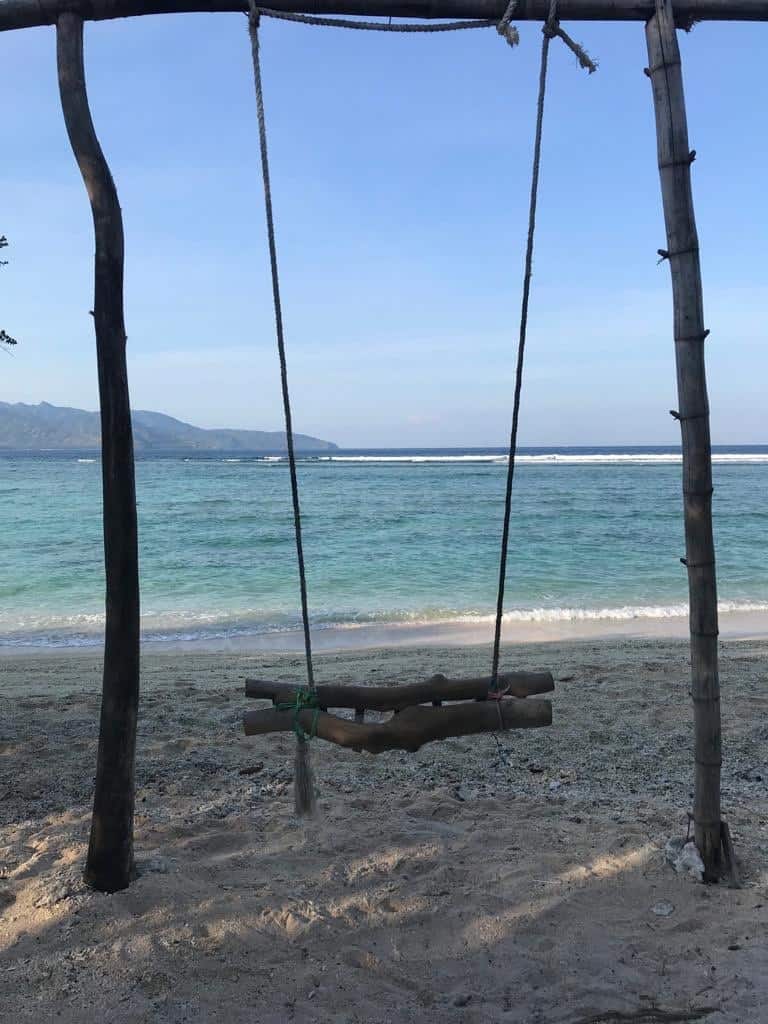 A lone swing at one of the seaside locales at Gili Trawangan. Things like this add to the leisure of a trip. I've been lucky to have come across the most interesting sights during my backpacking trip to Gili T. Picture credits: Tanvi Gautama
Imagine hearing a different song every time you walk past the wilderness. Imagine inhaling all types of delicious aromas from the eateries you stop by.
Imagine experiencing a vibrant culture full of colours, music and light. Imagine experiencing the tranquillity of the blue ocean waters. It is mystical.
I know, I have gone all John Lennon on you but that is exactly what backpacking to Gili Trawangan feels like.
Essential Travel Information for People Backpacking to Gili Trawangan
Gili Trawangan is a small island that is around 3 km long and 2 km wide. This means that you can either walk around the entire island in approximately one and a half hours or cycle around in about thirty minutes. 
This is how big Gili Trawangan is as a locale! It was meant as sarcasm. It's quite small.
As a traveler visiting Gili Trawangan, you should be aware of the basics of this locale. It will help you understand the region better.
Location
Northwest coast of Lombok in Indonesia
Best time to visit
The dry season of June to September
Accessibility
Throughout the year
Currency
Indonesian Rupiah (IDR)
1 USD = 14202 IDR
1 EUR = 15922  IDR
1 INR = 205 IDR
(These are the exchange rates at the time of my travel. They are subject to fluctuation in the future. So do check with the current day exchange rates)
Language
Bahasa Indonesia is the official language. However, English is also widely spoken
Accommodation options
Hostels and Homestays make for budget stay options. They are extremely nominal.
Food availability options 
Restaurants, cafes, street food, night market
Transportation on the island 
Walking, cycling, horsecart
Safety level
Very safe for travelers. However, beware of natural calamities
Adventurous activities to try
Free diving, scuba diving, snorkelling, surfing, kayaking
Shopping tip
Avoid buying clothes, footwear and even souvenirs from Gili Trawangan. The reason being, the variety is very less and costs unexpectedly high. Shop this stuff from mainland Lombok.
Important travel tip
Drugs are readily available in the region. But you are not to consume them because the drug laws are extremely stringent in Indonesia.
Now that I've shared the essential travel basics, let me elaborate on the budget of your trip.
As a budget traveler, I suggest that you don't spend more than 12,318,054 IDR for a 5 to 6 day trip. This should include flight tickets, accommodation, adventure sports and sightseeing.
Since I traveled from India to Gili T for 5 complete days, it cost me 60,000 INR (12340777.42). If I were to convert it into US Dollars, this would amount to 853 USD. In Euros, this will amount to 761 EUR.
I could have further reduced the cost but since I had my diver's certification course, it cost me more.
Complete Budget Breakdown for Backpacking to Gili Trawangan
The budget for any backpacking trip is of paramount importance. The more money you can save without having to cut down on locales and activities, the better it is for sure.
Let me break down the budget for you below. The costs of various things mentioned are based on my own travel experience. Thus, you can reduce them even more.
Accommodation
Budget stays are in plenty at Gili Trawangan. The starting price for most hostels will be around 117,404 IDR. If you prefer a homestay in a shared accommodation arrangement, it'll cost you around 30,000 IDR.  If you need the entire place to yourself, you will end up spending at least 400,000 IDR. Mind you, these prices are just for a night.
Food 
On average, you can consume a delectable meal at a low to the moderately expensive eatery for around 30,000 IDR. If you're a street food lover, this cost will be reduced to less than 15000 IDR. Dining at plush restaurants or lounges will cost you a lot of money. All thanks to taxes that the Government levies there.
Bottled water
If you don't want to consume normal water, you need to spend on bottled water. This will cost you around 5600 IDR per bottle.
Transportation
Transportation will comprise the bulk of your expenses because it will include both external and internal transport. External transport in the form of flights will cost you much more than internal transport. A good way to strike deals here is by booking months in advance or traveling off-season. Internal transport expenses will come in the form of bike rentals (if you prefer them). They cost as little as 32,000 IDR. Alternatively, you can hike around.
Adventure sports
The two most common adventure activities are scuba diving and snorkelling. Scuba diving will cost you around 450,000 IDR and snorkeling will cost you about 15,000 IDR. 
Note: Planning a budget trip to Gili Trawangan is not hard at all as long as you're willing to be flexible with your accommodation and do not mind trying the local street food.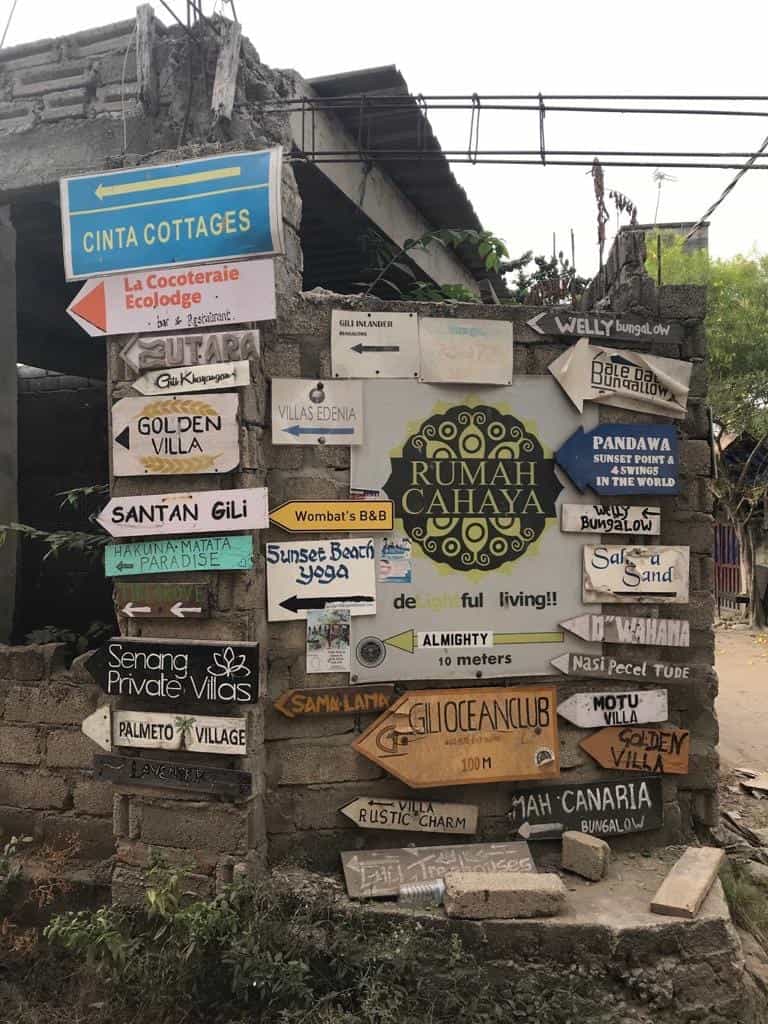 Sign boards to various places along a lane in Gili Trawangan. The locale is as spontaneous as these sign boards. You never know what you might find on your next step. Picture credits: Tanvi Gautama
Gili T is a gorgeous island that offers all types of beautiful locales, restaurants, cafes, pubs and 24 hour convenience stores.
Free wifi is available in almost every eatery and ATMs can be spotted throughout the busy areas of the island.  Basically, anything you need as a traveler will be available to you here.
Backpacking to Gili Trawangan is a must for all individuals who are looking for fun daytime adventures and exciting nightlife vibes.
How to Reach Gili Trawangan?
In order to reach Gili Trawangan, you need to board a flight to Lombok from the nearest airport from your home city. In my case, it was Mumbai in India.
Once you reach Lombok Airport, hire a cab to reach the Public Boat Harbor Ward at Bangsal Pier. This journey will take around an hour and a half.  From Bangsal pier, either take a public ferry to reach Gili Trawangan or take the tourist shuttle to reach Gili Trawangan.
Route from Lombok airport to the Public Boat Harbor at Bangsal Pier to finally Gili T. Map credits: Google
The route is simple and you will reach your destination with ease. Just make sure to know the timings of ferry service. Else, you might miss your chance.
The public ferry from Bangsal Pier to Gili T will take around 40 minutes. It will cost you 15,000 IDR (i.e. 1.06 USD or 0.94 EUR or 73 INR). The frequency of service is only twice a day – 7:30 am and 4: 30 pm.
Lombok Airport to Bangsal Pier in a cab will take around 90 minutes. It will cost you 250,000 IDR (i.e. 18 USD or 15 EUR or 1217 INR).
 A tourist shuttle from Bangsal Pier to Gili T will take around 25 minutes. I will cost you 80,000 IDR (i.e. 5.63 USD or 5 EUR or 389 INR). The frequency of service is only twice a day – 8:15 am and 4: 30 pm
My personal journey from Mumbai till Gili T comprised of the following stages.
Chhatrapati Shivaji Maharaj International Airport at Mumbai –> Zainuddin Abdul Madjid International Airport at Lombok –> Cab till Bangsal Pier –> Ferry from Bangsal Pier –> Gili Trawangan.
Traveling from Bali to Gili Trawangan
 In case, you are traveling from Bali to Gili Trawangan, you can hire speedboats or public ferries from either Padang Bai or Amed. Most individuals traveling from Bali are in Gili T for mini stays only.
Padang Bai to Gili T
If you are coming from Padang Bai, then you can use the Blue Water Express Speedboat which is a well known service. There are frequent trips between 9 am to 9:30 pm. It takes around an hour and a half from Padang Bai to reach Gili T. This will cost you around 450,000 IDR.
 You can also use the public ferry.  Travel time will be 8 hours. The ferry service is every hour. This will cost you 40,000 IDR.
Route from Padang Bai Port to Gili Trawangan via sea. You can opt for a speed boat or a ferry. Map credits: Google
 Amed to Gili T
If you are coming from Amed, you can use the Pascha Express Speedboat. There are only two trips that are made daily. One at 9 am and the other at 4 pm. The journey will take around 45 minutes. This will cost you 250,000 IDR.
Route from Amed to Gili Trawangan via sea. You can opt for the speed boat to reach Gili T. Map credits: Google
Transportation Tips for Reaching Gili Trawangan
 The following tips will help assist you throughout your commute. Make sure you follow them for a hassle free journey.
1. Negotiate cab prices
Getting a cab from the airport will be more expensive. Therefore, try to negotiate cab prices with the drivers outside the airport.
2. Haggle with the locals
It's a bit of a walk from the harbour to the ferry point. Haggle with the locals before letting anyone help you carry your bags.
3. Tip people for luggage
If you are carrying a lot of luggage to Gili T, then you will be expected to tip the people who help you carry it to the boat.
4. Know the harbour timings
Bangsal Harbour is only open from 8 am to 4:30 pm. So make sure you travel around this time only.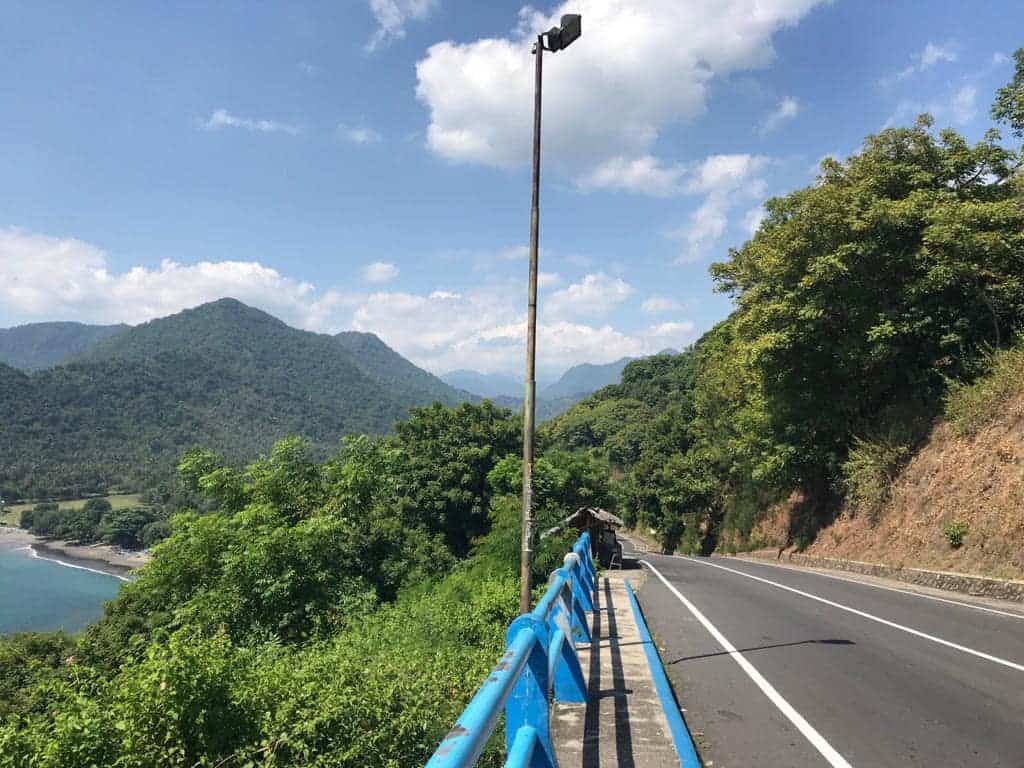 En route the Public Boat Harbor at Bangsal Pier from Lombok Airport. The entire journey offers picturesque views of lovely landscapes. Picture credits: Tanvi Gautama
In recent times, the Gili Islands have become a buzzing destination for travelers from around the world.
These eco-friendly islands boast of white sand beaches, and coconut palm trees swaying in the gentle ocean breeze and are widely known for their healthy coral reefs.
This makes the Gili Islands a popular hotspot for scuba diving. Whether it is a boat dive, a shore dive or a wreck dive, the Gili Islands have it all.
Where to Stay in and around Gili Trawangan ?
Gili Trawangan is a haven for budget travelers. Not only are most properties on this island extremely cheap but they are also quite good.
You can choose to stay at this homestay known as the Little Woodstock Homestay. It is a  bedroom house with free wifi in all rooms and common areas. It's quite safe and is located centrally from most touring spots.
You can easily get a room with less than 113213.32 IDR at the Little Woodstock Homestay. This is just 550 INR  or 7.83 USD or 6.99 EUR. 
You can also bunk in this sweet little place known as the Panda Cottage. It will prove to be a full value for your money.
For a place that comes as cheap as 123599.01 IDR (600 INR or 8.54 USD or 7.64 EUR), Panda Cottage has a lot to offer. Right from air conditioning to transport services to free wifi, this place has it all.
Even family rooms are available here and not just beds for backpackers.
Adventure Activities to Try While Backpacking to Gili T
Being an island destination, Gili Trawangan has a number of adventure activities to offer. Two of my personal favourite are scuba diving and snorkelling.
The waters around the island are crystal clear. Therefore, there are a plethora of diving spots here. Every year more and more backpackers arrive here to get professional licenses for scuba diving.
Well, I am one of those people as well.
Scuba Diving at Gili T
Gili Trawangan is an island full of surprises when it comes to scuba diving.
I saw my first adult black tip reef shark on one of my dives in Gili T.
Diving gear and equipment. Once it is on, divers are ready to take the plunge and go inside water. Try not to panic. Otherwise, you will overuse your oxygen. Trust me, you'd want to save it. Picture credits: Tanvi Gautama
I did my PADI advanced open water course while backpacking to Gili Trawangan. I did my course from Blue Marlin Dive which is a 5-star rated PADI dive shop.
Since Gili T is such a small island, the dive shops have a shared understanding of the prices of their dives. This means you can go to any dive shop as the prices are more or less the same.
Essential travel information about Scuba Diving at Gili Trawangan
You have a variety of dive sites you can choose from and you never know what you might end up seeing out there in the deep blue sea.
Let me provide some useful travel information pertaining to diving at Gili T.
Dive Shops
Blue Marlin Dive and Manta Dive Gili Trawangan are two of the most popular dive shops on the island.
Water Temperature
If you do not prefer wearing a wet suit then you can you easily wear a rash guard as the waters are usually 26-28 degrees
Dive Sites
 I dived at Sunset Point, Shark Point, and Bounty Wreck and also managed to do a shore dive. There are plenty of dive sites which you can figure out from your dive shop.
Equipment:
Do not worry about this, as most of these dive shops include full equipment in the price or you can always rent it out.
Tip
Avoid consuming alcohol before diving. You will not be permitted to dive in case you do.
 Note: If you are absolutely certain about scuba diving, make sure to book your dives online. You might get better deals. 
Getting your scuba certification in Gili Trawangan is actually a great idea considering the waters are warm and calm. You have a visibility range of 30 mts at times and an abundance of colourful marine life all around you.
Could you find a better classroom? I assume not.
 Snorkelling in Gili Trawangan
 There are multiple speedboats which organize snorkelling trips every day. They even rent out fins, masks and a snorkel in case you do not have the required equipment.
These trips take you to three points during the day. Lunch is included in the overall price. Snorkelling in the Gilis is a wonderful activity that you must go through.
Near Gili Meno (the boat will take you here) is an underwater sculpture of lovers holding each other. Diving here is not possible as it's very shallow so snorkelling is your best bet.
In case you are not a strong swimmer, do not fret as there is an always option of using a life vest.
The Underwater Sculptures at Gili Meno have become a hotspot for snorkeling enthusiasts. Depicting a circle of 48 life-size figures, standing together and curled up on the ground, the piece is expected to become covered in corals. Picture credits: Tanvi Gautama
Your backpacking trip to Gili Trawangan will turn out to be a lot better if you are aware of some handy tips. These will help you save a lot of hassle.
Travel Tips for Backpacking to Gili Trawangan
The following travel tips should be kept in mind at all times.
No drugs
Do not consume drugs as Indonesia has a very strict policy against it.
No alcohol for divers
Do not consume alcohol before or in between your dives.
Use booties
The beaches have broken corals on the shore. Therefore it's advisable to use booties if you want to take a dip.
Pay for beach lounging
If you just want to lounge on the shore with a sun umbrella, you will have to buy something from the restaurant as they belong to private hotels.
Pay tips
Always tip the local people who help you out.
Don't litter
Please do not litter around the island. Also, avoid using plastic at any cost.
Carry a steel bottle
 Being an island, Gili T can dehydrate you. So carry a steel bottle that you can refill at places.
Stay hydrated
Stay hydrated at all times. After all, you're living on a sunny island. Allow water is your best friend.
Apply sunscreen
Sunscreen is important in the tropical climate of Gili T. If possible, use a reef safe one.
Carry medicines
Make sure to carry your own medicines to avoid any hassle. Gili T comprises of a lot of cats. So watch out for allergies.
Your backpacking trip to Gili T cannot be deemed complete until you lounge at a beach on a hammock. This picture aptly describes the ambience of this pretty island destination. Picture credits: Tanvi Gautama
5 Things to Do in Gili Trawangan as a Passionate Traveler
There is no dearth of things that you should be doing as a traveler at Gili Trawangan. However, the 5 things that you should most certainly pursue are mentioned as follows.
Go cycling around the island
Rent a cycle and go across the island, witnessing its many beaches and landscapes.
Take a plunge and dive underwater
If you're at Gili T, you must definitely go underwater and tour amidst the marine life.
Watch a movie at the beach
A lot of beaches in Gili T host movie nights. Go watch a movie by the sea for free.
Eat at the night market
Market Square in front of the boat pier on Gili Trawangan is a venue for the daily night market. Eat your heart out there.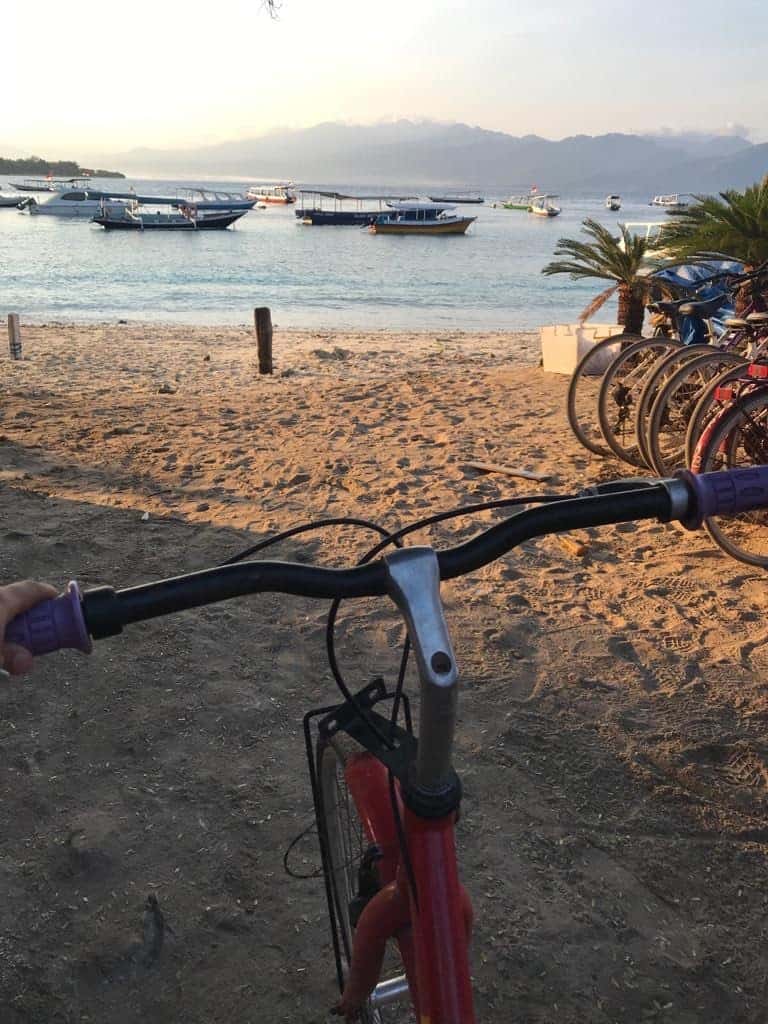 Cycling across Gili T can be an absolutely fun-filled activity. Not only can you circumnavigate the entire island but also witness majestic views. Just rent a bike and go island voyaging. Picture credits: Tanvi Gautama
Backpacking to Gili Trawangan has been a really nice experience for me.
Spending time by the seaside, exploring the depths of the ocean world, feeling the nature around and connecting with my inner self have been the highlights of my trip.
You should plan a trip to the region soon and find out its beauty for yourself.
Happy Wayfaring 🙂