Backpacking to Cat Ba Island was never a part of my bucket list. However, a little research led me to it. Eventually, I managed to make sense of its perplexing geography. This paved the way for me to go backpacking to Cat Ba Island and I ended up having one of the most memorable trips of my life.
I guess some things just happen to you. They happen to you in the most unexpected ways and the best way to enjoy them is by embracing them. This is my story of going backpacking to Cat Ba Island. I'd always heard lots of wonderful things about Cat Ba Island. I just had to visit there myself to believe all that beauty present.
Cat Ba Island is surrounded by emerald blue seas. It comprises lush green rainforests and sky-rocketing limestone islands. The offbeat travel lover that I am, I ended up searching for an alternative (to the commercialized Ha Long Bay) and that is how I managed to go backpacking to Cat Ba Island.
Backpacking to Cat Ba Island – An Overview
Vietnam is undoubtedly one of the most beautiful travel destinations in South East Asia. With beautiful beaches, busy cities and lush green countryside, Vietnam has plenty to offer to a traveller. Cat Ba Island is one such relatively unknown yet beautiful destination. Although Cat Ba Island is an easy destination to travel to, knowing some key points will help you plan a better trip.
Country
Vietnam
Ideal travel duration
3-4 days
Best time to visit
September-November (The weather is pleasant, and rain isn't as frequent.)
Currency
Vietnamese Dong (1 USD = 23,000 Dongs)
Visa Requirement
Vietnam offers Visa on Arrival to a large number of countries.
Safety
Cat Ba is one of the safest places I have ever been to as a backpacker. At all points, I felt safe irrespective of the time and place.
Accommodation
Since Cat Ba is frequented by the youth and backpackers, a number of affordable hostels have come upon the island.
Eating options
Delicious food is found in a large number of cafes serving a wide variety of cuisines. Also, vegetarians won't face a problem in this part of Vietnam.
Ideal means of transport
Renting out a two-wheeler is the best and the cheapest way to travel around in Cat Ba.
Must-do activities
Full day Lan Han Bay to Cat Ba Island cruise trip that includes pick up, lunch, kayaking and cycling.
The Ha Long Bay region is situated in the northeastern part of the Socialist Republic of Vietnam. This beautiful region principally consists of three bays – the popular Ha Long Bay in the centre, Lan Ha Bay to the southwest and Bai Tu Long Bay in the northeast.
Now, a number of websites and blogs will tell you that Cat Ba Island is situated in Ha Long Bay. That is not completely true. What they mean is that Cat Ba Island is situated in the Ha Long Bay region. Cat Ba is the biggest out of the 366 gorgeous islands that make up Lan Ha Bay.
Lan Ha Bay is gradually gaining popularity, but it continues to be a great option for those who like quiet and untouched locales. This is how backpacking to Cat Ba Island happened to me.
How much does it Cost to Go Backpacking to Cat Ba Island?
Having a pre-defined budget is an extremely important component of any backpacking trip. Therefore, let me share the tentative costs of all the expenses that you might incur on Cat Ba Island.
The currency I used was the Vietnamese Dong. My home currency is the Indian Rupee (INR). However, I will share the budget in all three currencies below i.e. Vietnamese Dong (VND), US Dollars (USD) and the Indian Rupee (INR).
At the time of my backpacking trip to Cat Ba Island, the exchange rate between the three currencies was as follows – 1 USD= 23172.82 VND and 1 INR = 336.52 VND.
Let me now share my detailed budget breakdown with you so that you get a rough idea as to how much money is needed for taking a budget trip to Cat Ba Island.
Accommodation
A decent room at a hostel cost me 116057.50 VND (5 USD; 344 INR) per night. Three people could be accommodated in this room.
Food
You can have a fairly good meal in Cat Ba for about 92834 VND (4 USD; 275 INR) per night.
Bottled water
A 1-litre bottle of water will roughly cost you 5000-10000 VND (20-40 cents; 14-28 INR) depending on where you buy it from.
Beverages
A glass of local beer generally costs about 23200 VND (1 USD; 70 INR) in cafes and restaurants.
A cup of cappuccino and a glass of fresh fruit juice would roughly be priced at 34812 VND (1.5 USD; 105 INR).
Internal transport
Renting a two-wheeler will cost about 116057.50 VND (5 USD; 344 INR) per day in the offseason, and 185692.00 VND (8 USD; 550 INR) per day in peak season.
Taxis in Cat Ba are generally not metered and expect to pay a minimum of 50,000 VND (2.15 USD; 148 INR) for short distances.
Sightseeing
Most entrance tickets (for example, to Cat Ba National Park and Cannon Fort) cost 40,000 VND (1.75 USD; 118.6 INR).
Boat tour
This depends on the type of boat, the duration, the level of luxury, etc.
The boat I opted for costs 1,000,000 VND (43 USD; 2965 INR) for a day. I had the boat all to myself.
Overnight Cruise trips cost anywhere over 1,856,680 (80 USD; 5500 INR).
Additionally, activities like kayaking, cycling, snorkelling, and rock climbing are included in most of these packages.
Having a fixed budget always helps on a backpacking trip. That way you get to spend more in times of emergency. As a backpacker traveling solo to Cat Ba Island, please make sure that you don't waste money on frivolous things.
Stay cautious of what you are spending and where you are spending. Writing up each and every expense will help you a lot in deciding your next spending. Try this out and see for yourself.
The Real Deal: Is Cat Ba Island Worth Visiting?
Backpacking to Cat Ba Island was one of the warmest experiences I've had, despite the cold temperatures. Stay is cheap, food is delicious, local people are hospitable.
I would not be lying when I say I did NOT want to leave Cat Ba. I fell so much in love with the Utopian island, that I went to the extent of finding out long-term lodging prices at my hostel.
I mean, where else in Southeast Asia would a vegetarian be spoilt for food choices?
So now that we are clear that backpacking to Cat Ba Island is totally worth it, let us find how the most exciting places to visit in the region.
Beautiful Places to Visit & Things to Do while Backpacking to Cat Ba Island
There's much more to Cat Ba Island than just marvelling at the sight of limestone Karsts.
What I love the most about Cat Ba is its diversity. Despite being surrounded by water, it does not limit you to activities like snorkelling, kayaking and diving only. There is so much more to do.
Here is my personal recommendation of places that you most certainly should visit –
Cat Ba National Park
Cat Ba National Park spans an extensive part of Cat Ba Island. It is home to thousands of species of plants and animals – some that are even endangered.
There are a number of hiking trails that you can choose from at the national park, depending on the difficulty level. The view from the top is absolutely stunning. It's a sight that comes with unimaginable shades of green.
An alternate trek takes you to the fishing village, which I missed out on because I was late. Make sure you reach the park by 8 am if you intend to go on this trek.
Tip: Carry sufficient quantities of water and energy-inducing snacks like fruits, chocolates and energy bars.
Timings
8 am to 5 pm
Getting there
Rent a motorbike, hop on to a motorbike taxi, or take the public shuttle bus that departs from Cat Ba Town.
Entrance fee
40,000 VND (I.72 USD)
Must carry things
Water, food, poncho/windcheater, cap, camera, hiking shoes, first aid kit.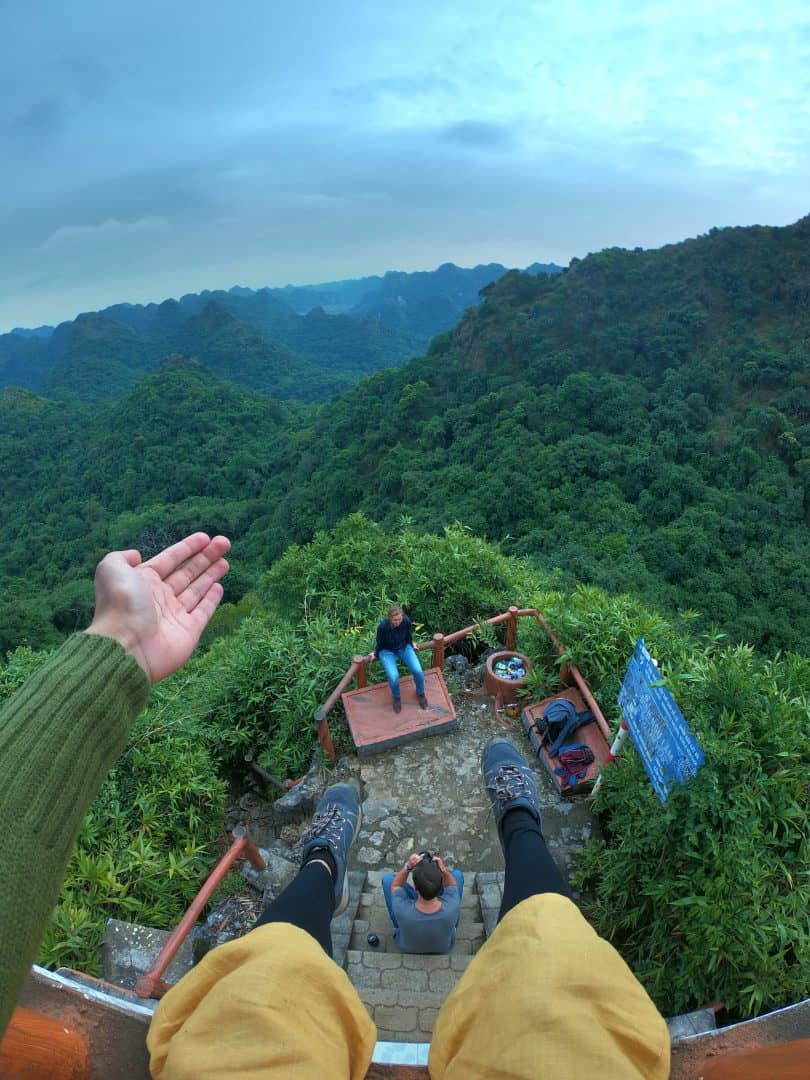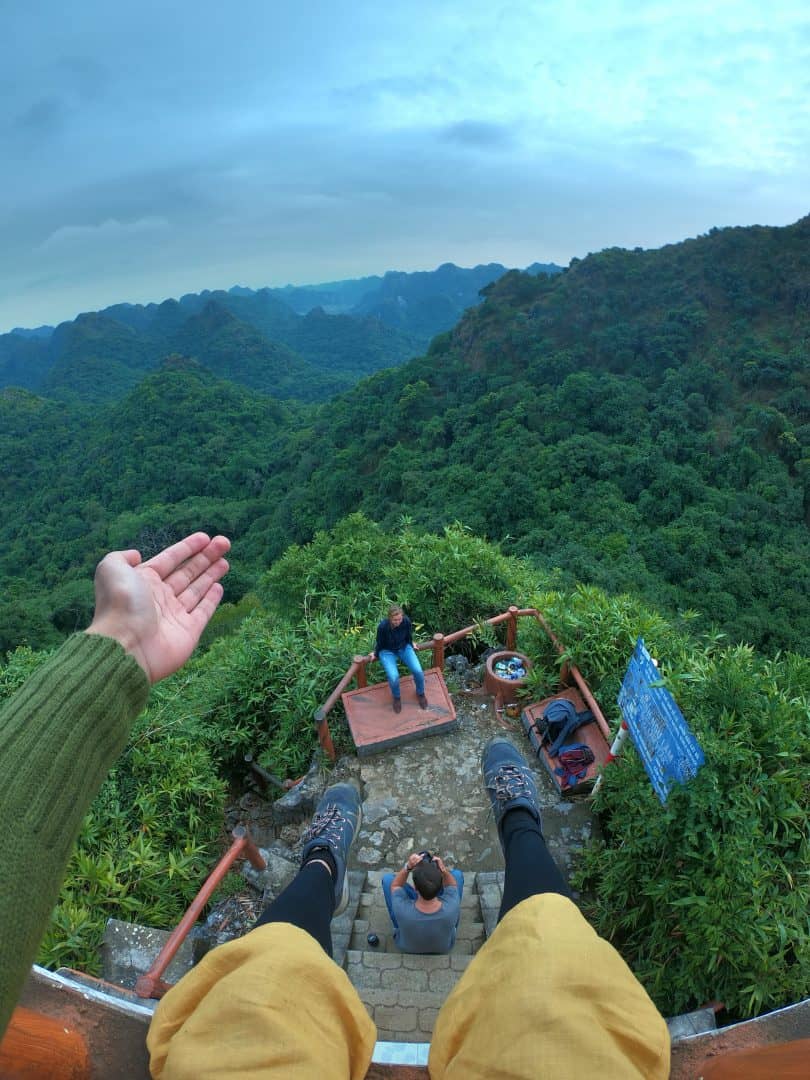 Trung Trang Caves
An uncommon and unique place to explore while backpacking to Cat Ba Island is the Trung Trang caves. They fall on the way from Cat Ba National Park to Cat Ba Town. A ticket to the Park will grant you free entry into these caves.
Locally popular by the name "golden treasure," the Trung Trang caves are a hoard of natural stalactites that evolved over millions of years. 
Not all travel guides and locals will urge you to visit these caves, but I would. For a brief two hours, I almost thought of myself as living in the Paleolithic Age – it was surreal.
Tip: Beware of birds, insects and bats that might greet you as you squeeze your way through the caves.
Timings
7 am to 5 pm
Getting there
Visit while you're on your way to or on your way back from Cat Ba National Park.
Entrance fee
A ticket to the national park would suffice.
Must carry things
A torch to help you navigate in the dark.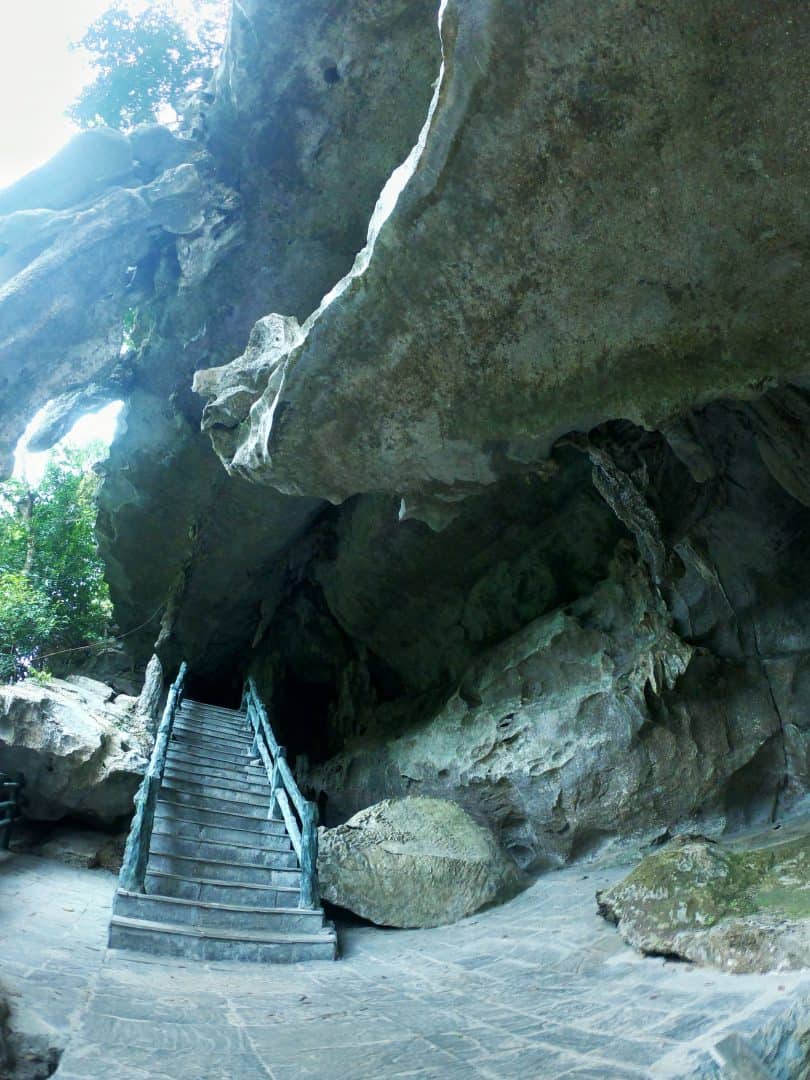 Cannon Fort
Cannon Fort is a site oozing with historical significance, and it doesn't stop there. It offers panoramic views of clear blue waters, that no photograph can do justice to.
The Vietnamese took advantage of its strategic position back during the Vietnam War. To get a stronger feel of its history, you can explore some of the tunnels scattered across the fort.
Due to the increasing number of tourists, the fort now also features a museum and a cafe.
Tip: Carry a few cold drinks and snacks that you can binge on as you watch the sun go down. The cafe here is well-equipped but on the pricey side.
Timings
7 am to 6:30 pm
Getting there
You can either ride up on your rented scooter, hire a taxi or hike through steep, narrow alleys if you're fit enough.
Entrance Fee
40,000 VND (1.72 USD)
Must Carry Things
Food and drinks, a camera and sufficient time.
Cat Ba Island Boat Tours
What I love the most about these Cat Ba island tours is that they're a complete package. They don't end at just chilling in the boat and making your way back to the town.
On the day of the boat tour, we started our day at about 9 am. Our guide picked us up at the hostel and drove us to the pier.
You do not need to restrict yourself to simply staring at the limestone mountains from a distance, you know. You could sail closer to these islands, and even be on a few of them. How does that sound?
Leaving Cat Ba without embarking on an adventure of the sort would be sad, you know.
Tip: There are cheaper options available for taking a boat tour. Make sure you ask around before making a choice (I ended up touring around in a relatively expensive boat, for I didn't do my research properly).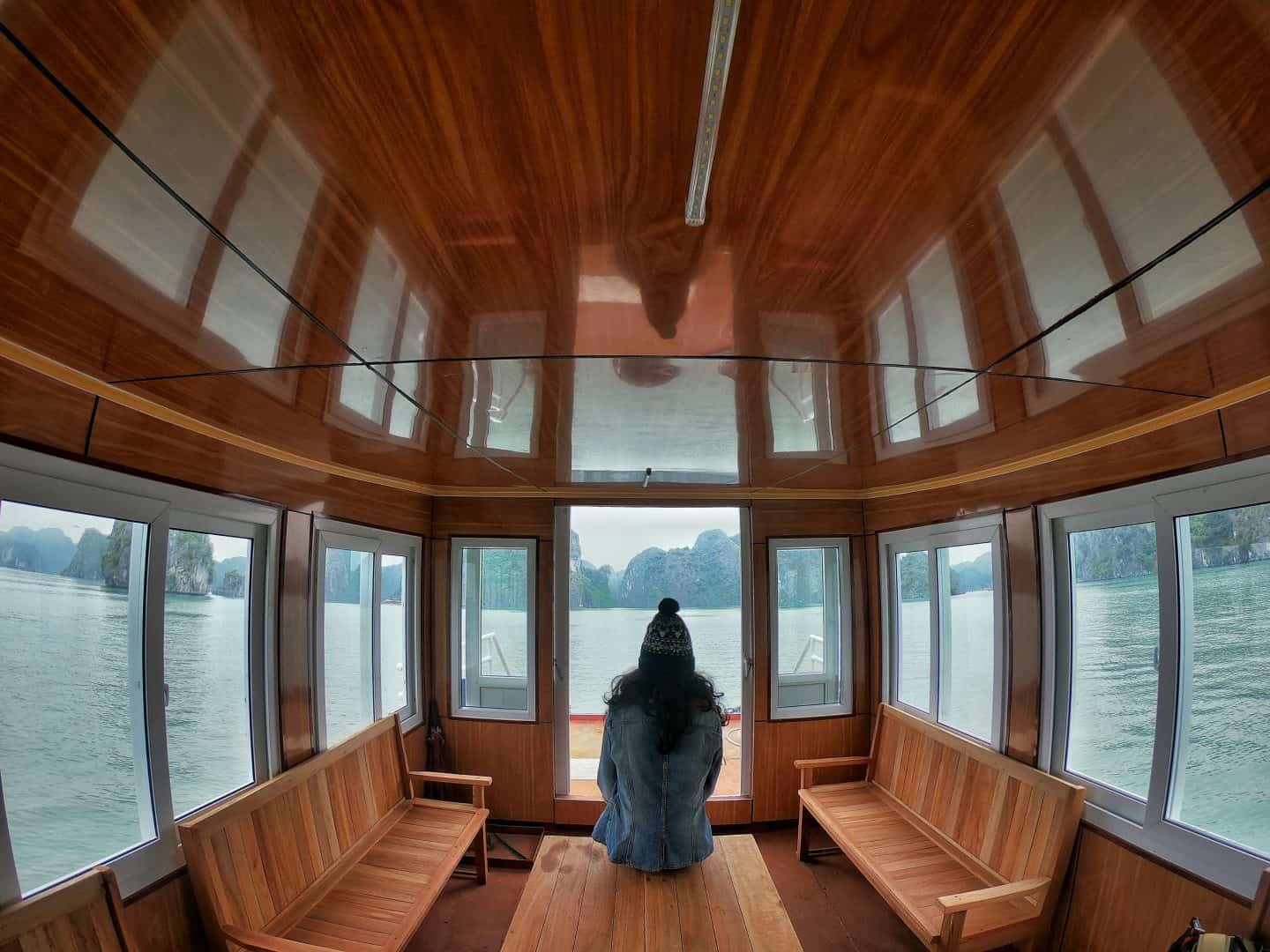 Floating Villages
It was eye-opening to see the numerous floating villages that marked my way.
Imagine living life on the water. I couldn't stop thinking about the kind of life the natives lead in Cat Ba.
Do they read the newspaper? Do they cut cake on their birthdays? And finally, do they vote during elections?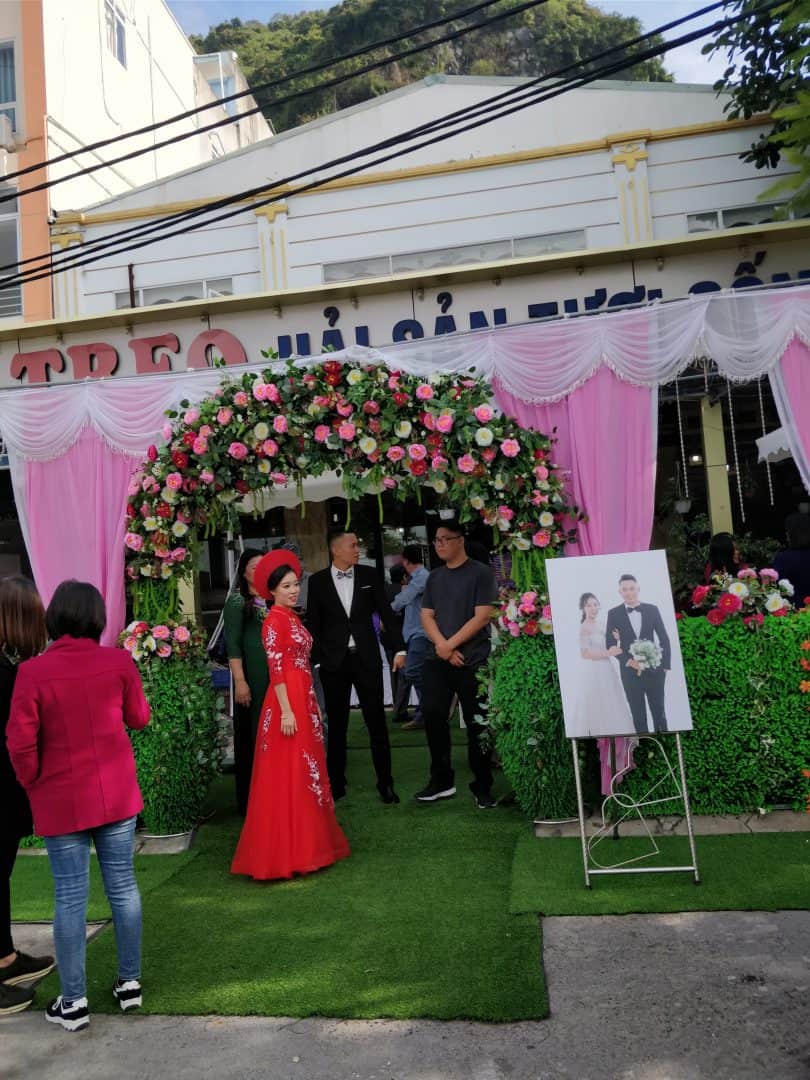 Kayaking
While around Cat Ba, go kayaking. We were then taken to a spot in the bay popular for canoeing, snorkelling and kayaking.
Life jackets and paddles were handed over, and we were ushered to a little kayak floating by the shore. We made our way through dark caves in the most isolated inlets of the bay.
The ice-cold water seeping through the kayak was numbing, but it didn't matter. What added to the beauty was the majestic cliffs staring down at me, and making me feel ridiculously small.
Tip: Carry a change of clothes. Spending the rest of the day in wet, damp clothes could be displeasing.
Cycling at Viet Hai Village
My first stop at the Island was Viet Hai village where I explored the entire island on bicycles. It's an eco-friendly and peaceful way of touring the island.
This was also where I had lunch. I was served the best fried rice I had in Vietnam on this very island. On request, the lady also peeled some fresh and juicy oranges for me.
Next, my guide asked me (in a very shy tone) if I'd want to try smoking tobacco the Vietnamese way. They (my guide and the lady) were absolutely delighted when I agreed.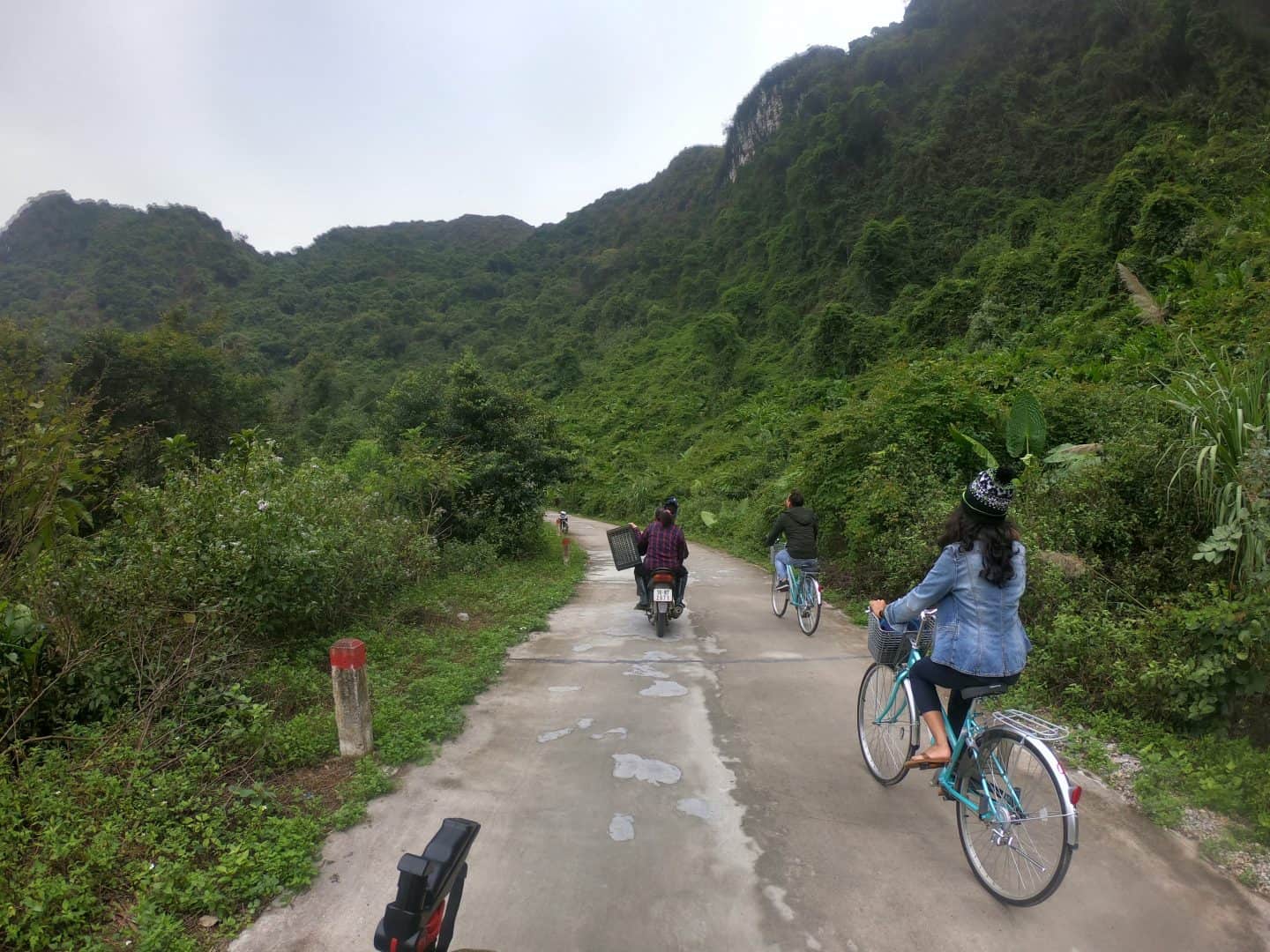 Fishing Village
Fishing villages are places where the economy almost completely depends on fishing. They are generally isolated, with tourists and locals stopping by to purchase fresh, cheap seafood.
Our guide led us to a huge fish that seemed like their catch of the day.
Tip: Wear a mask if the smell of fish irks you.
Monkey Island
In case you're wondering, this island is exactly what the name suggests. The island welcomed us with hundreds of monkeys, that seemed to be enjoying a regular lazy day by the beach.
There have been cases of these monkeys stealing from and harming tourists in the past. Why? Because human beings maltreated them and their ecosystem in the past.
Monkey Island is also popular for its spectacular views. Now, I wasn't prepared for this mini-trek through mucky trails and razor-sharp rocks. However, not going was not an option.
Carry shoes on Monkey Island
I wasn't aware that Monkey Island would require hiking. Therefore, ended up only with slippers on.
I started hiking up in my flimsy slippers – GoPro in one hand and the other holding on to the trees for support. The hike isn't difficult, but it is necessary to be cautious.
When I reached the top, I was left baffled. I completely forgot how terribly my slipper clad feet hurt, and how hungry I was. It was soon time to head down, for getting back before sunset was necessary.
My Cat Ba Island Tour was coming to an end.
Tip: Do not come in the way of the monkeys and they won't either.
3 Instagrammable Pictures to Capture while Backpacking on Cat Ba Island
In the contemporary world, Instagram seems to be a decent place for sharing travel pictures.
So, if you are one of those travelers who are on the lookout for pictures that are both fun and honestly captured, here are three ideas from Cat Ba Island.
Piping up at Viet Hai Village
Vietnam has a strong smoking culture amongst middle-aged and older citizens.
You'll find locals smoking tobacco using all sorts of pipes and equipment when you walk on the streets.
2. Enjoying lush green nature at Cat Ba National Park
Cat Ba Island is not just about water sports. It also offers a wide array of hikes, trails and viewpoints.
This is what made Cat Ba a complete package for me. One moment I was swimming by the beach and the next moment, I was hiking through the hills.
3. Taking a Feet selfie at Fishing Village's painted wooden plank
Everything about the fishing village was aesthetic.
The wooden planks we were walking on, were painted a beautiful colour. We simply couldn't resist clicking a picture.
These are a few ideas for your Instagram profile from my side. I am sure you will have even more ideas.
Feel free to share them with me in the comments section at the end of this blog.
Hiring a Travel Guide at Cat Ba Island
I know a lot of backpackers don't prefer hiring tour guides when exploring new places. However, what needs to be understood is that a native resident of a region who becomes a tour guide knows much more about his locale than we outsiders ever will.
Hence, we should surely hire a guide and explore a locale through him. Trust me, you will end up seeing and understanding so much more.
The day I took a boat tour was the time when I first hired a guide. Not only was he a wonderful man but also extremely knowledgeable and cooperative. I understood the region more because of his innate detailing.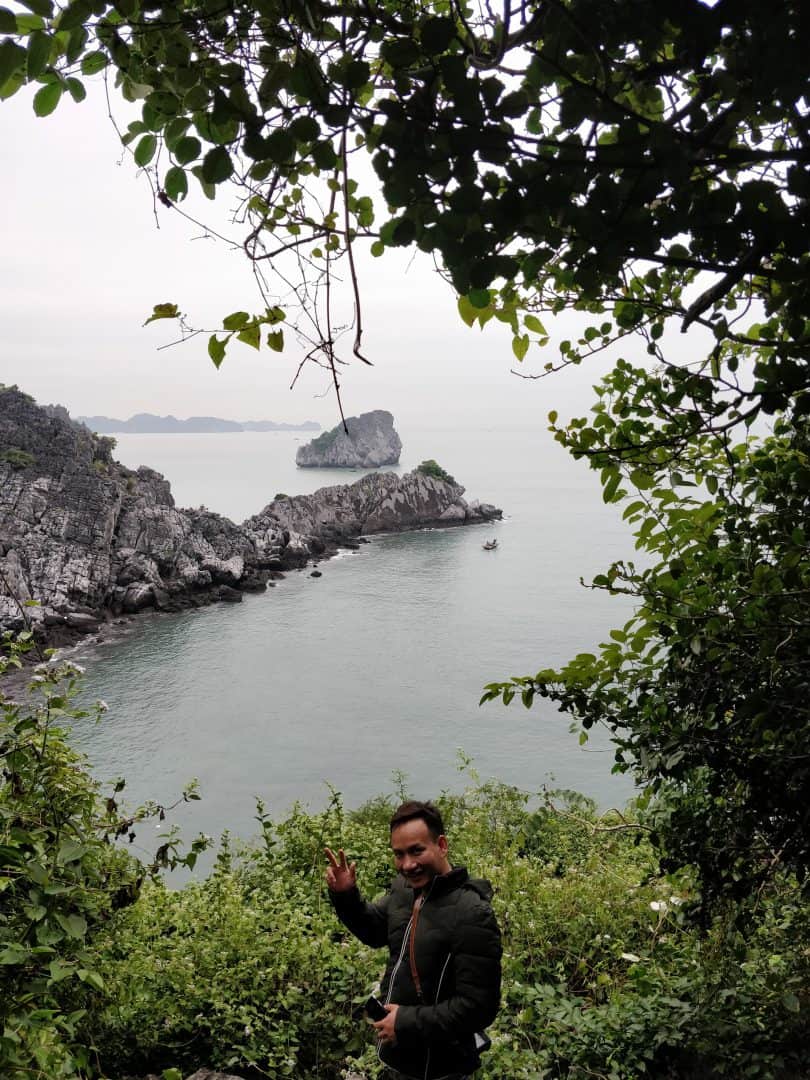 Where to Stay on Cat Ba Island on a Budget?
As usual, I showed up on the island with no idea about where I was going to stay. The bus dropped me on the main road, and I started walking around the town aimlessly.
A number of hostels and hotels marked my way. I finally decided to make my way into a cheap yet decent looking one – Cat Ba Hostel. It was within walking distance of the entire town. It also had English-speaking staff and came with free breakfast.
All it didn't offer was oceanfront views like a lot of other hostels. However, if you want to save money and travel on a budget like I did, this place is perfect.
Private Bedrooms
116057.50 VND (5 USD per night) for 3 people.
Dormitories
69634.50 VND (3 USD per night) per person
Tip: Try going backpacking to Cat Ba Island during the off-season. Else, expect substantially higher prices in peak months. By the way, I went backpacking to Cat Ba Island in the month of December which is considered to be off-season. 
In case you find Cat Ba Hostel occupied and fully booked, you can consider the following options for a budget stay-
If you're looking out for accommodation that's more exotic and secluded, you could head to one of the nearby islands.
Most of them can be accessed by boat leaving from Cat Ba Pier. However, be prepared to shell out more bucks at these solitary locations.
Eating Out on Cat Ba Island
You know, usually, when a traveler wanders off to an island, the craving happens for colder foods. However, my preference was entirely different. All I craved at Cat Ba was a hot coffee, a sandwich and some warmth. Reason being, the cold temperature.
Actually, I had met with low temperatures, gloomy skies and cold weather throughout my time in Vietnam. I hoped for sunny skies and higher temperatures because it's an island. I realized I was wrong the second I got off the bus, and disappointment followed.
However, after a little recuperation of my tummy, I was up and running.
Cafes and Restaurants at Cat Ba Island
After checking in to Cat Ba Hostel and freshening up, I ventured out in search of a cosy cafe.
A multitude of European looking cafes lined the streets. Weirdly, I wasn't sure if I wanted a baguette anymore. Most cafes had their menus chalked out on little blackboards put up for display.
I was spoilt for choice.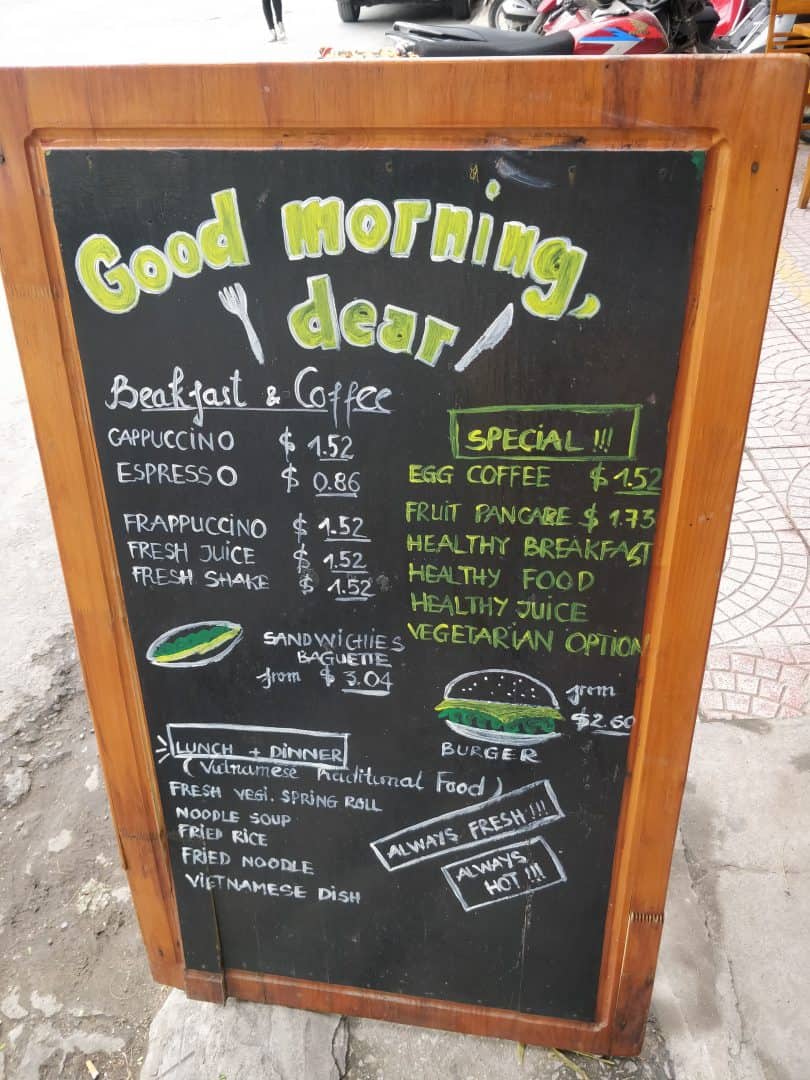 For breakfast, I decided to head to 'Like Coffee.'
A local that seemed to be the owner, ushered me to a cute yellow bench. 'Hey Jude' by 'The Beatles played at a low volume and I enjoyed an egg sandwich with a hot cup of coffee.
All of this costs just 58028.75 VND (2.5 USD).
Cat Ba was heaven in terms of its food offerings. I made it a point to visit a new food joint for every meal. It may I sound like I'm exaggerating when I say this but not a single place disappointed.
One fine meal consisted of a vegetarian pizza and cheesy French fries. Then followed spring rolls along with a blueberry smoothie, which was irresistible even in the cold weather.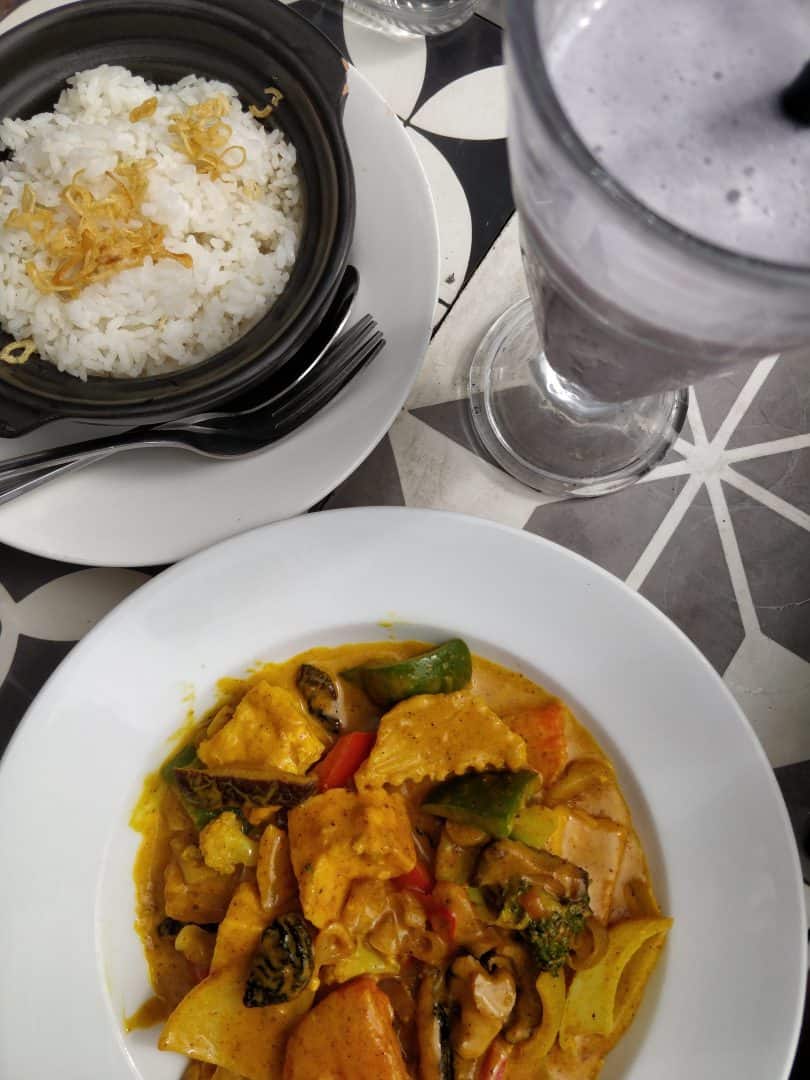 Stalls in Cat Ba also sell some great, cheap desserts. One of my favourites was a pancake that most street vendors sell from around 7 pm to 3 am. They have way too many flavours and variety on offer, and you MUST try it.
General Pricing of Cafes at Cat Ba
Here is a rough idea of how much eating and drinking stuff costs at Cat Ba Island.
A cup of cappuccino: 34817.25 (1.5 USD)
A glass of fresh fruit juice: 34817.25 (1.5 USD)
A vegetarian burger: 58028.75 VND (2.5 USD)
A glass of local beer: 23211.50 VND (1 USD)
Simple noodle/rice dish: 69634.50 VND (3 USD)
Thus, food is affordable at Cat Ba Island. If you can manage to get decent budget accommodation, your overall expenses won't hurt your pocket as a backpacker.
How to get to Cat Ba Island?
Despite being tucked away, backpacking to Cat Ba Island is viable owing to its fairly good connectivity. There are two popular options for getting to the Utopian island – by bus or by train.
By Train
Trains are often more comfortable, picturesque and even cheaper. Unfortunately, I did not get the opportunity to travel by train while backpacking to Cat Ba Island.
Modes
Train-Boat
Duration
5 hours including waiting time.
Departure
Hanoi Railway Station which is a 20-minute walk away from Hanoi Old Quarter.
Drop
Cat Ba Pier is situated at a stone throw's distance from the town.
Route
Trains departing from Hanoi Railway Station will drop you at Hai Phong Railway Station. The distance between the two is roughly 100 kilometers. It is covered over a span of 3 hours.
Now, the fares vary depending on two factors –
1) Day of the week
2) Hard Seat or Soft Seat.
In both situations, however, the difference will not exceed a dollar.
You can log on here to fetch more details on trains in Vietnam.
Next, a 2 kilometer walk to Pha Binh Ferry Port follows. Finally, a 45-minute boat journey will take you to Cat Ba.
Tip: Tickets for the train and the boat will have to be bought separately. Make sure you spare enough time for the same.
Price
Train – 69634.50(3 USD)
Speedboat –162480.50 ( 7USD)
By Bus
A number of operators run buses that will take you from Hanoi to Cat Ba. Some of these are Daichi Travel, Full Moon, and Cat Ba Express.
a21 Tours
I personally resorted to just one website (a21tours) to book buses in Vietnam.
The process is simple. First, you send them a WhatsApp message defining the bus/van/car you want to book. Then, they send you a payment link. Once the payment is done, your booking would be confirmed.
Modes
Bus-Speedboat-Bus
Duration
4 hours
Pick up
Old Quarter, Hanoi
Drop
Cat Ba Town
Route
At first, the bus will take you from Hanoi to Got Pier. What marks this route is the Tan Vu-Lach Huyen Bridge. It is a 15.6-kilometer highway making it the longest sea-crossing bridge in Southeast Asia.
Next, a short boat ride will take you to Cai Vieng Harbour. The last leg of the journey would involve riding on a bus from Cai Vieng to Cat Ba Town.
Some buses drop you right at your place of stay, while some drop you on the main road. Either ways, you won't face a problem. Walking around in this little town is easy, safe and beautiful.
Price
Roughly 278538.00 (12 USD)
Most buses depart from the Old Quarter in Hanoi. This is where many hostels, hotels, guesthouses and Airbnb's are located.
Transport Options within Cat Ba Island
Although Cat Ba Island is a tiny place to explore, you cannot rely completely on walking. Following are options you can consider for local commute on Cat Ba Island:
Motorbikes on Cat Ba Island
If you ask me, I'd say that the best way to explore Cat Ba Island is on a motorbike. It's the cheapest and also the most convenient way of seeing the island.
Motorbike Rental
116057.50 VND (5 USD) a day (off season)
185692.00 VND (8 USD) a day (peak season)
Fuel
Running out of petrol on an island would be a nightmare. You will find a number of locals selling petrol on the streets of Cat Ba.
However, try to make your way to the petrol pump whenever you're in need of fuel. It is said to be both cheaper and more reliable.
The price should not exceed 58028.75 (2.5 USD) for about 1.5 liters of fuel.
To be honest, December might not have been the best time to rent out a motorbike. It was rainy, damp and cold.
My nose resembled that of Rudolph the red nose reindeer within seconds. My hands turned into popsicles as I struggled to battle against the cold winds.
Luckily, I bought myself a pair of gloves from a cute, plump lady who seemed to have knit them by herself. "20,000 dongs only, verrry warrmm," she said in broken English. There was no need for me to bargain. (20,000 VND equals less than a dollar.)
Taxis available on Cat Ba Island
Those who do not know how to ride a bike, fret not. In the end, Cat Ba is a tourist destination and no such place is complete without taxi services.
Getting around Cat Ba Island could also be done on a motorbike taxi (xe om) or a car taxi. Now, this is generally an expensive affair. On the bright side, these drivers also act as guides.
Tip: If you're an avid traveler and wish to explore more of Southeast Asia, consider learning how to ride a bike. It will be rewarding, cheap and convenient in most countries.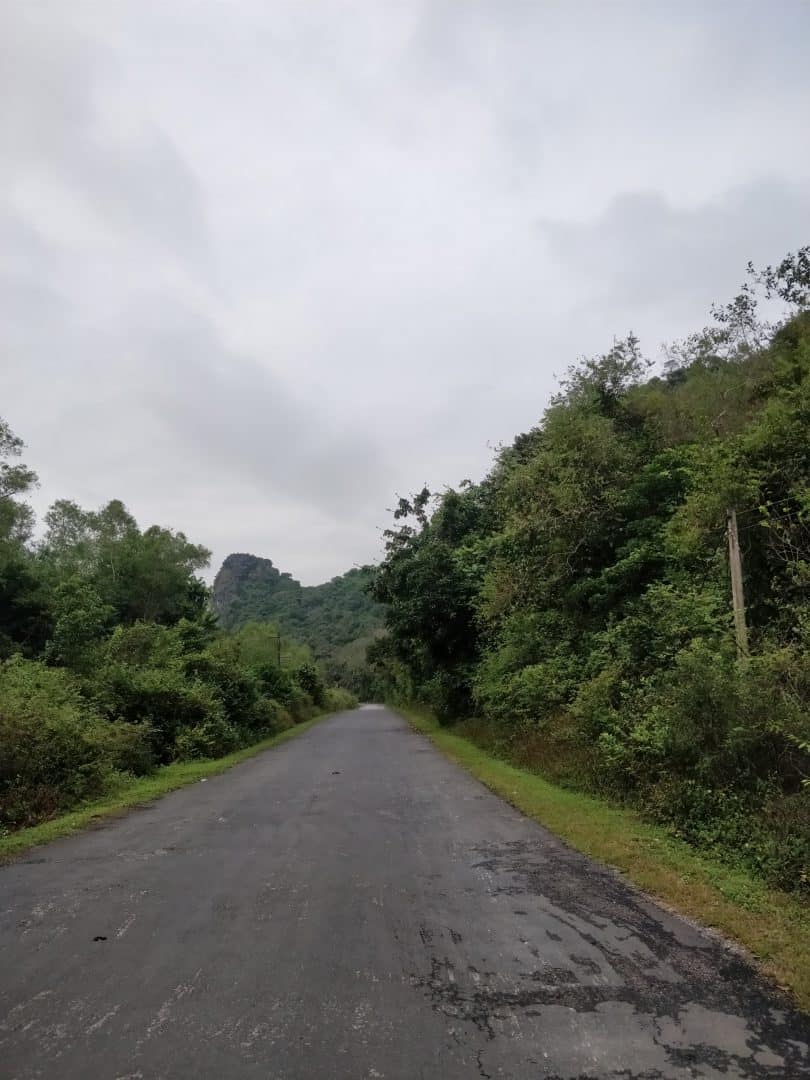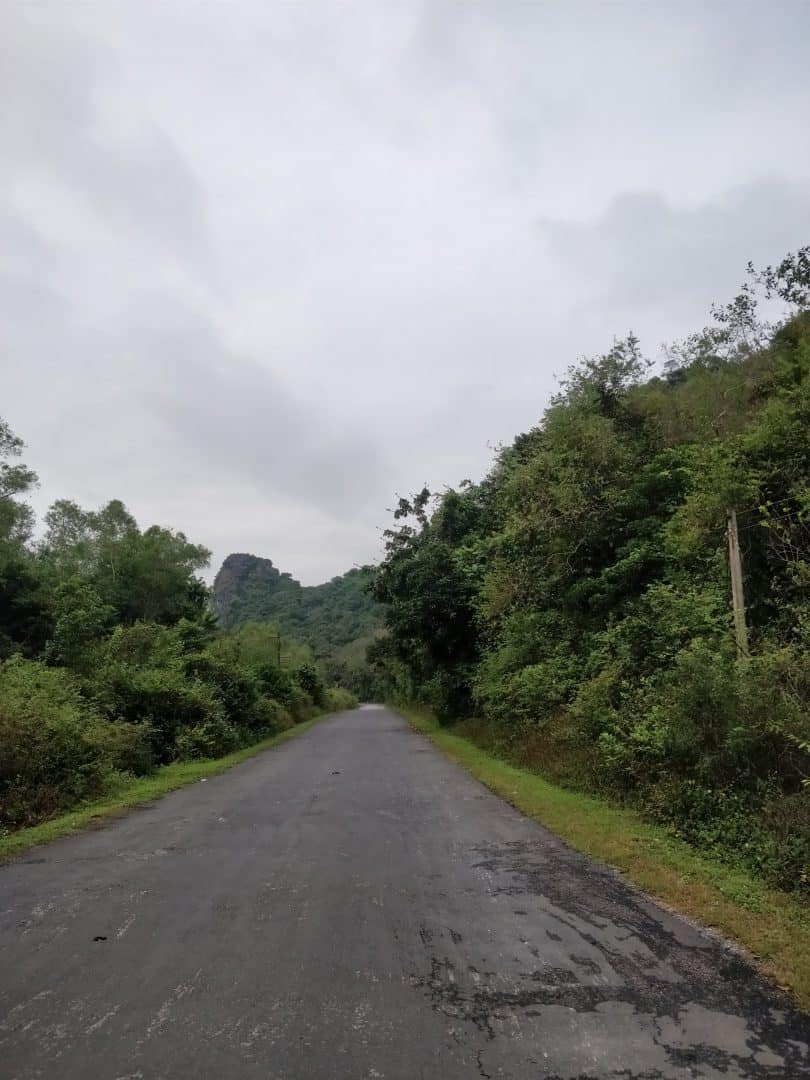 They say, "The best places are those that are discovered by accident." I'd like to modify this quote a bit and say that the best places are those that are explored by accident." 
Backpacking to Cat Ba has been such a wonderful experience for me. I'd urge more travelers to visit this part of the world and not just restrict themselves to Ha Long Bay.
Happy wayfaring.