Questions wheelchair travelers must ask hotels are absolutely essential before planning a visit. I mean even in this digital age, wheelchair travelers struggle hard to find places of stay that cater to their exact needs.
Everyone with a disability has different requirements and accessibility criteria. In fact, many people with mobility disorders fear traveling to new places due to a lack of accessibility information on hotel websites.
As a wheelchair traveler, I insist that you overcome this fear by creating a handy questionnaire that helps to check hotel accessibility based on your needs.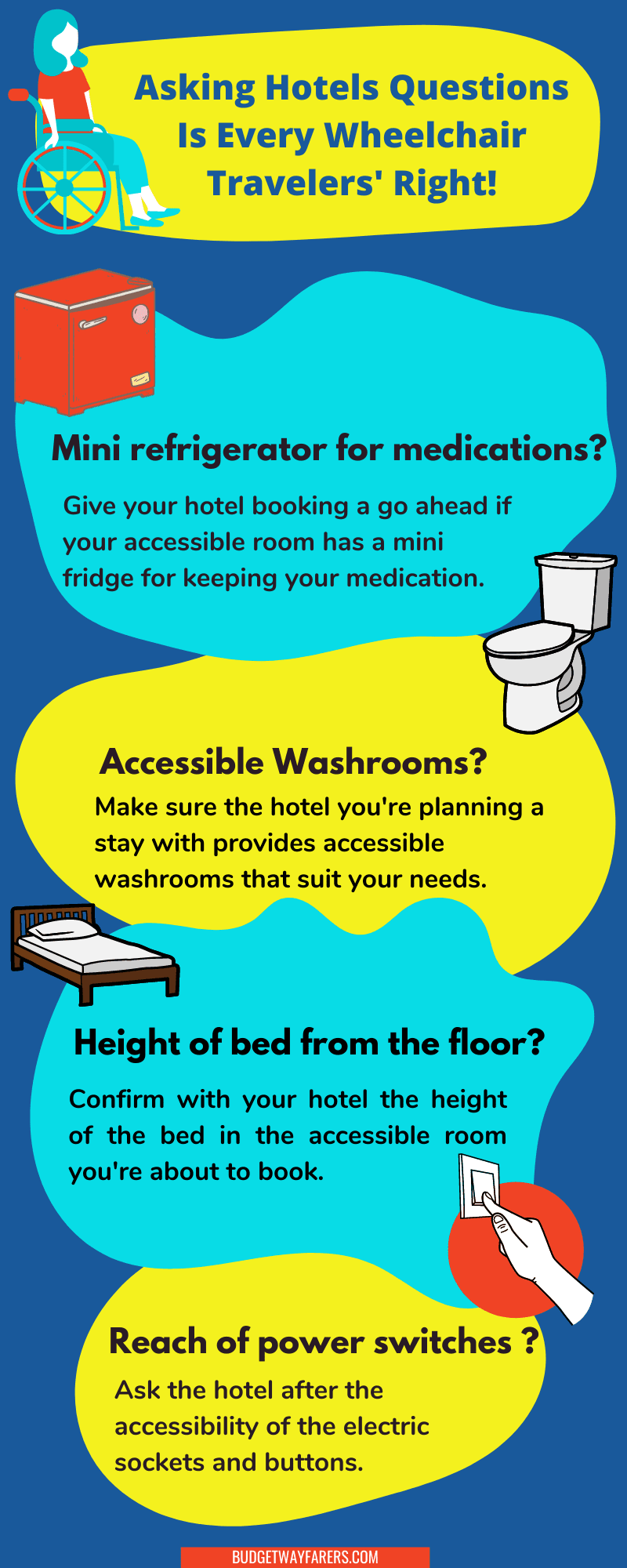 41 Crucial Questions Wheelchair Traveler Must Ask Hotels Before Booking A Stay!
1.
Is the hotel entrance step free, ramped, or accessible by elevator?
2.
Are the main entrance doors automated or guarded?
3.
 Is there an accessible washroom at the lobby level?
4.
Do you provide a room check-in facility or have an accessible check-in desk for wheelchair users?
5.
 Is your accessible room located at ground level or on a higher floor?
6.
Do you have an accessibility specialist at the hotel?
7.
Does the hotel have a designated wheelchair user parking slot?
8.
Is the way to the main entrance a paved driveway or cobblestone pathway?
9.
Do the lobby level and accessible room have carpeted or hard flooring?
10.
How do you evacuate a wheelchair guest in case of emergency for accessible rooms located on higher floors?
11.
Are all public areas in and around the hotel accessible by ramp? 
12.
Do the Garden areas have paved pathways or not?
13.
Is there a Pool chair lift with assistance in a Swimming pool?
14.
Do you have a fact sheet stating the features and measurements of fixtures in your accessible room with pictures?
15.
Is the doorway of the accessible room and bathroom automated, sliding, or have low-height handles?
16.
What is the width of room and bathroom doorways?
17.
What is the bed height from the floor in the wheelchair-friendly room?
18.
How much is the maneuvering space on each side of the bed?
19.
Is the room intercom placed on the bedside table?
20.
Does the accessible guest room and bathroom have enough maneuvering space for a wheelchair?
 21.
Is there a Roll-in-shower or bath with a shower chair/ bench?
 22.
Does the bathroom have a wall mounted shower seat or wheeled shower chair?
 23.
Are the wash basin and toilet seat at an appropriate height for a wheelchair user?
 24.
Is there an emergency buzzer or intercom near the toilet seat and shower area?
 25.
Do you have grab rails in the shower area and beside the toilet seat?
 26.
Is the Toiletries shelf and shower control in the shower area easily reachable from the shower seat?
 27.
Does the bathroom have a hand shower or rain shower?
 28.
Do you have a full-length or low-height mirror in the dressing area of the room/bathroom?
 29.
Is there a lower hanging space in the closet?
 30.
Does the room have full-length/low-height glass windows?
 31.
Do the windows in the room have Roller blind curtains or not?
 32.
Are the lighting switches and plug sockets in the accessible room at waist height or not?
 33.
Does the room have low-height luggage racks?
 34.
Is there a mini-refrigerator in the room for medication storage or not?
 35.
Do you provide in-room butler service to a wheelchair guest?
 36.
Does the wheelchair-friendly room have an interconnected caregiver room?
 37.
Is the assistance facility available for solo wheelchair travelers?
 38.
Do you have an in-house doctor or doctor-on-call facility?
 39.
Does the hotel concierge provide wheelchair-accessible taxis?
 40.
Can the hotel provide a motorable wheelchair on-rent for local sightseeing?
 41.
Do you guarantee a wheelchair room once booked with advance payment?
I truly hope my list of questions around accessible travel and hotel bookings help you plan a memorable visit to a new place.
Always remember that only you can educate others about accessibility as you master your routine practice. So lay emphasis on leaving genuine feedback at accessible hotels you visit. They will serve as a roadmap for others. Happy Wayfaring!
PEOPLE ALSO READ