Abisko National Park is a spectacular natural region located in North Sweden Lapland. It extends to a large area of 78 square kilometres. This natural region lies at a rough distance of about 195 km within the Arctic Circle. The landscape here is so diverse and varied that it changes seasonally.
The Abisko National Park is best known for Aurora Borealis or the Northern Lights phenomena that have taken the earth by enchantment.  The park offers some of the best conditions in the world for experiencing the Northern Lights. The clear skies and a relatively easy hike enable travellers to experience nature's magic show.

During the winter season, the Abisko National Park turns white due to thick sheets of snow and ice. All the lakes, rivers and streams within the Abisko National Park freeze. During summers, it has a fairly long dry season. This is suitable for long hiking trails across the region.
This article aims to provide an enthusiastic traveller with a concise overview of the Lapland region in Northern Sweden. Also, a comprehensive travel plan that can maximize your chances of experiencing the truly magical Northern Lights at Abisko National Park will be included.
Abisko National Park: An Overview
Before going into the details of travelling in the Abisko National Park, here are a few quick things you need to know:
Location
North Sweden, Europe
Best time to visit 
December, January, February and March are considered the best months to visit Abisko National Park. During these months the frequency of Aurora Borealis remains the highest and exceptional snow cover escalates the experience.
Transport options from Stockholm to Kiruna
By flight: Direct 1 h 30 m flight to Kiruna with Norwegian or SAS
Cost: 6000 to 7000 INR for a return ticket.
By train: 15 hour night train journey from Stockholm Central station to Kiruna station
Cost: 11000 to 13000 INR  for a return ticket.
Transport options from Kiruna to Abisko
By bus: Bus Transfer from Kiruna airport to all Abisko hotels and hostels
Cost: 425 SEK (3400 INR) for a one-way bus ticket. It is a 2-hour journey and the bus runs from September to March.
By train: Kiruna to Abisko train. 
Cost: Rs. 1000 for a one-way ticket but unreliable train schedule.
It is recommended to take the onward train to Abisko if you are travelling from Stockholm to Kiruna.
Accommodation options
Hotel: Abisko Guesthouse
Cost: 5000 INR for a double room.
Hostel: Abisko Turiststation STF
Cost: 3200 INR for a single bed in a dormitory.
Food options
Breakfast and lunch buffet at Abisko Turiststation STF  (1000 INR each).
You can buy food from a grocery store in Stockholm to save money.
Shared kitchen facilities are available at the Abisko Turiststation STF hostel. Use them
When travellers from Asia plan a trip to Europe, Sweden is a country that usually does not appear on their bucket list. Large flocks of Asian travellers head to the Southern European nations of Spain, Italy and France. Northern Europe remains relatively untouched and Sweden is a prime example of what a lot of people are missing. Apart from the beautiful waterfront capital of Stockholm, the far north of Sweden (located within the Arctic Circle) includes spectacularly remote cities such as Kiruna, Jukkasjärvi, and Abisko.
The three cities are situated in the Swedish Lapland. It is a large region in the northwest part of Sweden, collectively forming around a quarter of the country in terms of landmass.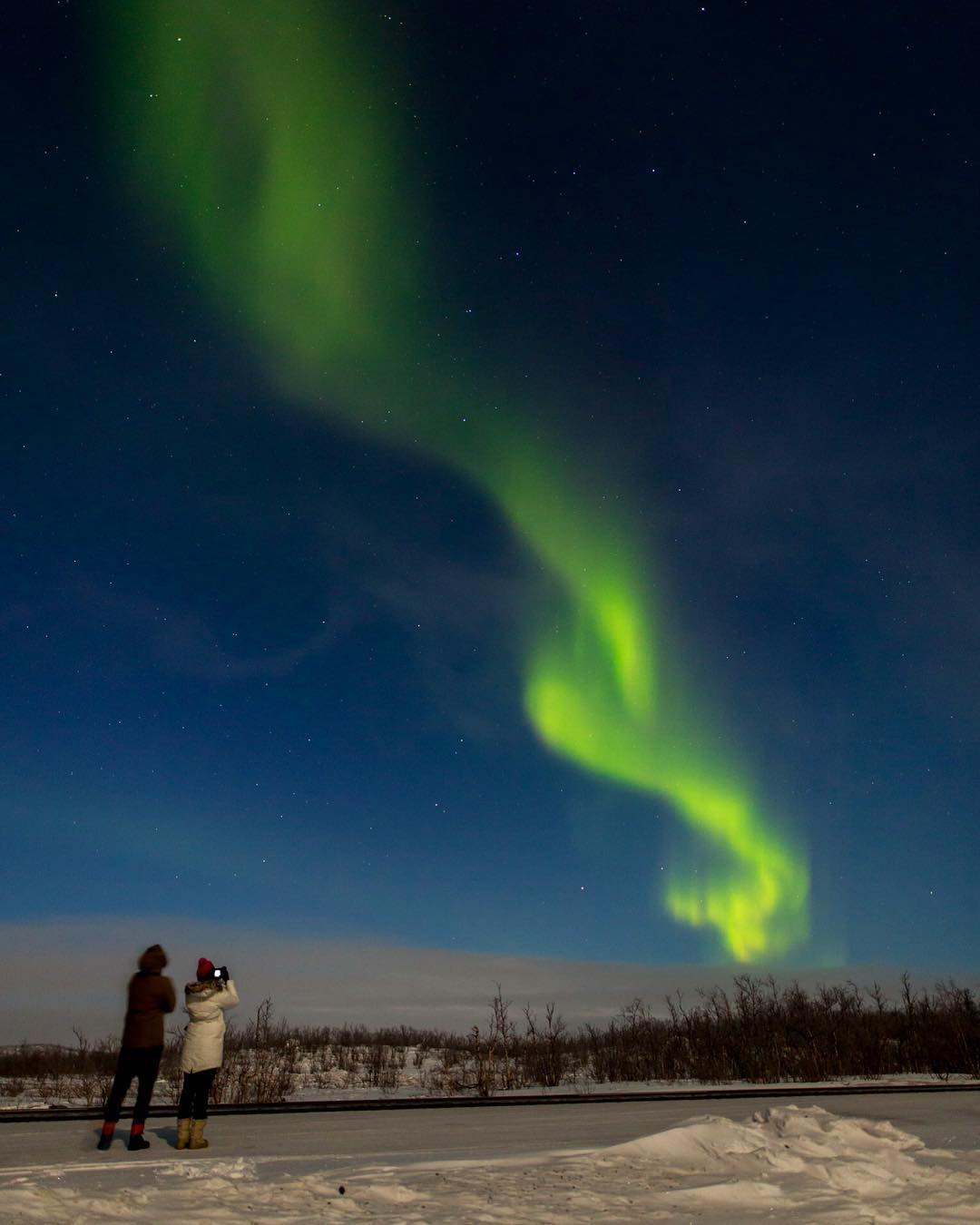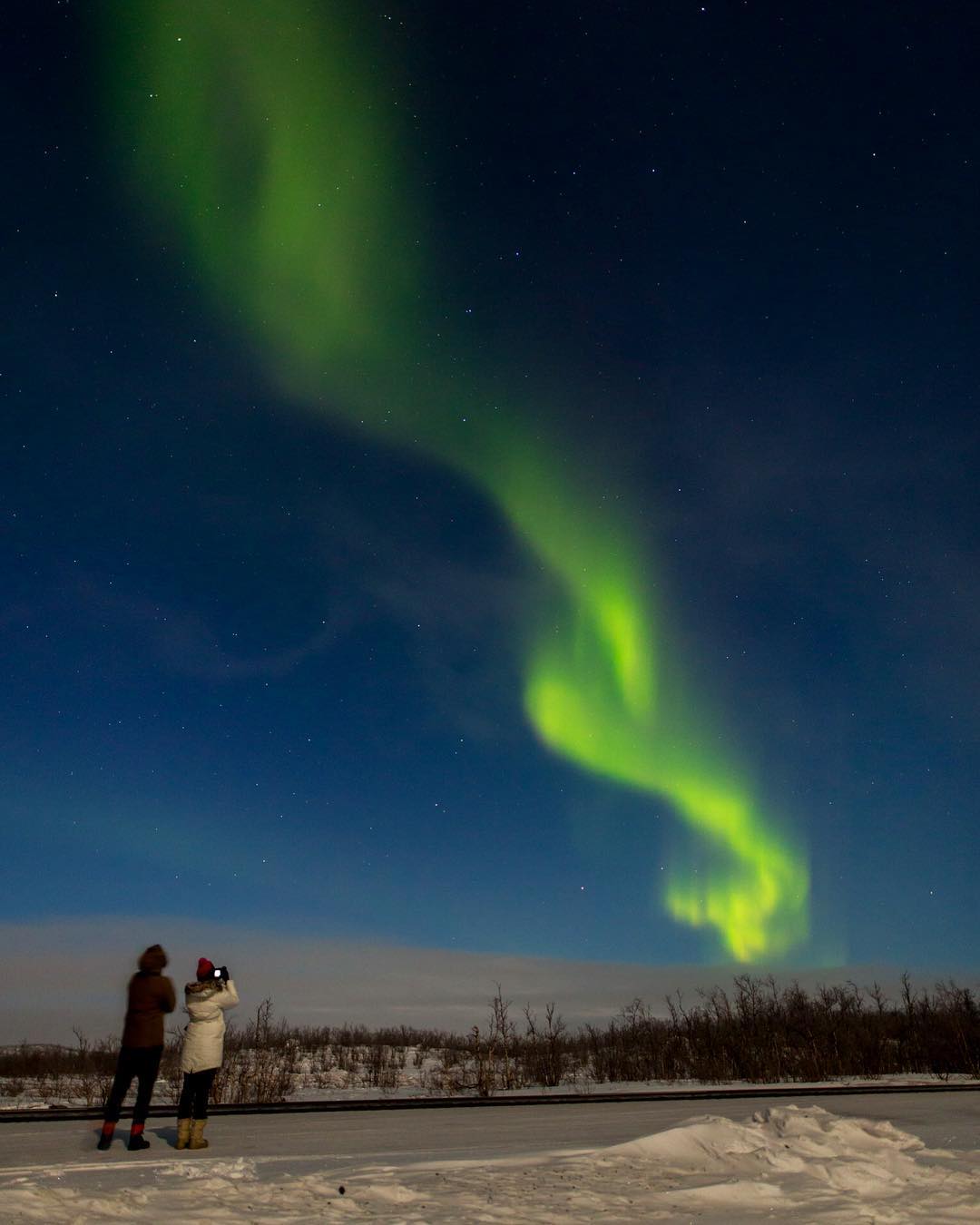 The amazing Aurora Borealis. Photography by Shalini
Essential Information on Sweden
Sweden is a beautiful Nordic country with deep-blue archipelagos, Northern Lights, great landscapes, amazing food and much more. Here's some important travel information.
Getting there
In August 2017, Air India launched a direct flight from Delhi to Stockholm. This is the cheapest and most convenient way to travel to Stockholm, with a return ticket costing around Rs. 60,000.
Weather
Sweden remains chilly throughout the year. Temperatures drop as low as -30 C in the winter months of January and February. Summer months are pleasant and relatively cooler, with temperatures approaching 15 to 20 C in the months of May and June.
Best time to visit
Winter: December to March
Summer: May to July
Currency
Swedish Krona (1 SEK= 7.94 INR)
Time Zone
Central European Time Zone (UTC+1.00)
4.5 hours behind Indian Standard Time
Country Code
+46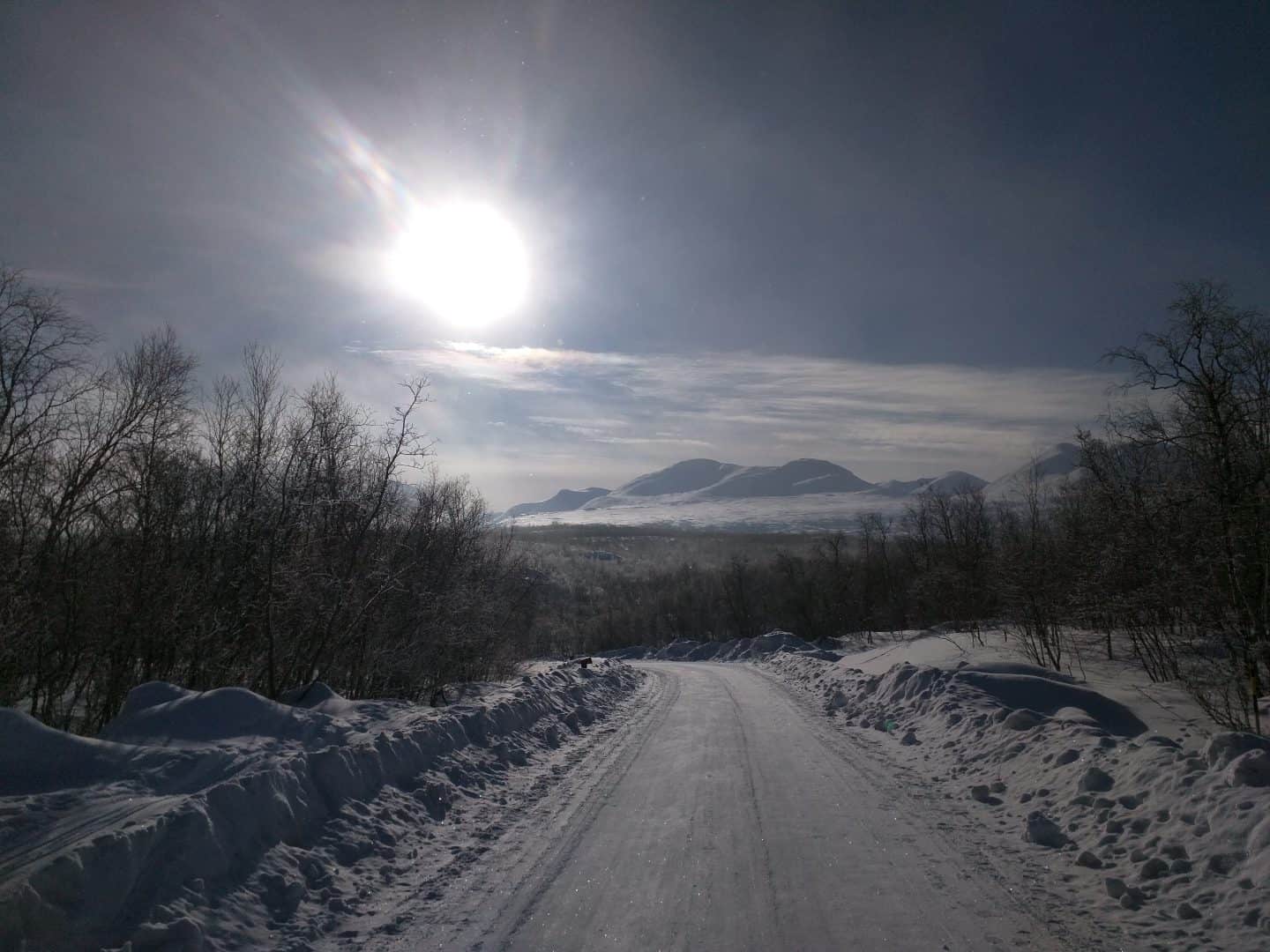 Photography by Aarohan Mehra
What Exactly is the Northern Lights Phenomena at Abisko National Park?
The Aurora Borealis or Northern Lights phenomenon is a rare natural occurrence. It happens for a short duration of time in regions that are situated far north of the Equator.
The energy interactions between the sun and the Earth result in excess energy being released through magnificent natural displays of light. An aurora show definitely is a sight to behold.
Abisko National Park has consistently been rated as a location with one of the highest probabilities of viewing the Northern Lights anywhere in the world.
Expert research has determined that one has an approximately 80% chance of seeing the Northern lights if they stay in Abisko for three or more nights. In fact, Abisko National Park is home to the Aurora Sky Station, an elevated observatory designed to augment your sensory experience of the Northern Lights.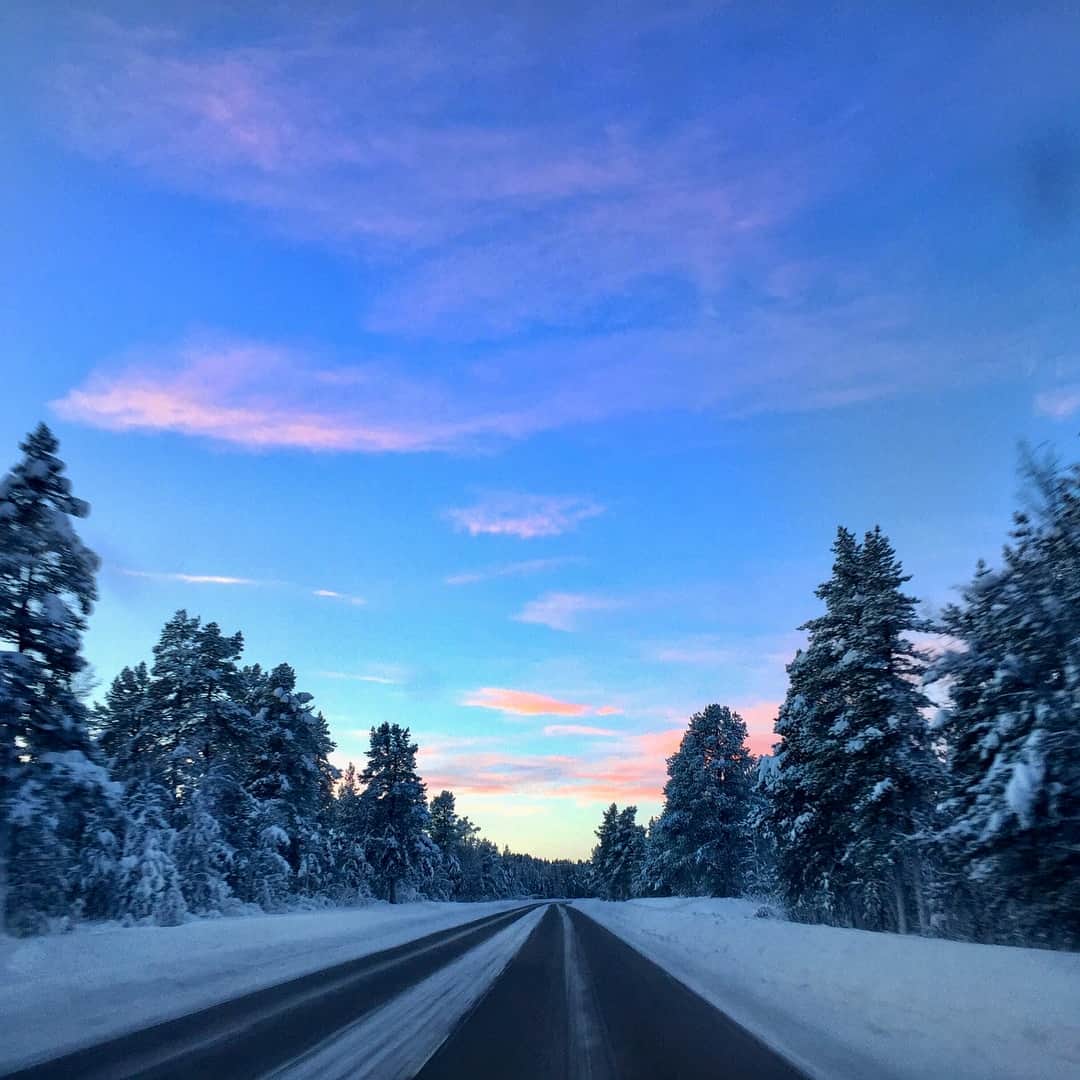 The way to Abisko National Park. Photography by Marina Kovalena
Aurora Hunting in Abisko
As a result of low precipitation rates and in turn more probability of clear skies, Abisko National Park should be the first destination on your itinerary in search of the elusive Northern Lights.
Spotting the Northern Lights is no easy task. The first and the most obvious step is to be outdoors at night. The frequency of the Northern Lights generally remains highest between 9 pm and 2 am. However, taking adequate safety precautions is absolutely essential and therefore aimlessly wandering around in the Swedish wilderness is not recommended.
Websites such as Lappland media and Aurora Service offer a live aurora forecast model. Although technical, the model can offer a reliable prediction of the Aurora Borealis in Abisko. For a less accurate yet simpler online tool, head to Lights Over Lapland. The website offers live photos of Abisko through a webcam.
 Once outdoors, move away from all sources of light pollution (such as street lamps) and keep walking around to different viewing points. Photographing the Northern Lights requires a DSLR camera.
Most smartphone cameras do not have enough exposure to capture the movements of the aurora. Set up the DSLR in a sturdy location using a tripod. Use a manual, long-exposure setting on the DSLR and ensure that image stabilization is switched on.
Once you spot the Northern Lights, soak in the breathtaking view and brace yourselves for one of the best moments of your life.
Top Things to Do in and Around Abisko National Park
Other than going out to view the Northern  Lights, here are a few things you can do near Abisko National Park
1. Pursue the Kungsleden Hiking Trail 
2. Visit the Aurora Sky Station
3. Snowmobiling and Dog sledging Tour in Kiruna
4. The Unique Ice Hotel
Let me now elaborate on each of the above things that can and should be pursued within the Abisko National Park. Remember that you are visiting the region from far and wide so make sure you experience everything  –
1. Pursue the Kungsleden Hiking Trail 
 The Kungsleden hiking trail entails a challenging 430 km voyage from Abisko in the far north of Sweden to Hemavan in the midwest of the country. The entire journey is usually not practical for the average traveller. However, starting the hike at the base of the Noulja mountain offers incredible views of the landscape.
Kungsleden Hiking Trail. Photography by Olof Storm
Photography by Mark Williams
2. Visit the Aurora Sky Station
The Aurora Sky Station is located on the Noulja mountain within the Abisko National Park. It is accessible only via cable car at the base of the mountain. It is an ideal spot to observe the Northern Lights. The authorities organize daily night tours to experience the Northern Lights from an elevated viewpoint.
Tickets cost Rs. 5000 and include the return trip up and down the mountain via cable car, a guided tour by an aurora expert and warm winter overalls for outdoor exploring. The tour starts at 9 pm and ends at 1 am. 
Sky Station also houses a gourmet restaurant. Here visitors can enjoy a multi-course meal under the sky filled with green Northern lights.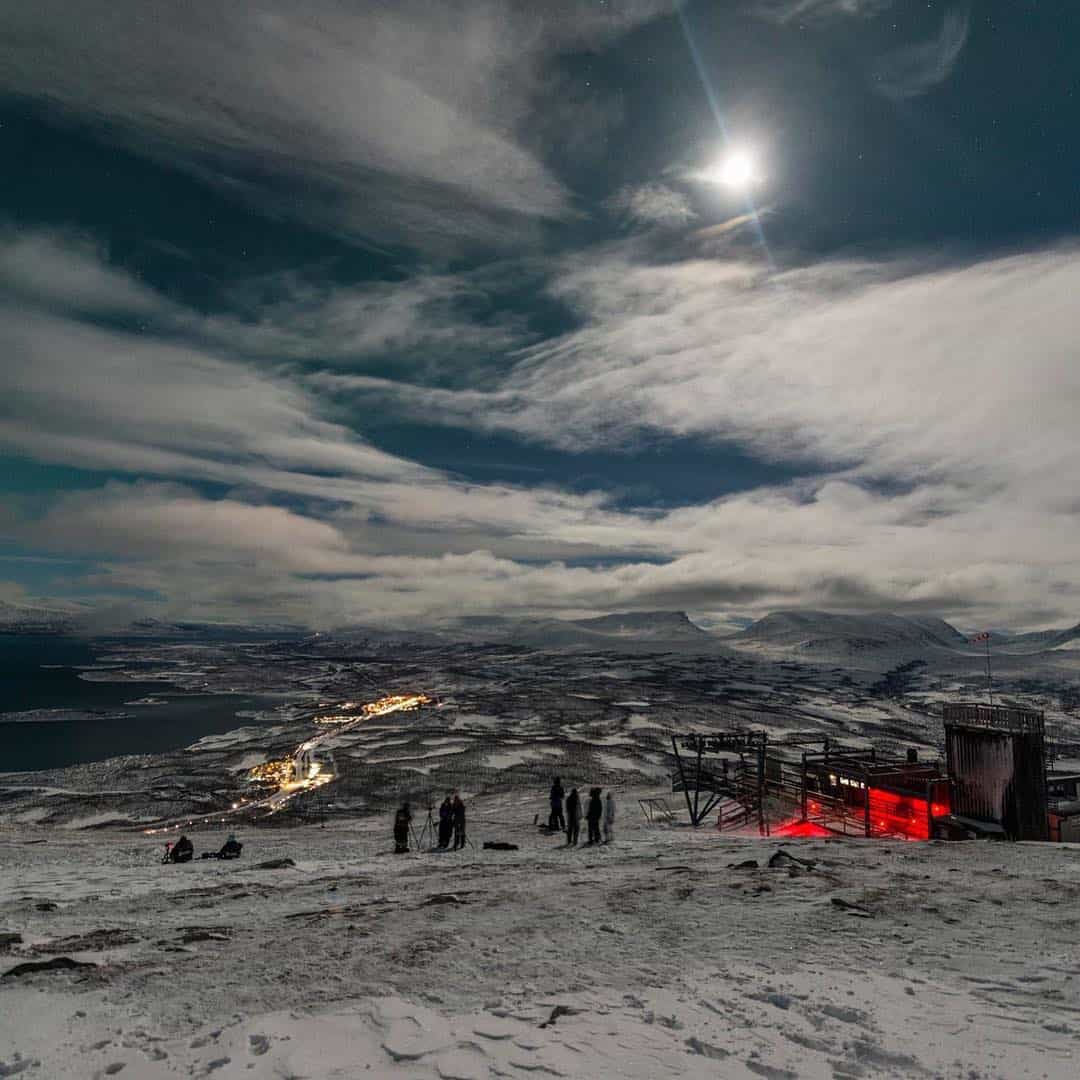 Aurora Sky Station. Photography by David Williams
 3. Snowmobiling and Dog sledging Tour in Kiruna
 Kiruna Sleddog Tours offers a tour with dogs and snowmobiles daily from 10 am to 1 pm. The tour costs Rs. 10000 and includes pick up from and return to Kiruna city, winter overalls and a light snack.
Two people fit on one snowmobile and the sledge dog tour starts right after the snowmobile tour ends. This tour is highly recommended if you are in Kiruna for a day.
The Alaskan malamute and husky dogs are super friendly and the snowmobiling drive offers an adventurous experience.
Dog sledging. Photography by Audra and Rex
 4. The Unique Ice Hotel
 The Ice Hotel is located in Jukkasjärvi, a 20-minute taxi ride away from Kiruna. The taxi costs between Rs. 2500 to Rs. 3500 INR. The concept of the Ice Hotel is unique and special.
Ice and snow are collected from the nearby Torne River and this is used for rebuilding the hotel interiors every year. The freshly built hotel lasts from December to April, after which the cycle repeats itself.
Cold rooms feature sculptures created by new artists every year and no two rooms are the same. Basic cold rooms start from Rs. 18000 per night while the cold art suites range from Rs. 25000 to Rs. 30000 per night. Warm rooms, starting from Rs. 12000 per night, are available on-site for the less adventurous.
 The Ice Hotel also offers guided tours for those travelling on a budget and not wishing to stay overnight. The guided tour lasts 30 minutes and is held at either 12 pm or 4 pm.
Tickets cost Rs. 2800 and can only be bought at the hotel reception. The tour guide will take you around the site, including the vacant guest rooms and the mighty ice throne in the centre of the main structure.
The Unique Ice Hotel. Photography by Georgia Makitalo
Candleholder made of ice. Photography by Lotta
Health and Safety at Abisko National Park
Abisko National Park is a picturesque haven in the harsh Arctic environment. Weather conditions can get hostile, especially for the inexperienced rookie traveller. 
Therefore keep the following aspects in mind at all times –
Dress up in layers
Layering up is absolutely essential. Wearing a minimum of 4-5 layers is recommended in the winter months (January to March) when temperatures drop as low as -20 to -30 C.
Woollen base layer
Wearing a woollen/fleece base layer is ideal and an outdoor-friendly parka jacket is required to endure the harsh wind, rain and snow conditions. Woollen base layer pants should be worn under the trousers in order to prevent heat loss.
Protect your ears, neck and hands
Protect your ears, neck and hands at all times by wearing a cap, snood and gloves. Snow boots should be worn at all times when exploring the wilderness of the Swedish Lapland.
Loose Ice
Be mindful of loose ice if required. Use a walking stick to manoeuvre through the rough terrain.
A room inside the Ice Hotel Photography by Huskutarut
Wildlife at Abisko National Park
Abisko national park is also a great place to spot some interesting wildlife. Some of the fauna that can be seen here and their chances of  spotting are
Reindeer- Spotted easily
Elk- Spotted during winters
Lynx- Difficult to spot
Brown bear- Difficult to spot
Wolverine- Difficult to spot
Golden Eagle- Spotted Easily
Arctic Leaf Warbler- Difficult to spot
Intriguing Facts About Abisko National Park
Some interesting facts about Abisko National Park are :
The Abisko National Park has been inhabited for thousands of years by the Sami people – the traditional reindeer herders.
Within the Abisko National Park lies the Abisko Scientific Research Station. It hosts scientists from around the globe.
The Blunt left Orchid – an extremely rare variety is native to the Abisko National Park.
Abisko National Park is one of the best sights on planet Earth to view the Northern Lights.
Abisko National Park is the beginning point of the King's Trail hiking route.
Animals like brown bears, wolverines and lynx are present at the Abisko National Park.
Rules to Follow at Abisko National Park at all Times
When you are at the Abisko National Park, you need  to be careful about the following things :
Avoid fishing at Abisko National Park.
Do not build a fire anywhere inside Abisko National Park.
Do not visit the bird sanctuary in the Ábeskoeatnus delta region from May 1 to July 31
Do not chop trees in the Abisko National Park
You can carry mushrooms from inside the Abisko National Park. Make sure they are the edible variety and not the wild one.
Do not harm or kill any animal inside Abisko National Park.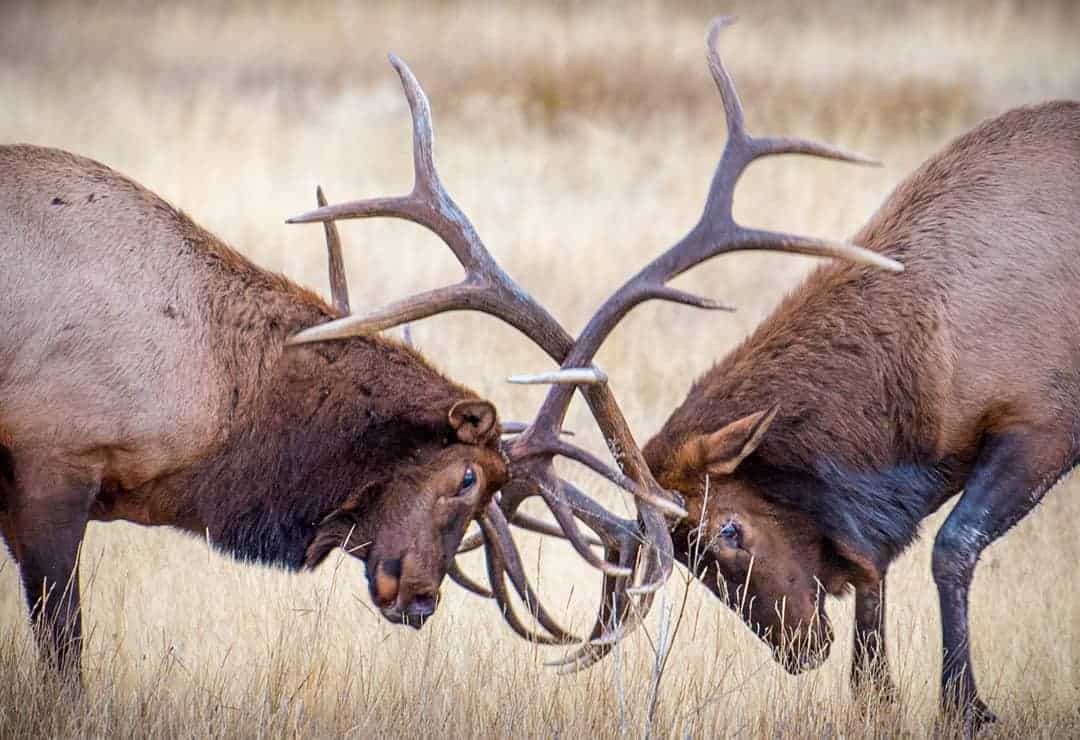 Abisko National Park is a beautiful place. Follow its rules at all times. Photography by Marie Stalnacke
"Good Things Come To Those Who Wait" – Follow the Quote in Abisko National Park
Keep in mind that as with every natural phenomenon, viewing the Northern Lights is not guaranteed. If you do not get the opportunity to experience them during your stay in Abisko National Park, do not feel disheartened.
You have other fun things to do as well. Go hiking on the magnificent Kungsleden trail, head to the renowned Icehotel in Jukkasjärvi to sit on the majestic ice throne or book an awesome dog sledging and snowmobiling tour in Kiruna.
'Good things come to those who wait' and if you are not blessed by the Aurora gods on your first visit, come back to try your luck once again.
Happy wayfaring 🙂