4 Day Itinerary for Philippines will help you explore large parts of the locale in a short span of time. Philippines is steadily growing to become one of the most popular tourist destinations in Southeast Asia.
Planning a trip to the archipelago of Philippines for a span of 4 days will prove useful for travellers. Your itinerary should be created in such a way that you spend less and explore more.
In my current article, I will help you plan a four day travel experience to the Asian island nation of the Philippines. My intent is for you to discover all the best places even in a short duration of time.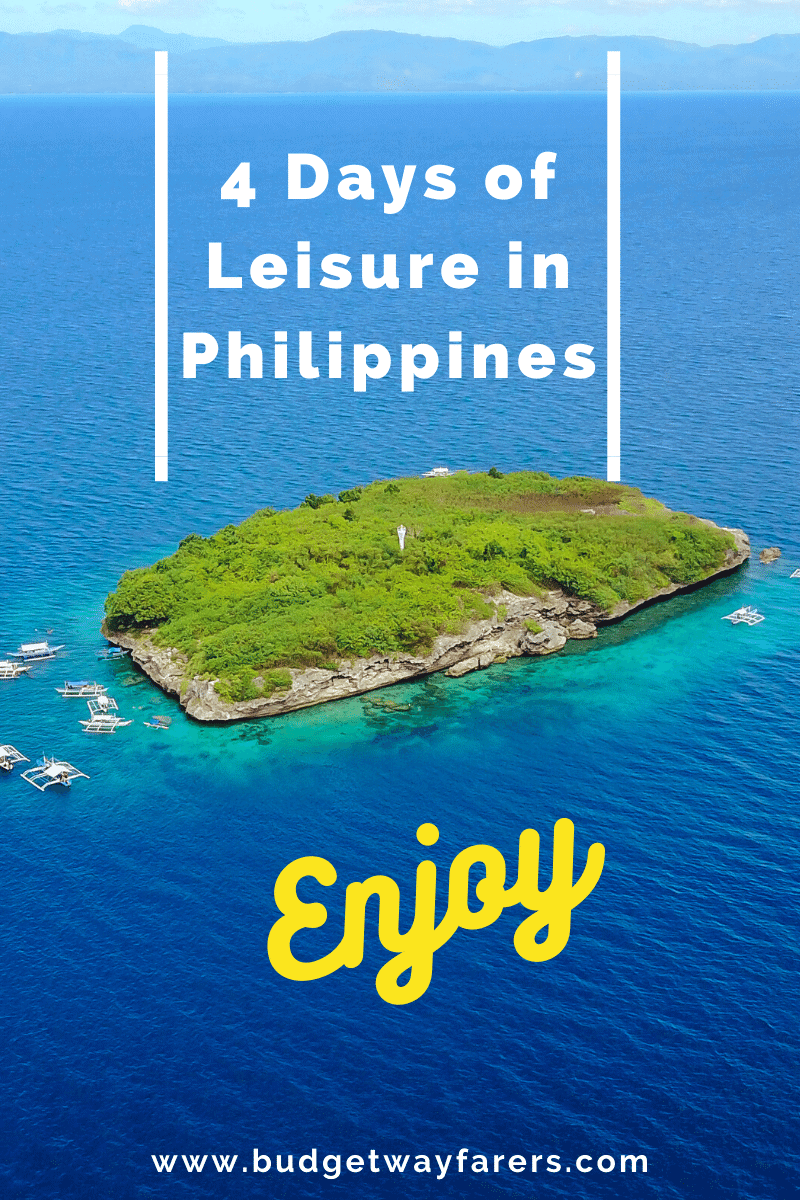 The Delightful 4 Day Itinerary for Philippines
This 4-day itinerary to the islands of Philippines is designed to give a quick taste of what the country has to offer. We aim to keep a balance between culture and nature while still allowing some time to just chill at the beach and do nothing but relax.
Here's a decent itinerary for both couples as well as backpackers.
DAY 1
Discover the history and culture of Cebu City
DAY 2
A full day of adventure and wildlife in Cebu
DAY 3
Ferry to Bohol and visiting the Chocolate Hills
DAY 4
Dolphin watching and swimming with sea turtles
Even though Philippines is a paradise for Backpackers, it is also gradually becoming a hub for couples – both unmarried ones as well as honeymooners. Hence, your itinerary for Philippines should be created in accordance with the nature of your trip.
Before I delve deeper into this 4 day itinerary for Philippines, I need to mention that instead of looking for staying options after landing there, ensure to make bookings in decent places of stay before hand.
Philippines has good staying options for backpackers such as 8th Street Guest House in Cebu City as well as various resorts and hotels for passionate Honeymoon couples. Philippines is better for couples who want a more authentic and unique experience.
YGD Travel has great in-depth and honest deals on its site.  So, if you are considering a romantic vacation there, it might be wise to consult them first.
DAY ONE: Discover the history and culture of Cebu City
The Cebu city tour takes roughly 3 hours to complete if you book a guide or 4-5 hours on your own. It is very simple (Cebu City isn't huge like Manila is), so hiring a guide is a waste of money. Just keep in mind most landmarks close at around 5 PM.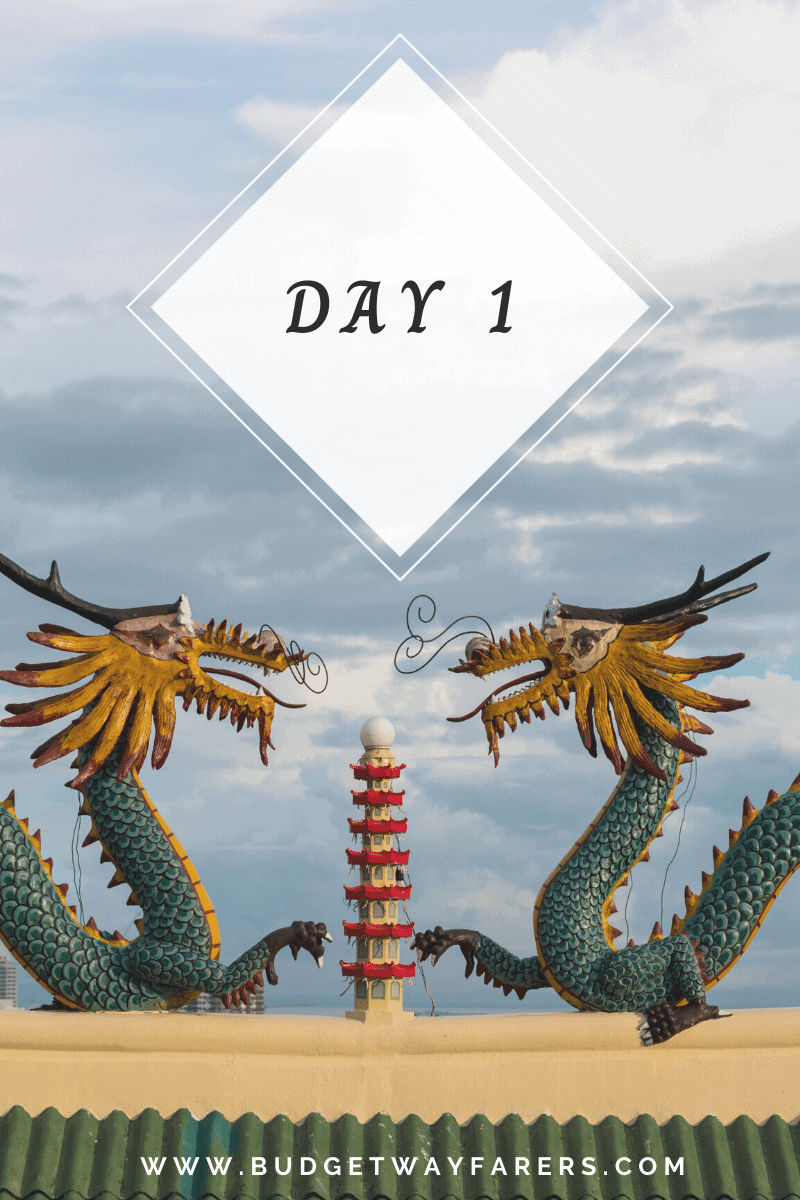 Mactan Shire – A memorial to ancient history
Mactan island is separate from Cebu and connected by a massive bridge. It is also where the airport is, as well as all the fancy beach resorts. If you book your hotel here, you can save the shrine for the last stop. Otherwise, it's better to visit it first and avoid having to drive back to Mactan later on just for it.
The shrine commemorates Lapu-Lapu, the local chieftain who bravely opposed the Spanish conquerors when they first landed on the island. Since most landmarks in Cebu display foreign influences, this is the best place to learn more about the island's indigenous tribal culture.
Fort San Pedro – Landmark of Spanish occupation
Fort San Pedro used to serve as a fort and prison for the Spanish colonial rulers. It has now been turned into a museum through which you can learn about the history of the region, specifically throughout the colonial era. It's a fairly small museum and you wouldn't need more than 20-30 minutes to explore all its exhibits.
Basilica del Santo Nino – Cebu's most famous landmark
This Church dates back to the 16th century and is considered one of the oldest in Asia. It has of course seen many renovations and expansions since then, but still managed to keep its charm. You should definitely go inside and admire the unique architecture and art, especially the famous statue of the holy child.
Just a few minute's walk from the church, there's a plaza where you can also view Magellan's Cross – a truly fascinating ancient relic – the wooden cross the Spanish conquistador gave to the locals when he first arrived to the island.
Tip: If you are lucky enough to be in Cebu during Easter, clear the whole day and go to the basilica. The festival they have there during pilgrimage days is truly amazing.
Cebu's Cathedral – the birthplace of the Catholic faith in Asia
Another beautiful and important church at the heart of Cebu City. This place perfectly demonstrates the heavy influence this city absorbed from its Spanish-Catholic occupiers. It was the first Cathedral in Asia and is one of the largest ones to this very day.
Museums around Cebu City
Cebu City has a bunch of museums and art galleries scattered around the town center. While some feature contemporary art, the more interesting ones are those that emphasize the region's unique culture and heritage.
Out of those, the most recommended places to visit are Casa Gorordo and the Sugbo Museum. Both are colonial-era mansions that have been meticulously preserved and turned into an open display. They give an excellent insight into what living during the colonial era used to be like.
The Taoist Temple – the perfect way to wrap up the day
As you may have noticed by now, Cebu has a dominant Spanish influence which is evident all throughout its architecture and culture. That said, Chinese heritage also plays a major part in the city, even if it's more subtle at most times.
The best way to witness and understand the Chinese roots of Cebu is by visiting the Taoist Temple. It's a bit far from the center, atop a hill overlooking the whole area. That's why it's best to go there relatively late and enjoy an amazing view of the sunset looking over the sprawling city below.
Day 2 – Full day of adventure and wildlife in Cebu
We took it fairly easy on the first day and gave ourselves time to settle down, but now it's finally time to venture out and explore some of Cebu's most exciting attractions. Out of which, the one which really stands out above all else is Kawasan Falls.
Located in the southern part of the island, around 2 hours drive from the city, the falls can be easily combined with other nearby attractions, which is exactly what we plan to do! You can visit the falls directly, but it is MUCH better to take the 3 hours trek through the jungle instead.
This trek is a canyoneering tour and involves following the river stream all the way to the falls. It includes swimming, cliff jumping and rappelling. It is perfectly safe and the difficulty level is low, making it an exciting way to experience nature and have a once in a lifetime adventure.
Tip: Planet Action Adventure is a local tour operator – a German expat who's been living there for 20 years. He's the one who designed the hiking trails and is the number 1 expert on doing these tours safely and enjoyably.
You will have to leave Cebu at around 5:30 and should be done around lunchtime. There's a dining area right next to the falls, so you can have a nice relaxing meal there when the trek is over. Then, you can head over to the nearby town of Moalboal and embark on an amazing island-hopping tour there.
Moalboal – Ideal for Snorkelling
What makes Moalboal ideal for snorkelling and island hopping is the fact it is home to one of the largest sardine shoals in the world. These fish stay there all year round and create an extremely diverse and interesting ecosystem based around them. In fact, Moalboal is officially the place with the largest marine bio-diversity ever to be surveyed anywhere in the world!
Whale Tourism at Oslob
Alternatively, you could visit Oslob first, before doing the canyoneering tour. Oslob is famous for its large population of whale sharks, with whom you can swim in the peaceful bay waters. You have to be there very early, otherwise, the whales will be done eating and swimming away. Keep in mind, that this attraction, while fun and unique, is extremely bad for the environment and the whales in particular.
The local fisherman feeds the whales to make them come back – making this essentially an open water zoo where the Whales are mistreated. National Geographic did a piece on this as well entitled, "Inside the Chaotic World of Whale Shark Tourism."
Day 3 – Ferry to Bohol and visit the Chocolate Hills
If you want to be able to complete this tour and see all attractions, you'll have to wake up early and catch the 8:20 ferry from Cebu to Bohol. Tickets to the ferry can be pre-booked online through Oceanjet. You'll then arrive at Tagbilaran pier, which is 30 minutes away from Panglao – the place where all tourists to Bohol stay.
The pier is actually on the way from Panglao to the mainland where all the stops of this tour are. So, it makes no sense to go back to Panglao first. Instead, you should make sure your car waits for you at the pier so that you could start the tour immediately from there and save time.
Choose your mode of transportation carefully at Bohol
Booking a private driver actually costs almost the same as a group tour and will allow you such flexibility, as you won't have to travel to a pre-designated pickup location. Alternatively, you can also rent your own car and do this tour on your own – it is fairly simple. In any case, the easiest way to make sure there's a car waiting for you is by reaching out to your hotel in Bohol and asking them to take care of it for you.
Whether you decide to book a guide or do it on your own, the tour should begin with a visit to Baclayon Church. It is not the most amazing Church you'll ever see, but still quite interesting to witness the damages it suffered during the 2013 earthquake.
From there, you continue to the Tarsier Sanctuary, home to the world's smallest and cutest primates. The Tarsiers are quite shy, but if you are lucky you will get a chance to interact with them and not just watch them jumping between trees.
A visit to Chocolate Hills
Then, it's time for the highlight of the day which is a visit to the famous Chocolate Hills. These are unique hill formations, consisting of more than 1700 hills spread over a huge area of land. During the summer, the grassy hills turn brown which is why they earned their famous name.
You begin by going to a fantastic view deck to get a panoramic view of the whole area, then you can go down and actually drive between the hills and even climb one if you like it.
The last stop on this day is at the Loboc River Eco Park. This is a nice little park tucked away in the midst of the jungles, offering a variety of activities to visitors. To be honest, most of the activities are pretty lame, but the reason to come here is the amazing zipline on site. There's also a nice cruise of the river atop a floating restaurant.
Day 4 – Dolphin watching and swimming with sea turtles
Again, you have to wake at 5:30 am to get the most out of this one. If you book a private tour, you can start much later though – as late as 10 am even. Keep in mind though that by starting late you give up the chance of watching dolphins swimming in the wild.
As suggested above, the tour begins by venturing deep into the ocean in search of dolphins. It's not allowed to swim or interact with the dolphins, but just watching these majestic creatures is exciting enough. While not guaranteed, if you arrive early then sightings are always available.
Sail to Balicasag Island
Then, it's time to sail to Balicasag Island – one of the oldest and most well-preserved marine sanctuaries in the country. The island consists of the main picnic area, as well as 2 major snorkelling spots. The snorkelling isn't included in the tour price, you have to pay the operators of the sanctuary directly. It's well worth it to pay for at least the 1st spot, which is home to amazing coral reefs, as well as a large population of sea turtles.
The 2nd spot is more optional – there are no turtles and nothing unique, "just" a stunning coral reef and a plethora of fish and other small aquatic creatures. Once you are done in Balicasag, you will be taken to Virgin island on the way back to the mainland.
This island is nothing but a small strip of sand in the middle of the ocean, where local fishermen have established a makeshift marketplace of sorts. It's fun to just walk around in this serene place, but it's also a good opportunity to try out some local delicacies.
In any case, you should be back to Bohol's mainland in time for lunch. This will allow you plenty of time to relax, catch your breath and enjoy the stunning beaches of Panglao island.
With a 4 Day Itinerary for Philippines in Hand, Plan Wisely!
Just because the Philippines is a large archipelago with more than 7000 islands, many of which are certainly worth a visit, it doesn't mean you need a long vacation to get a taste of what the country has to offer. It also doesn't mean you have to run around frantically trying to see and do as much as possible!
A big part of this country's charm is its wonderful beaches and laid-back atmosphere, so it would be a shame to stress yourself out instead of enjoying it.
When you start planning your trip to Philippines, you'd want to visit many islands. However, we suggest that you limit your itinerary to just 2 islands, preferably two which are right next to one another.
Trying to squeeze in another location will do more harm than good. It is also important to understand that while some places are definitely more enticing (such as El Nido or Boracay for example), they are also much more touristy and crowded.
Fly directly into Cebu and being your island vacation immediately, instead of spending the night in Manila. There are direct flights to Cebu each day from most Asian countries like Indonesia, Thailand, Vietnam etc. 
So, the trick is to find the islands that work best together and meet your requirements the best. This is done by keeping a balance between places which are attractive enough to bring in tourists, but still relatively under the radar or at least well developed enough to support large crowds.
For that reason, our top recommendation for a short trip would be to divide your time between Cebu Island and Bohol.
We hope that our planning tips, 4 day itinerary for Philippines and stay options will add value to your travel. If you have any queries, drop them in the comments section below.
Happy wayfaring 🙂