A week long road trip to Rajasthan is on the wish list of many travellers. After all, it is one of the most colourful and culturally rich Indian states. However, to fulfil this wish list with a purpose, timing and budget pose a challenge.
Since Rajasthan is the largest state in India by area, travelling through the length and breadth at a stretch becomes quite a task. Hence, I am here to help you with the complete planning of a 7-day itinerary to Rajasthan.
Travelling is more about collecting experiences and memories for me than spending lavishly. I hope this travelogue will help fellow travellers live their nomadic dreams and help break the financial barriers.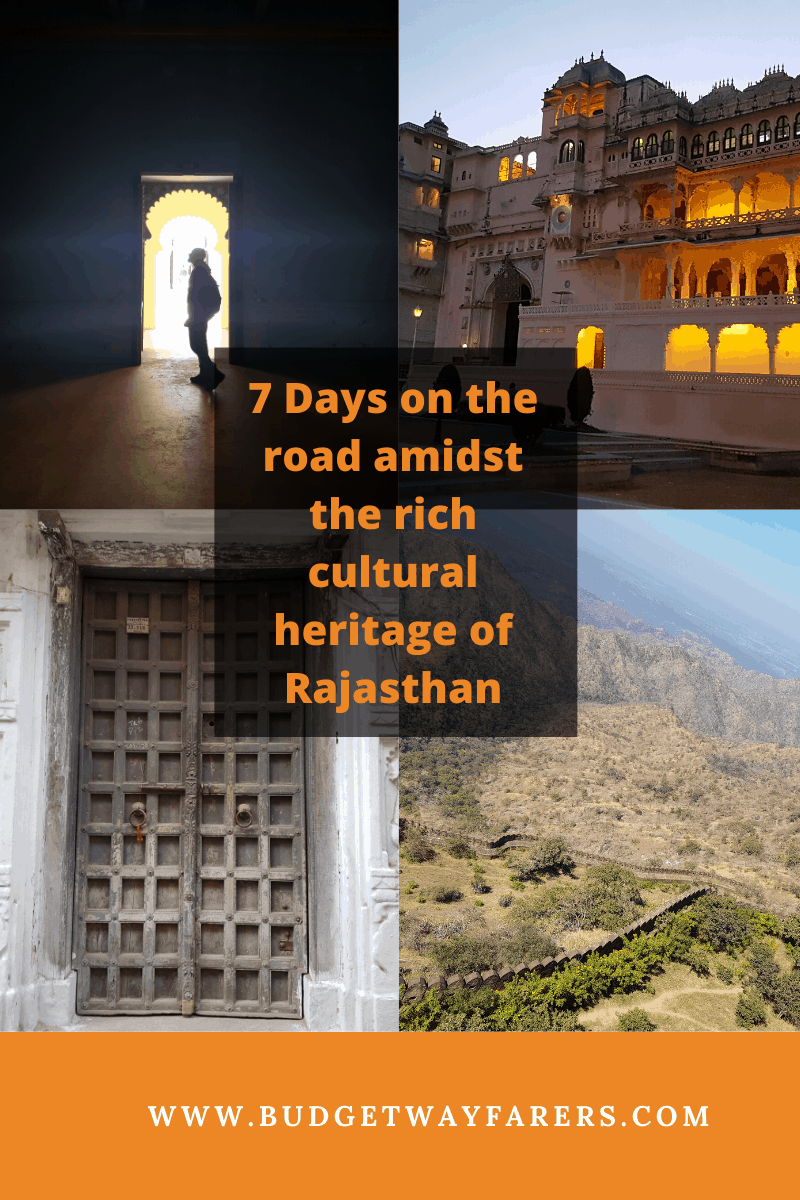 How To Plan A Week Long Road Trip To Rajasthan?
 I had been planning to pursue a road trip to Rajasthan for the past three years. But thanks to my wife, who quite skillfully diverted the itineraries towards coastal destinations in India. So this time around I declared my rebellion.
A week-long road trip to Rajasthan can only be rewarding if you plan it well. This state is abundantly rich in history, culture, heritage and most importantly hospitality.
And this is exactly why I am here to help you plan it.  But first let me share my itinerary with all of you that is comprised of 4 cities – Chittorgarh, Udaipur, Ranakpur, and Kumbhalgarh.
All of these places have their own history, culture, heritage, and terrain. Each place will add to your existing repository of travel experiences. You'll return a more fulfilled traveller.
My 7 Day Road Trip Itinerary for Rajasthan
Preparing a 7  day Rajasthan itinerary is not as easy as it may seem. Every city of Rajasthan has a history of its own that must be explored. My plan was to invest myself in the famous forts of Chittorgarh and Kumbhalgarh without missing out on the heritage and opulence of Udaipur.
This is how my week-long road trip itinerary for Rajasthan looked like –
Day 1
Explore the city of valour and sacrifice – Chittorgarh. Make sure to explore the Chittorgarh fort and spend as many hours as possible here, not missing out on anything.
Day 2
Drive from Chittorgarh till Udaipur. Soak yourself in the beauty of the city's lakes. 
Day 3
Stay in Udaipur and go touring the city's magnificent palaces, forts and temples.
Day 4
Go shopping in the local bazaars of Udaipur. Also, do a bit of local sightseeing.
Day 5
Drive from Udaipur till Ranakpur observing some of Rajasthan's remote locales. On your way to Ranakpur, stop by at Haldighatti – the famous pass near which the battle was fought between Maharana Pratap and Akbar.
Day 6
Be a part of an early morning safari at Ranakpur. Seek blessings at the Jain temple and Sun temple.
Day 7
Drive till Kumbhalgarh. Spend an entire day at the Kumbhalgarh Fort. Hire a Government approved guide for helping you tour this mammoth structure. 
This is how my 7-day road trip itinerary for Rajasthan looked like. My week-long road trip to Rajasthan concluded at Kumbhalgarh Fort and it was time to head back home.
As always, the quest had come to a planned end but the heart was still there. I headed back home (New Delhi) on the morning of day 8.
Now that you're aware of my itinerary for pursuing a week-long road trip to Rajasthan, I'd like to share my experience in all of the places that I visited.
Begin your Road Trip from Chittorgarh – Feel the Valour
Situated about 570 km from Delhi (my home city), the city of Chittorgarh has always fascinated me. Its main attraction, the Chittorgarh Fort was built in the 5th century and takes its architectural inspiration from a fish.
The largest fort in India and the third-largest in Asia, although mostly dilapidated, still stands tall and strong. It was subjected to countless attacks (27) and put under siege thrice, yet could not be robbed of its glory. 
Spread across 700 acres and a periphery of 13 km, it consists of 84 water bodies and 113 temples. One enters the fort from the rear and gets simply mesmerised by looking at its humongous construction.
Foodie Alert for Chittorgarh
Being the foodie I am, here are some personal suggestions for places with lip-smacking food options that I have tried and liked.
Café Choco Mocha (Meera Nagar Market) – Anytime snacks
Breakfast – Hotel Nandan Palace (Opposite Railway Station)
Dinner – Hotel Bhairav Palace and Restaurant (Kota Highway)
Hotel Bhairav Palace is a bit far away from the city (31km), but the food is worth the drive. Just make sure to declare your tolerance levels to spices and chillies, for Mewar is notorious for ultra-spicy food.
By the way, it isn't just lip-smacking food and sightseeing that should encourage you to take a road trip from your home city to Chittorgarh. There exist 6 major experiences that you must have in Chittorgarh on a day trip, take a look. 
The kind of military planning and strategic understanding possessed by the great rulers and warriors of those times are both praiseworthy and worth noticing.
As a traveller, we have the option to either cover the fort on foot or visit the different sites in our personal or hired vehicles comfortably. The tales of valour and folklore is bound to leave you craving for more.
Oh, did I forget to mention the sound and light show? It is an enriching experience that gives you goosebumps and incites a feeling of pride.
Stop at Udaipur Next – The Royal Leg Of your Rajasthan Road Trip
Our next stop was the lake city of Udaipur which is about 120 km away from Chittorgarh. The National and State highways of Rajasthan are a treat to drive on.
We planned a three day stay in Udaipur and Rang Niwas Palace became our comfortable abode. The property is owned by the royal family and was originally used to facilitate the stay of their guests. Undoubtedly, Udaipur is rightly famous for its grandeur and royalty.
Although the city has no dearth of places to visit ranging from the city palace, famous temples and other monuments of historical importance, one should not miss the real beauty that makes it lively at heart.
Unlike the typical tourist, we ditched the car and decided to explore the lanes on foot. Every nook and corner is adorned with telltale paintings depicting the glory of Mewar. A simple conversation with a local over a cup of tea is not to be missed for it is enriching with folklore and fables.
As a piece of sincere advice, do not dare take your car for a ride through the old city. Since Udaipur has been earmarked for the smart city project, half the city (old) is dug up and bears a striking resemblance to the narrow lanes of Chandni Chowk in Delhi.
What & where to eat while on a road trip to Udaipur?
Lip-smacking street food to lakeside, rooftop and dine-in restaurants, this city of Udaipur is full of surprises. I can go on and on about the places and food options available. 
I highly recommend the following places to eat and dine.
White Terrace Restaurant
Patio
Hari Garh Restaurant
Panna Vilas Restaurant & Lounge
Khamma Ghani Restuarant
For me, food is the most interesting part of any trip I undertake. I believe God put us all on earth for only two reasons. Exploration of new landscapes and cuisines. Udaipur is surely a favourite of mine in this regard.
If you happen to be the experimental type like us, the street is your playground. Every nook and corner has a different taste and variety. Hence, it would be unfair to name a few and forget the rest.
Advisory: Mewar is famous for its generous usage of spices and chillies. Therefore, always remember to declare your preferences lest you need to take a dip in one of the seven lakes dotting the city.
Enroute Ranakpur, Visit Haldighatti –

The Place Where Honour takes Precedence
Home to many great warriors, Mewar saw the rise and sacrifice of Maharana Pratap, who devoted his entire life to the cause of freedom and honour.
A week long road trip to Rajasthan would not have been complete without a visit to this place where 18000 souls perished for pride. Haldighati is a pass contrary to popular belief of being the battleground.
The battle between the forces of Maharana Pratap and Akbar (lead by Man Singh) was fought about 5 km away from the pass.  But its strategic location allowed the forces of Mewar to restrict the movement of the enemy and inflict maximum damage.
The colour of the soil of the pass very closely resembles that of turmeric (Haldi) and hence the name. A museum dedicated to the great battle has been built about a kilometre from the pass and is worth visiting. The depiction of minute details takes one back to the era and invokes a great sense of honour and pride.
Ranakpur – A Bridge Between 2 Popular Trails for your Rajasthan Road Trip
Ranakpur serves as the bridge between two popular trails for the Rajasthan road trip. It is preferred by travellers primarily for an overnight halt while moving from Udaipur to Jodhpur or vice-versa.
I included Ranakpur in the itinerary for its remote, untouched and tranquil surroundings. Few are aware of its spectacular marble Jain temple and a sun temple.
A peaceful place with limited connectivity and rich flora and fauna, it helps to vitalize and allows self-indulgence. The drive from Udaipur to Ranakpur takes you through the interiors of Rajasthan and picturesque locales.
Ranakpur offers a safari for wildlife lovers and is a perfect getaway for people looking for some time away from the usual hustle and bustle.
Kumbhalgarh – Last Stop on My Week Long Road Trip to Rajasthan & The Birthplace Of A

Braveheart
A world heritage site, the fort of Kumbhalgarh is famous for its wall.
After the Great Wall of China, Kumbhal holds the record for a wall which is 15 feet wide and 36 km long (in the periphery). The great Maharana Pratap was born in this fort and later carried on the legacy of his forefathers.
This fort is a marvel that resisted all attacks and never succumbed to its invaders. Enclosed within are 365 temples out of which 300 are Jain temples. It generally takes around 5 hours to trek across the wall of the fort and do not miss the opportunity if you can endure it.
Hire a Government approved guide and spend some time exploring the fort to understand the lives of people who valued freedom more than the luxuries of royal life.
7 Crucial Tips for Pursuing a Road Trip to Rajasthan
Planning is quite a tedious task and is disliked by many. But heading out on the road without preparation is not a good idea in real life (it does look attractive in movies).
So, to cut the long story short, I followed a basic checklist that I am sharing below for easy and quick reference.
1. Prep the car well
Your car is going to be your best friend throughout the journey. And so it deserves special care and attention.
Get the car serviced if required. Else get it thoroughly checked by a mechanic. The vitals should be fine and documentation and spares should be in place.
2. Book a car online, well in advance if you're going for a rental
If you along with a bunch of friends are planning to go tripping by road to Rajasthan, make sure to book your rental well in advance. You can avail yourself services of Zoom Car or even some of the local rentals.
3. Pack your clothes, shoes and travel accessories adequately 
Heading out on a road trip gives us the affordable luxury of packing adequately (read generously). There is always space for a few extra clothes or pair of shoes.
4. Don't forget to carry a medical kit along with you
Prepare a medical kit to meet your basic requirements. In case of known ailments, make sure your prescriptions and extra medicine are in stock.
5. Learn before hand a few basic but essential first aid procedures
It is advisable to learn basic first aid procedures to stay confident and self-sufficient if the need ever arises.
6. Keep emergency contact numbers handy
Equip yourself with emergency information to avoid any kind of panic situation. It is always wise to keep numbers for highway support, car care assistance, hospital enroute and family and friends handy. It always helps to have a plan B while on road.
7. Carry a sufficient amount of cash
You might as well argue, why to carry cash in the times of the digital revolution. But believe me, when I say, it is your saviour in distress. Anticipate, calculate and accordingly decide upon the amount that's sufficient for you.
The state of Rajasthan is full of colours, rich in history and heritage and offers a unique narrative to the hundreds of untold stories. Go out and explore, who knows you might find a treasure.
About the Author