Varkala is the land that's painted blue by the endless waters and clear skies. With exquisite surroundings and a laid back vibe, the little town of Varkala is definitely worth all your time.
Located in the Thiruvananthapuram district of Kerala, Varkala's North cliff is perched right next to the Arabian sea coast giving it the most beautiful natural setting from dusk to dawn. Away from the hectic city life, Varkala is easily one of the most picturesque and peaceful getaways that a traveller should experience at least once in his/her lifetime. You visit Varkala once and you would want to come here again.
In my Varkala travel blog, I will be sharing the details of my visit to this amazing destination in southern India. I will also be giving you tips on how to make the most of your Varkala visit.
Varkala: An Overview
Before going into the details, here are a few things that will help you plan your Varkala visit
Location
South India
State
Kerala
Best time to Visit
November to early February
Ideal visiting time
2-3 Days
Budget for 3 days & 2 nights
₹4000 per head
Safety Level
Moderate to High
Major attraction
Beaches temples, ayurvedic and yoga retreats
How to reach Varkala?
The town of Varkala is easily accessible by road, air and rail. Personally, I'd suggest you take the bus if you are coming from in or around Kerala. It's an overnight journey to Kollam from where you can take the train to Varkala and you'll be there just in time for breakfast with a view.
By Air
Thiruvananthapuram International is the nearest airport (55kms).
By Train 
Varkala-Sivagiri railway station is well connected to other parts of India
By Bus
Regular buses ply from the neighbouring states to Kollam (37kms)
For internal transport. there are bikes and cycles available for hire on the cliff at very nominal rates making it easy to get around the town. For those of you who are travelling from other parts of India or the world, taxis can get you from the airport to Varkala in no time.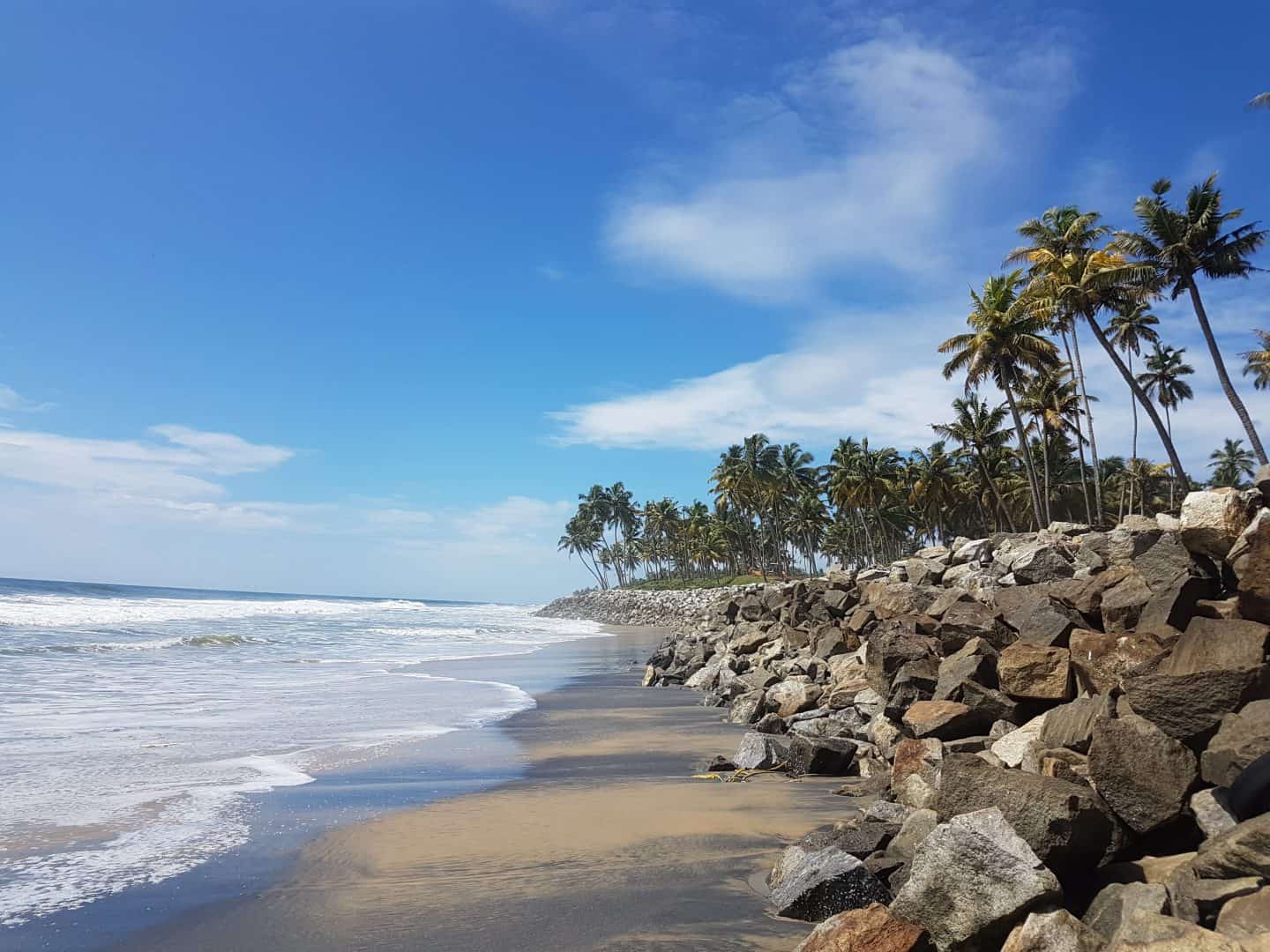 Varkala is Kerela's own hotspot for backpackers. Photography by Radhika Vinod Kumar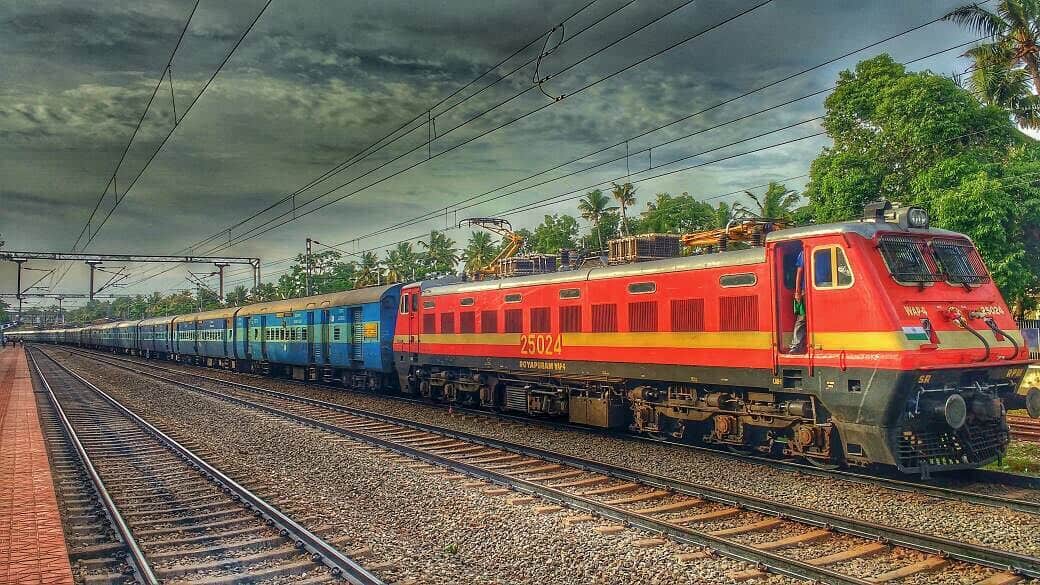 Varkala Railway Station. Photography by Shaiju
Where to Stay in Varkala?
Varkala has stayed that suits all kinds of travellers. From budget rooms to luxury cottages, you can pick the place that suits your budget. There are a couple of hostels too for all you backpackers. Without a doubt, Varkala is easily one of the safest places I have ever come across. The people here are very chirpy and don't bother you unless you need any help which is another reason why it is preferred by solo female travellers across the world because you never feel unwelcome and it's always pleasant.
If you are looking to stay on the cliff, from Bamboo Village and Kerala Bamboo House to Clafouti and Black Beach Resort, there are just so many options you can choose from and, if you are looking for some exquisite luxury there's always the Taj Gateway Hotel Janardhanapuram or B'Canti Boutique Beach Resort. You can even check for the resorts that are on south cliff or in Odayam beach for a beautiful, secluded getaway.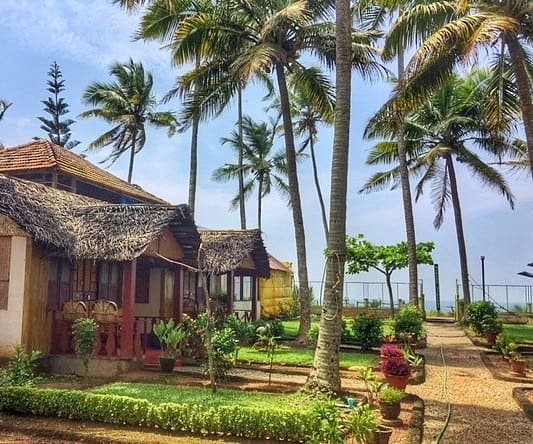 Bamboo Village. Photography by Jerome Verghase
Clafouti Ayurvedic Resort. Photography by Akin Kuriakose
Things to do in Varkala
Ideally speaking, just do nothing! And you'll know why I'm saying this the minute you get there. Just sit around on the beach, soak up some sun, go for a swim or grab your favourite drink sitting on the cliff and just admire the beauty that is Varkala.
Visit the Beaches
Get the Adrenaline Rush or learn a soothing skill
Go for ayurvedic treatment or Yoga
Visit the Beaches 
The Varkala beach is located right off the cliff and there are a flight of stairs which you can take to get to the beach. The cliff is lined by restaurants and shops that sell silvery jewellery and clothing, making souvenir shopping both easy and fun.
If you're wishing to escape the crowds a little more, head south to the Black Beach which gets its name from the glistening black soil that decorates its shore and this one's much quieter and less crowded, perfect for relaxing.
North of Varkala Beach is Papanasam beach which is famous as it is believed that a dip in these holy waters will wash away all your sins. A lot of Hindus come down here to perform annual rights for departed souls making this place religiously important as well.
Odayam beach is another quiet beach located south of the cliff which is en route to Kappil where you'll find many colourful boats lining the shore adding to the vibrancy of the coast.
Get the Adrenaline Rush or learn a soothing skill
There are many places that provide surfing and cooking lessons in case you are in the mood to learn something new. If the weather permits you can go parasailing, jumping straight off the cliff too! There's a lot in store for all you adrenaline junkies out there.
Go for an ayurvedic treatment or practice Yoga
There are many ayurvedic spas and treatment centres in Varkala where you can get some relaxing therapies. Y can also try out some yoga sessions when you are here.   
Papanasam Beach. Photography by Harikrishnan Premprakash
Local Sightseeing in Varkala
If you're up for some sightseeing, there are a few places to explore in Varkala.
Anjengo Fort and Lighthouse
Kappil
Janardhanaswamy temple
Shivagiri Mutt
Ponnumthuruthu Island temple
Anjengo Fort and Lighthouse
Head to the Anjengo Fort and lighthouse which is around 12 km from the cliff. Built by the East India Company, the fort was England's entry point into the country from the Malabar coast. Now undertaken by the Archaeological Department, the fort is well maintained with lush green lawns and a view of the Anjengo beach at the backdrop.
You can also visit the lighthouse for a perfect aerial view of the area and its endless waters. Don't turn back just yet. Take the fort road and just keep riding ahead because that's what we did and it was one great choice. We ended up on a road that was just a few feet away from the ocean, water hitting us like a drizzle thanks to the winds. What a magical view! You can stop by and climb onto the rocks and just watch as the waves lash the rocks and appreciate the true beauty that nature is. There is a boat jetty in the backwaters on the opposite side if you want to take a ride through the waters.
Kappil
Ride down to the beautiful Edava-Kappil road. What's so special? As you reach the bridge, you'll be right in between the backwaters and the beach, Kappil is beautiful! If you're up for some adventure, there is a government-run centre where you can pick motorsports of your choice like kayaking and jet skiing or if you want to do it authentic Kerala style, there's always a romantic boat ride in the backwaters.
Janardhanaswamy temple
Visit the 2000-year-old Janardhanaswamy temple dedicated to Lord Vishnu. The ancient temple architecture and just the premises will instil a great sense of calmness and inner peace.
You can also visit the Shivagiri Mutt and Ponnumthuruthu Island temple if time permits.

Anjengo Fort. Photography by Nidal Shaheed
On the way to ponnumthuruthu Island. Photography by Vishakh Amujendran
Where to Eat in Varkala?    

       
The Varkala Cliff is lined by beautiful cafes and restaurants that overlook the Arabian waters. Honestly speaking just try every place you can while you're there because each one is unique.
Some places I'd probably recommend would be Rock n Roll café, The Juice Shack and Tibetan Kitchen. If you're looking for some authentic Kerala meals, Jayram's Café has some yum veg meals and if you're looking for a fancy dinner date, the upper deck of Café Italiano is just the place.
In the evening, many cafes on the cliff have candlelight dinners as well. Every evening the catch of the day is displayed across the cliff, so you can just pick your favourite seafood from the fresh catch and they'll cook it for you.
From authentic Kerala cuisine to continental, Asian or Italian there's an entire spread that you can pick from. There is everything from English breakfasts and pancakes to Indian rotis or naans and lasagna for you to feast on. Some nights, there is live music or parties that happen in some of the cafes where you can just sit back, grab a beer and sing your night away. The food isn't particularly expensive and depends entirely on what you choose to eat.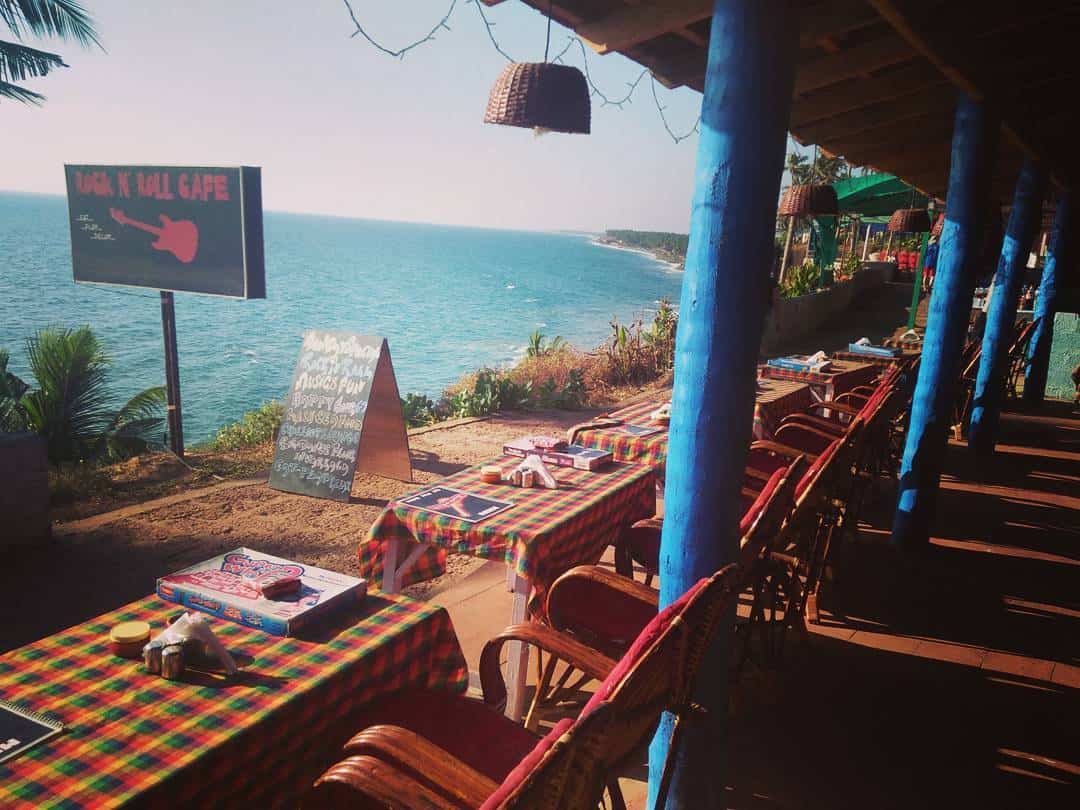 Rock and Roll Cafe. Photography by Gurbani Chopra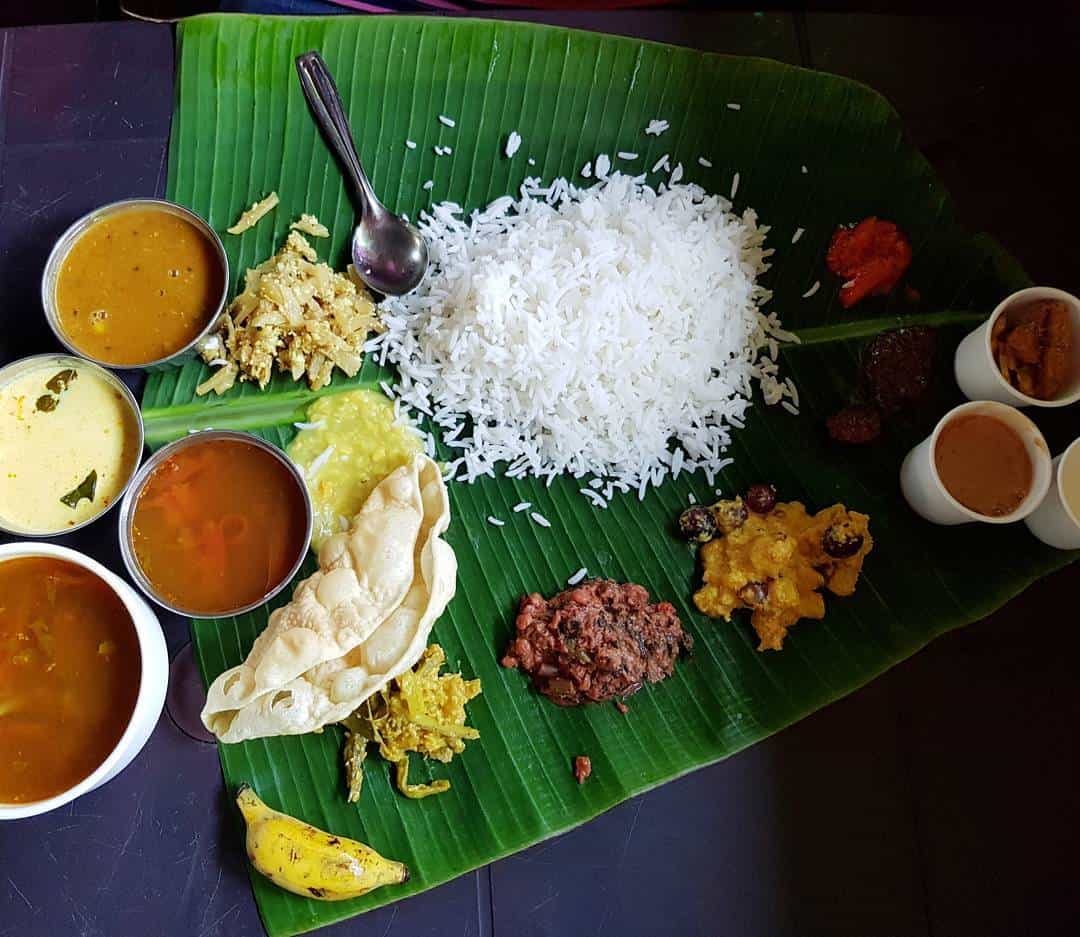 Delicious Kerela Meals served on a fresh banana leaf. Photography by Nanthani Narula
Things to buy in Varkala
Shopping in Varkala can be really fun. You can buy a wide variety of things in Varkala. These include clothes, footwear,   traditional handicrafts and artefacts.  In case you are looking to buy some souvenirs to buy, you will have plenty of unique items to choose from. Coir made products, horn carved items, tea, coffee and aromatic spices are available here.
Beach Markets
These small and colourful bazaars are great places to buy traditionally carved horns and traditional crafts.
Seaside Cliffs
You can buy a number of handicrafts and jewellery here.
Tibetan Market
Here you can buy some prayer flags, singing bowls, silver jewellery and crystals.
Khadi Store
A great place to buy clothes honey, hair oils, leather goods etc.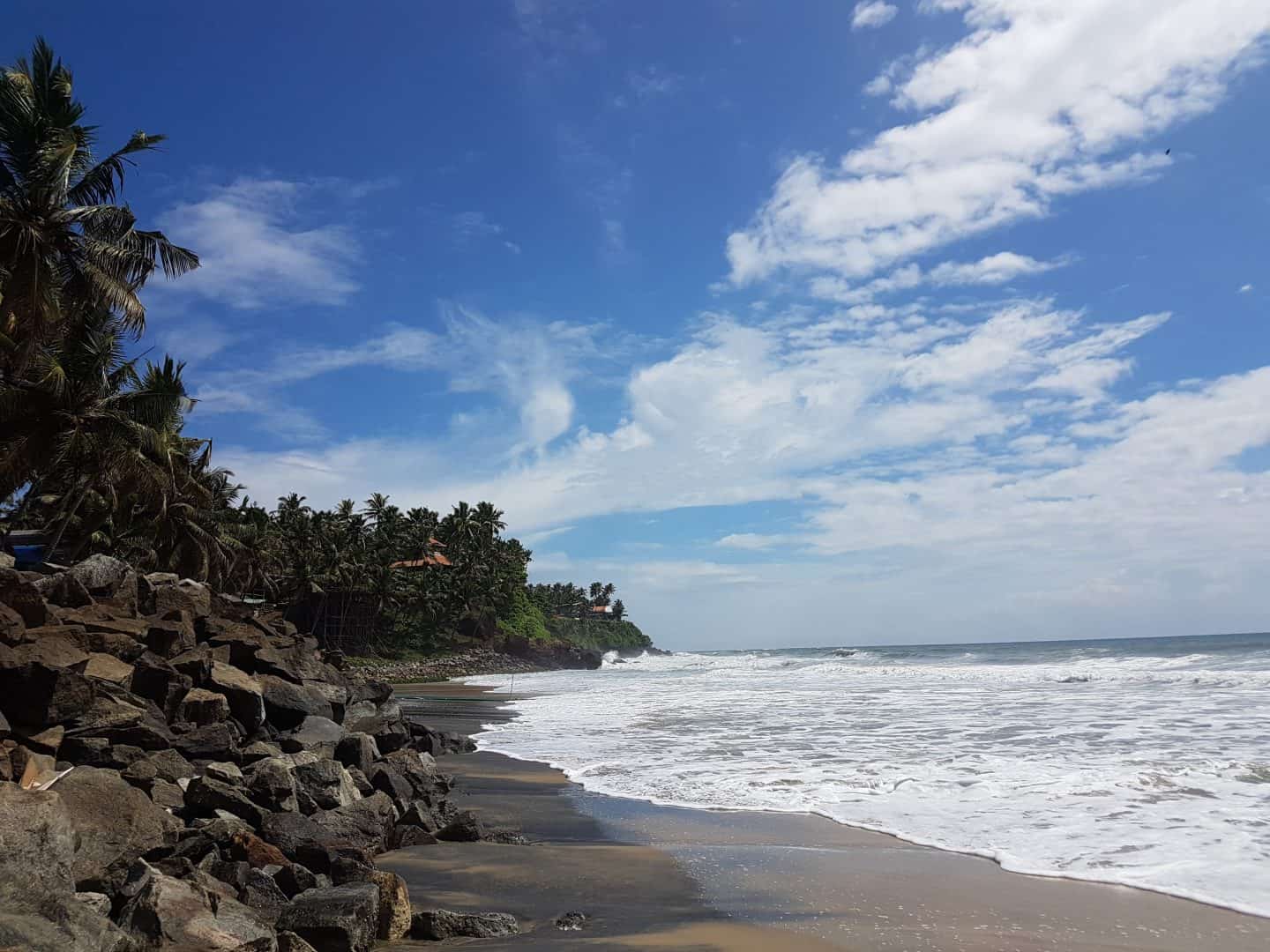 Sea, sunside and you. Photography by Radhika Vinod Kumar
Why do I love Varkala and what I took from it?
Varkala is an absolutely magical town. Just walk up to the helipad for sunset and sit on one of the benches that overlook the beach. That moment right there, be it alone or with a loved one is something you will cherish. The colours of the sky and its reflection in the waters are one of those pictures straight out of a postcard!
This town can give any foreign destination competition for its unmatched views or like a fellow traveller I met said: "man this looks everything like Santa Monica Pier or even better." Something that I will never forget and what made me respect this place was its people. They make women feel absolutely safe. No judgment made on your outfits no creepy eyes or comments, Only warmth!
Don't take my word for this, just come down and experience the magic that is Varkala and I'm certain you will want to come back. The beaches, authentic food and traditional massage but most importantly the vibe, is sure to find a very special place in your heart. After all, she is God's own Country.
A gorgeous painting of a Kathakali dancer on a coconut tree. Photography by Jin Rijas
What Should First Time Travelers Expect?
Don't think just do! That's right, make this your mantra because this is the ideal place to take that impromptu trip. Be it for a romantic couple's only getaway, your first solo trip, family time or a bunch of friends catching up, Varkala is perfect for it all. I'd suggest you pick a stay right on the cliff, whichever suits your budget. Some of my personal favourites are Bamboo Village, Sun View, Clafouti, Krishnatheeram, Oceano and Soul & Surf.
Sip on a cocktail overlooking the waves, experience the sunset, beach walks, stroll the cliff up to the helipad, get a massage but, most importantly, relax! Because that is the essence of Varkala. Unlike its noisier and crowded counterpart Goa, this place is ideal to rejuvenate yourself and catch up with loved ones. Depending on your budget you can get a stay anywhere between ₹ 500-15,000 and a meal would cost anything between ₹ 400-1000 again based on your choices.
The people around here are warm and helpful, safety is no concern at all. Winters are the best to visit Varkala as the summers get very hot and sweaty while monsoons are harsh as well with incessant downpours. Just remember to bargain during your purchases and auto ride because like any other tourist place this could be unnecessary expenditure if not looked into.
Varkala in Pictures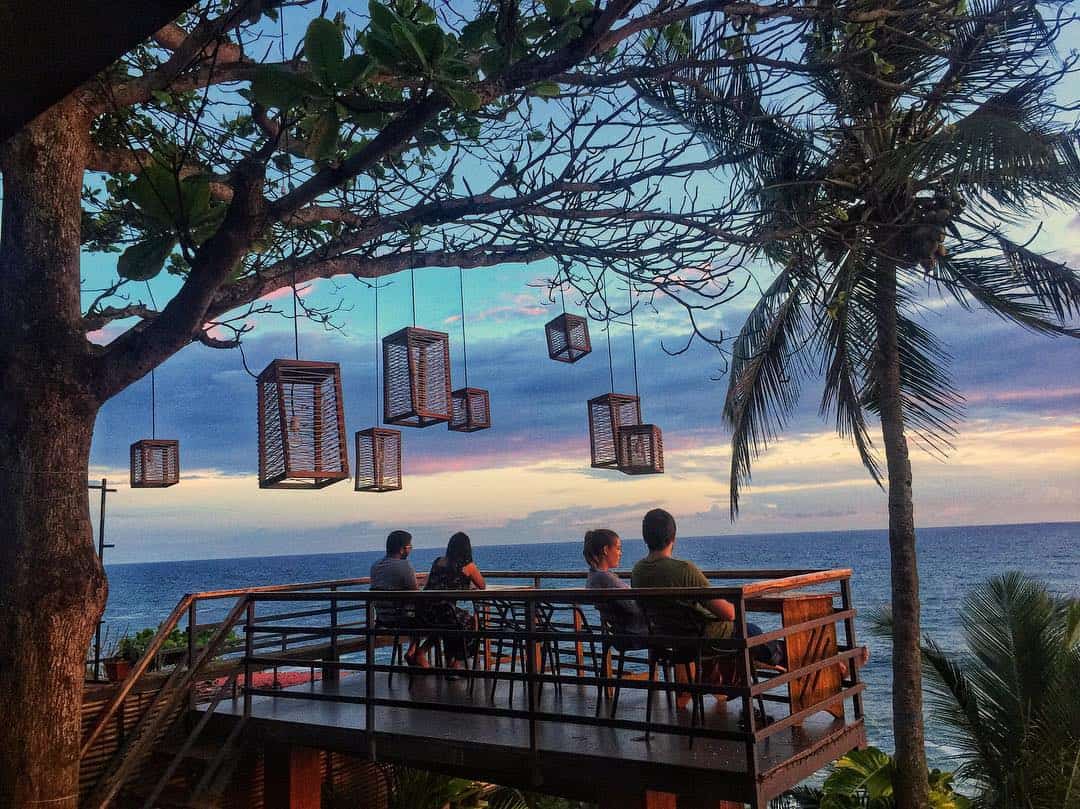 Easily accessible via rail, road and flights, Varkala is Kerela's top notch backpacker destination. Photography by Hari Krishnan
Stroll through the heavenly roads of Varkala. Photography by Radhika Vinod Kumar
Varkala is a town painted blue by nature. Photography by Pradeep Kumar
Serenity personified. Photography by Radhika Vinod Kumar
If you're thinking of heading somewhere this New year's, Varkala is just the place to bring in 2019! It isn't just a destination but an experience.
Happy wayfaring 🙂
About the Author