Traveling with a baby might come across as scary for a lot of women. There might be apprehensions and concerns pertaining to the safety of both mother and child. As women travelers, we should address those questions, those fears and not succumb to them. Taking a leap forward with my baby girl transformed my life forever. I feel more confident and inspired than ever before. If you're a mom who loves to travel, just pursue it right away.
Till date, I have traveled to 4 continents and 14 countries. Out of the 14 countries, I've covered 10 after my daughter was born and traveled across two countries with my daughter alone, without my spouse around. Within India, I have traveled to 21 states right from the Siachen base camp in the north to Kerala in the south. One of the initial experiences I had of traveling with a baby was in Bangalore for a music festival. My daughter was 9 months old at that time. It was a lovely experience for us mother-daughter duo. I am but an amalgamation of hundreds of experiences like this one.

Travel is a release for me. It is my answer to detoxifying from all the stress and exhaustion that life brings with it. The very feeling of disconnecting from what is going on and feeling the breeze in your hair (however romantic it may sound), or witnessing something fascinating like a sunset from a totally new destination or trying out a new cuisine or even interacting with someone from another state or country while travelling is what makes me want to travel more. I don't think I can ever give up on this feeling.
Hence, traveling with a baby has now become the norm for me. I mean why should we women who are otherwise passionate about travel give it up just because we turn moms? By means of my current blog, I intend to share my journey with all the lovely moms out there who want to pursue travel. If my journey inspires them to take the plunge and travel, my work here is done.
Traveling with a Baby: How did it all Start for Me ?
From a very early age in my life, I had a strong desire to travel and discover new places each year. I wanted to learn more about myself and I knew for a fact that travelling on my own would provide me with perspective as nothing else does.

More than dreaming of a huge house and all the luxuries in the world, what rocked my boat was the idea of being able to constantly tick off places from the world map and plan the next unexplored destination.
My baby girl was just three months old when we first started traveling together as a duo. She did her first International trip when she was seven months old.
A lot of parents ask me this question what is the minimum age for an infant to start traveling. Let me elaborate more on it below.
 This is me with my adorable baby girl on a trip together. Picture credits: Deenaz Raisinghani
The Minimum Age for an Infant to Start Traveling
I think an infant can safely start travelling after three months of being born, given that you can obviously do short trips within your city or nearby places by road when they are just a month or two.
Taking a train or a flight would be the best advice when they are at least three months old. This is because of the cabin pressure while travelling on airplanes and it's best your baby is well equipped physically to be able to handle that.
For train travel as well, I have seen parents travelling with very young babies, but because their neck muscles and spine are still developing, any sort of trauma would be a lifelong liability for the kid.
Hence, I would advise parents to wait at least the first three months to undertake travel of any kind with their child.

Preparations Needed for Traveling with a Baby
While pursuing traveling with a baby, you should plan your destination in advance considering the age of the baby and your health after delivery.
 How well you have recovered postpartum will be a deciding factor in choosing your destination. So take it slow if you feel you need more time to heal from the birthing process and get your energy back. Plan easy destinations with minimum travel involved or maybe a short flight so you can take a relaxing break with your baby.
If you feel you have regained your energy again and are ready to do some serious travelling, you can plan a single state within your home country. Mine was India so I chose states such as Rajasthan, Gujarat and Kerala and explored various cities by road.
This will give you a good chance to bond with your baby while travelling and you will enjoy the experience. If walking holidays are what you enjoy more, think of planning an overseas trip, or go to places like Pondicherry or Matheran that you will absolutely enjoy with children.
Remember to carry a car seat, baby carrier and a stroller along on your trips for ease of getting around places. I usually plan destinations off the commercial circuits so that I can explore places more intimately. My stay in the Parvati Valley in Himachal Pradesh was one such experience where I trekked, camped and also stayed at a beautiful riverside cottage and explored the villages nearby on foot.
The only way to get there was by a downhill trek and a bridge across the river so it was cut off from too much commercialization. Internet research, Lonely Planet and Outlook Traveller magazines hold a special spot in my home and I absolutely dig into them for advice and then do my own research.
I also look into access to food and medicines for the baby before I plan a trip. I carry a small carton with essentials and some fresh items in case I have the luxury of road tripping to a destination. That time,  I do not have to go shopping for last-minute emergency items.
But if I were to be on public transport, I carry just about enough stuff to be able to cater to any emergency and to keep the baby hydrated and clean.
Last but not least, I organize my travel gear such as rucksacks and backpacks if I am venturing on a hardcore backpacking trip, or light strollers so I can pack effectively. I include baby and adult travel essentials and try to pack them into smaller bunches for immediate use.
I insist you try the same.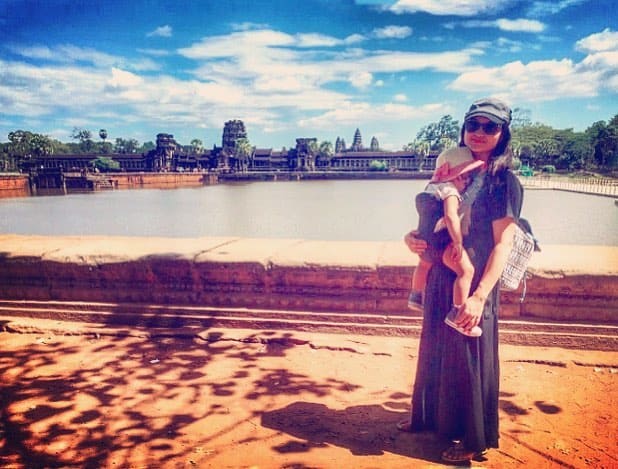 Whenever you travel with your baby, ensure maximum comfort levels. Picture credits: Deenaz Raisinghani
My Travel Check List for Trips with My Baby
My travel checklist in no particular order always includes the following things –
Baby stroller – make sure it is not too bulky.
Baby Carrier – Cannot stress more the importance of a good sturdy and all-weather baby carrier. It will be your lifesaver
Medicine kit– stocked with two separate zip lock bags with baby and your medications. Remember to carry prescriptions for medicines that require them.
Baby Changing Bag – Instead of carrying a separate diaper bag, make one small pouch filled with diaper changing essentials, a feeding cover (if you use it) and one change of clothes. Put the rest in your rucksack.
 In-flight entertainment –  Carry small items that will engage the baby for hours, preferably new ones so they get surprised.
Food pouch – a few survival items like freshly boiled milk, small baby formula containers, bottled juice, bread and cheese slices, whole fruit and nuts.
Toiletries pouch – smaller packs of your bath and body care essentials as well as babies. Remember to keep it light.
Technology items – Your essential items from camera to cables so you can record your trip for lifetime memories
Booking records – Essentials such as Passport copies, hostel and train bookings, subway maps, brochures etc.
Wallet body bag – for your passport, boarding passes, a forex card and cash
I've shared my detailed travel checklist with all of you above. Let me now mention the three most essential items while traveling with a baby.
The three most essential items while travelling with a baby, in my opinion, are a baby stroller, a baby carrier and a waterproof backpack that is lightweight and fits all essentials for your baby while taking a flight, train, bus or just walking.
Another thing to add to this list would be a car seat, but those can also be rented at the destinations you are travelling to. If not, please remember that this is something that you will have to use if you are travelling overseas.
Significance of a Baby Carrier
Baby carrier is a lifesaver and I do not know of a single mom now that backpacks without a baby carrier. I have used a carrier on all my travels after she was born, and survived through them because I carried them along. I have repeatedly stressed it's importance in all my interviews and featured articles.
A good baby carrier would be one which is all-weather, lightweight and durable and also gives good lumbar and shoulder support.
[the_ad id="21277″]
My Take on Baby-Friendly Locations Globally
Europe as a whole is a destination that is actually very child-friendly. Depending on which part of Europe and the season you want to travel in, there are millions of parents who pick Europe as an ideal destination for kid-friendly travel.
I think my child enjoyed it a lot in Stockholm as there were a number of things to do there for her. We went to this Children's museum called Junibacken located on an amusement island called Djurgarden right in the centre of Stockholm.
Getting there was really easy by train and there were so many things to do inside that even adults would find amazing such as Sweden's largest children's bookstore and a ride called the story train which takes you on a physical ride through Sweden's most popular fairy tales, especially by Astrid Lindgren.
The proof of this place's popularity and credibility as one of the best for traveling with a baby is the number of baby strollers placed there. I saw several parked outside the museum. So it is literally one of Stockholm's most visited attractions.
Apart from Europe, Singapore is another destination which is extremely child-friendly. I went there before we had our daughter, but I can safely say that any mother could easily backpack to Singapore with their kid in a blink.
That country has catered to tourism so beautifully that children would enjoy theme parks, zoos and night safaris and whatnot! Apart from the country itself, the Changi airport itself is like a backpacking traveller's haven. It has one of the most expansive areas in terms of airport sizes with three terminals that you can access easily through the Skytrain.
There are gigantic video screens, games for kids to play, cheap local eats that kids would love, and a whole bunch of experiential gardens such as the butterfly garden, the cactus garden and the sunflower garden which makes you feel like you are not inside the airport at all. There are even movies that you can watch for free in theatres inside the airport and free PS3 zones that you can play at.
 Choosing locations that suit traveling with your child is very important. Picture credits: Deenaz Raisinghani
My Take on the Least Baby Friendly Locations Globally
The last family-friendly destinations in my experience would be those that are not very accessible to families at this moment. So this could be because they involve a significant amount of road travel, such as anywhere in the mountains of North India.
I am personally holding back a trip to Spiti valley because I would want my child to grow up a little more to be able to withstand the long and bumpy journey by road. Also the considerably lower levels of oxygen in the higher reaches.
Then there are destinations that you can reach only by trekking, like the Parvati valley trip we had done last year where we took our child along. We love trekking so could easily carry her along, but this may not be the case for everyone.
Quite contrary to what everyone says about Paris being lovely with kids, I actually experienced a few difficulties while backpacking Paris with a kid. It is easier if you are taking taxis or staying in the central parts of the city but for backpackers it's hard. Reason being that we rely on walking extensively and on train networks and access to child-friendly facilities such as ramps or elevators to reach the subways.
I found fantastic public transport systems all over Europe and very well catered to kids but as soon we reached Paris, I sort of had to figure out how to find the best way to travel as the subway network is excellent in Paris, but it's a little chaotic. It also does not have child-friendly access in some of the subway stations for parents with strollers etc, so getting around was a wee bit harder.
My Preferred Destinations for Backpacking 
It's really difficult to pinpoint only one destination and pick a favourite but if I have to, within India it would have to be Jammu and Kashmir, particularly Sonmarg and all of Leh.
My favourite destination has got to be Leh.  I don't think I have seen more beauty in India than I have when I was in this region. It is really true about paradise being exactly like that.
Leh is just unbelievably gorgeous and the more you explore its interiors and peel it off layer by layer, you just fall in love with it more and more. Every circuit be it the stunning lake circuit in Ladakh, or its valleys or its different coloured mountains just leaves you in awe of it.
If I have to choose destinations outside India, it would surely be the Scandinavia region.  I loved travelling through Scandinavia. Sweden and Norway are absolutely stunning countries. In fact, if you have traveled through Scandinavia, you will not be very impressed with the rest of Europe.
Choose a mode of transportation that doesn't disturb your child. Picture credits: Deenaz Raisinghani
Friendliest Mode of Travel for Babies
There is no single mode of transport that would be considered the most baby-friendly. In my personal opinion, flights are more comfortable if you are travelling longer distances even within the country and personal vehicles are perfect if you are planning to road trip across a particular state in India or overseas.
There are certain places that you can only travel to by road. So a personal vehicle or a rented car that you can drive would be perfect as you can choose to halt when you want and where you want with your kids.
A ship (considering it's a cruise ship) is also a great way to travel if you are crossing international borders and want your family to have a great experience on board.
I've traveled with my 16-month-old from Stockholm to Helsinki on a cruise liner and she enjoyed the experience as there were so many baby friendly activities inside for her.
I do not travel too much by trains in India at night as I find travelling on my own with a baby to be a little uncomfortable and unsafe.
However, day journeys on Indian tracks by train with kids can be pretty interesting. I have traveled extensively by train outside India and we have enjoyed the experience.
Are There Any Special Privileges for Moms Traveling with a Baby ?
As a mom traveling with a baby, it is important that you're aware of certain things before and during flights.
Asking for assistance after you check in with the baby is important. A lot of airlines have this option where they send staff along with you as they do with senior citizens and passengers in wheelchairs. They help you check in faster while assisting with your carry-on luggage.
Some airlines give preference to travelers with infants, and allow excess baggage and priority boarding. However, there have been times I have stood in long queues with an infant on my lap and not been given any excess baggage allowance at times. So you will have to be smart and carry as much as the airlines allow.
There are some airlines who will attend to your request for travelling in comfortable seats. So asking for a bassinet seat if you're traveling with a baby would be ideal. You can also choose to carry your car seat along which can be attached to the flight seat so your baby stays safe.
I usually request vacant rows and extra legroom so my daughter can stretch a little during the flight but this is not a guarantee unless you find extra sweet cabin crew or ground staff who will help you.
You can also request to be seated next to a female passenger if you are travelling alone and are going to be feeding your child and most airlines will accommodate your request. It is not very difficult to fly with your baby by yourself if you get the hang of it and also pack light.
 This is my munchkin and me enjoying our flight together. Picture credits: Deenaz Raisinghani
Feeding your Baby during Travel
Feeding a baby during travel can be a good experience for sure. One needs to keep in mind that a baby will need extra care and nutrition while travelling so they stay hydrated and the mother is relaxed.
During airplane journeys, it's recommended that the mother feeds her baby during takeoff and landing to avoid ear pain so I used to do that each time. I was breastfeeding exclusively during our first airplane journey so she slept comfortably through the flight.
 I carried a feeding cover along and made sure she was well nursed through the flight. If you are formula feeding your child, it is better to pack smaller tubs of formula ready to be mixed or premixed bottles ready to be fed at intervals so the child doesn't have to cry for a feed.
Of course, washing and sterilizing on the go is a little tough but you can always carry separate feeds in smaller bottles, or sanitizing liquid for nipples and bottles that you can use.
I've seen some mothers carry expressed milk on the go and this is a great idea while travelling as it gives you more comfort. I remember that I used to wear a feeding necklace while nursing the baby on the flight or in the car, and she would love to play with the colourful beads as she drifted off to sleep.
For older kids, checking the child meal option is a great idea as some airlines provide fantastic kiddie meals, but also carry some fresh fruit or freeze-dried fruits/trail mix packs when you travel. Keep them hydrated and make them chew on something when they take off and land to ease the ear pressure.
Is it Possible to Backpack or Budget Travel with a Baby?
It is very much possible to travel on a budget with children, and my journey to 10 countries and so many places within India are proof of this. I do not think I could have afforded to travel so extensively if I wasn't travelling on a budget.
If you plan your finances well, book some really cool budget stays like family hostels, homestays, eat local, cook when you can, and take public transport, you will end up saving a lot for more expensive treats such as children's amusement parks, museums, car rentals and shopping.
Budget travel doesn't have to be drab or measly, it is extremely exciting if planned well. Sometimes we allow ourselves a luxury holiday where we go all out on stays and experiences, but we seem to enjoy travelling like locals more so a big thumbs up to budget travels with kids.
 Who says that babies can't bunk in backpacking hostel beds? Picture credits: Deenaz Raisinghani
Traveling with a Baby as Compared to Traveling with One's Friends
Travelling with a child is no doubt, different from travelling by yourself or with friends. It is not different in a negative way, but yes it involves more preparation, foresight and backup planning. You are responsible for the little one all the time. Hence, travelling has been a little more relaxed and not reckless.
Here are some major considerations that you should keep in mind while travelling with a kid:
Make prior bookings for accommodation and transportation
Having all your travel and accommodation bookings in place so you don't leave it to chance. It's a bad idea to try to wing it if your kid is with you and you do not have a confirmed train booking or bed to sleep in after travelling multiple hours in the day.
As a solo or couple traveler, you can choose to explore options for stay once you reach as we have done in the past, but with a kid, it is wise to have things sorted.
Be prepared for carrying some extra (but worth it) stuff
Also, you will have to carry a little more stuff. Mostly some fresh food and a carry-on bag for your child which you may not have carried if you were travelling by road and planning to take pit stops at highway dhabas (eateries) to eat at.
Avoid night clubs and noisy places
You should stay away from places that are not suitable for kids such as busy nightclubs or late-night pub crawls. Nothing annoys a child more than if their physiological needs are not taken care of so try not to expect your child to do late nights with you every day while travelling.
Plan to go to live music arenas or popups and festivals during the day when your kid is more active. Take a breather at night so you can enjoy the next day as well.
Call it a night early if a day trip requires extra walking with your baby
If your travel involves a lot of walking during the day with your kid in the stroller or walking beside you, it is best to call it a night early. Let the kid regain her/his energy for the next day.
I have traveled to Cambodia with my girlfriends and my daughter and we had an amazing time from eating at local joints to singing at karaoke bars to just lounging around together. We did not go hardcore clubbing but definitely did not miss out on anything else with the baby around.
Now that I've elaborated on the initial preparation, best/worst baby friendly locations and other helpful information, let me throw some light on the safety of a baby while traveling.
 Capture from my trip to Cambodia with my girl pals and baby. Picture credits: Deenaz Raisinghani
Is Traveling with a  Baby Safe?
The first question that will cross your mind as a parent is about the safety of a child. Well, the answer to that is, "absolutely."
Travelling with a baby is as safe as can be if you were travelling by yourself. You have to just ensure that you follow a comfortable routine for the baby and do not indulge in extremely high octane or death-defying activities such as bungee jumping or para jumping for that matter.
While traveling with a baby, you have to be careful about where you choose to stay.  If you are backpacking, remember to choose spots that are within easy walking distance from the central stations or accessible from the airport by public transport.
Also, read multiple online reviews of the accommodations you have booked and email them prior to your arrival confirming that you will be travelling with a baby so they can make appropriate arrangements.
I have stayed with my baby girl alone in a foreign land and backpacked across countries, so I can safely say that there are no hindrances to mothers travelling solo with their children. One should use common sense and be alert to avoid being in deserted areas after sundown and of course not make random friends who want to be too friendly with your baby or you. These are generic safety tips for travelers and hold true for traveling with a baby as well.
My Greatest Fear Before Traveling Alone with My Child
My greatest fear was, of course, doubting myself about whether I would be able to travel on my own in a distant land, that too with a little infant.
I knew I wanted to backpack and experience that with my child, but I was a little unsure about being able to successfully accomplish solo backpacking across a foreign country with a baby.
When I finally embarked on the trip and as it progressed, I realized how good it felt to be able to enjoy travelling solo with my little one, and the bond we established in the process.
As I traveled from city to city on European trains, making friends with friendly people, learning the local languages, and staying at hostel dorms with my kid, I realized that the fear was all a state of mind.
I have definitely overcome it now as I enjoy travelling alone with my kid more than ever.
 With each journey, my little girl is getting even more confident and so am I. Picture credits: Deenaz Raisinghani
Important Lessons Learnt While Traveling with My Baby
If I were to talk about lessons learnt while traveling with a baby, I'd begin with the accommodations. One of the first things would be to double-check accommodation reviews before booking a particular place.  I learned this after a shoddy experience during my first couple of days in Germany with my baby.
Even if the accommodation looks good online, and is at a close distance from the station, it may be situated in an area that is not such a wise choice if you are travelling with a kid. In my case, I was entertained by noise from the street below and a shady neighbourhood that I would not have chosen if given an option.
Luckily, my daughter was too young to even realize so slept happily and the staff was really good to us so we were fine. But I would highly recommend double-checking online reviews.
Another lesson was to carry less stuff if you are going to be taking public transport like trains, trams and buses or walking with a baby around the city.  You are your own beast of burden so you have to make sure you don't overburden yourself with too much luggage and a baby that will need to be carried from time to time.
Positive Influences on My Child as a Result of Traveling
I am confident that travelling has made my child a well-rounded individual. It has given her a plethora of experiences that she has grown up with and that can only be a positive thing.
Children generally love activity and being active, unless a medical condition restricts them from doing so. Travel is a very energy-intensive activity and children would love it as it gives them a whole bunch of new experiences.
She has definitely picked up a lot of positive influences and interacted with kids and adults across the Globe. These interactions have made her more accepting of diverse cultures, languages and ethnicities than she would have been if she were confined to one region only.
She is learning to ask questions about customs that she sees around her or cuisine that she is introduced to on her trips. This is a very interesting experience for my husband and me as parents. We too are learning with her.
I feel travel makes you a very empathetic and curious individual with respect for other places and people, and she is definitely on her way to becoming more sensitive to others.
 The travel tales of my daughter and me are increasing with each year. Picture credits: Deenaz Raisinghani
My Message to All Moms Across the World
My message to women who wish to travel, whether they have a child or anything else in their lives is to just GO!
A child is just a part of your life and your life doesn't have to stop because of them. In fact, it can be more enjoyable once you believe that travelling with kids is possible.
I have been travelling for the last three years since she was born, and I don't see myself stopping anytime soon. I would not trade these experiences for anything else.
Even if the World tells you it is tough, trust yourself and take that first trip with your child. Come back and think about how it made you feel. Repeat it again. You will surely not regret the experience.
Happy wayfaring.
About the Author
THIS POST ENTITLED, 'TRAVELING WITH A BABY ACROSS COUNTRIES: AN INDIAN MOM'S INSPIRING JOURNEY IS AN EXCLUSIVE PROPERTY OF BUDGET WAYFARERS. ANY INDIVIDUAL OR ASSOCIATION INDULGING IN PLAGIARISM WILL BE DEALT WITH STRICTLY. IF YOU WANT TO USE INFORMATION FROM THE ARTICLE ABOVE, KINDLY QUOTE THE SOURCE.