Tips on how to ski safely are very important for any adventure junkie who wants to learn this activity. Going down the slopes, soaking up the stunning views and getting your adrenaline pumping is an incredibly fun activity. It's definitely something that everyone should try at least once.
However, if it's your first time skiing, there are some things you should consider to keep yourself safe on the slopes.  In the current blog, I will mention all the tips on how to ski safely for first-timers. These tips are also useful for other, more experienced skaters.
There are a lot of people who quit skiing each year just because the activity leaves them hurt. What they don't understand is that skiing is not dangerous. You just need to do it the right way. Certain tips on how to ski safely should be there at the back of the heads of all first time skiing lovers.
Skiing is done mostly in a lot of countries in Asia, Europe, Africa and North America. Whichever location suits you best, go for it.
Tips on How to Ski Safely 
Here are the most recommended tips for beginners who want to experience skiing.
Get fit in advance
Dress appropriately
Use the right equipment
Rent the essentials
Take regular breaks
Don't run before you can walk
Choose suitable trails
An Elaboration of Tips on How to Ski Safely
Let me now elaborate on each of the tips on how to ski safely one by one –
Get Fit in Advance
As much fun as skiing is, it's certainly not easy. If you're not at least a little physically fit, you will likely find yourself struggling. You'll be using muscles that don't often get a workout in your everyday life. So make sure you warm up and stretch to avoid pulling any muscles.
In the run-up to a ski trip, you should increase your level of exercise. That way you will enjoy the activity a lot better with a higher base level of fitness.
Dress Appropriately
As you can imagine, skiing is done in winter in whichever region you choose. Thus, it's going to get pretty cold out there.  So make sure you're dressed in layers so you can prepare for the change in temperature from the cold snow to the body heat of exercise.
Make sure the fabric is wind and water-resistant and has wind flaps, drawstrings, and snug ankle and wrist cuffs to avoid any cold coming inside.
Use the Right Equipment
One of the biggest causes of accidents and injury while skiing is incorrect equipment. It's important to wear a helmet.  This could save your life during any falls, and make sure your ski boots fit correctly.
You'll also need ski goggles to fit around your helmet. If you're renting from the resort or buying from a specialist shop, they should be happy to ensure that you have the right size, and show you how to ensure everything is properly adjusted.
Choosing the correct equipment will go a long way in helping you stay safe
Rent the Essentials
One of the important tips on how to ski safely is to rent the right equipment instead of borrowing equipment. Many times, beginners borrow the skiing essentials from friends and relatives. This is to be avoided.
Learning skiing on rented equipment that is not only new but will suit you better is highly recommended.
Take Regular Breaks
Like any physical activity, skiing can be exhausting. So make sure you take regular breaks. Stop before you get too tired and make sure you drink plenty of water.
Save the alcohol for when you've finished and start enjoying the skiing experience. You need to really focus on what you're doing and what's happening around you. So, if you're mentally or physically tired, you won't be enjoying yourself and hence you won't be safe.
Don't Run before you can Walk
It's okay to be a beginner. The slopes are categorized for a reason. So don't push yourself too hard and try a slope that is too advanced for you. It's also important to stay on the trail, as areas that are closed are shut off for a reason. It is not safe to go into these parts.
If you are brand-new to skiing, there is no shame in booking a lesson. In fact, this is one of the best tips on how to ski safely. Once, you have a hang of it, you will have a much better time.
The last thing you want is a broken leg ruining your trip.  1.7% of people who go skiing from the UK will come home on crutches, and a Piste rescue in Europe is likely to set you back around £445.
So it really does pay to be safe while you ski. If you follow these tips on how to ski safely, you are much more likely to have a fun and safe adventure.
If you want that skiing turns out fun for you, learn the safety tips
Choose Suitable Trails
One of the most recommended tips on how to ski safely is having an awareness of trails. Here is an overview of different trails in Europe and America.
Let me begin with Europe. Different colours are used in skiing resorts in Europe to depict the difficulty level.
Green
Easy and gentle slopes for beginners.
Blue 
Easy trail. Suitable for beginners again.
Red
Intermediate slope. Harder to ski here.
Black
Extremely difficult slope
Now let me talk about North America. Here shapes and colours together depict the difficulty level of trails for skiing.
Here is an overview –
Green Circle
Easy trails for beginners.
Blue Square
Intermediate trails for advanced beginners.
Black Diamond
Hard trails for advanced skiers.
Double Black Diamonds
Very hard trails for experts.
Terrain Park
Extremely challenging trail. It's present only in limited Ski resorts.
How to Introduce Skiing to Children?
If your child is more than three years old, he/she is as able to ski as an adult. Sure, the tips on how to ski safely for children are a must for parents.
Before you take your child skiing, basic training is recommended. So admit your child to a good ski school. Certain schools around the world even offer snow programs for beginners. In these programs, the children are first familiarized with snow and only then introduced to actual skiing.
Once your child is done with the ski school, observe whether the child likes spending time around snow. Also, ask the child whether skiing is something that he/she would prefer to do. If he/she does, take the leap forward and get him to actual skiing.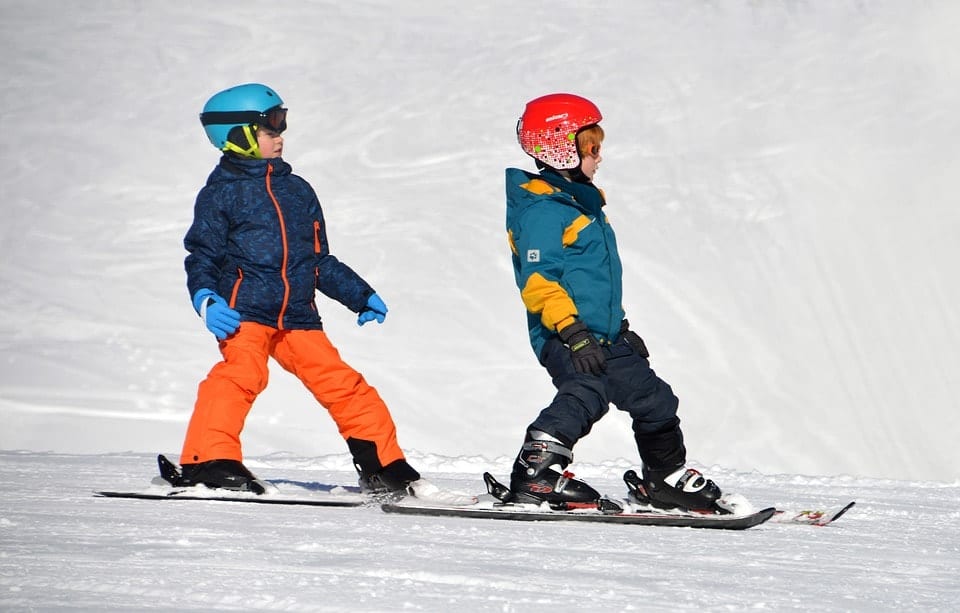 Introduce skiing to children only after proper training
Lesser-Known Destinations for Skiing Around the World
As somebody who wants to try skiing, not only should you be aware of the tips on how to ski safely but also about the offbeat locations to perform the activity.
Many times, offbeat locations for skiing turn out to be more fun and nominal than expected.
Here are a few such destinations –
1. Aru Valley in Kashmir, India
2. Solang Valley, India
3. Oukaimden, Morocco
4. Mzaar, Lebanon
5. Troodos, Cyprus
6. Mt. Olympus, Greece
7. Ben Lomond, Tasmania
8. Dizin, Iran
9. Uganda, Africa
10. Union Glacier, Antarctica
If you have any other safety tips for skiing, let us know in the comments sections below. Till then, happy skiing.
About the Author
Codie Wright is a travel and lifestyle blogger based in the northwest England. She lives with her husband, a very cheeky cat, and has a baby on the way. She spends her days writing and watching reruns of 'The Office."
THIS POST ENTITLED, "HOW TO SKI FOR THE FIRST TIME: RECOMMENDED TIPS" IS AN EXCLUSIVE PROPERTY OF BUDGET WAYFARERS. ANY INDIVIDUAL OR ASSOCIATION INDULGING IN PLAGIARISM WILL BE DEALT WITH STRICTLY. IF YOU WANT TO USE INFORMATION FROM THE ARTICLE ABOVE, KINDLY QUOTE THE SOURCE.