Paris budget travel tips should be known by every individual who plans to visit this romantic city. Paris, the French capital, is also known as the city of love, fashion, culture, art and architecture. Along with London and New York, Paris happens to be one of the top three travel destinations in the world.
Paris is listed as the second most expensive city in the world as per an official survey. This often makes travelers assume that seeing Paris on a budget is unrealistic. But that's not true. Being aware of the top Paris budget travel tips will help you save money while enjoying your trip.
As a backpacker, you can definitely travel to Paris on a budget without cutting down on places. In my current blog, I will elaborate on the top 10 Paris budget travel tips that will make you realize that you really don't have to break the bank to visit Paris.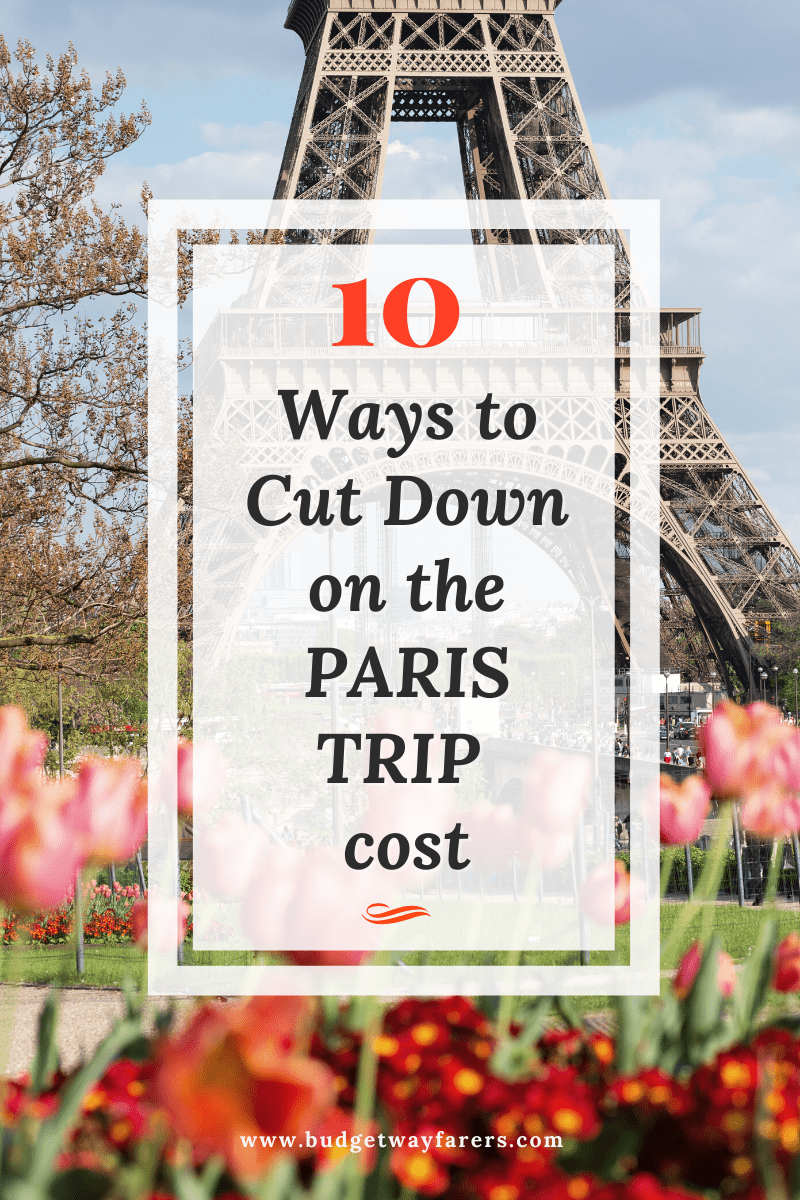 How to Minimize Tour Cost in Paris: 10 Paris Budget Travel Tips  
There are numerous reasons to visit Paris. The city is undoubtedly seen as  the 'symbol of love.' It plays host to monuments like the Eiffel Tower, the Louvre Museum (that houses the world-famous painting of the Mona Lisa along with thousands of marvellous paintings and sculptures by renowned artists), Notre Dame Cathedral, Versailles Palace and Gardens etc. Also, the city has a fun place like Disneyland and shopping destinations like Champs-Élysées and many more.
However, exploring all the wonderful places in Paris comes at a cost. Based on my personal experience, let me now elaborate on the top 10 Paris budget travel tips. They will assist you in traveling to Paris on a budget:
1. Avoid Visiting Paris in the Peak Season
One of the top Paris cheap travel tips is to avoid peak season. The peak season to visit Paris is from June to August (summers) and September to October (autumn).  However, the first and foremost of Paris budget travel tips is to visit the destination in winter. Don't allow the weather to bother you.
Plan your trip between November to March. This budget tip will help you beat the skyrocketing rates due to much lower flight and train fares and availability of cheaper accommodation. You'll find winter ice rinks at many places in the city where you can enjoy skating along with an additional bonus.
2. Book Flight and Train Tickets To Paris Well in Advance
The airfares have soared to sky-high rates in recent years. In case you are somewhere in France or a neighbouring country, you'll realize that the train tickets to Paris aren't cheap either. One of the most important Paris budget travel tips would be to book your flight and train tickets well in advance.
Planning at least six to eight months ahead can be a crucial factor and help you secure a good fare. When booking a flight, you should also explore airfare/hotel package deals, as these can sometimes offer significant savings.
Paris Budget Tips for Transportation via Air:
If you are travelling to Paris from other European countries, look out for cheap budget airlines. EasyJet, Eurowings and Wizz Air are all good options and I recommend checking out Skyscanner for the best deals.
Budget airlines are a good and time-saving option for a short weekend trip. You can just go with your carry-on luggage and will not have to pay the additional fees for check-in luggage.
Paris Budget Tips for Transportation via Train: 
Out of the 44 European countries, 28 are a part of the European Union. Their liberal travel policy has greatly boosted rail travel in Europe. You will find a large number of high-speed trains operating across different countries and major cities of the EU with a mere pinch to your pocket, Paris being one of the top cities among them.
Here are a few trains that will take you to Paris in a few hours at lightning speed and mesmerizing scenic beauty that will give you a visual spectacle.
London (UK)
Fares start from €41
Time Taken: 2 hours 15 minutes
 Brussels (Belgium)
Fares start from €29
Time Taken: 1 hour 22 minutes
 Amsterdam (Netherlands)
Fares start from €35
Time Taken: 3 hours 17 minutes
Geneva (Switzerland)
Fares Starting From €29
Time Taken: 3 hours 10 minutes
 Zurich (Switzerland)
Fares Starting From €29
Time Taken: 4 hours 03 minutes
Turin (Italy)
Fares Starting From €29
Time Taken: 5 hours 40 minutes
Milan (Italy)
Fares Starting From €29, €35
Time Taken: 7 hours
Barcelona (Spain)
Fares Starting From €39
Time Taken: 6 hours 20 minutes
Berlin (Germany)
Fares Starting From €39
Time Taken: 8 hours 15 minutes
Paris Budget Travel Tips for Transportation via Bus: 
This is the most cost-effective mode of travel to Paris and within Europe. This would take a little longer to reach your destination but is worth travel if you are on a tight budget and have enough time to admire the life within the cities and the countryside.
3. In Paris, Book Accommodation in the Center of the City
Now accommodation occupies a fairly high chunk of total costs. So, the question arises, where to stay in Paris on a budget? Some great hotels in Paris are super cheap. Many of them can be on your budget saving list as they keep it simple and avoid additional amenities like TVs, Wi-Fi, etc. Paris has a hostel to match every taste, from solar-powered to centuries-old.
Paris is a fairly compact city divided into 20 districts. Numbering starts at the Louvre as the centre and spirals out clockwise. 
Paris Budget Tips on Accommodation: 
Keeping in mind that most of the prime attractions are in close vicinity, it is better to choose accommodation in districts 1-7 or 9 so that you can cover a lot of places on foot and save transportation costs
You can book a hotel or hostel in these neighbourhoods – especially near the Louvre, in the Marais, in the Latin Quarter, near the Eiffel Tower, and near the Opéra. This will bring down your transportation costs considerably.
Another budget travel tip would be to stay close to Metro Line 1 which runs through the centre of Paris and has a frequency of 3 minutes. 11th (Bastille) is a vicinity that will be cheaper and close to a central line.
 Booking budget-friendly homestays and experiencing Parisian hospitality
Larger establishments such as the thoroughly modern St. Christopher's (at Gare du Nord and Canal St-Martin) rent bicycles, serve cheap evening meals and organize excursions.
4. Travel Around in Paris Inexpensively
If you are looking out for budget travel tips for Paris, this one would surely save a lot if you choose your transport options wisely.
First of all, avoid or rather do not commute in a taxi unless you have no other option as they will cause a big dent in your purse. Here are a few cost-effective alternatives to travel to and fro the Charles de Gaulle International Airport
Paris Budget Travel Trip- Airport Transport:
Modes of Transport to and from Charles de Gaulle International Airport to
RER B (blue) city train
Cost: €10
Starting Point – Drop Point: Terminal 2 – Gare du Nord
Roissy Bus
Cost: €11.50
Starting Point – Drop Point: All terminals – Paris Opera House
Local Paris bus Routes 350 / 351
Cost: €6
Starting Point – Drop Point : Airport Bus Depot – Gare De L'est / Place De La Nation
Paris Budget Travel Trip-  Internal Transport:
 One of the recommended Paris budget travel tips is to use public transport. You can easily find a city sightseeing and public transport map at the airport, bus station or any of the metro stations and follow the routes
Paris is divided into 5 zones that are divided into circles with the Louvre Museum at the centre. Zones 1-3 cover central Paris and the close suburbs while zones 4 and 5 cover the distant destinations.
Below are the major modes of internal transport in Paris.
Bus
Number of Lines: 59
Coverage: All around the city, hubs for several different lines
 Noctilien (Night Bus)
Coverage: Throughout the city and suburbs, every 15-20 minutes
RER
Number of Lines: A,B,C,D,E
Coverage: Runs far into suburbs with fewer stops in the city
Transilient
Number of Lines: H,J,K,L,N,P,R,U
Coverage: Suburban train lines connecting Paris' main stations to the suburbs not reached by the RER
Metro
Number of Lines: 1 – 14, 3bis, 7bis
Coverage : Covers Zone 1 and 2, mostly crosses the city diametrically except 3bis and 7bis that circle within Paris city
Tramway
Number of Lines: T1,T2,T3a,T3b,T5,T6,T7,T8
Coverage: Operates mostly in the less dense areas and run on streets reaching out to people in remote regions
Cycle (Vélib')
The buses and metros use the same ticket, so you can buy them in a bunch of 10 at any of the bus or metro stations.
This is cheaper and time-saving than buying a single ticket each time. In addition, you can also buy a Navigo Pass that allows you to travel across different zones in Paris using any mode of public transport.
Weekly Pass
€22.80
Monthly Pass
€75.20 (All zones) 
5. Check out for the Freebies in Paris 
Paris has quite a few attractions that you can visit for free. Many of the city's most impressive monuments and sites like the Notre Dame Cathedral, Sacre Coeur, the beautiful park – Jardin du Luxembourg and even the banks of the River Seine can be visited free of charge.
In addition, find below the complete list of all the museums and monuments that have free entry at different times of the year. Make sure that you plan your trip to match one of the options below and enjoy grand savings on your travel budget expenses.
Paris Budget Travel Tips to Avail Free Attractions:
Do you know who the show stopper of Paris City is? It is indeed – the Eiffel Tower. So, hit the roads and head towards this marvellous structure. A unique fact about Paris is that the Government hasn't permitted the construction of a structure taller than the Eiffel Tower in central Paris.
This gives you a distinct view of the wonder from most places around the city. You can also watch the twinkling lights every hour during the evenings that illuminate the Eiffel Tower setting up an exhilarating show.
6. Save on Sites and Attractions While Exploring Paris
You can save on the sites and museums if you choose to be smart. Visit specific attractions at certain times to avoid big crowds and enjoy the discounts. This is one of the important Paris budget travel tips that will aid you to seed some Euros.
Paris Budget Travel Tip: Discounts on Attractions
Musée d'Orsay

Normal Rates: €12

Discounted Rates: €6.5
Eiffel Tower

Normal Rates: €19

Discounted Rates: €15.5
Arc de Triomphe

Normal Rates: €12

Discounted Rates: –
Notre Dame Cathedral Bell Towers

Normal Rates: €10

Discounted Rates: Free
Versailles Palace and Gardens

Normal Rates: €27

Discounted Rates: €20
Louvre Museum Gardens

Rate: Free
The Louvre and Tuileries National Estate include several gardens, which cover an area of 30 hectares. It stretches between the Musée du Louvre and the Place de la Concorde. There are thousands of trees, sculptures and beautiful fountains that can be visited for absolutely no cost.
Musée d'Orsay:
Visitors aged 18-25
4:30 PM – 6 PM (except Thursday)
6 PM – 9:45 PM on Thursday
Eiffel Tower:
Walk up to the second level
Arc de Triomphe:
Visit the Tomb of the Unknown Soldier below for free
Notre Dame Cathedral Bell Towers:
Admission to the Cathedral is free
Versailles Palace and Gardens:
Visit except Tuesday, Saturday and Sunday i.e. the non-fountain days
Louvre Museum Gardens:
You can visit all the time
7. Buy a Museum Pass in Paris if you are a Museum Junkie
Museums in Paris usually cost between €2 and €12 depending on the age of the visitor and the day you are visiting. There are so many museums and attractions worth seeing that ticket prices can really add up quickly and play a spoilsport to your budget travel plans.
With the Paris Museum Pass, you gain free entry, without queuing and as many times as you wish, to over 50 museums and monuments in and around Paris. This allows you to come closer to the rich history and culture of the city without worrying about spending too much.
Paris Budget Travel Tip: Museum Pass
2 Days Pass
€48
4 Days Pass
€62
6 Days Pass
€74

If you plan to visit at least 10 of the top museums and palaces, you would for sure be spending more than €120. Looking at this, you definitely do not want to miss clicking a picture with the world-famous Mona Lisa, so get going with the Museum Pass.
8. While in Paris, Select the Right Breakfast and Dining Options
Dining in Paris at a restaurant can be quite expensive especially if you are on budget travel. You can opt for accommodation in hotels that provide free breakfast. On the contrary, you can utilize this opportunity to taste the native Parisian food. Head to one of the bakeries and pick up a croissant or bread and a cup of coffee.
Most of the restaurants in Paris offer a prix fixe menu (two or three-course fix menu) for lunch. They are priced between €10 and €20 and are way better for your budget than the regular A la carte menu.
Paris is a city of markets with food markets all around the town. If you are in a hurry, head to one of the open street markets and pick up some bread, cheese, sandwich, meat, wine or anything else. This is one of the best ways to savour true French food and save on your expenses.
Paris Budget Travel Tips for Food: Eat on a Budget from the Following Places
Food Item and Place
Crêpes from Chez Nicos, Latin Quarter
Pastrami rolls/sandwiches from the popular Frenchie To Go, Louvre & Les Halles
Fish and chips on Canal St-Martin from the Sunken Chip, Montmartre & Northern Paris
Meal-sized sandwiches from CheZaline (Bastille & Eastern Paris) or Huré (Bakery in The Islands)
Tacos at Candelaria, Le Marais, Ménilmontant & Belleville
Hot dishes to take away from Traiteur Jegado, Eiffel Tower & Western Paris
My favourite – Falafel sandwiches from L'As du Falafel, Le Marais, Ménilmontant & Belleville
Being in Paris, you can't miss out on tasting French wine. However, if you are travelling on a small budget, the best option would be to head to the Supermarkets and pick up a variety of different wines at super-low budget prices.
One of the best places to head to for a quick bite is the fast-food joint McDonald's. There would rarely be a person unfamiliar to this. Along with filling options, it offers free Wi-Fi, which you can use to check your important emails or a social media check-in.
9. Watch Out for the Free Walking Tours in Paris 
A walking tour is basically a tour of a historical or cultural site undertaken on foot, frequently in an urban setting. Depending on the city, the walking tours can be short ones lasting for an hour whereas the longer ones can last a full day or more. You can opt for free walking tours of Paris' central sights.
There are a number of tour companies that offer you this service where local Parisians take you on a free guided tour of their city. These knowledgeable guides speak multiple languages, namely – English, Spanish, etc. and of course their native French.
The walking tours help you travel on a budget and introduce you to the famous sites in the city like the Marais, Montmartre and Notre Dame. A few tours starting at the fountain of Saint Michel and ending by the Champs-Elysées, give you a great overview of the entire city.
Wherever reservation is not needed, you simply have to reach the meeting point at the appointed time. Lastly, do not forget to tip your guide for the informative and entertaining walking experience.
Paris Budget Travel Trip: Free Walking Tour
Paris Greeters
Duration: 3 hours
Reservation Needed: Yes
City Free Tours

Duration: 2 hours

Reservation Needed: Yes
Sandemans New Paris

Duration: 3.5 hours

Reservation Needed: No
Discover Walks

Duration: 1.5 hours to a few days based on what you choose

Reservation Needed: No
10. Go for Free Drinking Water Available Anywhere in Paris
This is one of those small Paris budget travel tips that will definitely help you cut down on your expenses. Drinking water is a necessity and what better than getting clean drinking water free of cost.
Whenever you order water in a restaurant in Paris, ask for tap water. They will try to provide bottled water and charge you for the same. But tap water is free and completely safe to drink.
Paris has more than 1200 drinking water fountains situated around the city where you can fill up your water bottles for free. According to a survey, the Parisians are a fan of sparkling water. Taking this liking into consideration, the government has set up fountains that dispense this bubby stuff as well.
If you simply follow the above Paris budget travel tips, you can rest assured that you can tackle this expensive city without claiming bankruptcy. It's entirely possible to eat well, find clean and decent accommodations, and enjoy discounted and free attractions while still having the sense that you're living it up in one of the world's most gorgeous cities. By making a few small adjustments, you can find big savings that will make any budget trip to Paris fun, affordable, and memorable.
Happy Wayfaring 🙂