Nathu La Pass solo trip will prove to be one of your greatest travel experiences. The beautiful terrain, the purity of nature and the lovely people will leave you in awe of Sikkim.
 Nathu La Pass solo trip was a dream come true for me. Travelling alone for the first time and with barely enough money, I was unsure and confused. But all of that vanished as I first breathed the chilly air and let it fill my lungs.
All the pre-planned itinerary went for a toss as soon as I embarked on my Nathu La pass solo trip and witnessed the magnificence of nature around me.  This blog is meant to act as a Nathu la pass travel guide for those who wish to visit this beautiful destination alone or with friends and family.
Nathu La Pass Solo Trip: Travel Information for First-Timers
In the North East region of India, there exists a land of shimmering lakes and rolling hills, a land picturesque enough to fit right into a postcard. This is the land of Sikkim. A place where clouds stroll the paths freely and fill your soul with pining.
Sikkim is sweet, lovely and somewhat naïve. It still seems untouched by the craziness of the world. Everywhere I went, friendly faces smiled at me.  I went there a cynic and came back dreaming.
Nathu La Pass solo trip was one of my most memorable trips. If you are planning to visit the pass, here is some important travel information that will help you understand and plan your visit better.
Weather conditions
Being a mountain pass, Nathu La Pass is covered in snow for most of the year with exception of the summer season when most of the snow melts.
Food options available
Few tea and snacks stall present in Nathu La Pass. To enjoy local cuisine, there are a lot of options available in Gangtok with specialities being Thukpam, Phagshapa, and Momos.
Nearest accessible towns
Gangtok to Nathu La Pass – 56km
Phodong to Nathu La Pass – 85km
Places on the way to Nathu La
Pass
Tsomgo Lake
Baba Harbhajan Singh Mandir
Sarathang Lake
Temperature
Climbs up to a maximum of 20°C during summers and the minimum stays around 12°C, while during winters, it dips to -25°C during nights.
Who can Visit?
Indian Citizens only
Must have
Nathu La Pass permit
Travelling Solo as a Woman to Nathu La Pass: Considerations
There are a few aspects that need to be taken into consideration if you are taking the Nathu la pass solo trip as a woman. While the number of women who travel alone, or with their girlfriends, seems to be growing in India, what one also notices are the increasing number of cities that have been deemed unsafe for such backpackers. Keeping such things in mind, it gets hard at times to convince our families and even ourselves to venture out alone.
Therefore, on your Nathu La Pass solo trip, bear the following things in mind –
Inform your loved ones
Always inform friends and family about your place of stay. Make sure they have the contact numbers of your place of stay.
D

o the Research
Do thorough research about your place of accommodation in advance. Seeking help from a trustworthy staff in arranging cabs will always come handy.
Carry Cash
Keep enough cash with you at all times owing to the fewer ATMs in the region
If you take care of these basic things, you will do just fine on your solo trip. Also, Sikkim happens to be one of the safest places for women in India, so there is nothing much to worry.
Located at 14000 feet, Nathu La is an important strategic location between India and China. Photography by Arnab Chakravorty
Nathu La Pass: An Overview
Before you start planning your visit to Nathu a pass, you need to be aware of certain aspects. Here are some things you should know:
Location
North-Eastern India
State
Sikkim
Mode of Travel
By road (56 km from Gangtok)
Best time to visit
April to mid-June, October to November
Budget accommodation
Pre-Requisites
Being an Indian national with proper identification proof
Precautions
Low Oxygen level, Risky roads during winter.
Nathula Pass
Visiting Days
Wednesday to Sunday
I
f you are visiting Gangtok, you must also visit the Nathu La Pass. It makes for a perfect day trip from Gangtok. The place will inspire the nature lover and patriot in you.
A yak bathing itself in the sun near Nathu La. Photography by Prathit Shrestha
How to obtain a Nathu La Pass Permit?
Nathula Pass is situated at an altitude of 14450 ft. The road to Nathu La pass is one of the highest motorable roads in the world. Nathula pass visiting days are Wednesday, Thursday, Friday, Saturday and Sundays. Visitations are limited to Indian Nationals so no Foreign Nationals, NRIs or OCIs will be allowed to go.
Indian Nationals who wish to visit the place will require a valid PAP (Preserved Area Permit) which should be applied for at least one day prior to your planned date of visit. A tour operator verified by the Sikkim government can easily get the work done.  There are plenty of those in Gangtok. You can choose any one of them.
Documents required for Nathula pass permit
You need the following documents to obtain Nathula pass permit:
Government ID proof –  Aadhaar Card/ Passport / Voter ID Card (PAN Card is not accepted)
2 Passport size photographs
Nathula Pass Permit Cost
200 INR per person
Remember that the application for permits are accepted in the morning and the permits are usually issued in the afternoon or the next day.  You should, therefore, apply for the permit at least one day before your intended visit. Your hotel or taxi driver can arrange the Nathula pass permit for you.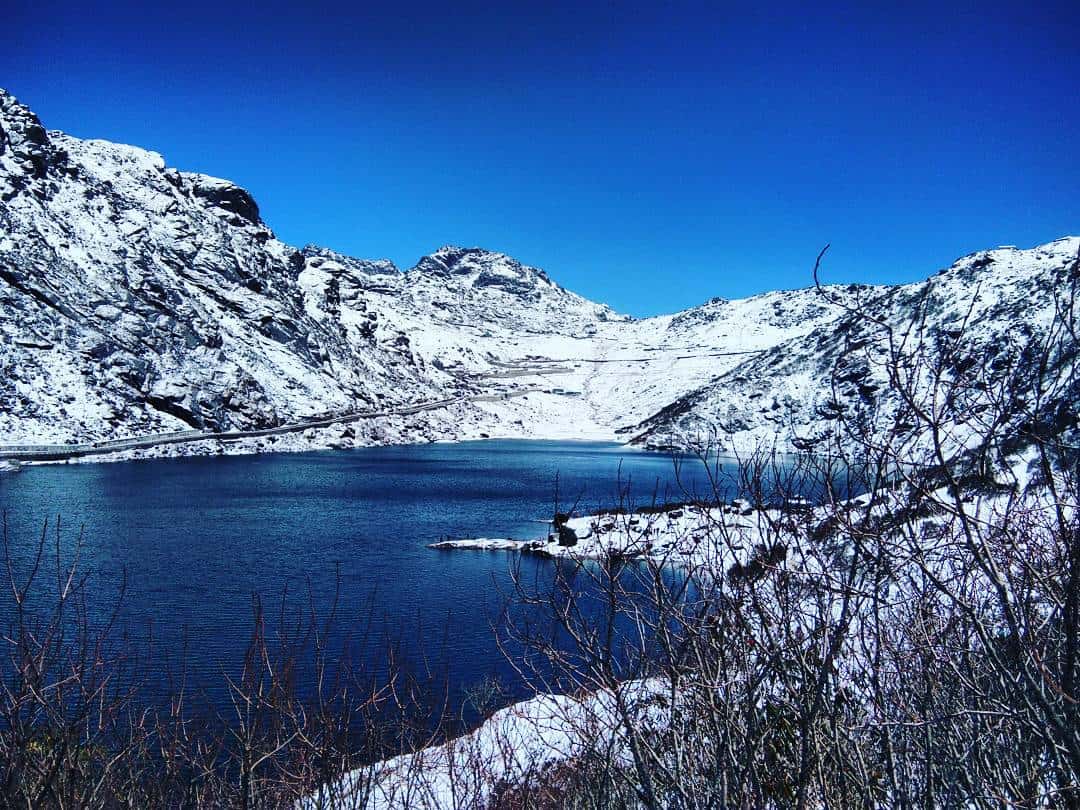 The splendid Tsomgo Lake. Photography by Vidadwan Vigya Jha
Procuring an Online Permit for Nathu La Pass Solo Trip
It needs to be mentioned here that there is no online permit for Nathu La pass solo trip. Also, only foreign nationals are allowed to visit. Only local travel agents from the region (Sikkim) are allowed to procure the permit for their clients.
The cost of the permit for your Nathu La pass solo trip will depend upon the season and the vehicle being used. The number of vehicles allowed daily is 75.
A gorgeous lake on the way to Nathu La. Photography by Parul Agarwal
Nathu La Pass Solo Trip from Gangtok – The Nearest City
It takes almost two hours to reach Nathu La Pass from Gangtok – the capital of Sikkim. It is advised that you start early and get back early to avoid any traffic jams. The terrain is rough (yet beautiful) and there can be chances of landslides especially during monsoons.
The whole journey is unmatched. The bumpy ride from about 6500 ft to about 14000 ft will take you through a breathtaking landscape, tall mountains and frozen lakes. If you are all by yourself on your Nathu La pass solo trip, make sure to get back before dusk.
During the peak season, you can easily get a shared vehicle from Gangtok, that charge on per person basis. This is the cheapest option. During the off-season, it might be difficult to find shared cabs, in which case you have to rent a private vehicle. 
I would suggest that if you are travelling alone, try to tag along with other solo travellers or groups, to save costs. 
Beautiful orange-brown mountains on the way to Nathu La. Photography by Akansha Vashisht
Nathu La Pass Solo Trip for a Woman: What is the Best Way to Visit?
There aren't many options when it comes to taking the Nathu La Pass solo trip. The government authorized vehicles, such as Jeeps and SUVs, are the only vehicles allowed to pass through the protected area. One can take these shared rides from Gangtok. The Gangtok to Nathula pass cost is around Rs.700 (including the permit fee) per person during high season (April to June or October to November). The ride covers Tsomgo lake, Baba Mandir all the way to the Nathu La Pass.
A reserved vehicle, like an Innova or a Scorpio, however, will cost you around Rs.7000, again including the permit fee, while ones like Sumo or Max will cost you around Rs.5000.
It is a 2-3 hours' ride to the Pass and the vehicles usually leave by 8 am. If you choose to visit not only the Pass but also Baba Mandir and Tsomgo Lake that the trip would easily take an entire day, so you should plan accordingly.
At present, Nathu La Pass can be visited only by Indian nationals. Photography by Simardeep Singh
Crucial Aspects of Nathu La Pass Solo Trip
Since the Nathu La Pass is situated at a very high altitude, the level of oxygen there is pretty low and may cause health-related issues for certain people. For this very reason, one should consult a doctor beforehand and get Acetazolamide Tablets. Carrying inhalers along might also be a good idea for everyone.
In case your problem is more severe, you might also want to consider carrying portable Oxygen cylinders from Gangtok which last around 4-5 hours if used non-stop.
Frozen lakes on the way to Nathu La from Gangtok. Photography by Ishan Modak
Heading on the Nathu La Pass Solo Trip: The Complete Experience
It was on such a chilly day that I took a shared jeep to Nathu La pass at 14140 feet (4310 m). I had spoken to the people at my hotel the day before and they had helped me get a pass. All I needed to do was provide my ID and some passport size photographs. The helpful people at Hotel Sai Kripa even helped me book a shared ride to the pass and back. Thus began my Nathu La Pass solo trip.
Making Friends Among Strangers: Pool a Cab and Save Money
On the first hour of my Nathu La pass solo trip,  I made my way to the Gangtok taxi stand. I was sharing the vehicle with three dreamy-eyed honey-mooners so it did get a bit weird in the beginning. Initially, I wasn't too sure about sharing the ride with strangers, but it was way cheaper than other options, so I had to cave.
We made our way to the Nathu La Pass stopping twice on the way to show our identification card and trying to drown ourselves in litres of tea. Shivering slightly as the air got steadily thinner and chillier, we kept climbing higher and higher. At one point, we left the final lines of trees behind to find only bald hills, crystal lakes and tiny waterfalls that had frozen into clumps of ice. Our ride dropped us a little below our destination.
Wheezing and coughing, we made our way to the Nathu La Pass and the stern-faced guards that marched along the lines of the Indo-Chinese border. At over 14000 feet, when it feels like the earth's atmosphere has abandoned you, there are only two things that will save your life- warm beverage and inhalers- and I had made sure I had plenty of both. But in case you have added health issues, you might want to bring along oxygen tanks from Gangtok. As our breathing eased, the seven of us sat in front of the 14ooo Feet Café, drinking tea and trying to comprehend our own insignificance amidst those giant cliffs.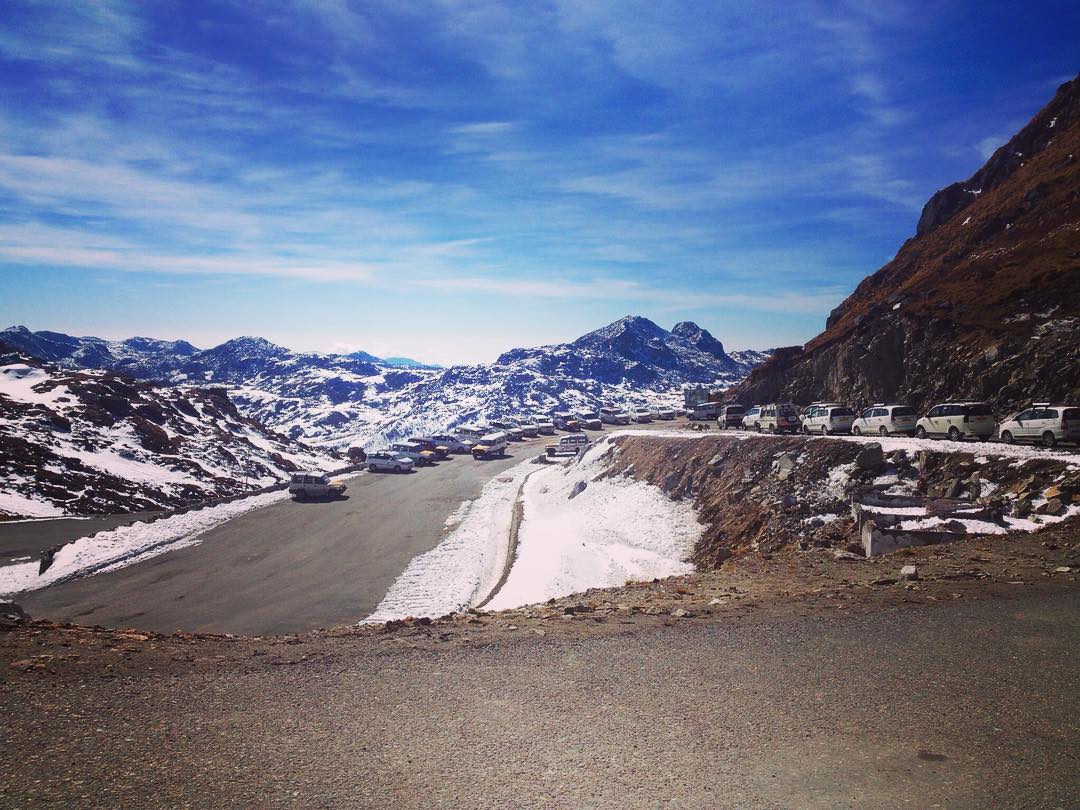 India – China Border at 14000 feet. Photography by Eva Flynn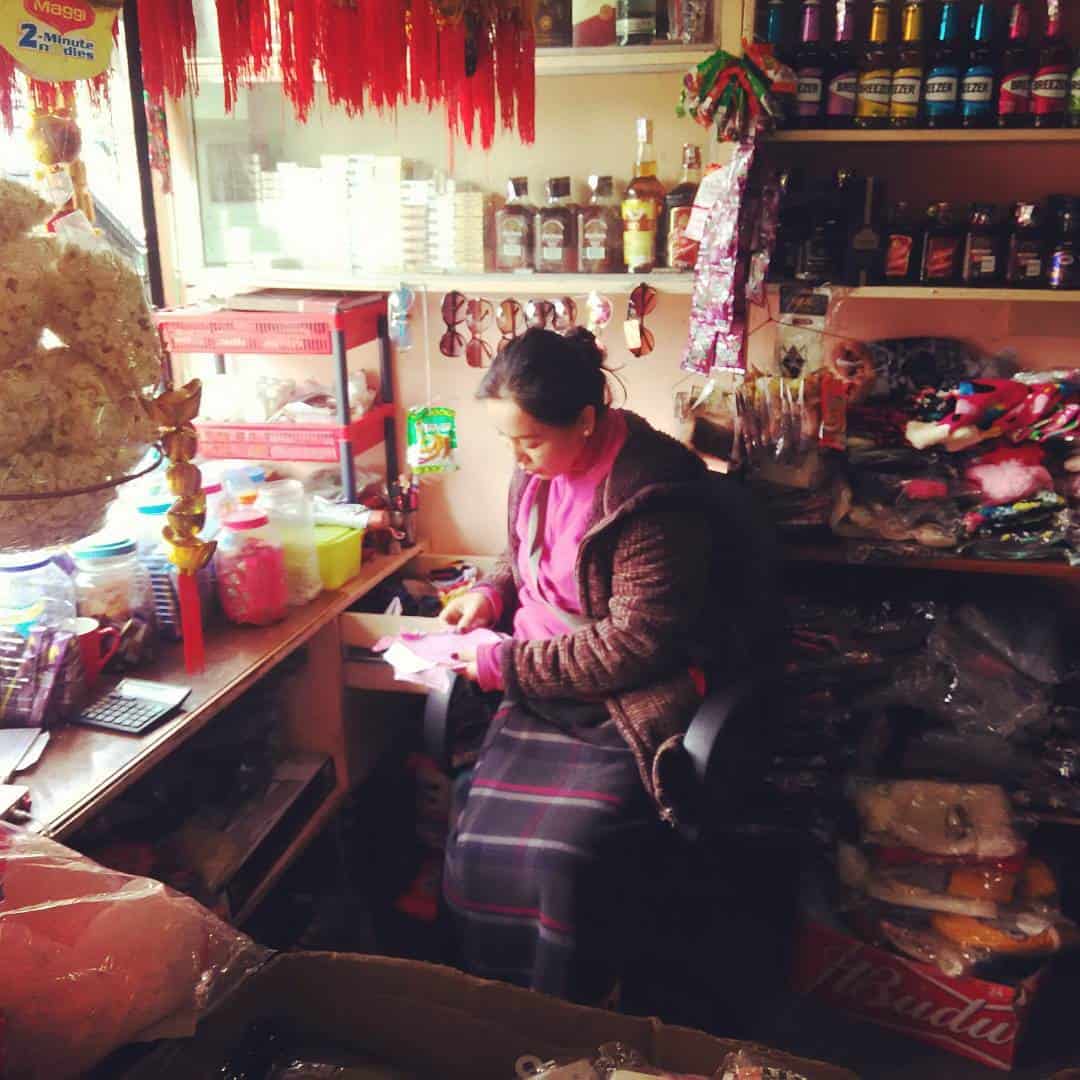 The very courteous owner of a cafe near Nathu La. Photography by Sayan Sayal
Jamming and Karaoke at Nathu La Pass Solo Trip: Music at 13000 Feet
On the way back of my Nathu La pass solo trip, we passed through the breathtaking (not that we had much breath left) Tsomgo Lake and Old Baba Mandir and my ride-mates stopped to take pictures. I insist that you must visit these places too.
Old Baba Mandir
The Baba Harbhajan Singh temple is a shrine built-in memory of this Indian army soldier who died near Nathula in 1968. There are two shrines- the old one has been built at the site of the bunker, where Baba Harbhajan was posted and the new one is close to the Changu Lake.
Mera Bharat Mahan Hill
The hillside on the way to Baba temple has "Mera Bharat Mahan" written on it. You can easily spot this and this is sure to give you some patriotic feelings. Ask your driver to point it out so that you don't miss it.
Tsongmo Lake
Tsongmo is one of the most beautiful high altitude lakes in India. Its turquoise blue waters remain frozen in winters.  Summers or winters,  the lake is a sight to behold.
The way back was fun. Our group laughed and teased and talked as if we had known each other for years. Our driver, like every other local I met, was amazingly friendly and obliged each time we asked him to stop and let us take pictures. As the evening sun climbed down from its perch, we sat around one table at this tiny shack at about 13ooo feet. The lovely women who ran the shop fed us steaming bowls of spicy Maggi.
There we made one of the best decisions of my life. We croaked along with some Bollywood songs, pretending that it was karaoke, and believe me, karaoke at 13ooo feet does not sound very nice. Laughing, we climbed into our jeep and made our way back into Gangtok just as the sun vanished behind distant cliffs, our laughter and bad singing lighting the way along with the jeep headlights.
The Old Baba Mandir should be visited on the way back from Nathu La Pass. Photography by Rohit Dey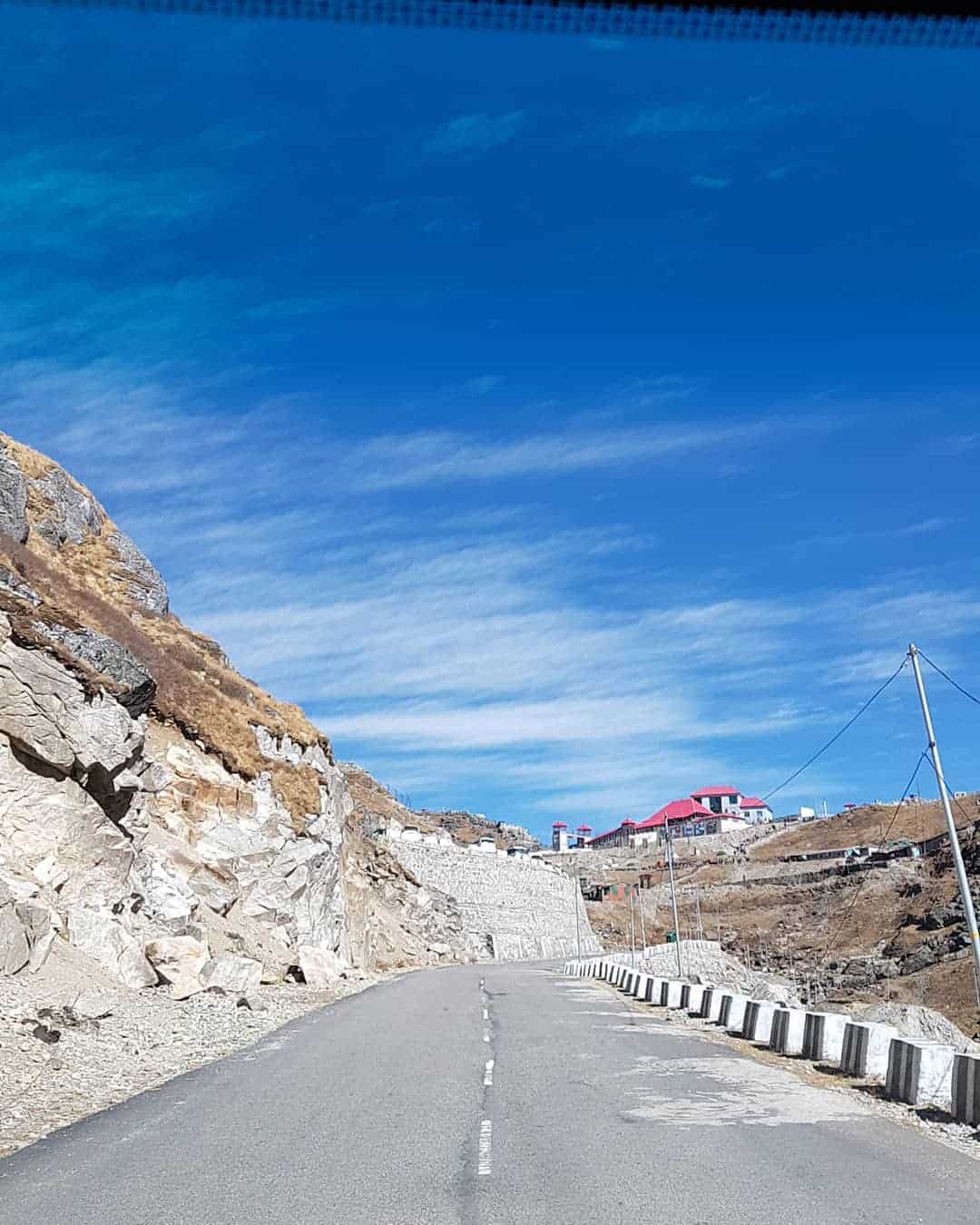 Nathu La Pass from a distance. Photography by Divya
Tips for a Safe Nathu La Pass Solo trip
Visiting Nathula is not for the faint-hearted. Situated at a height of over 14000 ft, the terrain and weather conditions present their own set of challenges. These tips will help you through the journey. 
Altitude Sickness
Nathu La is a high altitude pass, so you need to be well equipped with reduced oxygen levels. If you start to feel it, descend immediately.
It is not really advised to bring infants on the trip.
Stay Warm
Wear thick woollens, gloves and a cap to protect yourself from extreme weather conditions.
Experienced Driver
Although, the local drivers are well equipped and acclimatized to the roads, make sure to check with them before leaving.
Carry Cash
Although there is an ATM facility near the pass, you should carry cash.
No Photography
Since Nathu La Pass is the Indo Chinese border, Photography is strictly prohibited. 
Inform
your loved ones
Inform your loved ones before heading out. Make sure you hand over your contact information to someone for emergencies. Mobile  services aren't available here
Tag along with a group
If you are a solo traveller, try to tag along with other solo backpackers or travellers. not only is it cheaper, but it is also a but also more fun.
Your trip to Nathula pass will be great as long as you take care of these essential things.
Nathu La covered deep in clouds and evening shimmer. Photography by Aishwarya Mohanty
Nathu La Pass Solo trip was an experience that will stay with me for a long time. You too should step out of your comfort zone and travel alone soon.
Happy wayfaring 🙂
About the Author 
Ananyaa Bhowmik has a Masters degree in Comparative Literature and has been writing ever since she learnt to spell. When asked about her love for words, she talks about her grandma. Married off before she could get to high school, her grandmum had already read her way through all the local libraries by the time Aanyaa was born. The first memories are of summer afternoons, betel-tinted teeth, and stories of lands far away are all associated with her grandmum. In those afternoons, the wilderness of Africa was in their backyard and they just needed to cross the verandah to dip their feet in the icy waters of the Arctic. Grandma was her first reader and a fellow traveler. Three years ago, she passed away, breaking her promise of travelling the world with the author. Ananyaa now wanders the paths alone and writes to feel closer to her grandmother.
Reach out to me on Facebook: https://www.facebook.com/ananyaa.bhowmik
THIS POST ENTITLED, "Traveling Solo as a Woman to Sikkim's Nathu La Pass" IS AN EXCLUSIVE PROPERTY OF BUDGET WAYFARERS. ANY INDIVIDUAL OR ASSOCIATION INDULGING IN PLAGIARISM WILL BE DEALT WITH STRICTLY. IF YOU WANT TO USE INFORMATION FROM THE ARTICLE ABOVE, KINDLY QUOTE THE SOURCE.