Karntner Strasse shopping street is located in Vienna – the capital of the European nation of Austria. Vienna is as much in touch with its rich past as depicted by the Schonbrunn Palace and various other well maintained heritage sites, as it is with the present day world, courtesy the grand, Karntner Strasse Shopping Street.
Karntner Strasse shopping street is a delight for shoppers and history lovers alike. The street has existed since the Roman age and has many historical buildings. Redesigned in  1974 as a pedestrian zone, the street is frequented by the citizens and tourists for shopping and strolling around. It is a haven for those wanting to indulge in shopping in the centre of Vienna. 
The Karntner Strasse shopping street looks like a deconstructed pop-up gift box left open by God and man alike, for all us mortals to breathe in and enjoy. It is a flamboyant place to visit. Imagine Willy Wonka's Chocolate Factory meets Baroque architecture – resulting in colour and awe-inducing architecture bursting at the seams. 
Also Useful:
Explore Salzburg- the baroque city of Austria in 2 days 
Things to do in the Mozart City, Salzburg in 1 Day
Travel Tips for Backpackers Visiting Eastern Europe
Kärntner Strasse Shopping Street: An Overview
Karntner Strasse Shopping street has a blend of historical buildings, traditional shops and many flagship stores of popular international brands.  The street is right in the heart of Vienna and spreads from the State Opera House to the St. Stephens. Walking down the street is an excellent way of exploring the city and buying some authentic Viennese souvenirs.
However, before delving more into it, here are a few useful things you need to know. 
Location
Vienna, Austria
Accessibility
All year round
Best Time to Visit
April – July
How to Reach?
Use Public Transport
U-Bahn U1 and U3 Station Stephansplatz
U-Bahn U1, U2 and U4 Station Karlsplatz
Opening Hours
Usually, 10 am- 8 pm
Speciality
It is a pedestrian street and the only thing you will bump into over here is happiness along with other happy shoppers. It is a pedestrian street and the only thing you will bump into over here is happiness along with other happy shoppers.
Must Carry Item
A Camera and a wallet loaded with Euros
*wink wink*
Tip for first timers
Check the functioning hours of Hotel Sacher. The Sachertorte prepared here is not to be missed.
Top Places to See in and Around Karntner Strasse Shopping Street
The following are the places that you absolutely cannot miss while visiting Karntner Strasse Shopping Street –
Hotel Sacher
Try the Sachertorte here – a Viennese delicacy that's famous world over.
Opera House
Make sure to view one of the evening performances.
 Swarovski Outlet
Visit the outlet just to observe crystal jewellery.
Manner Pink Outlet
Try the famous Manner sweets of Austria.
St. Stephen's Cathedral 
Visit for peace and serenity.
Kartner Strasse Street during the festive season. Photography by Simona
Hotel Sacher
Situated right at the beginning of the Karntner Strasse shopping street, as if to extend a sweet welcome to its home, is the magnificence called Hotel Sacher. The Sachertorte – a Viennese delicacy that's famous world over, especially the one available here, is melt-in-your-mouth delicious.
Here's the fun part – you don't feel very far from home when you await this decadence, as you have to wait in hour long queues to get yourself a piece. Wherever you go, India follows.
Hotel Sacher. Check out the image of the delicious Sachertorte. Photography by Andreas Vierheller
The Opera House
In times of feature films and digitalization, the Opera House stands out as an architectural masterpiece. It allows you entry into another world, a Shakespearean reminisce, an ode to the underappreciated art of theatre. This otherworldly arena at the helm of Karntner Strasse Shopping Street usually gets decked up for a massive production to be performed during evenings.
The excitement and fervour are palpable among travelers. While in Vienna, make sure to watch a performance at the Opera House.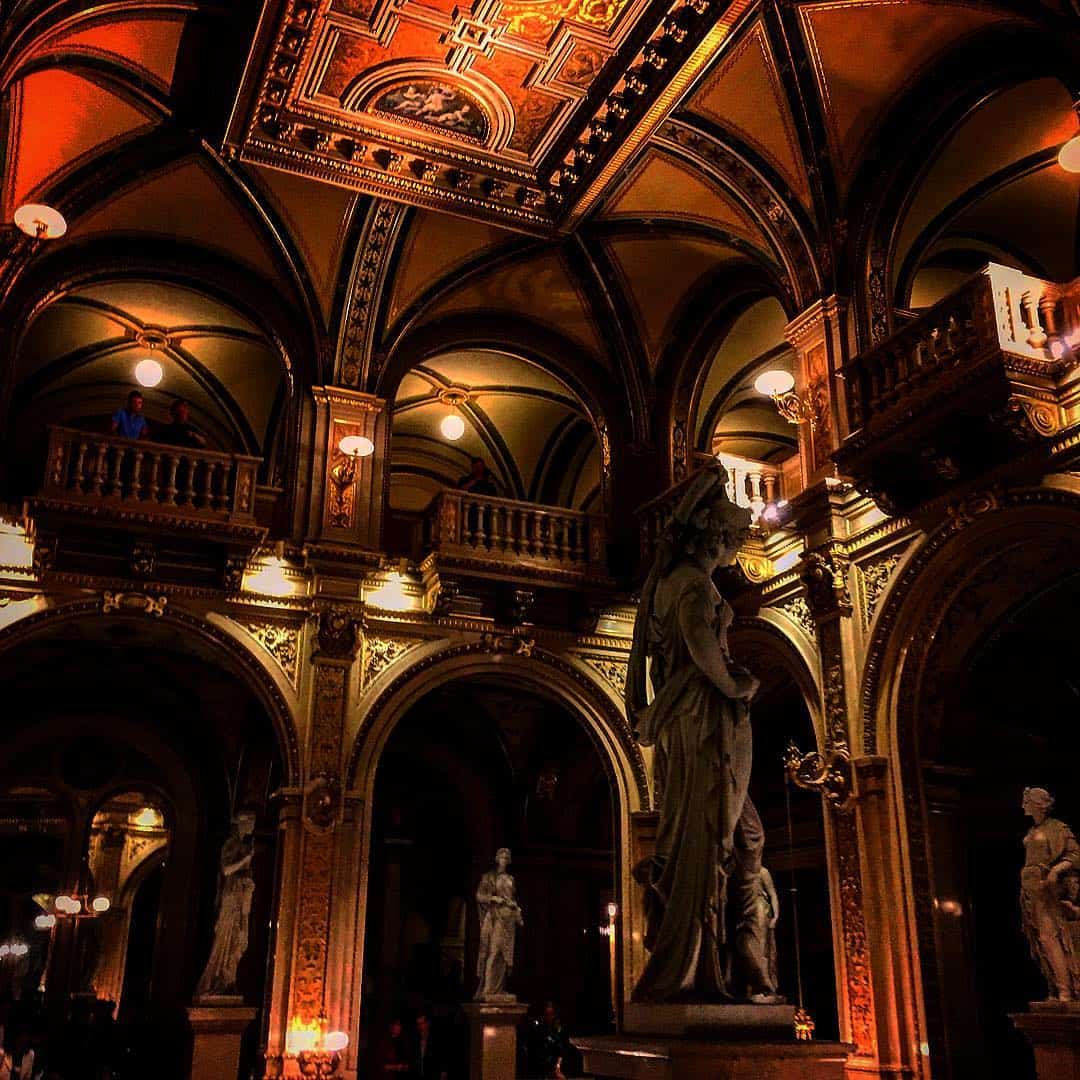 The inside of the Opera House. Photography by Thomas
The Swarovski Outlet
 As a traveller, you might wonder why is one shop getting a special mention here?
Well, when you visit the Swarovski outlet at Karntner Strasse shopping street, you will find out for yourself.  All the original designs from Swarovski are first made available here before they are sent to any of the scores of Swarovski outlets all over the world.
The entrance to the shop being shaped like stalactites and stalagmites of crystals is a beauty to look at from the outside, while positioned in its allotted home on Karntner Strasse Shopping Street. It lures us to the treasures it holds within. 
The majestic Swarovski outlet. Photography by Eriko
Pink Outlet of Manner
Chocolate, wafer, cake and coffee lovers, the Manner shop at Karntner Strasse shopping street is your dig. Austria is known for its Manner sweets so you have got to try them. Most items in this shop are pink in colour so that really adds to the ambience. The place is small so is generally crowded but it's so worth your time.
The Manner shop is located right across from St. Stephen's Cathedral so you will easily locate it. In addition to sweets, you can also pick up souvenirs if you want to take some home. The prices are nominal here so don't worry about creating holes in your pocket. Just keep searching for more.
The Manner Shop. Photography by Shinnae
St. Stephen's Cathedral
 Located in the belly of Karntner Strasse shopping street, the St. Stephens Cathedral is as rich in its history as it is in its architecture. Bearing witness to some of the most historic events of Austria, this cathedral has successfully maintained its sanctity in spite of all the testing times.
It standing strong after centuries is a testament to the power of the superior Being. Standing in its premises itself gives you a sense of serenity, right in the midst of one of the busiest streets of Vienna. What more could one ask for, after an exciting yet tiring day of exploring the Karntner Strasse shopping street?
Visiting here is the perfect end to a day well spent. Do visit this holy place to experience the culmination of beauty and peace into something quite spiritual and sacrosanct.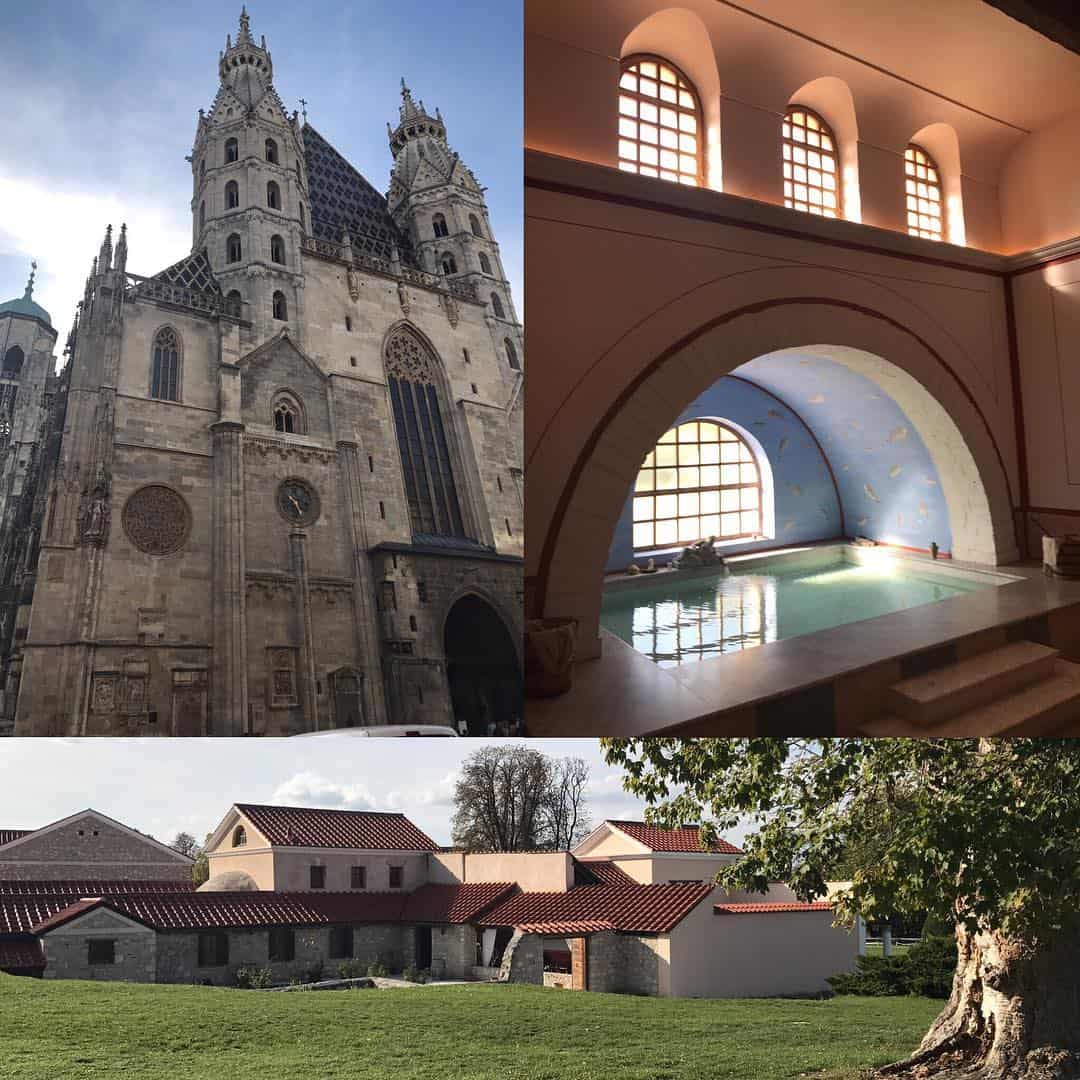 Premises of St. Stephen's Cathedral. Photography by Tanya Kline
Top Things to Buy While at Karntner Strasse Shopping Street?
Karntner Strasse shopping street is flooded with shops and malls. There are a number of things that you can buy as souvenirs.
Buy Magnets and apparels
There is a myriad of designs available to adorn your fridges, cupboards and soft boards.  For the really close people, and yourselves, you could pick up the most stylish and up-to-date apparels at competitive prices. Also, since the best quality is first sent here and then to the rest of the world, it is preferable to buy your wardrobe necessities from here.
Foodie Delights Not be Missed at Karntner Strasse Shopping Street
Another interesting aspect of the Karntner Strasse Shopping street is the food. Here are some things that you need to definitely try when here.
Ice Cream Sorbets
Fried Cheese
Chocolates
Ice Cream Sorbets
The ice cream sorbets available on every nook and corner of Kärntner Strasse shopping street are 'melt in your mouth, elbow-licking good.' The diversity of flavours leaves you amazed, making sure you go back for more.
Do try the lime, green apple and other sour flavours. They are quite different from what we usually eat elsewhere. For those who need to cut the acidity of these sour treats, go for the Belgian Chocolate, Bubblegum or Smurf scoops. Believe me, you will not regret it one bit.
Your motto in Austria should be "An Ice-cream a day keeps the tiredness away"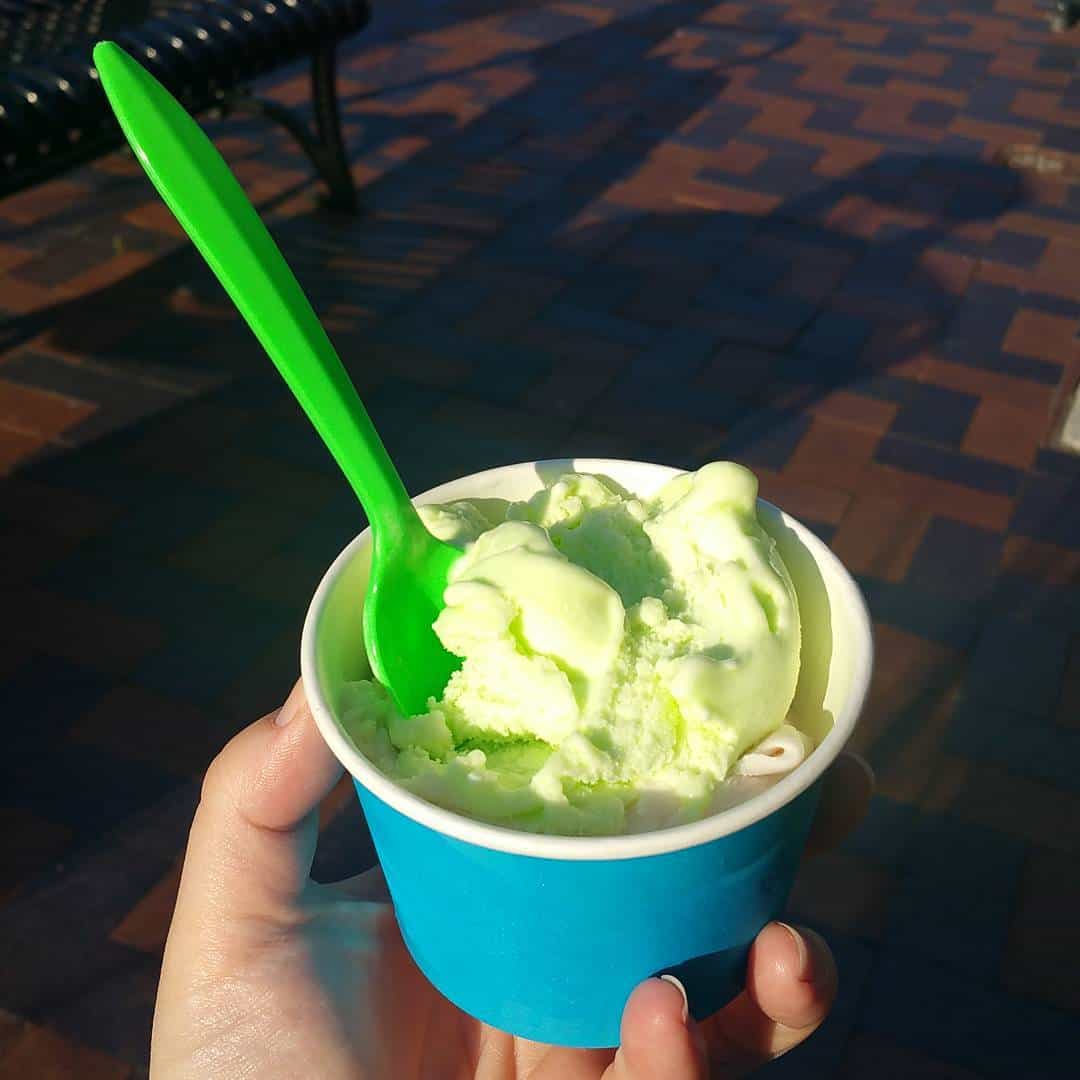 Green apple sorbet. Photography by Lindsey
Fried Cheese
A novelty of Eastern Europe, this sinful dish is a slice of rich cheese, fried and served with coleslaw. Sounds heavenly, doesn't it? Paired with white wine, it makes one fine lunch plan! And it is available in almost all the eateries and bistros.
Also Useful:
The Eastern European cheese you must try on your Europe visit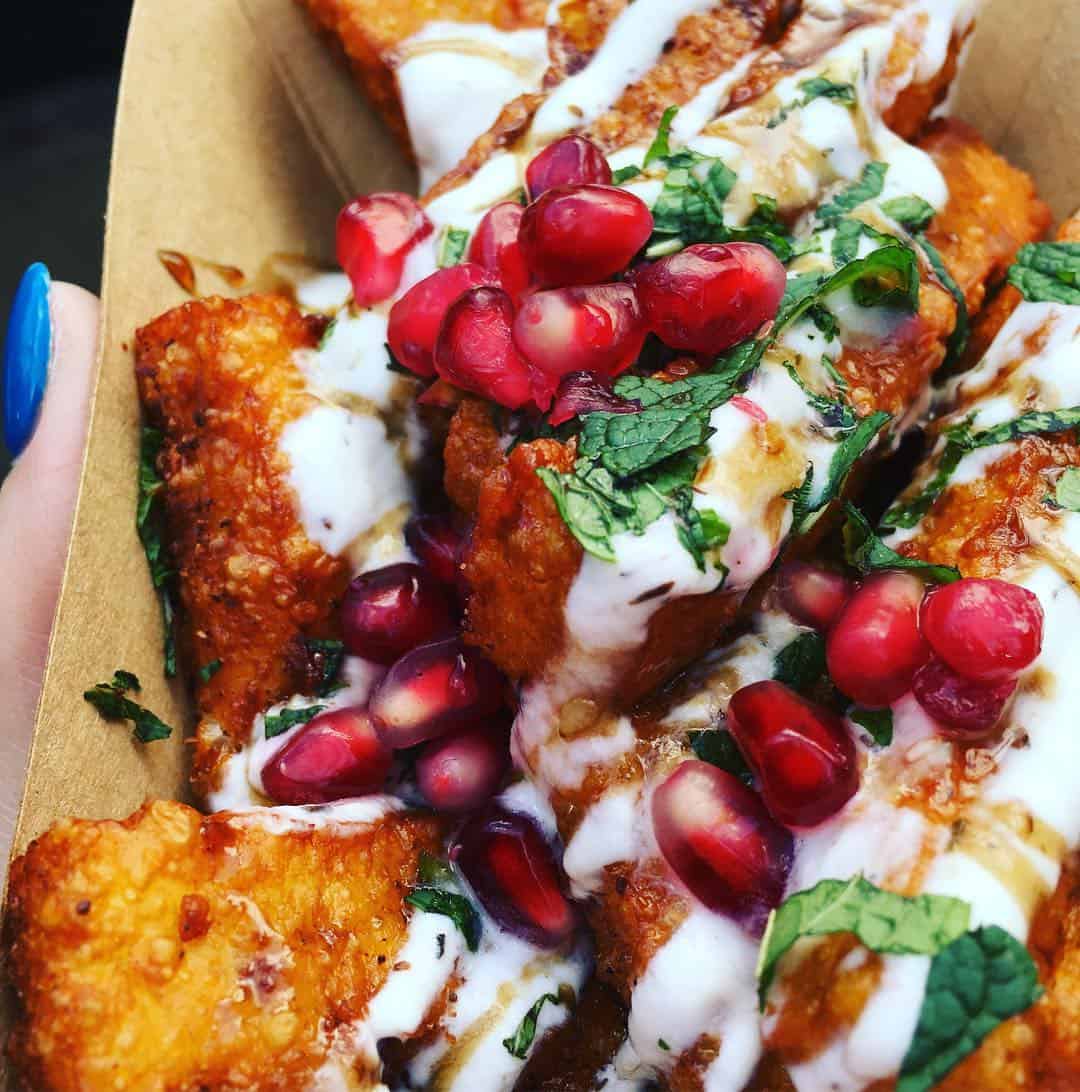 Fried Cheese and cream. Photography by Bev Milway
Chocolates
As you'll have gauged from my descriptions above, the Sachertorte and Manner chocolate are two gourmet dishes that one should not leave Kärntner Strasse, hence Vienna, without trying.
Sachertorte. Photography by Pavel Poliakov
Is Karntner Strasse Shopping Street Safe for Backpackers?
Austria, as a country, is not very crime infested – and that shows in its towns and cities equally. As Vienna is its capital, security is stronger here, and hence, backpackers, especially women, need not worry about losing their luggage or money while visiting this busy street. Also, there will be no eve teasing on the Karntner Strasse shopping street. 
Kartner Strasse in specific and Vienna, in general, is a safe destination for backpackers. Photography by J S Park
Travel Tips for First Time Visitors to Karntner Strasse Shopping Street
Vienna is as important historically as it is industrially. Your trip will definitely be incomplete without a visit to this marvelous, soul-pleasing Karntner Strasse shopping street that has something to offer for everyone (Potterheads – a lot of the building edges remind one of Gringotts! So, beware the goblins and Ukrainian Ironbelly).
When visiting this shopping street, these tips can be helpful.
Souvenir Shopping
You can plenty of souvenirs to take back home from the street. At first, though everything might miht look pricy, keep looking to find better and lower prices.
Admire the historical structures
The city of Vienna is huge, with a wide array of monuments that will each make you gasp with their magnificence. Hence, spend some quality time admiring this Historian's Haven.
Use Public Transport
Since it is located centrally, the Karntner Strasse shopping street is quite accessible by public transport (which is a highly efficient subway system), which makes it simple to reach here. So use public transport. Save time and money.
Since the Karntner Strasse shopping street is surrounded by most of the heritage sites of Vienna, it saves travel time and has all the sightseeing spots at walking distance – talk about shooting two birds with one arrow.
All in all, go to Kärntner Strasse and let your inner shopping god/goddess free!!
Happy wayfaring 🙂
ABOUT THE AUTHOR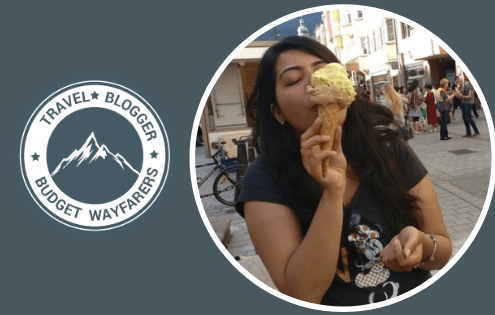 Sana Shah
Sana Shah is an old soul in a young world who feels she belongs to a different time. An ambivert by nature, Sana is as much of a social animal as she is a snuggled up reader. A self-proclaimed coffee addict as well, her perfect world consists of books, hot brewing coffee and travel tickets. Sana loves the green mountains and the blue skies alike. Also, lakes are her best friends. She loves to travel to quaint locations and experience their cultures, in order to expand her horizons.
BUDGET WAYFARERS
https://www.budgetwayfarers.com/wp-content/uploads/2018/02/Karntner-Strasse-Shopping-Street-min-1.png
315
560
Budget Wayfarers
https://www.budgetwayfarers.com/wp-content/uploads/2018/04/1200X800.png
Budget Wayfarers
2019-01-22 12:29:18
2019-01-22 20:29:07
Karntner Strasse: Vienna's Perfect Pedestrian Zone for Shopaholics