Karnataka road trip plan of mine ended out to be full of adventure, fun and exploration. As a tripper from New Delhi, I had no idea about the beauty of the south Indian state of Karnataka. Yet, I undertook what became one of the best road trips of my life.
In a span of just 1 week, I managed to cover 1000+ kilometers and so many places – each distinct from one another. Green meadows, clear blue skies, brown grounds, turquoise rivers, and grey rocks – I saw it all in just one road trip.
From rock-cut temples to ancient forts, from hilly trails to full-length nature camping, from native food joints to contemporary cafes – Karnataka as a state offers travelers everything. In the current blog, I'd like to share my road adventure with you.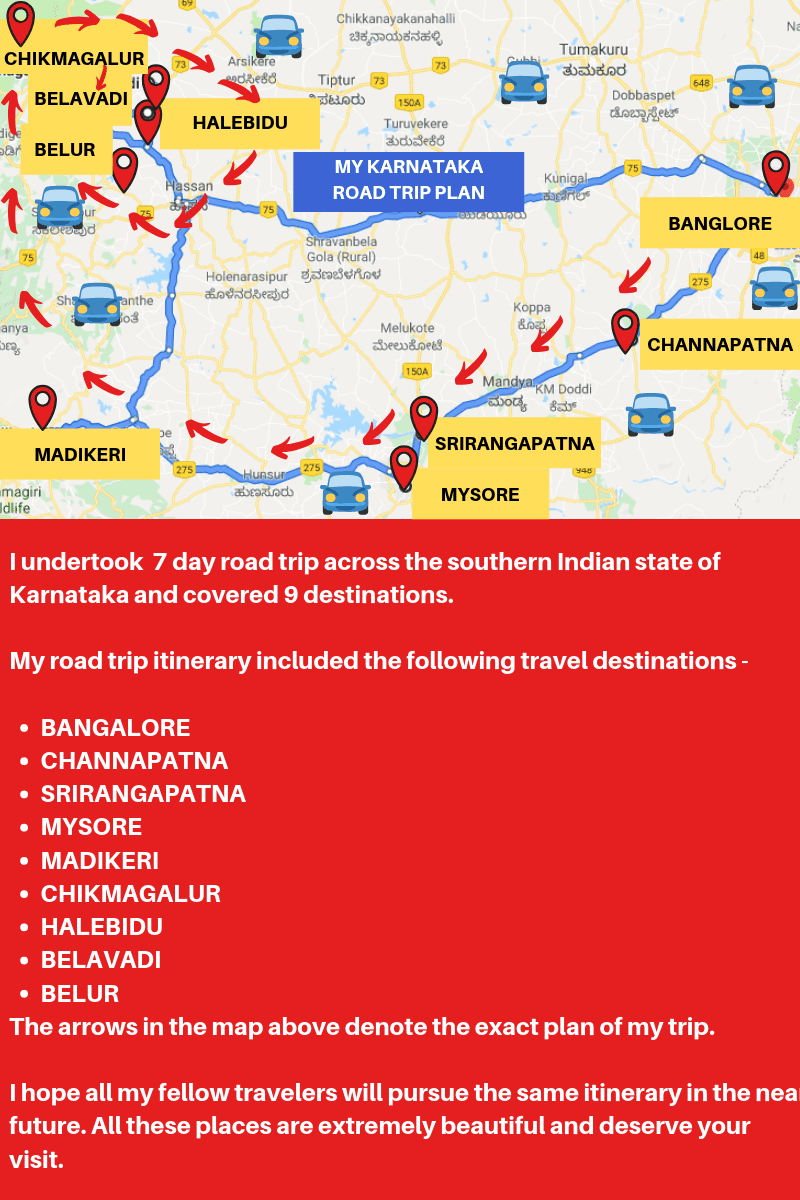 Karnataka Road Trip Plan 
I commenced my road trip from Bangalore – the capital city of Karnataka. In a span of a week, my friends and I managed to cover as many as nine different destinations, the details of which I will be sharing with you in the current blog. By the end of the week, we returned to Bangalore and finally took a flight back home.
I am extremely grateful to my cousin who lends me his car and turns made my Karnataka road trip plan into a reality. As travelers, you can rent out cars from companies like Zoomcar and Drivezy as well. The more people there are, the more resourceful your road trip will prove.
My road trip itinerary for Karnataka included the following travel places –
Bangalore
Channapatna
Srirangapatna
Mysore
Madikeri
Chikmagalur
Halebidu
Belavadi
Belur
Before I share my road trip in detail with you, it is important that you know how much I drove on a per day basis, starting from Bangalore. This will give you a good idea about the stamina needed for completing the journey. 
You too can follow the same itinerary or add even more days and hence places. By the way, if I had more time, I would have surely covered places like Bandipur, Hampi and Mangalore.
Karnataka Road Trip Plan: Destination wise Kilometers Covered
So here is an estimate of the number of kilometers that was covered by me. If you undertake a similar trip in the future, do share your plan with me and other fellow travelers in the comments section at the end of the article.
Bangalore to Channapatna – 60.7 Kms

Channapatna tp Srirangapatna – 66.3 kms

Srirangapatna to Mysore – 19.1 Kms

Mysore to Madikeri – 117.8 Kms

Madikeri to Chikmagalur – 161.9 Kms

Chikmagalur to Halebidu – 39.3 Kms

Halebidu to Belavadi – 11.8 Kms

Belavadi to Belur – 27.5 Kms

Belur to Chikmagalur – 25.5 Kms

Chikmagalur to Bangalore – 244.2 Kms
If you feel that the distance is more for a few places, either break your trip and spend a night midway or take turns driving. Most roads in Karnataka are in good shape. However, due to the recent floods, some of them are partly damaged. This is why careful driving should be the norm here.
My Road Adventure Across Karnataka
Now that I've shared the list of places covered by me and the kilometers covered between places driving, it is time to share my adventures on the road with you.
So this is how it all happened –
Reaching Bangalore from New Delhi
Bangalore is the capital of Karnataka as well as the Silicon Valley of India. It is the centre point for visiting more than 200 major and minor travel destinations. Hence, I took a flight from New Delhi to Bangalore, bunked in with a cousin, borrowed his car and undertook a road journey with my friends for 7 full days.
Driving till Channapatna and Indulging in some wine tasting
When my friends and I started driving from Bangalore, we took a detour after 1.5 hours and ended up at the Kadu Winery at this place known as Channapatna. I had read about this Winery only briefly before in one of the Travel Blogs online and had no idea where it was located exactly. However, it surely made me interested.
I am glad to have visited the Winery. The entrance fee was nominal and included a tour of the place, access to the winemaking process and also a wine tasting session. Kadu is actually a Sula Wine originating from Karnataka. I visited here during the off-season but if you have the opportunity, visit here during February.
Arousing the history buff in me at the historically significant Srirangapatna
Srirangapatna is a historic town and was the home of Tipu Sultan. Srirangapatna is just about 1.5 hours from the winery at Channapatna and falls right by the road. Hence, makes for an important spot on any traveler's Karnataka road trip plan.
Tipu Sultan ruled from here and it was one of the last bastions to fall against the advancing East India Company forces. The highlight here is Tipu's Summer Palace. It is made of all teak wood and is quite impressive. There are also a few paintings and relics from his era. The remnants of the fort around the town are a reminder of India's gradually changing destiny in the late 18th century.
There also happens to be a temple and iconic Brindavan Gardens (with musical fountains) at Srirangapatna. So visit them if you feel like. I did.
Road tripping in and around the lovely city of Mysore
Driving in and around the city of Mysore is such a delightful task. In fact, pursuing a road trip till Mysore from Bangalore is an adventure in itself.  Mysore is a small, neat and clean city. Hence, the traffic is under control. So to drive here is easy and fun.
The central highlight of this wonderful city is the Mysore Palace. It comprises thousands of bulbs and is lit in full every Sunday and on public holidays. I am glad to have witnessed such a marvellous sight.
Apart from the Palace, Mysore also has sightseeing places like Mr. R K Narayna's House, a couple of Museums like Sand art and Sea-shell art, Chamundi Hills, and a gigantic Zoological Park.
While taking a road trip in and around Mysore, you have got to experience the rich food of this place. The various small and big eateries have so much to offer. The best part is the variety.
Mysore needs to be on the Karnataka road trip plan of every passionate roadie because it is from here that all highways and trails begin and you end up being at your chosen destinations.
My fateful and risky adventure driving till Madikeri
Once Mysore was done, it was time to visit Madikeri in Coorg. When I started driving, little did I know of the risks and adventures in store for me. But my oh my, what an experience!
It was already pitch dark and the rain was falling faster and thicker. The mountain roads were as serpentine as they could be. It felt as if with each turn, we were being pulled deeper and deeper into a dark abyss. I was driving with a lot of instinct and less conviction.
The turns were sharp and at a great frequency, the headlights of our car were only sufficient to look at the treacherous road ahead, and not evaluate the surroundings. There were no signboards to be seen, and Google wasn't working.
So imagine this – With no mobile signals, and no Google Maps, we had no idea of how far or how close we were to our destination – The Retreat. Now navigating the road every minute was full of anxiety and the silence inside and outside the car was unnerving. 
Finally, a rusted direction board, standing at an angle, as if being tired after standing for so long popped up in front of us. It pointed to a narrow side lane going down the side of the road. Well, we could have taken it even if pointed upwards!
Anyway, I put the car on that narrow dirt path and bumped our way down. Midway through our climbing down we stopped again as it was even scarier around. There was no road ahead of us. It was dark as hell and the resort we'd booked was nowhere in sight. Not even a sliver of light pierced through the darkness. Luckily, we had mobile signals now and we were able to call the resort staff.
Our resort in Madikeri Coorg was nestled deep inside low hills, surrounded by a coffee plantation. It was a nice private kind of property – very quiet and very isolated. Just the kind of place you need to bunk in after a hectic and dangerous road trip. During my time in Madikeri, I got the opportunity to witness coffee plantations and also the processing of beans.
Soaking in the relaxing vibe of Chikmagalur
The next day we woke up to a bright and sunny morning with a pleasant temperature. We got ready really fast and started our drive to our next destination – Chikmagalur. Now this destination was a complete norm breaker from the popular tourism circuit which generally goes southward into the hilly and forest regions of Kerala from Mysore or Coorg. For Chikmagalur, you go northward.
To start with, the drive was splendid once again. It's a pleasure writing about the fantastic roads and beautiful surroundings in Chikmagalur. It was pure fun. Lunch on the way to the Hoysala Food park was good. So once sated, we continued driving with the same happy feeling.
Having burnt our fingers by reaching Coorg later in the evening, we were careful and wanted to reach Chikmagalur well within the daylight and we did. But not before being smitten by the beautiful views and expanses that welcome us as we as entered Chikmagalur. It is not a hilly area, rather a flat kind of terrain just before the mountains started. Approaching this small town via spiralling roads was a joy in itself. Sun rays were slanting now and we were creating an alluring vision in the small ponds and water bodies on the way. With lush green vistas, palm trees and a wonderful cool breeze, it was heavenly.
Taj Gateway Chikmagalur (our place of stay) is a little away from the town. So we were quite impressed by it. Places of stay at Chikmagalur are quite good.
A drive till Mullayangiri
The next day once again, right in the morning we were totally smitten by the weather and had a grand breakfast followed by several cups of coffee sitting out in the garden. Finally, we had to lazily pick ourselves up and start on a short sightseeing around the town. In the hindsight, we should have had a day more there just to soak in the relaxed feeling.
Nonetheless, in an hour's time, we were slowly snaking our way up atop a hill, on a narrow, precarious-looking road to the Mullayangiri top. At roughly 2000 m altitudes, it is supposed to be Karnataka's highest peak and a good experience. First, the drive up itself is thrilling and then the trek to the top is added exhilaration.
Although we were unlucky to hit a thick layer of clouds up there, whenever the clouds cleared briefly, the expansive views down below were breathtaking. However, it was quite damp and cold as well. So we started back within 30 minutes or so.
Sipping piping hot coffee at the Estate Cafe
Enjoying our drive through the lust green surroundings and expanses of Chikmagalur, we slowly made our way to our next stop – The Estate Cafe. It was the Taj Resort Manager's recommendation and he had already called before to announce us.
A nice drive through beautiful landscapes, the Cafe itself was situated amidst think farms/forest. We met the owner, who was waiting for us and was polite and welcoming. A couple of sandwiches and some coffee later, we were ready to head back to our resort. We picked some locally produced Arrabiata and Robusta Coffee on the way.
Taking a detour from Chikmagalur and visiting the rich temples of Halebidu
Halebeedu – we drove 15 kms off the main Chikmagalur-Hassan highway for Halebeedu, a small town probably known for nothing else, but the Hoysaleswara temple. This is a 12th-century structure. The rich, intricate and endless carvings on the entire outer wall of this temple were just mesmerizing.
The stories these carvings tell are just amazing – one has to look at these closely to understand, or at least try to understand. The rich art and culture that prevailed around 1000 years back in these parts of our country are all reflective here. I just stood there thinking about and admiring those artists who must have had a great imagination, to be able to bring out such beauty in stones.
Driving till the unexplored town of Belvadi
Belvadi was our next stop – barely 15-20 minutes from Halebeedu. The Veernarayan Temple here is a hidden gem. Unlike the other two temples in the area, this one did not have a richly carved outer, but it has rich interior and magnificent idols of Krishna and other avatars of Vishnu. The amazingly beautiful idol of Lord Krishna was just captivating.
Apparently, the Archaeological Survey of India (ASI) has said that the one here is probably the most beautiful Krishna Idol in our entire country. Made of a single Shaligram stone, it is really a sight to behold for its symmetry, proportion and beauty. The priest spoke to us knowledgeably, and with pride, and explained to us everything.
The temple was almost empty and we were told that it is generally so, with very few visitors traveling there. Well, if an almost 1000 years old, rich/beautiful piece of history, art and architecture does not inspire us, then what will really? So I really insist all you people visit Belavadi.
Getting immersed in the beauty of Belur
It was our last day of the trip and our plan was to visit Belur. However, we weren't ready for what we were going to witness. We eventually visited 3 temples, the maximum that our schedule allowed since we had to drive back to Bangalore the same day, and what a delight it was!
The area around Belur has a lot of historical significance. A number of Shiva and Vishnu temples in the region date back to the 11th and 12th centuries from the Hoysala Kingdom. These are rich pieces of architectural heritage and are conserved by the ASI.  Well, that was enough to raise our interest in us and there we were the next day – a beautiful morning with bright sunshine and cool weather.
Heading back to Bangalore and enjoying the road
After a rich dose of historic-architectural and cultural mix, it was already afternoon and we were back on our drive to Bangalore. Although it was the last day of our vacation, and the odometer was showing some 700 Kms already, we were still in love with the beautiful drive conditions and settings.
The lush green surroundings, palm trees dotting the roadside, clear blue skies and air that felt fresh made us happy. The road itself was in a fantastic condition, curving beautifully as we raced along, going up and down gently with the natural terrain of the land. The drive remained easy and enjoyable throughout the distance. We were in Bangalore before dinner after braving the rush hour traffic.
So this was my tryst with the road adventure in Karnataka. I completed 7 days and 1000 kilometers of drivecation in a state whose language I didn't understand, whose food was new for me, and whose customs were unknown. Yet I felt the love of the people there and the warmth of my journey. Every day I saw and experienced something that I hadn't before. Most importantly, I learned about another part of our country. After all, mine is a nation with endless diversity.
Happy wayfaring 🙂 
About the Author