Dawki is a border town between India and Bangladesh, located graciously in the Jaintia Hills of the northeastern state of Meghalaya. It is also known by a few people as Dauki. The greenery of the hills around, the crystal clear water of the Umngot river and the purity of the environment overall will make you fall in love with Dawki.
The Umngot river is the main attraction in Dawki town. The waters of the river are so clear that the boats seem to be floating. It is a sight you have to see to believe. 
More often than ever, we have fleeting feelings of being choked by the weight of our own lives. Sometimes we are lucky to have those suffocating moments pass in the distractions of daily life and sometimes, they just turn claustrophobic. However, there is a silver lining – we can twist this numbness into a luckier outcome by abandoning our usual routine at a certain break-even point, and leaving for a vacation that soothes and heals us.
In the current Dawki travel blog, I will discuss a quest that refreshes our minds. You might be wondering what is so special about the destination — well, we all heard the phrase "cleanliness is next to Godliness." Here I'm going to tell you about a route that could have been no cleaner or no more eye-purifying. The only God we'll be in touch with is Mother Nature. We are talking about hamlets in Meghalaya, the abode of clouds. Our final destination is Dawki.
Dawki Travel Blog: An Overview
Before going into the details of visiting Dawki in Meghalaya, here are a few things that will help you understand the destination better.
Location
North-Eastern India
State 
Meghalaya, West Jaintia Hills
Mode of Travel
Cabs and Buses are fairly regular from Shillong and easy to find
Best Time to Visit
Dawki
Throughout the year
Temperature
Expect 25 degrees as the highest and the minimum starts at 15 in moderate seasons. Further fall in temperature depends on the rain.
Weather Conditions
The days are of moderate temperature, but the rainfall has an effect.
Nearby Places
Cherrapunjee, Mawsynram, Mawlynnong
Accessibility
Throughout the year. Road trip in a car or a bus.
Nearest Town
Shillong
Highlights
Boating, Angling
Budget
A two-day trip to this route would take no more than 3K per head. However, it is advisable to extend the trip to 4 days for covering all the highlights of Meghalaya. In total, for a group of 5 people, the trip would not exceed 20K if options are chosen wisely.
Food Options Available
Khasi cuisine is a speciality, although other Indian food options are largely abundant.
Best time to visit Dawki
Dawki can be visited throughout the year. The summer and spring are the best.  According to a few locals I spoke to, early to late winters (October- March) is also a good time and is usually less crowded. The Winter months are cold, but not too chilly. I would advise against visiting Dawki during monsoons as heavy rainfall sometimes cause road blockages.
How to Reach Dawki?
You can approach Dawki in a number of ways. The most recommended way would be to arrive and stay at least a night in the beautiful city of Shillong. The nearest railway station is Guwahati and the airport is Lokapriya Gopinath Bordoloi International Airport, from where you'll need to take a car or a bus.
Contact Assam State Transport Corporation (ASTC) just outside the railway station, and you can choose your pick on the best price. The bus will take about 135 rupees per head, which is quite optimal for managing and carrying you through the gorgeous swerves of the road with gorges here and there.
You need to book hotels in advance if you want a hassle-free trip. After reaching Shillong, crash for a night in your hotel or book it for two or three days, considering your itinerary. If you're planning to visit Cherapunjee, Mawsynram, or want to spend a day on Shillong sightseeing, try to book a central place near Police Bazaar. For our destination, you have to book a car from the plenty of options in the Police Bazaar itself, or you can choose a nice option of contacting the Meghalaya Tourism office there. The local people are very helpful and they will give you enough time to solve all your queries.

A bus to the Mawlynnong-Dawki route (with return) will cost you Rs. 500 per head, while a small car would triple the cost. So choose public transport (unless you're in a group). If you choose to stay the night in either of the mentioned destinations, it is recommended that you strike a deal with the operators.
The Meghalaya tourism bus would leave at 8 o'clock sharp in the morning, and be sure to get ready to get amazed. This blog includes the route details via Mawlynnong in case you are aiming for covering all of it. The journey is an average of 95 kilometres (one-way).
The peaceful city of Shillong. Photography by Lumlung Kamei
The Journey to Dawki: A Personal Musing
Our bus took off from the dead centre of Shillong in the morning. The weather was warm and sunny at first but by the first 20 kilometres, the sky clouded and light drizzles started. Although that made the weather chilly, it was an unbelievable experience as the bus driver very carefully brought us soaring through the clouds. The weather changed with every bend the bus took. When the first cloud came to obscure our views, the guide smilingly commented, "Welcome to Meghalaya." Her tone did not hide the pun, but instead of laughing, the idea seemed like seeping into our souls.
Living Root Bridge
Our first stop was the living root bridge. A fair warning: reaching the wonderous thing involves almost a good 500 steps, so the factor is to be taken under consideration while climbing down. The root bridge was exactly how it showed in pictures across the internet but the authorities there do not allow people to stand on the bridge for long (for obvious congestion problems) and capture images.
However you can climb up to a spot for watching the little stream running down to be a furious waterfall, or you can carefully step over the rocks to stand inside the water and have your own dose of out-of-the-world feelings.
Mawlynnong
The next stop was Mawlynnong, although we did get a few minutes with the balancing rock on our way. God's own garden was waiting for us with new pleasures. Mawlynnong is Asia's cleanest village. Every use of plastic is banned by law here, and the waste policies are strict. Strolling through its streets, you will find amazing details which are bound to make you wish for installing changes in your surroundings. Most of the travellers applaud the management for their sheer perfection.
Also Useful:
Mawlynnong – Come Visit Asia's Cleanest Village on Budget Travel
From solar panels to waste management, this hamlet is really a piece of human-inhabited, yet pure nature. You can have a good lunch here; the local cuisine is good, but they make other simple Indian dishes as well.  The food is really cheap, the service is very good. Usually, the food joints are run by women Meghalaya as a whole does not seem to care about stereotypical gender roles. This area is also safe for solo women backpackers.
If you think you can simply not resist spending at least a day, indulging yourself in the luxury of simplicity, book a homestay here. Dawki isn't very far from here so you can surely invest a day here. Enjoy the view of the sun setting from the top of a treehouse, give your lungs the oxygen and eyes the greenery you deserve. Mawlynnong is where the "colours of the wind" materialize in front of you.
Living Root Bridge. Photography by Rohan Mehta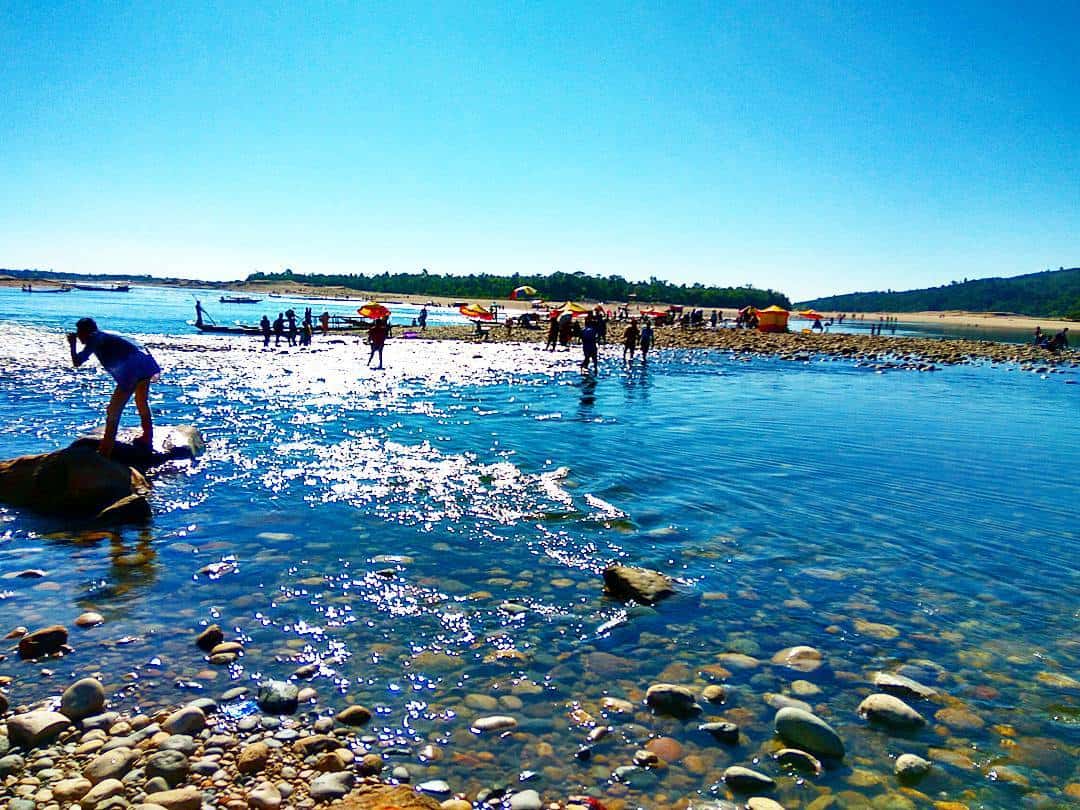 Dawki is safe for backpackers and gorgeous as a destination. Photography by Mukit Talukdar
Dawki is a border town between India and Bangladesh. See the crystal clear water in the picture. Photography by Neer Patra
Dawki: Where India Flows into Bangladesh
Dawki-Tamabil is an international trade route border. In peak season, about 500 coal trucks transport a day over the Dawki Suspension Bridge built in 1932. The main two points of attraction here are:
India -Bangladesh Border
You can roam and run around the no man's land as long as you want, the BSF is nice and liberal about this)
Unmngot River
This beautiful river flows into Bangladesh and its crystal clear waters are bound to leave you mesmerised.
This river has a special feature of interest; not only for it "carrying Indian love into the country which was once our own" as quoted by a guide, but it is absolutely crystal clear!
Although this view would require a bit of luck from your side but from a boat, you can almost see the bottom of the river owing to the clarity. The fish jumping underwater and pebbles quivering under clear water is a delight to the human eyes.
Dawki boating cost: 
An association of boats exist there and the rates are subject to your bargain. Dawki river boating charges are 500 INR. The cost is automatically divided when there is more than one person. A boatman would give you one hour of flowing upstream – which could feel like floating on nothing at all.
Under the suspension bridge and after crossing it, you will be surrounded by hills. Umngot runs through the Ri Pnar or Jaintia Hills with Hima Khyrim of Khasi hills, separating the two different ranges. In March-April, an annual boat race is held at Umsyiem. We stayed there until the sunset. The clear river shined as if responding to the change of the celestial lights.
Some people were angling, hiring small fishing rods. You can try it as well. Some people waded through the river to rock almost halfway between it. It amused everyone how they shouted and cheered with joy, jumping on and hugging the rock, finding the little area as their whole new world.
It was truly the most appropriate natural setting to do away with all forced false layers of formality and go wild in the purest literal sense of the word. The huge rocks, so solemn around the swift-flowing river, witnessed it with the stark element of contrast. The place was bubbling with human joy, like the fun from far left childhood.
The village of Dawki was a friendly hamlet. The people even offered us the "bhog" or rice cooked and offered to the goddess, as we went there right after the Kali Puja. You can go for a walk and have tea and snacks in the local shops there.
The way back to Shillong (or Mawlynnong, if you prefer) was another thrilling ride; from the simple plain-land like topography to twisting and bending between beautiful gorges and ravines after sunset was no less than a thrilling adventure. Mawlynnong-Dawki was the best trip decision we made in the short while and longed to stay there until we had to come back. Few places in India have that soulful offering for us, and the simple, minimalist arrangement of the trip was the rarest of rare.
Where to Stay in Dawki?
Although my Dawki travel blog elaborates on my short visit to the beautiful town, you could choose to stay longer here. Dawki has several choices to stay in like homestays, guesthouses and hotels. Alternately, you can also stay in Shnongpdeng, a small village around 7 kms from Dawki.  Here you can book some camps, homestays and cottages. 
Important Aspects to Keep in Mind While Visiting Dawki
While visiting Dawki, you need to keep in mind the following things
Do not rely on digital transactions
Shillong has a few ATMs but in the faraway destinations, cash is the key. Withdraw a sufficient amount before setting off for the day.
Dress in layers
Dress in layers so that a sudden drop or rise in temperature cannot hold you down.
Keep umbrellas or raincoats handy
The wettest place on earth, Mawsynram is not very far away and the weather is predicted to be unpredictable. Be it a light drizzle (as we encountered) or heavy, view-blocking rain (hopefully would not occur with a wise choice of the month of travelling), you can catch a cold or explore every nook and corner of beauty can get disrupted.
Find a reliable local person
Find a reliable local to help you out with important travel decisions. For instance, the tourism office provides the bus with a guide who will inform you about the special highlights of the next place and prepare you for the best experience. The lady who joined in our trip to Dawki as a guide personally took care of every one of us in every spot we got off the bus.
Meghalaya Tourism Office
Help from Meghalaya Tourism is available at 0364-2226220. If you want to place a booking which is not confirmed, they'll call you back to know the changed status.
Dawki : The surreal place. Photography by Carl Coutinho
The Suspension Bridge in Dawki. Photography by Shivangi Sinha
A boat ride at Dawki makes you experience serenity. Photography by Lumlung Kamei
I hope my Dawki travel blog has inspired to plan a visit to the amazing northeast India and Meghalaya soon. Enjoy the purest form of nature's beauty and be a responsible traveller. "Take Only Photographs, Leave Only Footprints."
Happy wayfaring 🙂
About the Author
Aishi Roy is a curious being with multifarious special interests. She enjoys fiddling with words and considers fast and intensive reading the best of her superpowers. Aishi occasionally indulges in photography and also tends to get lost in whichever parallel universe she accidentally conjures in her hyperactive brain. She is a passionate traveller who likes to explore new destinations each year.
Reach out to men on Instagram: https://www.instagram.com/the.talkingjay/
THIS POST ENTITLED, "Dawki: The Indian Town Whose Crystal Clear Water Flows into Bangladesh" IS AN EXCLUSIVE PROPERTY OF BUDGET WAYFARERS. ANY INDIVIDUAL OR ASSOCIATION INDULGING IN PLAGIARISM WILL BE DEALT WITH STRICTLY. IF YOU WANT TO USE INFORMATION FROM THE ARTICLE ABOVE, KINDLY QUOTE THE SOURCE.